Bethesda Game Studios developed Skyrim and published it almost seven years back, but it continues to absorb new players into its realms. Although the basics have stayed the same the additions of characters and new scenarios have added to its popularity.
Even when it has tough competition from other games like Skyrim, it has come a long way from engaging its players with new explorations. In an open world full of excitement, goals, quests and unique items, Skyrim is yet very popular.
We thought we would share a few other awesome open world games that come very close to offering you the same kind of thrills and unrivaled journeys into bizarre worlds. Some of these are old and some are new, but all of these are like Skyrim in many ways.
If you are an RPG fan, you're gonna love these open world games for PC, most of which are available on Steam. Some of these games are also available on Xbox and other gaming consoles and some are available as an online RPG.
See More: 20 of the Best VR Games For Android that You will Enjoy
So let's get started with the hot list of games like Skyrim.
Best Games like Skyrim
1. Assassin's Creed Origins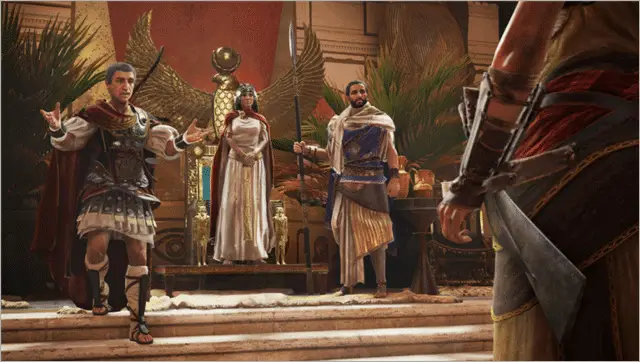 Assassin's Creed Origins is an action-adventure game that is set in Egypt near the end of the Ptolemaic period (49–47 BC). The Game is played from a third-person perspective. The players have to complete quests to progress through the story.
Along with achieving the set objectives, they have to earn experience points and acquire new skills. As in games like Skyrim, when the player is outside the quest, he can freely roam the open world environment on foot, horseback, camel-back or boat.
When you have the choice of engaging into multiple quests and gripping stories, you are more than ready to cross paths with powerful characters. It is a new way to fight. This is where you can loot dozens of weapons with different attributes and specialties.
Download Assassins Creed Origins here
2. Risen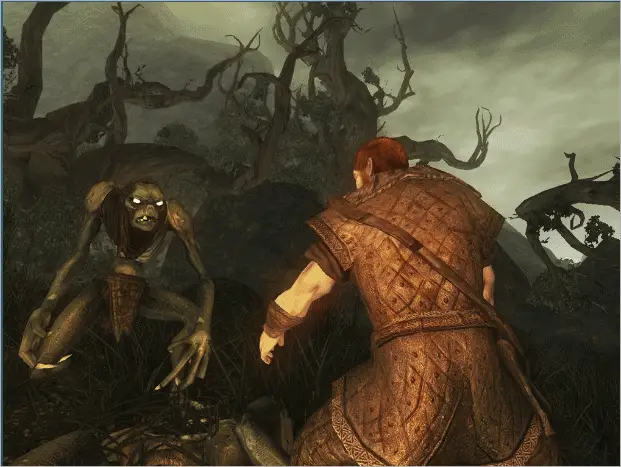 The Faranga island needs a new hero, and that is You, the player! You can delve into a raw and atmospheric fantasy world where each action will lead to a new result. The epic world of Risen is filled with mysterious earthquakes, fearsome monsters, and unimaginable treasures.
There are countless side quests and unique creatures to discover.
You get to play for 60 hours in an open-world game. This will change the destiny of the island by the actions you take. It promises to be as absorbing as the other games like Skyrim.
3. Mass Effect – A Good Option Among Games like Skyrim
Mass Effect is an action role-playing video game developed by BioWare and published by Microsoft Game Studios.
In a stunning universe, you can discover the imminent danger from an ancient threat. You can also battle the traitorous Saren and his deadly army to save civilization.
With high-resolution graphics and textures, the UI and controls are optimized for PC gamers.
You can customize your character and get into a pulse-pounding adventure. It's something similar to the Skyrim character creation. The Game has beautiful real-time character interaction with thrilling and tactical combat just like the game of Skyrim. It is a very popular game and the developers have also come up with a couple of sequels for it which have gotten better with time.
4. Kingdom Come: Deliverance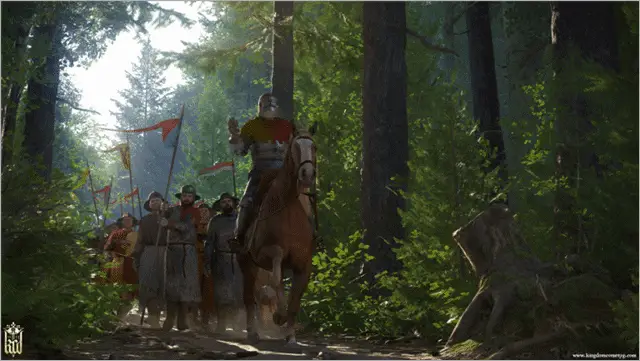 In this game like Skyrim, you get to play Henry, the son of a Blacksmith. You have to fight against invaders that storm your village and slaughter your friends and family.
Henry who is one of the survivors of that massacre decides to pursue justice. You start by grabbing your sword and avenging the death of your folks.
The story takes place during a war in Bohemia in 1403. Cuman mercenaries raid the mining village of Skalitz on the orders of Hungarian king Sigismund.
The game has branching quest lines and an open world environment. This is recreated with the assistance of architects and historians.  It also includes early 15th century period weapons, clothing, combat techniques, and grand architecture.
5. Lords of Fallen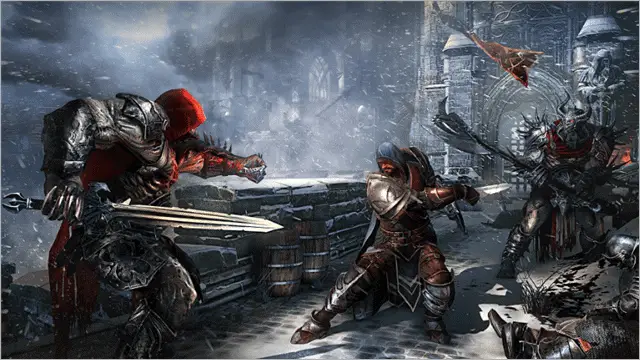 Lords of the Fallen is a third-person action role-playing game developed by Deck13 Interactive and CI Games. The game is set in a world long after the defeat of a god named Adyr. Adyr's world formerly ruled humanity with an iron fist by the three heroes.
These are a rogue, cleric, and warrior, who later become known as the Judges. It contains a slow tactical approach to close-quarters combat gameplay, with tough enemies and locations to overcome.
You have to take the role of Harkyn, who can be tailored towards the player's preference. You can choose your combat styles from a variety of classes, each with their specialization in certain weapons, armors, spells, and abilities.
The game uses a "risk and reward" system when it comes to upgrading Harkyn. One can easily include this in the list of games like Skyrim.
6. Mount & Blade II: Bannerlord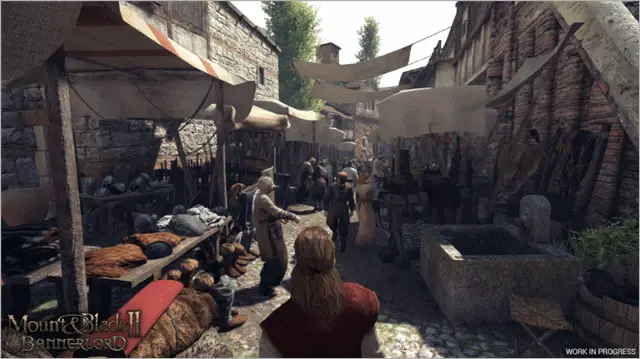 Mount & Blade II: Bannerlord is an action role-playing game developed by Taleworlds Entertainment that is set 210 years before Mount & Blade: Warband.
An empire is torn by civil war, and beyond its borders, new kingdoms rise. The game expands both the detailed fighting system and the world of Calradia.
A good option if you are looking to play games like Skyrim.
Download Mount and Blade 2 here
7. Hellblade: Senua's Sacrifice – A game like Skyrim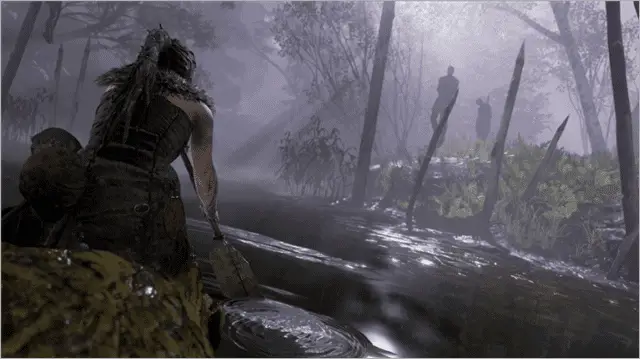 Hellblade: Senua's Sacrifice is a dark fantasy action-adventure game developed and published by Ninja Theory. The game is a mixture of several genres that include hack and slash, puzzle solving, and psychological horror.
Voice acting is an integral part of the game. The game is divided into two types of gameplay: the first lets Senua (the main character) to walk freely and interact with her surroundings. It also features fights in which Senua must defeat one or several beings blocking her progression.
As the game is set in the late 8th century and starts with Senua, who is a warrior from Orkney She arrives at the border of Helheim in a quest to save the soul of her dead lover, Dillion, from goddess Hela.
It could be a perfect replacement option for those looking for games like Skyrim.
8. Middle-earth: Shadow of Mordor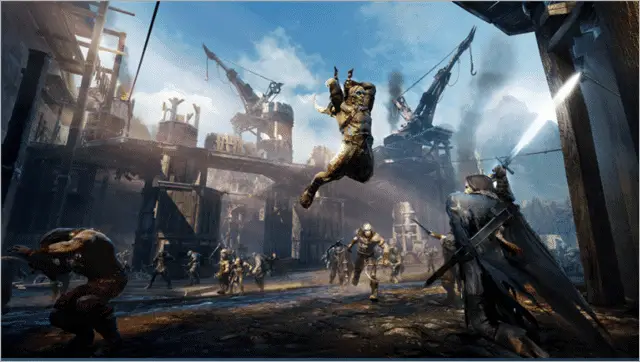 Middle-earth: Shadow of Mordor is one of the best games like Skyrim that lets you explore an open world with some action and adventure. You can forge through Mordor and uncover the truth of the spirit that compels you to discover the origins of the Rings of Power.
It is a third person game where the player controls a ranger by the name of Talion. He seeks revenge on the forces of Sauron.
The player can travel across locations in the game through parkour, riding monsters, or accessing Forge Towers, that serve as fast several points. The game is set in the 60-year gap between the events of Tolkien's popular titles of The Hobbit and The Lord of The Rings.
9. Dragon Age: Inquisition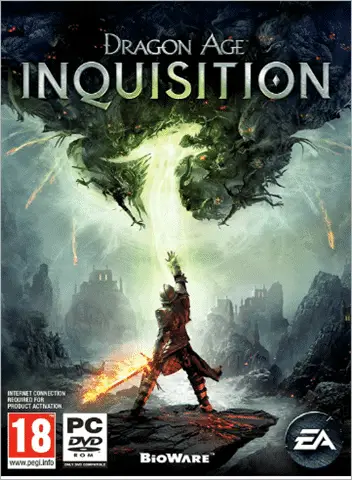 Dragon Age: Inquisition is an action role-playing game developed by BioWare Edmonton and published by Electronic Arts. The game features a character called as Inquisitor who is on a journey to settle the civil unrest in the continent of Thedas.
The gameplay of Dragon Age: Inquisition is similar to its predecessors and consists of elements found in a typical action role-playing game. It is where the players get to control their customized characters.
There are weapons like swords and magic to defeat enemies. They can even interact with non-playable characters and progress through the main story. The game is a perfect blend of an exciting journey with a lot of surprises just like the game of Skyrim.
10. Ryse: Son of Rome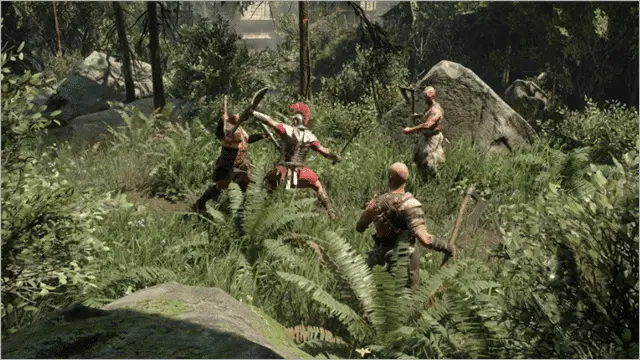 Ryse: Son of Rome is set in an alternate version of Ancient Rome where Ryse follows the life of the Roman centurion Marius Titus. He then becomes one of the leaders in the Roman Legion.
Marius strikes enemies using his sword and shields to deflect attacks. While progressing through the game, players can gain access to unique weapons. These can be used to assault enemies or defend themselves.
The players can activate an execution sequence where the enemies involved in the execution are highlighted. This is automatically done with colors by the game.
This game can easily have a co-player mode, and you can team up to carry out various challenges. A very good option to a game like Skyrim.
Download Ryse- Son of Rome here
11. Dark Souls 2
Another option to a game like Skyrim is from the Soul series. The Dark Souls 2 retains the similar mechanics from its predecessors. The game is quite difficult as both bosses and standard enemies can kill the player in only a few hits.
The bad players will be punished by most enemies, and the opportunities for recovering are limited. The advanced customization options provide weapons and armor tailoring to player style.
The multiplayer system enables improved online interaction to bring forward cooperative and competitive play.
12. The Witcher 3: Wild Hunt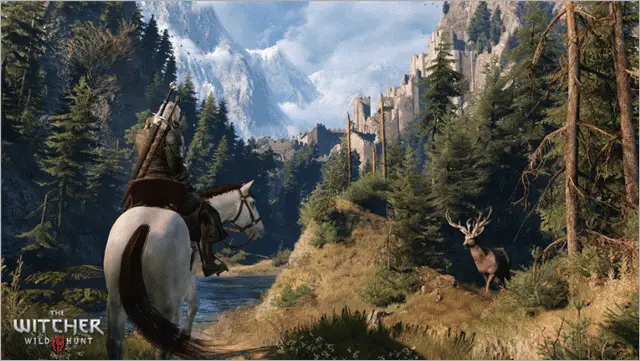 The Witcher 3: Wild Hunt is set in a morally indifferent fantasy world that is full of remarkable things where you can have meaningful choices and impactful outcomes.
In this game, you play as the professional monster hunter. Witcher is tasked with finding a child of prophecy.  Once in the open world filled with merchant cities, Viking pirate islands, and dangerous mountains, he fights bravely.
The game focuses on narration and has a dialogue wheel. This allows the players to choose how to respond to non-players characters. Like the previous Witcher games, the players have a complex story with multiple choices and consequences, making it a suitable option to a game like Skyrim.
13. Dark Messiah of Might and Magic – A Game Quite Similar to Skyrim
Dark Messiah of Might and Magic is a new form of Action-Role playing game set in the Might & Magic universe.
The cutting-edge technology lets you experience an enhanced version of the famous Source Engine created by Valve. The challenge and action are never-ending with 12 huge levels and 30 weapons.
You can extend your gameplay experience without being limited to a single discipline. So tighten your belt and get ready to battle. You can do this with up to 32 players in the revolutionary Crusade mode.
A serious contender if you are seriously looking for games like Skyrim.
14. Neverwinter
Neverwinter is an action MMORPG based on the Dungeons & Dragons fantasy roleplaying game.
The game is a mixture of epic stories and action combat. Players can become one of eight Dungeons & Dragons character classes and form groups of up to five player characters.
The game begins when the eponymous city is plunged into chaos after the disappearance of the last Lord of Neverwinter.
You are bound to find the game unique with satisfying graphics and soundtracks that create an amazing atmosphere and is like a game of Skyrim.
15. Risen 3
The world is abandoned by its Gods and is terrified of the rampage by the Titans. The humanity is struggling to regain strength and rally its forces.
The player is in the role of a new "Nameless Hero", who replaces the protagonist from the two previous games. The new character is neither seen or mentioned prior to the third game. You have the freedom to explore and take on quests at your leisure.
The game allows you to discover quotes and characters as players make their way through its diverse world. It also features a revamped fighting system. This has new animation systems making it a good choice over a game like Skyrim.
16. World of Warcraft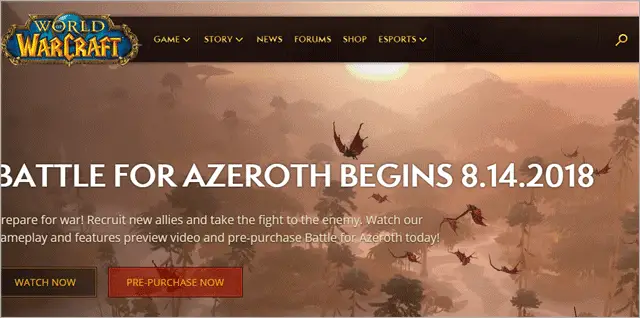 The incredible graphics of this game will engage you completely.
World of Warcraft is a large multiplayer online role-playing game set in the Warcraft fantasy universe. The players get to control a character avatar within a game world in third-person view.
You can then explore the landscape, fight various monsters while completing quests and interacting with non-player characters or other players.
The free subscription allows you to take a free trial account with up to 20 levels.
17. Age of Canon
Age of Conan is a unique action-driven and the most savage online game ever. The characters of the game are registered to a unique user account on a specific online server. Here the characters created on one server are unable to play with other created elsewhere.
Age of Conan is set in a low fantasy pseudo-historical ancient world called Hyborian Age. The combat comprises striking a target from different angles. This includes hacking down against the head, slashing diagonally down from left to right, etc.
The game's Real Combat system is designed to offer more real-time options than traditional Dungeons & Dragons-inspired combat systems. It is more than a game just like Skyrim.
18. Dragon's Dogma
The Dragon's Dogma: Dark Arisen is set in a huge open world that features rewarding action combat. The players can embark on an epic adventure in a rich and living world. There are three AI companions, known as Pawns. These partners fight independently.
The game lets you experience a dynamic combat experience where you cut off four heads of a Hydra, climb atop griffins and fight airborne. There are nine different vocations for players to choose from. There is a variety of skill options available for each.
The beautiful high-resolution graphics mesmerize. The nine new achievements for both new and returning Dragon's Dogma fans will definitely make a worthy option to a game like Skyrim.
19. Kingdoms of Amalur: Reckoning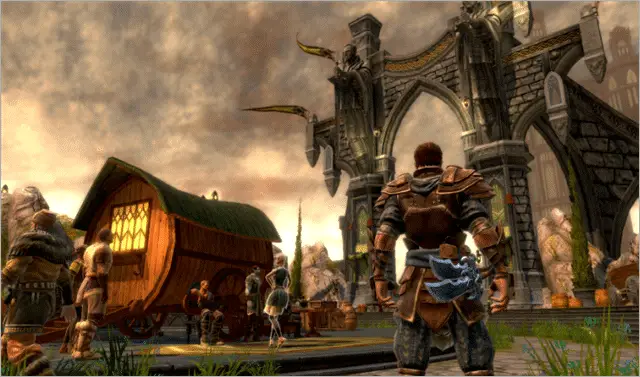 Kingdoms of Amalur: Reckoning has an extensive world to explore filled with epic fiction and rich storytelling.
Kingdoms of Amalur: Reckoning is set in the Faelands, one of the Kingdoms of Amalur and home to immortal Fae of the Summer and Winter Courts. Here immortal doesn't mean they cannot die but their essence will be reborn in another body.
The game features five distinct regions, four playable races, two genders, and three class trees.
The player starts the game as a "Fateless", but later he can choose a class among the three that are available in the game.
The best part is that you can create and modify your hero, something similar to the character creation in Skyrim. There are millions of combinations of skills, abilities, weapons, and pieces of armor available making it a great option to a game like Skyrim.
Download Kingdoms of Alamur here
20. Gothic 3
Gothic 3 is a game like Skyrim where you are free to walk around and explore the open environment. You then have over 50 different monsters and animals, dozens of human enemies, powerful spells, different weapons to fight.
This is the game where a nameless hero becomes a legend. The goals are clear in the game and are story-driven. And yet it is dictated by the players choice with countless side quests for the player to choose from to enjoy the gaming experience.
21. The Witcher 2: Assassins of Kings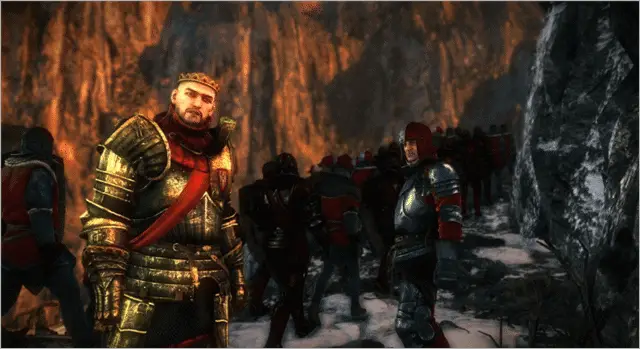 Yes, we do love this so much. We have listed one above and would like to remind you about the earlier version. The Witcher 2: Assassins of Kings Enhanced Edition is a sequel to the video game The Witcher. It is one of the best replacements if you are hunting for some games like Skyrim for PC.
The player is Geralt of Rivia who is a monster slayer, a witcher. The game has many different paths and storylines along with multiple endings.
The Witcher 2 also includes a stealth mode in certain parts of the game, where the players have to remain undetected. This is while they make their way to a certain objective.
Witcher 2 defines new standards for realistic, non-linear game narration with a story that is epic. It also features a complex combat system that combines dynamic action and tactical depth.
22. The Elder Scrolls III: Morrowind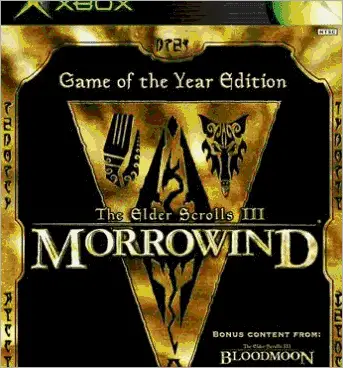 The Elder Scrolls III: Morrowind is an open world action-role-playing game that begins with the player's character, who is imprisoned. He has arrived in Morrowind by boat to be pardoned.
There is a tutorial that depicts the prisoner's release and moves the player through the process of character creation. The player's character's skill is increased by practice, training, and study.
The game has a distinction between "Attributes" and "Skills"; where skills are each proficiency in particular battle. The attributes are defined as broader proficiencies like strength and endurance.
The game follows the tradition made by its predecessor in The Elder Scrolls series making it highly competitive as an option for a game like Skyrim.
23. Conan Exiles
In Conan Exiles, you as the player are an exiled, outcast and downtrodden person. He is sentenced to walk in a barbaric wasteland. You have to fight to survive, build, and dominate the world alone on your own server.
There are other enemies and allies in online multiplayer. The journey starts with a vast and seamless world that is filled with the ruins of ancient civilizations. In this game, you have to uncover its dark history.
The game offers a lot of customization options like gender, voice, and several physical attribute sliders. The player must manage hunger and thirst by appropriating natural resources. If compared to a game like Skyrim, it is likely to come up as a new favorite.
24. Star Wars: The Old Republic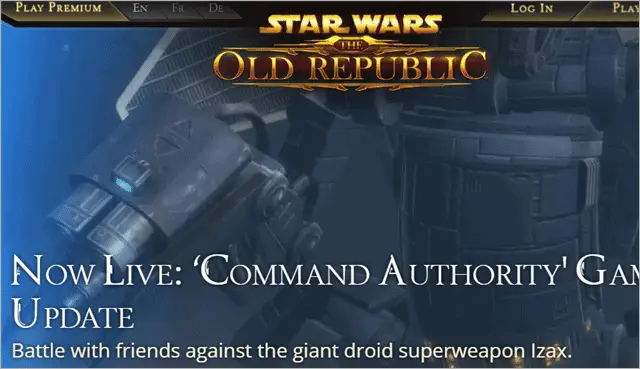 An old favorite like Star Wars can also compete with a game like Skyrim.
Star Wars: The Old Republic is an MMORPG that takes place in a Star Wars fictional universe. This is just after the establishment of a tenuous peace between the re-emergent Sith Empire and the Galactic Republic.
The game has eight classes, and each class has a three-act storyline that helps the player to level up in the game.
The players join as members of either of the two main factions-the Galactic Republic and the Sith Empire.
The player advancement occurs by a combination of mission completion, exploration, and defeating enemies. Whatever choice the player makes, it opens or closes storylines and affect players non-player character companions.
Get Star Wars – The Old Republic here
25. Far Cry 4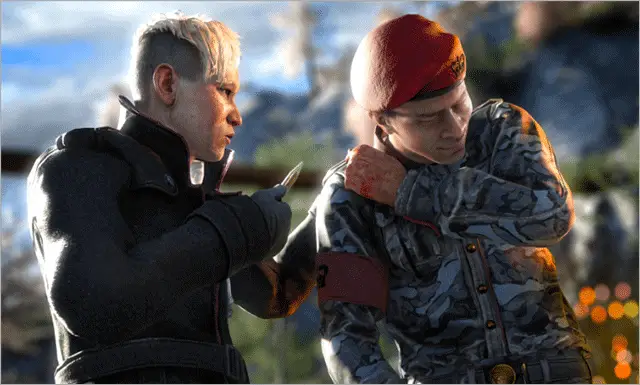 Far Cry 4 takes place in Kyrat, that is a fictional Himalayan country and a good option to a game like Skyrim.
The story has Ajay Ghale who is a young Kyarti-American. The Kyrat Royal Army is having a civil war, and he is caught in it. The game focuses on combat and exploration.
Ajay is on a quest to spread his deceased mother's ashes in the fictional country of Kyrat.
The players run, leap and crouch throughout the game and, they can use weapons inducing shotguns, crossbows, sniper rifles, etc.
The game has an open world that is free to explore several environments including forests, rivers, and mountains.
Conclusion
Well, that's about all the best gaming options to a game like Skyrim we could find for you. We sure hope we have not missed out on any of your favorite. Do let us know in the what you liked or didn't like about this collection and we will strive to comply and improve, based on your suggestions.
Further Reading: 30 Best Offline Android Games – Play Without an Internet Connection