One of my friends wanted to read her favorite ebook, which was available only in ePub format. But the problem was that she uses the Kindle format. I suggested that she convert epub to mobi and she had no clue! Well, it is possible. So, let's understand, and explore all about ePub and mobi.
What is ePub?
ePub is an acronym for Electronic Publication that is a free and open ebook standard developed by the International Digital Publishing Forum. This format allows ebook readers to read their favorite content on any of their devices. ePub is an open XML-based file format specially made for digital publications so that ebook content is readable on mobile devices, computers, laptops.
XML and XHTML based format makes it feasible for different display devices to adapt images and fonts based on their configuration. The ePub file uses .ePub extension. In short ePub format allows reflowable content so that everything you read is in a proper format no matter which screen you are using to read.
What is Mobi?
Mobi stands for the Mobipocket ebook that is used by MobiPocket Reader and Amazon Kindle Reader. It was developed by MobiPocket which is a French ebook company. Mobi was bought by Amazon in 2005 and discontinued in 2011. Books in Mobi format can have file extensions as .mobi and .prc.
Steps to Convert ePub to Mobi using Ebook Online Convert
So, if you have an ePub book, but you want to convert it in Mobipocket format, there are several ePub to Mobi converters that are available online.
Ebook Online Convert is a great tool to convert ePub to Mobi. It supports many popular formats like ePub to Mobi, Doc to Mobi, Azw to Mobi, Pdf to Mobi, and much more. Converting your favorite ebooks is a cinch for the Ebook Online Convert tool. The UI is simple and does not have many options to confuse you.
Ebook Online Convert not only converts ebooks. It also accompanies other converters, including Archive converter, Audio converter, Document converter, Hash Encryption, Image converter, and Web Service converter.
So, let's check the process of how to convert epub to mobi.
To convert text or ebook, choose your file from your computer or enter a URL or upload file using cloud services like Dropbox and Google Drive.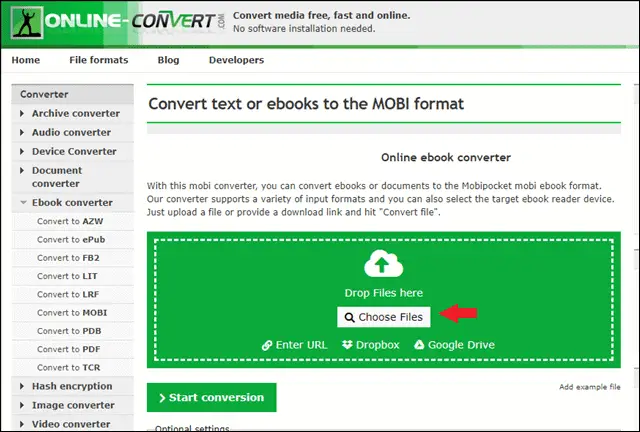 Once you have uploaded your ePub file, you have two options to go for.
First, you can directly click on Start conversion.
Secondly, if you want, you can tweak some settings related to your ebook like Your ebook title, ebook author's name. There are also some settings for experts like Changing the input coding, ASCII output, enabling Heuristics.
Once you make the changes according to your needs, click on Start conversion to initiate the process.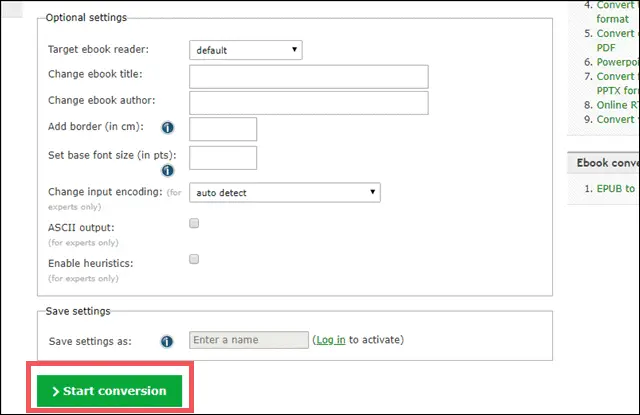 Isn't it simple?
Go to Ebook Online Convert
Top 4 ePub to Mobi Online Converters
We listed and explained how to use Ebook Online Convert. However, if you want to use another tool, various online converters can assist you. Most of the tools are different, but the fundamental purpose for all the epub to mobi converter is the same – to convert ePub to Mobi.
Let's explore the top online options that you can bookmark.
1 Zamzar ePub to Mobi Converter
If you are looking for a free option to convert ebooks and texts, Zamzar is a perfect choice. Being a versatile tool, it converts epub to azw3 (Amazon KF8 eBook File), epub to Mobi (Mobipocket eBook), epub to pdf (Portable Document Format), and more.
When you want to convert ePub to Mobi or any other format, simply click on Add Files and select the desired format from the drop-down menu and finally click on Convert Now that will start the conversion process.
You can also drag and drop files or select a file link instead of adding them from your computer folder.
If you have a temporary requirement, the free account just works fine.
However, Zamzar also has paid versions. Basic ($9/month), Pro ($16/month), and Business ($25/month) extends the file size, conversion time, and many other things that you may require for file conversion.
2 Online Converter- ePub to Mobi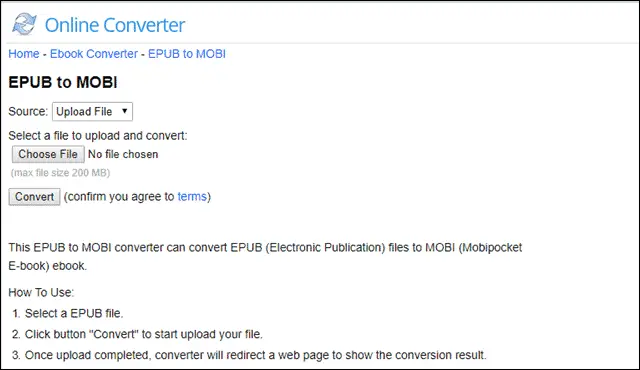 This ePub to Mobi online converter is another option to convert your ePub (Electronic Publication) files to Mobi (Mobipocket) files. It is easier to convert files with this online converter where you can upload the file using a link or selecting it from the computer folder. The maximum file size that you can convert using this tool is 200MB.
You might not get advanced options as we saw in Ebook Online Converter, but if you need a simple ePub to Mobi converter that does the primary job, this one fits well.
This tool does not have support for encrypted or protected ebook files, and hence if you have such an ebook file, you should opt for another converter in the list.
Visit ePub to Mobi Online Converter
3 Convertio
Another online option to go for is Convertio. With an interface that looks fresh and straightforward, there are multiple options to help you select a file to convert.
You can upload a file from your computer file folder, or add the file from Dropbox or Google Drive, or insert a file link. Next, select the desired format for conversion, as in our case, it is ePub to Mobi conversion.
Convertio is a vast tool that allows a huge variety of file conversion, including Image, Document, Ebook, Audio, Archive, Video, Presentation, Font, Vector, and CAD. Without going for any signup process, you can easily convert files of 100 MB.
There are three plans of premium versions also; Light ($9.99), Basic ($14.99), and Unlimited ($25.99) that give you perks like extended file size, Ad-free pages, fast conversion time, and more.
4 Convert Files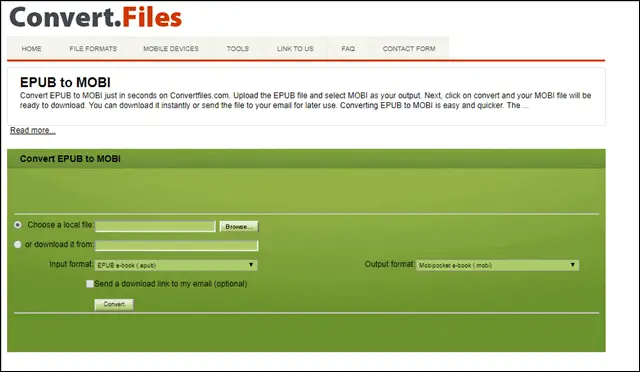 When you use Convert Files ePub to Mobi online converter, you can either choose a local file browsing your computer or ask the tool to download your file from the given link. You can select the input option from a plethora of file formats available like Mobi, Prc, ePub, rm, doc, Docx, etc.
Within seconds your file is ready.
You can either download the converted file instantly or choose to receive that file in your email. Your data is safe, and the download link is exclusively available to you.
Convert ePub to Kindle
Can you read ePub on Kindle? Yes, you can read using ePub to Kindle converter.
1. ePub Converter
ePub Converter is one of the best tools to convert many ebook formats online. Whether you are looking for ePub to PDF Converter, ePub to Mobi Converter, ePub to Kindle Converter, or ePub to AZW Converter, this online service is your best friend when it comes to conversion.
It has a separate Kindle Converter where you can do all the conversion related to Kindle. It also accompanies Mobi Converter and AZW converter for other conversion elements.
The converter provides you with the perfect option to convert your favorite ebooks and read them on kindle. There are various tools available to convert ePub to Kindle. However, we prefer and recommend ePub Converter as it is convenient to convert files on this platform.
First, go to ePub Converter. And from the left side, select ePub to Kindle Converter.
Now click on Add File.
You have to add here the ePub file that you want to convert to Kindle format.
You can also add more than one file if you wish to.
Once you have added the file, click on Start Upload, and then your upload starts.
If you change your mind or you added the wrong file, you can cancel your upload by clicking on Cancel Upload.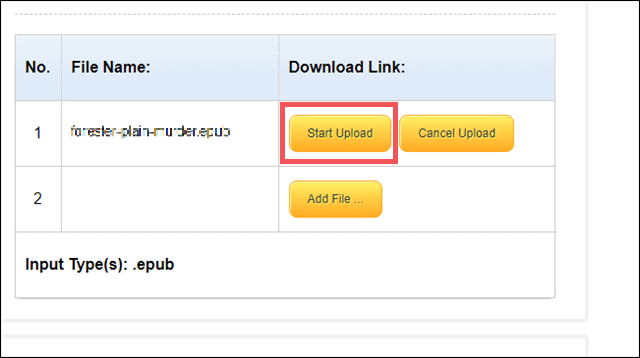 Once your file is uploaded, you will see the download link in blue color and a green tick with your file name.
Click on that file link and your download will start.
So, you can actually enjoy reading your ePub ebook in Kindle format by just following a couple of simple steps.
2. Send To Kindle
There is another way to convert Epub to Kindle format, and that is by using Send to Kindle for PC. It is one of the easiest and quickest ways to convert Epub to Kindle without taking extra effort.
Send To Kindle is an application for Windows and Mac that allows you to send personal documents to your Kindle from your PC. Once you download and install the Send to Kindle app on your PC, the app will automatically appear when you right-click on a file in Windows Explorer.
Also, you will find it in the print dialog of any Windows Application.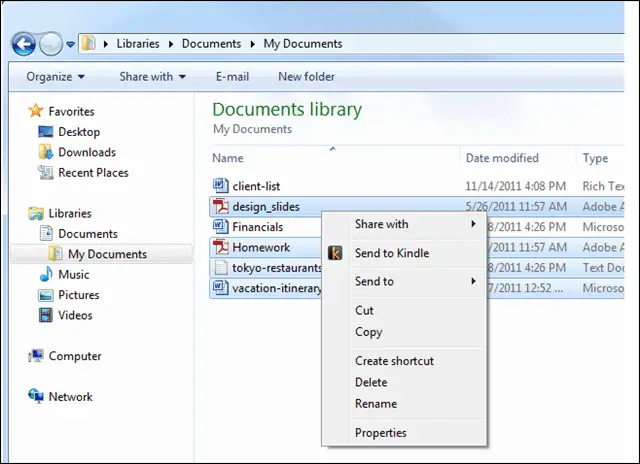 To use this application, you must have an Amazon account and Kindle ebook reader.
Download Send to Kindle app here
3. Send Epub files to Kindle device via Email
If you want to eliminate the use of Epub to Kindle converter, you can also send your Epub books to Kindle reader using your Send-to-Kindle email ID. You can also send documents to Kindle as an email attachment.
Please keep in mind that only you and your approved contacts can send documents to your registered Kindle devices, free Kindle apps, and Kindle Library in the Amazon Cloud.
You can do the same by emailing the file to your Send-to-Kindle email ID ([name]@kindle.com). To convert a document to Kindle format that is .awz, you have to put the subject line as "convert" when you email a doc to your Send-to-Kindle address.
Hence if you are wondering How do I convert EPUB to Azw, this may be the best-suited option for you.
Kindle Previewer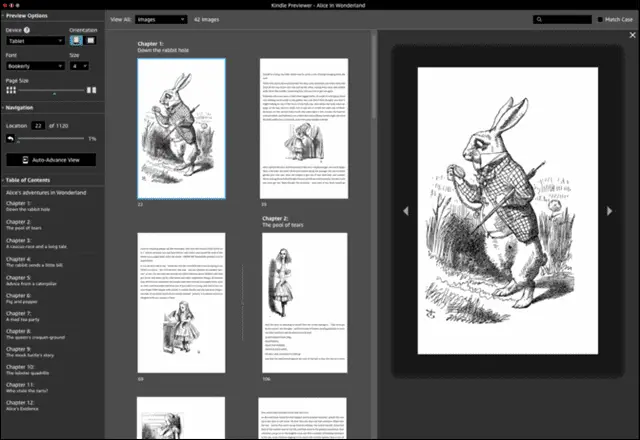 With a variety of devices today and their screen sizes, it has become requisite to check how they appear on different display peripherals.
For authors, publishers, or any ebook providers, Kindle Previewer helps to preview the books before it gets delivered to the customers. It gives you an idea of how your book reads on different devices, and whether the fonts being displayed suit the specific screen size and orientation.
Kindle Previewer also allows you to preview your book with the latest typography and layout improvements that come with Enhanced Typesetting. Improvements here means high-quality images, better table formatting, and font alignment, etc. The Enhanced Typesetting helps you preview your book before publishing it so that you can be sure about the overall layout.
Know more about Kindle Previewer here
Final Thoughts
When we have a variety of formats for ebooks and devices, reading becomes troublesome as you always have to struggle to get the correct format for your device. For regular readers, it's a worthy idea to know which is an excellent online converter for them, especially to convert epub to mobi. When you have a suitable online ebook converter, you never have to think twice about the format before downloading your favorite ebook.
If you want to know more about e2PUB, ePub books and kindle vs iBooks, please read: