If you're using an internet connection that does not give you unlimited access, keeping an eye on your bandwidth usage becomes necessary. If you exceed your network bandwidth limit, you will be charged extra by your Internet Service Provider. However, if you wish to avoid doing so, you should use a bandwidth monitor to gauge the inbound and outbound traffic.
What is Bandwidth Monitor Software?
A bandwidth monitor software or a network traffic monitor is a tool used to monitor your internet connection along with download and upload speeds. It gives you a detailed report stating the amount of bandwidth you use. These tools come in handy for everyone using limited internet connections.
A bandwidth usage monitor also assists you in identifying which hosts are using the most bandwidth. Apart from keeping a tab on your network, an internet usage monitor enables you to keep a check on what's going on in your LAN. You can, therefore, catch the processes and programs that are high-traffic and also identify the users that are misusing valuable network resources.
Related: Use a Clipboard Manager in Windows 10 to easily copy-paste text.
20 Best Bandwidth Monitor Software for Windows 10
Even when your internet connection is unusable, and all the possible end-user remedies have exhausted, you should check if your network has a bottleneck and if the culprit of the problem is bandwidth consumption.
We've listed the best bandwidth monitor software which will help you in monitoring the internet usage of your Windows 10 PC.
1. Antamedia Bandwidth Manager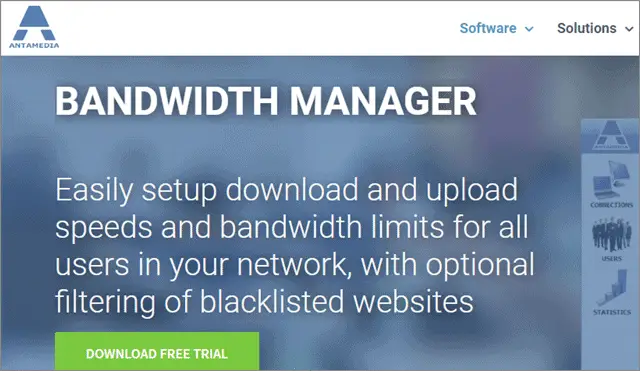 If you're wondering how to monitor network traffic, use this internet traffic monitor by Antamedia. It enables you to easily setup download and upload speeds for your internet connection. Antamedia also limits the bandwidth accessibility for all users in your network.
You can also block unwanted websites and choose from more than 100 filtering options to manage or blacklist content. The data usage monitor allows you to optimize your traffic so that the consumption of the same is limited.
The trial version requires you to Make a Demo registration. You will then be able to control 3 devices. If you need access to more devices, you will have to buy the full version. Apart from home consumption, the tool is excellent for cybercafes, schools, and small businesses.
Download Antamedia Bandwidth Manager here
2. SolarWinds Real-Time Bandwidth Monitor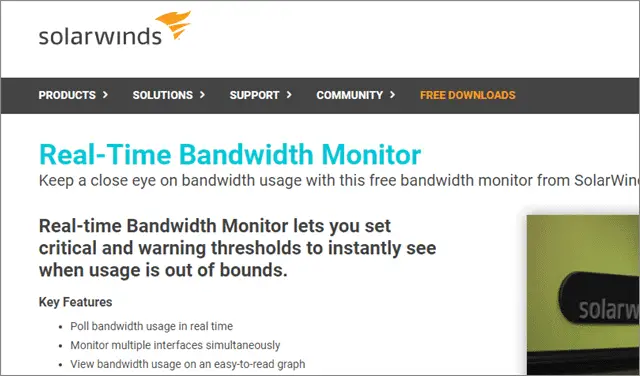 Solarwinds is a free bandwidth monitor that enables you to keep a close eye on bandwidth usage. This network diagnosis tool allows you to monitor internet usage on several interfaces simultaneously. It also creates easy-to-read graphs, offering visual treats reflecting the whereabouts of your network.
One of the best tools for bandwidth usage monitoring, SolarWinds lets you specify refresh time for as low as 0.5 seconds. Therefore, you get a real-time overview of internet utilization. You can also set warning thresholds to promptly see when your internet usage is out of bounds.
Download SolarWinds Real-Time Bandwidth Monitor here
3. GlassWire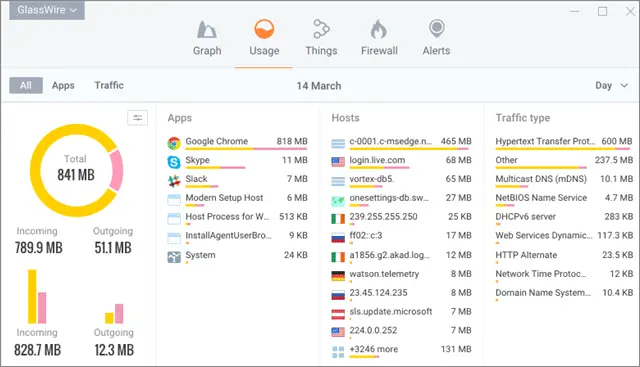 GlassWire's network usage monitor enables users to examine their network activity by their geo-location, traffic, and application. It is depicted in easy-to-use graphs. You will be able to trace your PC's traffic back to 30 days.
You can detect the out of line apps, find out the cause behind a casual spike in your network activity, spyware, malware, and block their connections, too. It will also send you alerts about potential threats, DNS changes, and unexpected alterations in the network system file so that immediate action can be taken.
Even if you're not in front of the computer screen, GlassWire enables you to monitor the PC remotely and warns you about suspicious activities on the PC. You can, therefore, block the same. GlassWire's firewall comes in handy while anticipating threats in the network.
Download GlassWire here
4. PRTG Bandwidth Monitor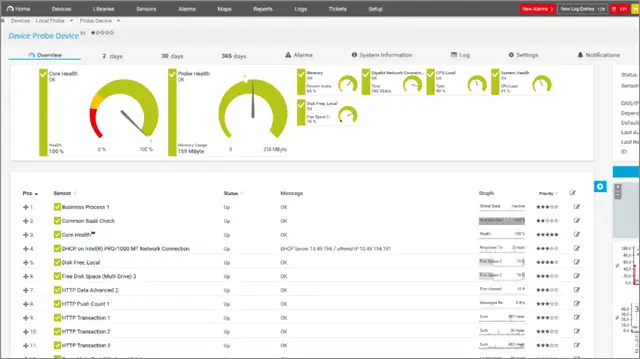 PRTG is one of the best tools to analyze network bandwidth. The software inspects and lists a series of parameters that give you a clear picture of your network connection and internet performance.
With the help of this net speed monitor, you can detect bandwidth overloads. It also helps you in taking the precautions that are necessary to ensure that your connection is in a regular functioning state. This network traffic monitor is excellent for both personal and professional usage.
Those who are using the software privately can run speed tests to check if the internet connection is running adequately or not. While professional users can eliminate bandwidth hogs by using PRTG and thereby help in reducing employee productivity.
The free version allows a maximum of 100 sensors at no extra cost.
Download PRTG Bandwidth Monitor here
5. NetWorx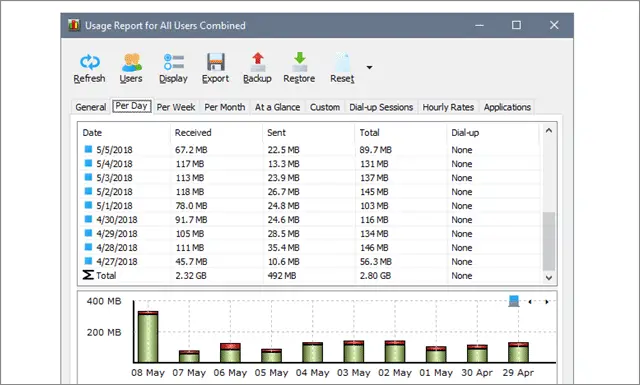 NetWorx is a free bandwidth monitor that measures your internet speed and analyzes your bandwidth consumption. The software enables you to keep an eye on specific connections, for example, a mobile internet connection or Wi-Fi, and also all the connections at the same time.
You can set data quotas and receive warning notifications when you exceed certain limits. They also make a net usage graph available so that you can monitor your current bandwidth usage.
The tool gives you a detailed report as well, which will let you know about bandwidth usage on a daily basis; or even weekly or monthly, as per your choice. You can also observe how much bandwidth is each user on your computer consuming.
Download NetWorx here
6. BitMeter OS
BitMeter is open-source software that starts running in the background each time you start your computer. The tool facilitates broadband usage monitoring, and you can see your bandwidth consumption through the PC's web browser or even a command-line interface.
The network diagnosis tool can help you see your present bandwidth usage. You can also check the bandwidth usage for the past days, weeks, and months.
From a summary of your data consumption for particular dates and export reports in CSV format, you can also monitor network traffic by setting alerts to notify you when you exceed a specified threshold. The tool is simple to use. Even though it does not offer too many advanced features, it is ideal for users with basic requirements like using it as a data usage monitor.
Download BitMeter OS here
7. FreeMeter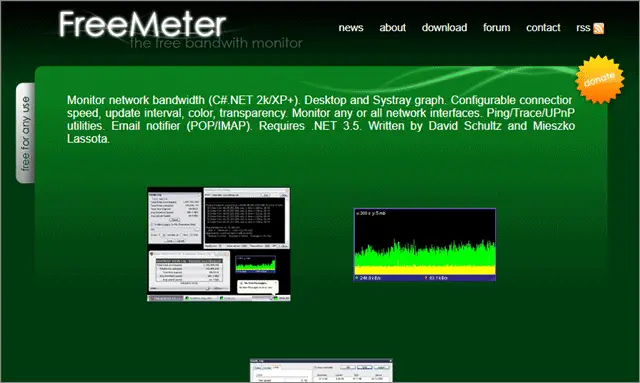 If you're wondering how to monitor network traffic, you should immediately get your hands on FreeMeter. It is a light and easy-to-use bandwidth monitor for Windows 10.
The first thing you'll notice once you open the tool is a live graph that shows you your current data usage. However, if you do not want to see the graph each time you open the network usage monitor, you can minimize it. The graph which contains the live feed will still remain active in the Taskbar. You can, therefore, access it with just one click, whenever you wish.
You can customize the graph's update frequency, transparency, scale, and color. If you double-click on the graph, you will get access to a report which reflects your weekly, monthly, and daily internet data consumption. You can also set alerts to receive a notification when you exceed data limits.
Download FreeMeter here
8. Network Bandwidth Monitor by ManageEngine OpUtils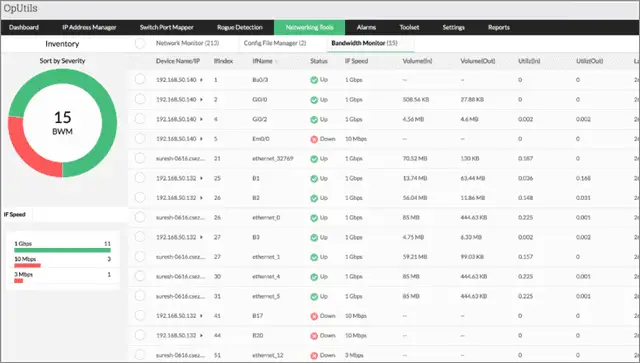 This is a great software to monitor traffic on your network. You can also use it for gauging bandwidth usage within your perimeter.
The free version enables you to monitor two interfaces from a device. Although the number is limited, you will receive the data and information that you want, from the router ports. Do you need to identify the root cause behind a slow internet connection? Try this network bandwidth monitor. It will also help you understand who all are monopolizing your bandwidth.
The tool uses graphs and statistics to show usage patterns and network traffic over days, weeks, and months. It makes administrators analyze bandwidth usage. They can then decide if increasing the bandwidth is needed or not. You can also set limits for bandwidth utilization and receive live notifications once the threshold is exceeded.
Download Network Bandwidth Monitor by ManageEngine OpUtils here
9. BandwidthD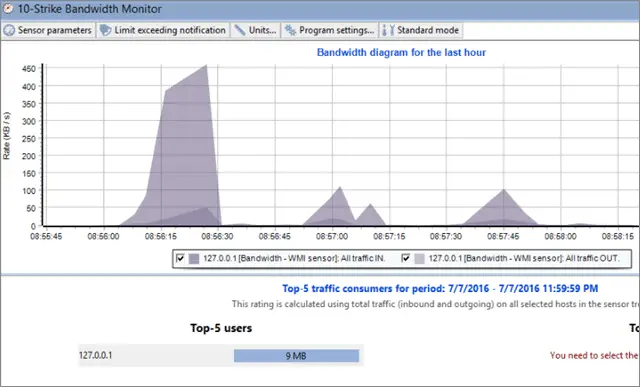 This internet data usage monitor enables you to monitor your internet traffic, scan the range of  IP addresses, and generate reports based on statistics accordingly. Apart from allowing you to monitor your bandwidth, the tool lets you view a diagram from the last hour and traffic sensor details like the IP address, date, and time.
You can use this data usage monitor for Windows 10 for detecting hosts on your internet network by scanning an IP address range. You can set up alerts and program logs, generate statistics, and save the same as PDF or FP3 files.
BandwidthD will give you information about the average traffic volume by calculating the pattern of the previous months. It will also give you details about downtime for a selected time period, and even traffic volume for a specified period. So, you can view graphical representations of your network traffic, monitor your PC's bandwidth, and generate stats using this network bandwidth monitor.
Download BandwidthD here
10. Monitor Bandwidth Usage Software
This bandwidth monitor for Windows 10 is a lightweight software that enables the user to check bandwidth usage and view the information and data displayed in the form of a graph. You can also copy the history log to the clipboard.
The layout of this software is intuitive and enables the user to perform maximum operations with minimum effort. The tool is capable of logging the monitoring process from one second up to 24 hours. You can also view the bandwidth history put together in a graphical representation.
This software is reliable and carries out every task quickly. No errors will show up while running the processes. The overall performance and speed of your computer will not be affected. Moreover, the data usage monitor leaves a minimal footprint on system resources.
Download Monitor Bandwidth Usage Software here
11. ISP Monitor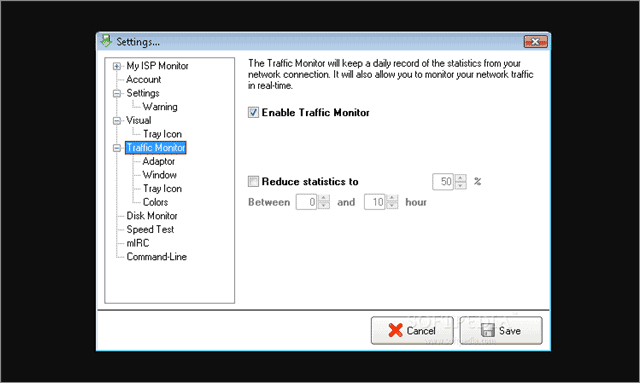 ISP Monitor is a lightweight free tool that helps the user to keep track of their internet speed effortlessly. You can know the real bandwidth speed for which you are paying. Apart from broadband usage monitoring, the software lets you set the upload and download limits too.
The network bandwidth is monitored in real-time and shows the percentage of data used from your total limit. You are also allowed to tweak the same before the set limit is reached. You can also adjust the settings in such a way that the program will disconnect the network connection when it reaches the desired threshold.
The network speed monitor does not come with any virus or spyware. It has a clean interface and is an easy-to-use tool.
Download ISP Monitor here
12. BitMeter II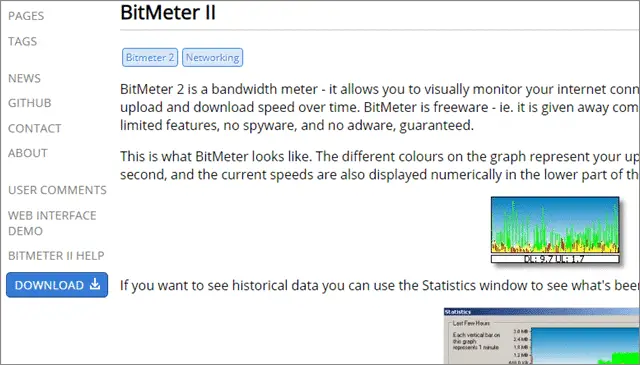 Use BitMeter II to monitor network traffic and track the internet connection of your PC. The software displays a scrolling graph that contains details of your internet usage, including the upload and download speed over time.
One of the best broadband usage monitors, the tool uses different colors to highlight any kind of wither in the download and upload speeds. It also updates the data almost every second. You can also view the daily statistical information or even trace it back to days and weeks.
If you're wondering 'what's using my bandwidth', BitMeter II is the easiest way to find it out. The data represented in the graphs is also available in numeric form. You can even export the same to a spreadsheet if a detailed analysis is required.
Download BitMeter II here
13. tbbMeter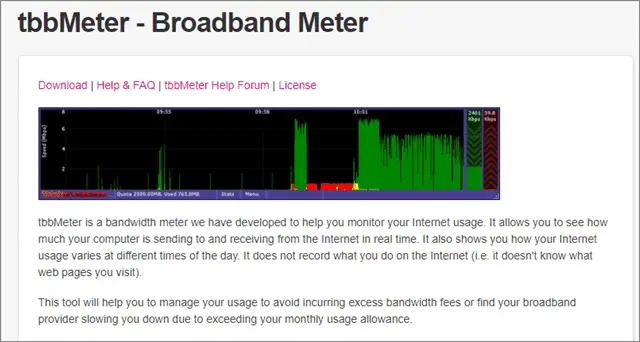 tbbMeter allows you to see how much data your PC is sending and receiving in real-time. This makes the tool an exceptional internet data usage monitor. The software also highlights the part of the day when your internet speed varies.
Although it isn't power-packed with features and may not be the best data usage monitor for Windows 10, tbbMeter helps you keep an eye on the uploads and downloads. It also discloses the amount of bandwidth being used. It is ideal for your computer at home where you simply need to monitor bandwidth usage.
Using this tool will help you avoid incurring excess broadband fees, and tbbMeter doesn't record what you do on the internet. You can get your hands on the daily, weekly, and monthly statistics and also set alarm notifications which will prevent you from exceeding your usage limit.
Download tbbMeter here
14. BWMonitor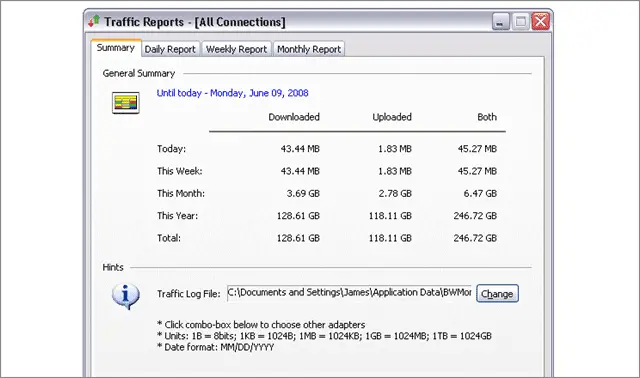 Wondering how to check bandwidth usage? BWMonitor tracks internet data usage through the PC it is installed on. Unlike some of the broadband usage monitors that we've listed, this software does not track bandwidth on multiple computers.
You can see the upload and download speed in real-time. The software also provides daily, weekly, and monthly reports. BWMontior comes in with some useful built-in facilities like a speed stopwatch and transfer rates recorder. You will also receive usage notifications once you exceed the set data limit.
BWMonitor monitors your internet usage and automatically generates traffic reports without logging in.
Download BWMonitor here
15. ntopng
Wondering how to check bandwidth usage? Use ntopng, one of the best broadband usage monitors, and an ideal tool for traffic analysis. Since ntopng is open-source, its community version is free. However, if you're using it professionally for a small business or enterprise, you will have to buy a license.
Apart from high-speed traffic analysis and flow connection, the software engages in a network traffic probe that monitors internet usage. The tool displays active hosts and network traffic in real-time. It also produces long-term reports for several network metrics.
Ntopng will send you alerts when it suspects suspicious behavior in your internet activity. You can also generate graphical reports showing a compilation of daily, weekly, and monthly data usage.
Download ntopng here
16. WhatsUp Gold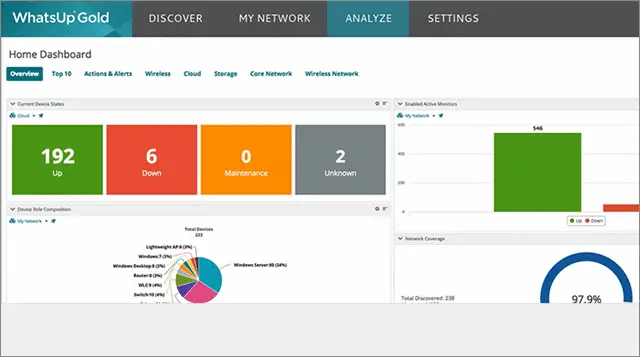 If a question like 'what's using my bandwidth' has ever crossed your mind, you should resort to using the network monitoring software by WhatsUp Gold. One of the features that it promotes is Bandwidth monitoring. The software is feature-rich yet simple to use. It is available as a free 30-day trial version and a free starter edition so that you can evaluate it before actually paying for it.
The software monitors network traffic, data usage, and servers. The user interface provides you with an interactive network map, enabling the user to drill down to investigate issues. WhatsUp Gold makes reports on bandwidth utilization available for the users, and you can customize the reports too.
You can set alerts that will notify you when the bandwidth threshold exceeds. The alerts can be received via email or SMS. Triggered actions facilitate agility in sending automatic responses to the alerts.
Download WhatsUp Gold  here
17. NetBalancer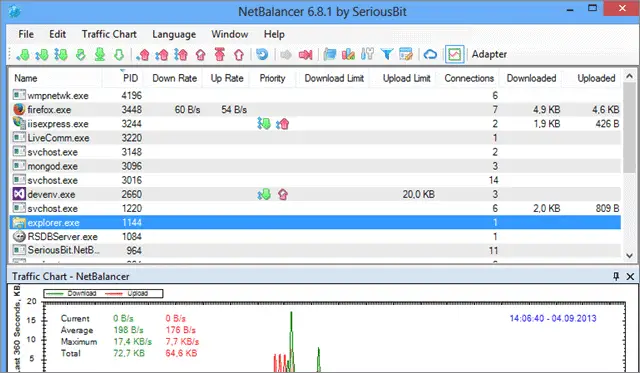 NetBalancer is a bandwidth management application that is used to control internet traffic. You can monitor the upload and download speed and set priorities. The programs with a higher priority can be allotted more bandwidth, while the other programs can run at a comparatively lower speed.
The network traffic monitor is simple and easy to use. The interface is anything but complicated. You can also protect your settings by a password so that no one else can tamper with it. You can get detailed statistics about your data usage and define network traffic rules.
The user can also group local network computers to facilitate balancing the traffic in a synchronized manner. You can control multiple systems remotely on a web panel through the tool's sync feature.
Download NetBalancer here
18. NetLimiter
One of the best bandwidth usage monitors, NetLimiter is an excellent tool for internet traffic control. If a particular app or program is using a high bandwidth, you can use the software to limit the consumption.
The network usage monitor can be used for setting upload and download speeds. You can also fix transfer rate limits for applications or a single connection. You can allot quotas or set threshold limits for various programs so that you are notified each time the limit is exceeded.
Apart from being a great tool for real-time traffic measurement, NetLimiter also displays data usage in customizable charts. If you pay for the advanced version of NetLimiter, you can avail of extra features like connection blocker, rule scheduler, and data transfer statistics.
Download NetLimiter here
19. SoftPerfect Bandwidth Manager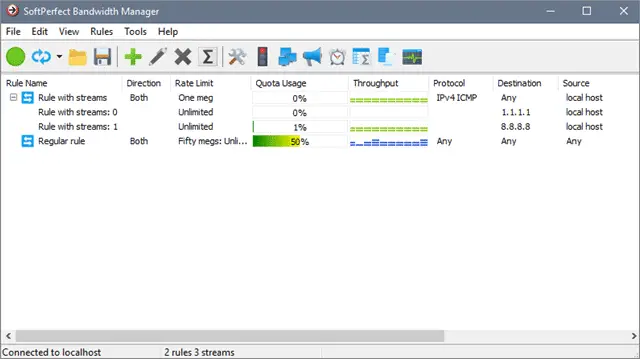 Do you use the internet a lot? Are the costs incurred for the same unexpectedly high? Does improper use of the internet affect your business performance?
This bandwidth manager is a one-stop solution to all the problems mentioned above. The tool efficiently monitors the internet network traffic and enables you to limit your bandwidth consumption in any manner you choose to specify. This increases the quality of network regulation.
The software reduces your overall bandwidth requirements while making sure that the important programs are running at full speed. It is an exceptional tool for managing and controlling internet traffic and is also cost-effective. The user can set specific rules pertaining to maximum data rates and internet usage allowances.
Download SoftPerfect Bandwidth Manager here
20. TMeter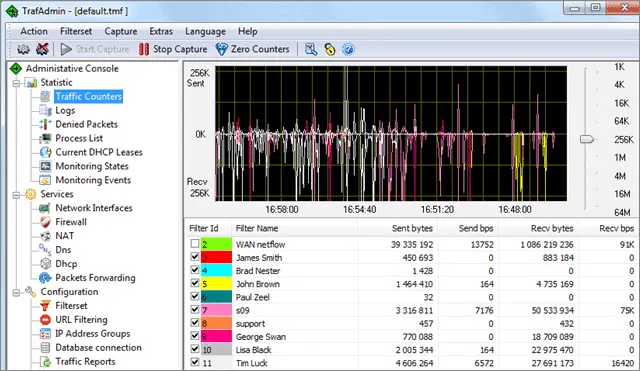 TMeter is a network traffic monitor that enables the user to control the internet speed of all the Windows processes that are accessing the network. The software can measure traffic based on various parameters, including the IP address of the destination or source, protocol, and port.
The measured internet traffic is displayed in easy-to-understand graphs, which include statistics as well. The software has an in-built Network Address Translation engine that allows multiple hosts on a private network to get access to the internet via a single public IP address.
TMeter has a firewall that protects your network from any kind of unwanted intrusions. The Traffic Shaper present enables you to control the speed of the internet for specific users.
Download TMeter here
Conclusion
We've listed the best bandwidth monitors which will help you in ascertaining what's coming in and going out of your network. Finding the right network traffic monitor facilitates having full control over your bandwidth and internet usage. A good network bandwidth monitor should give you the data that you need – which program, user, or application is using maximum bandwidth. Also, you should be able to monitor upload/download speeds and set threshold levels which will notify you when the limit is exceeded.
Do not forget that if you wish to monitor your network effectively, the first and foremost step is bandwidth monitoring. Data cap issues and throttling internet speed should no longer be the problems you encounter.
Article Updated on 19th April 2021