Your email account, especially if it is your Gmail account, is almost synonymous with your e-identity. As per the statistics, there are more than 2 billion monthly active Gmail users across the globe, and it is one of the most popular email platforms in the US. Yet, there may be times when you want to delete Gmail account.
You can learn how to automatically delete spam in Gmail to avoid clutter. But, there could be many legitimate professional or personal reasons for deleting an account altogether. These reasons could include a change of name or workplace, a defunct reference, security concerns, or it could simply mean a massive number of unwanted messages that land up in your email inbox. Whatever the reason, here is the best way to know how to delete Gmail account for desktop users.
Get a fresh start from scratch, either with a fresh email ID or no ID. The choice is yours.
Difference Between Deleting a Gmail and Google account
There is a world of difference between deleting a Gmail account and a Google account.
Both processes are different and require a distinct approach. When you delete Gmail account, you can continue using your other Google services using another email ID (non-Gmail one). Whereas when you delete a Google account, you cannot utilize any of the Google services unless you create another Google ID.
Precautions to Take Before You Delete a Gmail Account
Before you learn how to delete a Gmail account, let's discuss some important things to consider. This is necessary to prepare you for the account removal process and its outcomes.
1. Make sure you have a non-Gmail ID/alternate email address ready
Well, you will understand this is a preliminary and necessary step as we move further. There are various articles on Technorms.com to help you do so. It would be mandatory for you to have a non-Gmail ID, like on Yahoo or Outlook, or any other email service too.
You are good to go if you already have an alternative email address. Otherwise, we strongly recommend that you create another account.
2. First, change the email for all the accounts where Gmail is linked
Many of us use Gmail ID to link many other online accounts, whether for an e-commerce site or a cab booking service. Moreover, we often use a Gmail ID to log in to social media accounts or a service like Amazon and Facebook.
Many users subscribe to email newsletters and other mailing lists to receive emails. These emails will discontinue if you no longer use the email functionality offered by Gmail. Hence, before you delete your Gmail account, ensure you have replaced or removed the Gmail ID from all those places.
3. Recovery of the Gmail account depends on your luck
If you deleted your Gmail account and regret it, there is still a chance to try restoring it. If you take the decision as soon as possible, your data might still be within your access. If you try the recovery steps long after the deletion, luck may not favor you. There is a Google recovery page where you can enter your username and password and see if the account can be recovered. Remember that once the account is gone forever, the username cannot be used by anyone again, including you.
4. Your Google account remains intact
When you delete Gmail account, only the email program gets deleted; the Google account will still be accessible. So, you can continue using Google Calendar, Google Photos, Google Drive, and other Google services using the new email ID attached. Deleting Google accounts requires users to follow separate steps. If the entire account is deleted, you will lose all data of the account linked to the browser, including browser bookmarks.
5. Download/export all your important Gmail emails
To start with the process of deleting Gmail accounts, we recommend that you take a backup of all emails that are important to you. Google has this fantastic feature that helps you to download your Google data and email history.
To download Gmail data, first head to myaccount.google.com.
On the left-hand side of the window, among various options, select Data & personalization.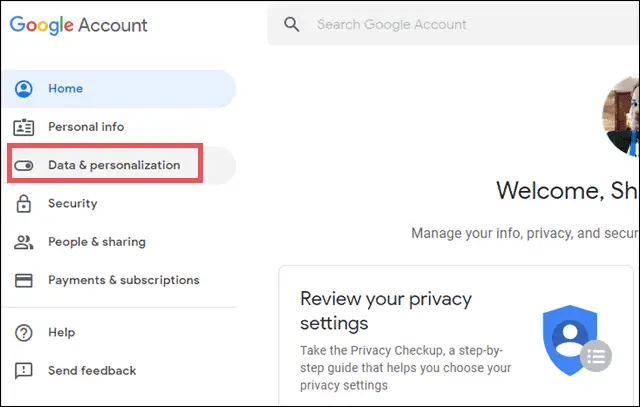 Once in Data & personalization, scroll down to Download or delete your data. You see two options here: Download your data and Delete a service (which is discussed in the next section of the article).
Another option is to make a plan for your account, which is not needed currently. For now, click on Download your data to proceed to download your important emails.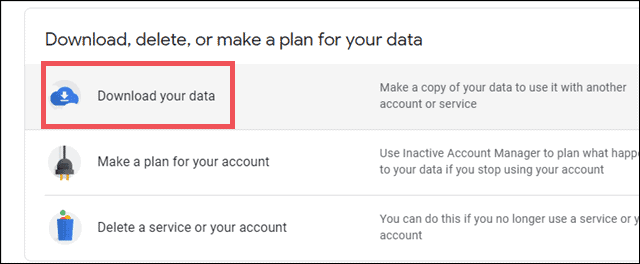 By default, all Google Services will be selected.
Click on Select None and then slide the toggle button beside Gmail as we are primarily considering taking the backup of Gmail. You can also head to this page directly by using the link of Google Takeout.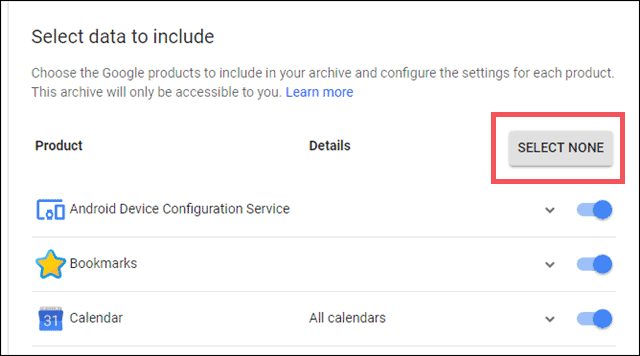 Once Gmail is selected, you have two options.
The first one lets you download all your emails. You need to select – Include all your mail.
The second option is to Select labels and download the data that falls under a particular category.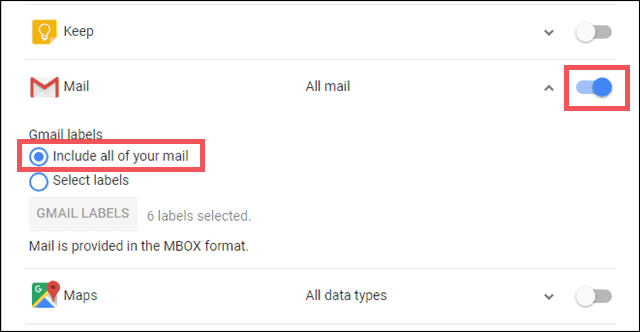 When you choose Select labels, you get a list of all the labels, and you have to select the ones you prefer and then click OK.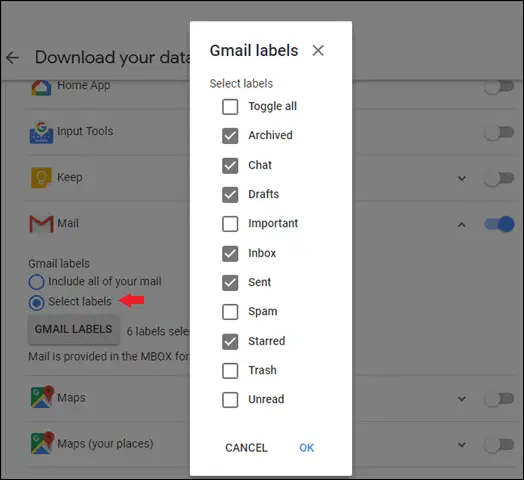 Whatever you choose for downloading all the emails or selecting label-wise, just scroll down and click on Next.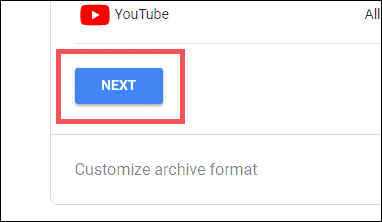 Now you have to set up two preferences; one is the File type, and another Archive size.
There are two file types – .zip and.tgz.
We will go for the .zip format as it's the practical and convenient file downloading option due to its ability to compress a large amount of data to a small size.
Next, select your Archive size, which can vary between 1GB to 10GB.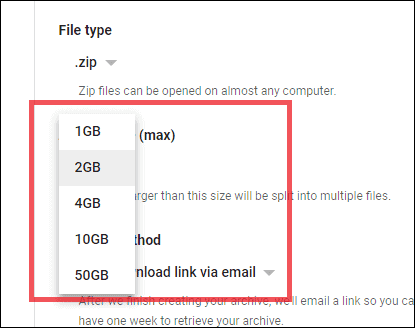 Last but not least, select the delivery method, whether you want to send a download link via email, Add to Drive, Add to Dropbox, Add to OneDrive or Add to Box.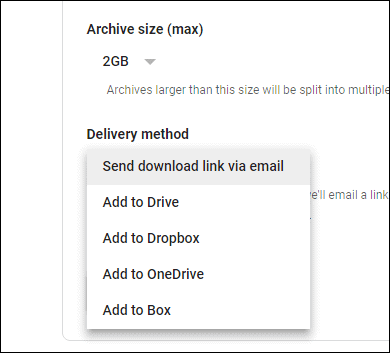 Finally, click Create Archive, which will download all your emails to the selected place.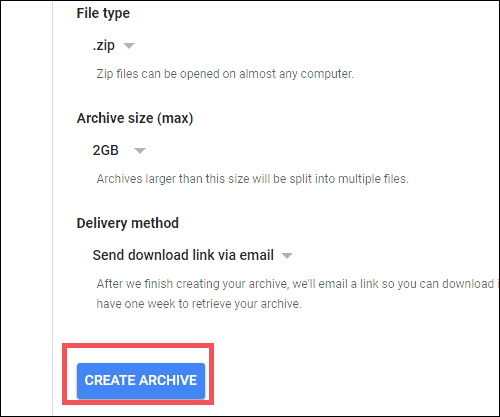 Note: It is important to note that the Gmail content you download will be in MBOX format, and you cannot read the emails as easily as you do with the standard Gmail interface.
9 Steps on How To Delete Gmail Account Permanently
Now, let us address the main issue and check the process and steps of how to delete Gmail account.
Step 1:
To remove Gmail accounts forever, go to myaccount.google.com. Now select the Data & personalization option from the left side of my accounts page.
Step 2:
Next, scroll down and select Delete a service or account.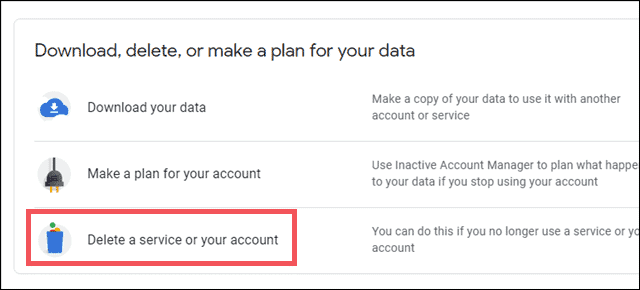 Step 3:
Here, we are not concerned about deleting a Google account but only with the Gmail service. Hence click on Delete a service under Delete a Google service.
Step 4:
Next, it will ask you to enter the Google account password to proceed.
Step 5:
You can see the list of Google services you currently use in the Delete a Google service screen. Click on the trash icon beside Gmail.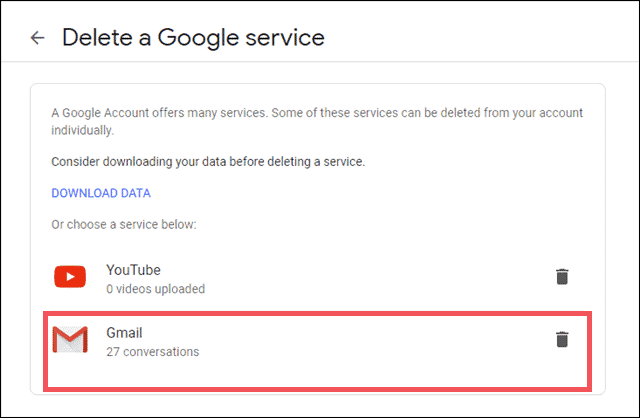 To continue using your other Google services, you must have an email address that should not be a Gmail ID at all. Hence, as we had recommended earlier, have another email address handy that you will use while signing in to other Google services like Google Docs, YouTube, etc.
Step 6:
Now enter an email ID that will be used to send a verification in order to delete Gmail account. You cannot delete the Gmail account unless you provide a valid non-Gmail ID. Enter an email ID and click on the SEND VERIFICATION EMAIL button.
Step 7:
You will see a message box that asks you to verify your email ID by performing the mentioned steps.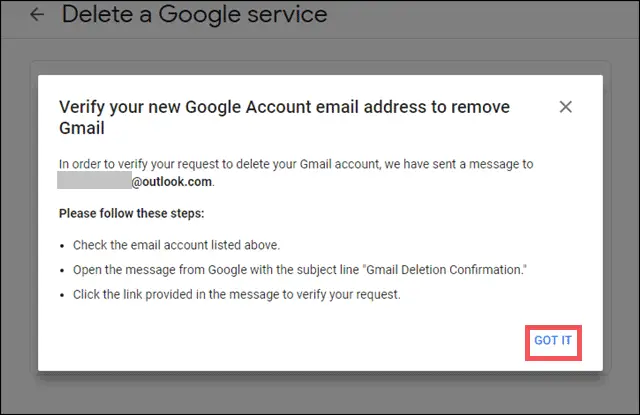 Log in to the account that you provided as a verification email and open the message that has a subject as Gmail Deletion Confirmation.
Step 8:
Next, click on the link in blue to proceed.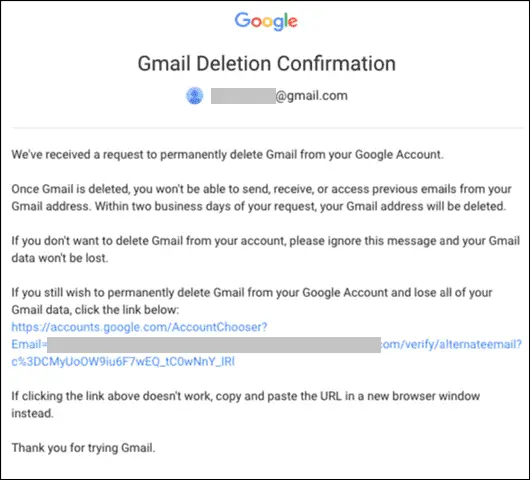 You will finally be asked to read the information carefully when you click on the link to avoid misunderstandings or mistakes.
Once you have read everything, tick the box saying Yes, I want to delete xyz@gmail.com permanently from my Google Account.
Step 9:
In the last and final step, click on DELETE GMAIL to delete Gmail account, and you will get a warning message as a confirmation step.
Click on Done.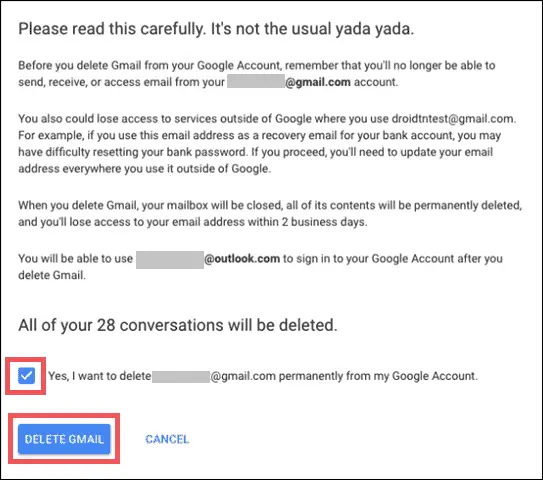 Congratulations, your Gmail account has been removed and will be permanently deleted.
What Happens After You Delete Gmail Account
What happens when someone sends an email to your deleted Gmail ID? Once you have finished the process and deleted your Gmail account successfully, if anyone sends an email to the older Gmail ID, he/she will receive an error message. Hence better if you provide your alternative email ID to all your friends, family, and colleagues with whom you want to stay in touch.
Final Thoughts
There can be many scenarios that compel users to delete Gmail account. Deleting the primary email address can be difficult to manage, but if you have backed up all important emails, this must not be a problem. Remember that when the Gmail account is deleted, your Google account remains intact, and you can still access Google Play and the other services Google offers.
We hope that our step-by-step guide has been able to assist users in deleting their Gmail account. Whatever the reason, make sure you follow all the precautions and take a backup. Deleting a Gmail account means no one in the future can use your Gmail address. 
(Updated on 13th September 2022)