Of the many reasons why we use a laptop or a computer, listening to music is probably one of the most crucial ones. Many of us are habitual to listening to our favorite tunes and crooning alongside on a daily basis. This accounts for good sound quality, and in turn, a good Windows 10 equalizer is required for the same.
There are certain reasons why an equalizer is necessary if you are listening to music. For us, it is capable of softening and enhancing sounds regardless of what the source frequency is actually at. Windows 10 equalizer and other audio equalizers offer several kinds of presets that help users to improve the sound quality for different kinds of music genres. This is usually done by adjusting the different kinds of filters and frequencies to achieve the perfect audio quality.
Let's have a look at the importance of audio filters and equalizers and know the process of how they refine sounds for better quality.
All About Audio Filters and Equalizers
Equalizers are software or hardware filters that adjust the loudness of specific frequencies. In sound recording and reproduction, equalization is used to alter the frequency response of an audio system using linear filters. Audio filters are used to isolate bands, and in a hardware system, these filters can get pretty complicated.
When these are represented in graphic EQs you can adjust the knobs to get the sounds that you prefer. Software EQs, like those in your audio player of choice, essentially imitate this setup.
Equalization of audio content is a process of shaping audio to a more soothing one that sounds much better than the original one you have. By using a good equalizer for Windows 10, you can tweak frequencies of any audio content.
Previously, to equalize an audio file, very advanced and massive instruments were used that were quite tough and clumsy to handle. Nowadays there is a variety of equalizer apps that allow you to alter frequency response using filters and some adjustments of bass and treble.
15 Best Windows 10 Equalizer To Enhance Audio Quality
Equalizers are also required because not every speaker produces the sound that fits in with the surrounding it is placed in. Users need to adjust the sound according to its surroundings. On that note, let's have a look at the best equalizers for Windows 10 at our disposal.
1. EqualizerPro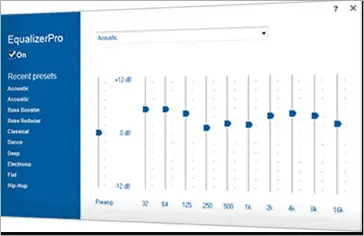 EqualizerPro is one of the best Equalizers for Windows 10 with some of the best features to enhance your overall Windows sound system. There is a 20+ equalizer presetting that you can use for songs and movies without any manual setting. The 10 band equalizer gives you more control over tone and pitch.
The Preamp Volume Control allows you to boost low tones and improve the overall audio output without adjusting each band individually. The bass boost effect can amplify the low frequencies of the sound, meaning you can easily enhance your bass tone without masking it.
EqualizePro has a user-friendly interface which makes it a great PC equalizer for Windows 10. You can even create your own custom presets as required. EqualizerPro comes with a free 7-day trial.
Price: 7-day trial period available/Upgrade starts from $29.95
Download EqualizerPro here
2. Viper4Windows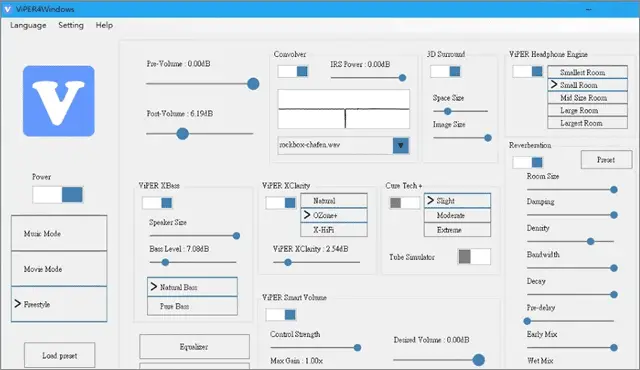 The Viper4Windows is an open-source audio enhancing Windows 10 Equalizer that helps you to experience the best of your system's sound. It supports Windows and Android operating systems.
You can select certain different modes for listening to music through headphones or speakers. Thanks to this feature, you don't have to worry about listening to music with the best possible sound effect.
The Viper4Windows' Surround Settings include Field Surround, Differential Surround, and Virtual Headphone Surround that let you have a great experience in surround sound. You can also use this PC equalizer to alter sound according to its type. For example, you can use the Movies mode when you are watching a movie, or switch to Music mode when you are listening to songs.
Price: Free
Download Viper4Windows here
3. FxSound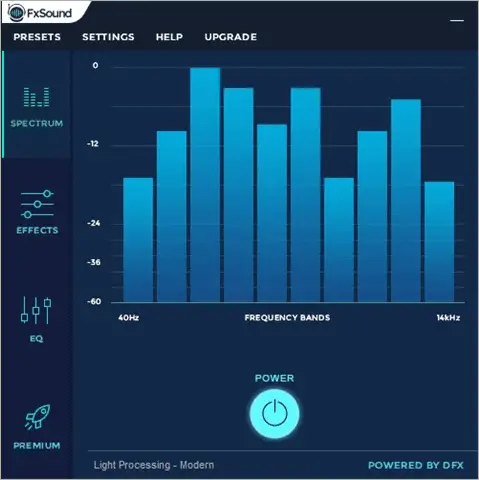 FXSound is one of the best Equalizers for Windows 10 that gives your system a crisp audio quality and resonant bass that you will enjoy. If you have never experienced a professional studio-quality sound system, FXSound lets you feel it. This is because it has advanced and seamless features that help in improving every bit of audio.
You get to customize any feature with the 10-band adjustable EQ using this Windows 10 equalizer. Users can also enjoy excellent 3D surround sound even if they have average quality headphones.
FX Sound automatically optimizes itself once you start playing the audio. It comes with the option of a 7-day trial and is regarded as one of the best audio equalizers in the business.
Price: $39.99 for unlimited lifetime access
Download FXSound here
4. Equalizer APO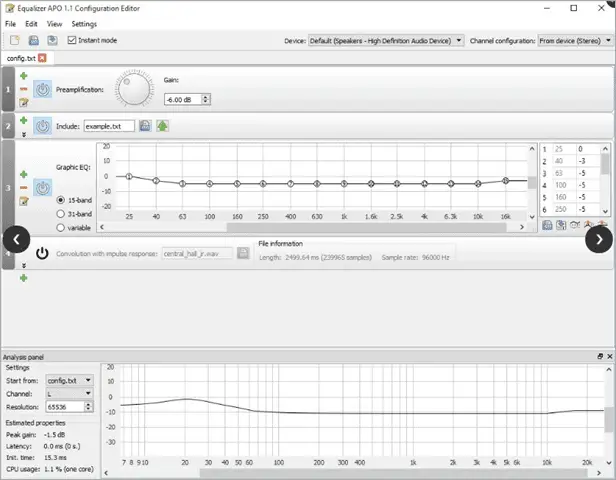 Equalizer APO is another robust Windows 10 equalizer that has some unique and advanced features that give you a great audio output. It comes with a virtually unlimited number of filters. APO stands for Audio Processing Object.
It has a clean and crisp UI with each module representing the best settings you require to upgrade your sound system. This PC equalizer has very low latency, which makes it one of the best equalizers to use for interactive applications.
A reboot is mandatory after the installation of Equalizer APO. To use this sound equalizer, one needs a sound card driver that supports APOs(Audio Processing Object); this includes most onboard sound drivers. This audio equalizer also offers VST plugin support.
Price: Free
Download Equalizer APO here
5. Bass Treble Booster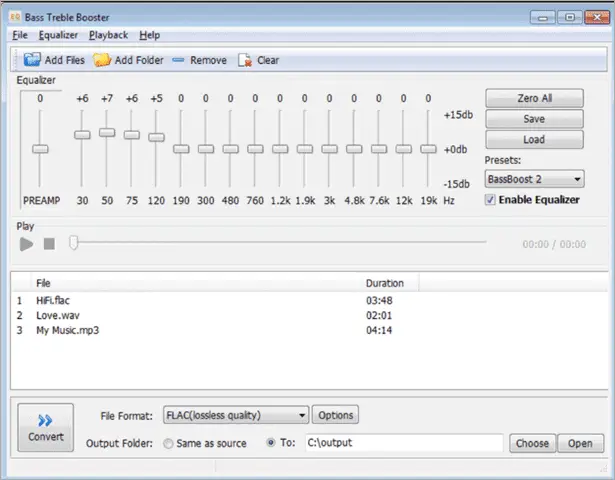 One of the audio equalizers for windows 10 is Bass Treble Booster that takes your music to a new level. This is done by providing a variety of preset, frequencies and adjustable settings.
Bass Treble Booster has an easy-to-use interface and is helpful for those who have never worked on a professional sound system. This PC equalizer also offers a lossless conversion of formats such as Wav, Mp3, or FLAC.
With Bass Treble Booster, you can also cut or boost the energy of specific frequency bands. If you are unhappy with the experimented modifications, you can go back to the default settings.
Price: Free
Download Bass Treble Booster here
6. Graphic Equalizer Studio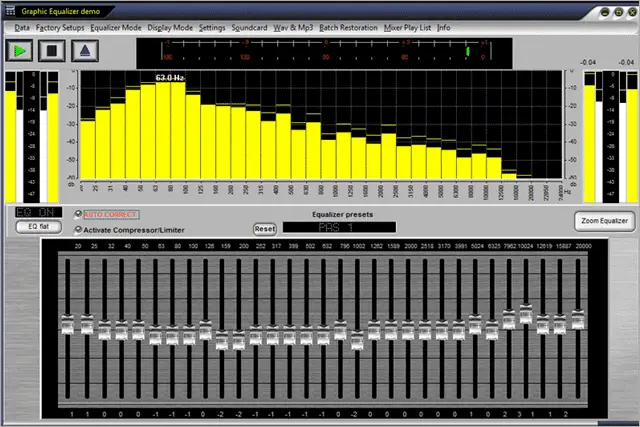 No matter which type of sound app you are using, Graphic Equalizer Studio works well with every app. The best use of this Windows 10 equalizer is when you are listening to the internet radio station. Many of us experience inconsistency in actual audio reproduction (different songs sound different) while listening to our favorite station.
Graphic Equalizer Studio has many presets such as speech level, noise field, or subwoofer, which can be used for various formats such as WAV, MP3, Full Duplex, etc. The latest 2020 version also comes with an audio limiter and compressor, which increases and decreases the volume for high and low tones.
It will assure you of a consistent degree of bass and treble response irrespective of the song and artist. The alteration in Q-Factor changes the overall tone. Setting the Q-Factor over 7-8 creates a smooth, subtle, and crisp audio quality. It has a compressor that powers-up the lower signal into a louder one.
Price: Free
Download Graphic Equalizer Studio here
7. Real-Time Equalizer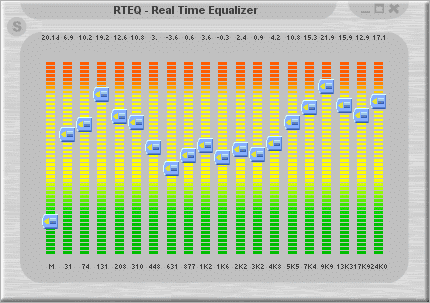 Before using Real-Time Equalizer for Windows, please note that RTEQ (Real-Time Equalizer) comes in two versions.
First, is the standalone version that equalizes real-time audio signals and the other is the WinAMP plugin version that equalizes the files like MP3. While installing the software, you will be asked which version you want. Higher dB value means higher amplification that gives you freedom in forming transfer function.
Variable Dynamic Range allows you to decide whether you want a fine amplification range from -INF to +20 dB. The other choice is of a powerful range from -INF to +90.2dB. Spatial Resurrection allows you to widen the spatial effect of stereo music that will add crazy effects to your media experience.
Price: Free
Download Real-Time here
8. Breakaway Audio Enhancer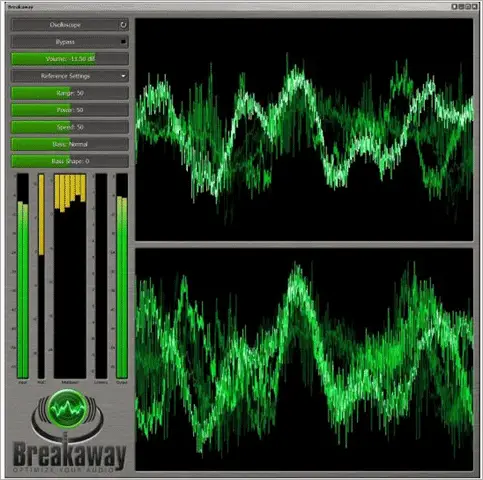 If you ever feel like working with some tools that are used by professionals, then Breakaway Audio Enhancer won't disappoint you.  This Windows 10 equalizer is a user-friendly software from the creators of Volume Logic that is designed to revolutionize the way you listen to the audio.
This supports almost all the media players providing you with consistent, qualitative and crisp audio quality. You can control all types of audio whether it is from a browser or an app. The app automatically adjusts volume while equalizing the audio for better output.
You don't need to rush to your volume button when your favorite song is getting played, Breakaway Audio Enhancer does it all for you.
Price: 30-days free trial available; pro version priced at $29.95
Download Breakaway Audio here
9. Bongiovi DPS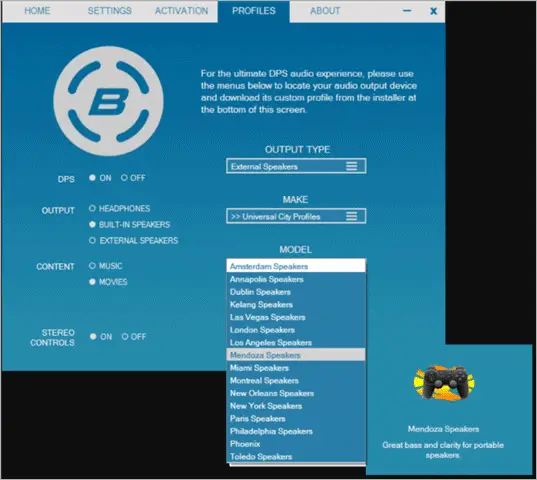 Bongiovi DPS redefines the crystal clear audio experience. Your songs and movies will have a more in-depth clarity and bass if you opt for this Windows 10 equalizer. Bongiovi DPS sound processing system instantly corrects and improves the sound from any app.
Whether it is video games, apps, music, movies, VOIP, video conferencing via Google Voice, Skype, and Facetime, everything comes alive and refreshing with Bongiovi DPS Sound.
Bongiovi DPS offers system-wide DPS audio processing and a deep bass with its Virtual Subwoofer system. This can be a perfect sound equalizer for windows 10 if you are looking for one with a simple user interface and functionality.
Price: Free
Download Bongiovi DPS here
10. Redline Equalizer

Redline Equalizer has a unique, cut-to-the-point, and straightforward interface to get you the best audio signals. You can control each spectrum of your audio files with the set of features it has.
It provides high-precision control over files combined with an unbeatable workflow. If it is a high-pitch song or too low to hear audio, it simply boosts them to 60 dB per band. This is done without any crack or inconsistency coming across in the audio quality.
The Redline Equalizer also has an automatic leveling feature that makes the user experience smooth without listening to the pre and post adjustments of audio signals. It has five fully parametric EQ bands with up to 60 dB of boosts/cut. If you are looking for a multi-functional Windows 10 equalizer, Redline Equalizer is an option worth trying out.
Price: Free
Download Redline Equalizer here
11. MAXX Audio

MaxxAudio is one of the best choices for sound engineers to create complex sounds for films, music, and games. It is a suite of advanced audio enhancements tools including MaxxEQ for Full Spectrum Equalization, MaxxBass for Psycho-Acoustic Bass Enhancement, MaxxTreble for Crystal-Clear High Frequencies, MaxxStereo™ Multi-Dimensional Spatial Imaging, and much more.
MaxxEQ is a full spectrum 10-band Windows 10 equalizer that is perfect for any audio content. It offers you high-customization where you can design curves and shape the frequency responses in the way you prefer. The simple user interface of the equalizer makes it an obvious choice for many first-time users.
Price: Free
Download MaxxAudio here
12. EQ Audio Equalizer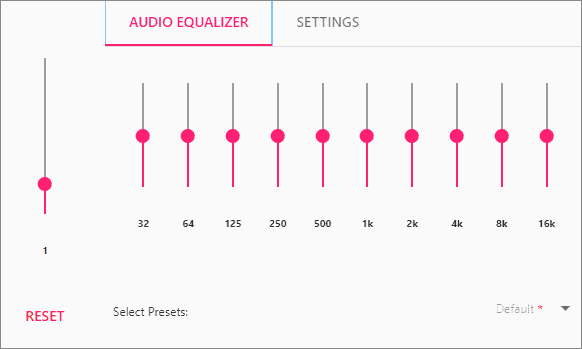 EQ Audio Equalizer is a tad bit different from the aforementioned applications. This Windows 10 equalizer is a Chrome app and works only on the audio played within the browser.
Being an online application, the EQ Audio Equalizer has its own pros and cons. On the downside, it cannot enhance the audio quality of the sound on your operating system. However, it comes handy as most of the users these days tend to play music online through Youtube or any other music streaming websites.
Users can create their own presets in the EQ Audio Equalizer. All in all, it's a great equalizer if you spend most of your time listening to audio or watching movies on the internet.
Price: Free
Download EQ Audio Equalizer here
13. VoiceMeeter Banana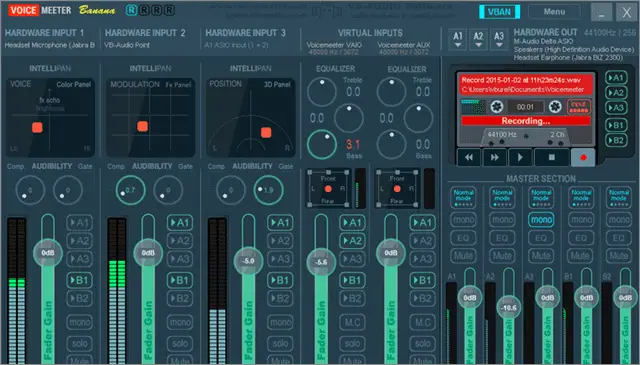 Voicemeeter Banana is the best Windows 10 equalizer to opt for if you work a lot with your microphone for making podcasts or Youtube videos. This equalizer is a multi-tasking application that can control the input as well as the output audio of your computer.
With Voicemeeter Banana, you can make up for microphone deficiencies using the advanced audio mixer feature. It lets you control the quality of any kind of streaming or recording. This equalizer can be used for various purposes such as casting screens, making podcasts and videos, and video calling.
The fact that Voicemeeter Banana is a free application to use makes it one of the most in-demand sound equalizers in the market.
Price: Free
Download Voicemeeter Banana here
14. Realtek HD Audio Manager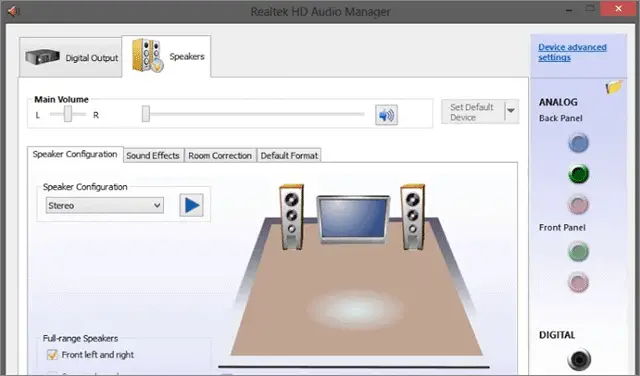 Realtek HD Audio Manager is best known for oodles of customization options it offers to the users for enhancement of sound. It adjusts sound according to the environment it is being played in, such as hall, living room, car, and much more.
The Realtek HD Audio Manager offers bands between 31 dB to 16k dB. It is mostly classified as a sound equalizer with a simple user interface. It can be used for basic bass and treble boosting provided you know the correct frequencies. This Windows 10 equalizer offers a limited number of presets but allows users to create and save their own.
Price: Free
Download Realtek HD Audio Manager here
15. Boom 3D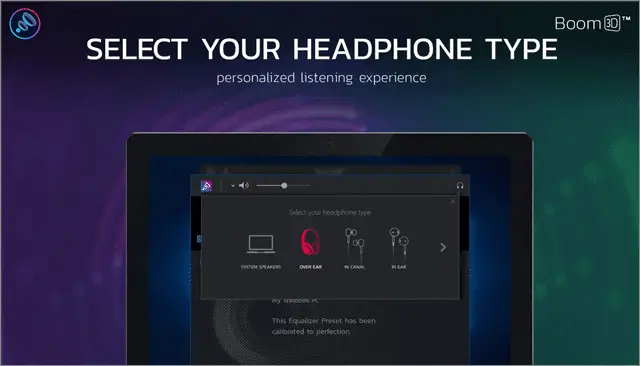 The Boom 3D has multiple functionalities as a Windows 10 equalizer and comes with a slew of features that won't disappoint you at all. To start with, this audio equalizer is known for providing excellent 3D sound effects according to the different surroundings.
It is equipped with a 31-band preset that can help you calibrate the audio with just one touch.
The volume booster increases the perceived loudness of the audio, maintaining the distortion level of the sound. You can also create playlists just like you do in your smartphones or on computers.
Boom 3D also provides the Application Volume Controller feature which allows you to control the volume of several applications on your PC. Given the multiple functionalities it offers, this is one of the best audio equalizers you should definitely try out.
Price: 30 days free trial available; pro version priced at $15
Download Boom 3D here
Conclusion
Windows 10 equalizer apps are necessary for many reasons as they enhance the listening experience of the users. They are mostly used to adjust the sound according to its type and surroundings.
Of the aforementioned sound equalizers, EqualizerPro and Redline Redline Equalizer are the best audio equalizers to go with, if you are looking for customization options and a simple user-interface. However, it is also okay for users to use any equalizer that fits their list of needs and requirements.
Also, check: