Catering to the need for proper planning, organization, and execution, tech-giants Microsoft sell a project management software called Microsoft Project. However, the limited functionality, and the fact that it is primarily suited for general management, makes businesses look for a better Microsoft Project alternative.
Project management software allows a project manager to develop schedules, assign resources to tasks, track progress, manage the budget, and analyze the budget of a particular project.
For the ones who need a quick answer, we have the Best 10 Microsoft Project alternative
Top 10 MS Project Alternatives:
Scoro – For Geat UI and user experience

Trello – Best for task management

Basecamp – Best MS Project alternative for team collaboration

Asana – Best for workflow management

Clarizen – MS Project alternative for time tracking

Wrike – Best alternative for Gantt charts

Zoho Projects – Best Microsoft alternative for small businesses

Zenkit – Best for flexibility in display

Mavenlink – For project margin reporting

JIRA – Best MS Project alternative for Agile projects
For the ones who are looking for details and what to look for in the project alternatives, you can go ahead and read further.
How to Select The Perfect Microsoft Project alternative?
Every project manager has his or her requirements that need to be fulfilled by project management tools. In that sense, the parameters for a good MS Project alternative may differ from user to user. However, we can always have a look at these common factors before deciding upon the choice of software.
1. Software design and Interface
Make sure that the software design and interface are simple and easy to comprehend. There shouldn't be too many complex steps for executing simple functions; the navigation needs to be as easy as possible.
2. Learning curve
A good MS Project alternative must always have tutorials so that users can quickly learn how to operate the software. Also, ensure that the software has a good customer support service to solve your problems.
3. Functional Integration
Now, this is the part where each individual might have different requirements. A good substitute needs to have all the features that are absent in MS Project; it should satisfy the very need for searching an alternative project management tool.
After you have found a good alternative having the features that suit your needs, always make sure that the software is able to import and export project files seamlessly in various formats. A good MS Project alternative must also provide necessary integrations with different kinds of tools for ensuring the seamless functioning of the projects.
4. Price:
Project managers need to be aware of how many users will use the software they opt for. On that basis, they can select an affordable plan that suits their needs. Make sure that the pricing for your plan is worth the features and functionalities it offers.
Many people use OpenOffice's open-source software ProjectLibre, regarded as a direct replacement to Microsoft Project. Apart from that, Microsoft Planner is also a project management software from the Office 365 suite. The Mac users also need not be dubious about reading this article; software like Teamwork and Zoho are two of the best Microsoft Project Mac alternatives.
24 Microsoft Project Alternative in Detail: Plan And Execute Your Tasks Flawlessly!
Planning and organization are mandatory skills required for every business to function smoothly. Without these two aspects, the results of your executions could hardly match their actual potential. That being said, let's dig in to know the best substitutes for MS Project.
1. Scoro
Scoro is a cloud-based software that allows professionals to streamline work and eliminate routine tasks. This MS Project alternative enables task management, work-scheduling, invoicing, time-tracking, and project management.
Budgeting and invoicing are Scoro's main features. This Microsoft Project alternative also allows users to structure their work in a better manner. Also, it can be integrated with apps like Mailchimp, Dropbox, and Outlook.
Scoro is the best solution for businesses that are looking for an all-in-one software that offers project management, time management, sales, finances, and reporting. There are three pricing plans based on per user per month – Essential for $26, Work Hub for $37, and Sales Hub for $37.
What we like about Scoro:
Billing and invoicing
Project management
Inventory management
Employee management
Cons:
Training management
Contacts are hard to find and disappear automatically
Get Scoro
2. Trello
Trello is yet another Microsoft Project alternative you can try out. This app offers better collaboration when it comes to completing tasks. It uses boards for projects and cards to keep track of their progress.
Trello's drag and drop functionality is what makes it a better alternative to MS Project. In-line editing, data filtering, archiving of card records, and SSL encryption of data are also some other features that help the software stand out amongst its competitors.
Trello offers a Business pricing plan for $12.50 per user per month, and an Enterprise plan for $20.83 per user per month for 100 users.
What we like about Trello:
Allows better team organization
It stays in sync with all your devices
Allows integration with different applications to streamline business process
Easy onboarding and real-time collaboration
Cons:
Cards/tasks are limited to only one Board/Project
Limited email integration
Get Trello
3. Basecamp
Basecamp is a Microsoft Project alternative known for its primary focus on team communication. Also, it can be easily used by large businesses, small businesses, and freelancers.
Thanks to the excellent team communication that they offer, Basecamp allows users to communicate seamlessly with multiple teams, clients, and vendors. With this MS Project alternative, users can set your to-do lists, add messages, and update their schedule.
Basecamp is inclined more towards providing information and collaboration rather than just project management. It offers a subscription for $99 per month for unlimited users.
What we like about Basecamp:
Reliable
Allows unlimited users
'Price remains the same irrespective of the number of users
Cons:
The dashboard isn't user-friendly
Limited functionality
No time tracking and analytics
Get Basecamp
4. Asana
If you have a small team and you are looking for a cost-effective project management software, Asana is the tool for you. Its affordable pricing makes it a great MS Project alternative.
Asana has a simple and beautiful interface – something that the project managers are often searching for. It is very customizable and has excellent calendar sync.
Apart from all those features, Asana is also one of the best free Microsoft Project alternatives for a project manager, as the free version offers a collaboration of 15 members. Billed on a per user per month basis, Asana has three pricing plans – $10.99 for Premium, $24.99 for Business, and requirement-based pricing for Enterprise.
What we like about Asana:
Portfolio management
Good recurring task management system
Cons:
Steep learning curve
Get Asana
5. Clarizen
Clarizen is one of the best MS Project alternatives available out there. Out of the number of features it offers, this tool is well-known for capacity planning and resource management.
Clarizen helps you to scope, size, and schedule a project in no time. It also provides insights to determine risks, scope, size, and estimates. It also allows you to set specifications, estimate times, and schedule due dates.
Clarizen doesn't have a steep learning curve and isn't cumbersome to use – the very characteristic that makes it one of the best Microsoft Project alternatives.
Clarizen offers multiple pricing options for businesses with varying needs. The Professional Edition costs $29.95 per user per month. The Enterprise Edition costs $44.95 per user, per month. The Unlimited Edition costs $54.95 per user, per month.
What like about Clarizen:
Capacity planning and resource management
Portfolio management and multiple projects
Great scheduling and recurring tasks
Cons:
User Interface can be better
Poor search functionality
Get Clarizen
6. Wrike
Regarded as the best Microsoft Project alternative available in the market, Wrike is mostly known for its accessibility. It allows a user to keep a check on multiple tasks with just one click.
Wrike favors the List and Waterfall methodologies. If you want to represent different units or departments of your company, you can subdivide projects into tasks and create larger hierarchies. On the downside, it has a poor interface and can be a complex tool to use for beginners.
Wrike offers a Professional pricing plan for $9.80 and a Business Plan for $24.80, based on per user per month basis.
What we like about Wrike:
Good resource management
Real-time reporting system
Easy learning curve
Cons:
Layouts can seem cluttered and confusing
UI is not intuitive for new users
Get Wrike
7. Zoho Projects
Zoho is yet another cost-effective solution and an excellent Microsoft Project alternative. It is known for marketing automation, but it also offers project management services.
Users can add an unlimited number of projects in Zoho and access them easily. You can also add workflow automation that gets triggered based on events, enabling standardization of processes. This MS Project tool also allows users to share their projects with outside vendors, thus improving the collaborative nature of the tool.
Zoho Projects is easy to use in contrast to the complex Microsoft Project. It is intuitive and the Zoho project pricing as per the industry standards provides excellent functionality, too. It is probably the best project management software in the market, given the rave reviews, it has garnered over the years.
What we like about Zoho Projects:
Clear user design
Improved collaboration
Cost-effective alternative to Microsoft Project
Great to use for small teams
Cons:
The bland interface that causes difficult navigation sometimes
Gantt chart view is unclear
Get Zoho Projects
8. Zenkit
If you are in software development, Zenkit is the project management software for you. This Microsoft Project alternative offers member-level swimlanes for your Kanban board.
Zenkit offers activity tracking and notification, enabling a manager to know what his team members are working on. You also get rich-text editing and custom backgrounds in Zenkit. It's the best visual tool available for teams and members who want to track their projects, project files, and tasks.
Also, it's simple interface makes it an attractive proposition for small and medium-sized teams. However, it doesn't make a good choice if you are handling complex projects, as reviews from various sources suggest.
Zenkit offers four pricing plans – A personal plan for free, Plus for 9 euros, Business for 25 euros, and Enterprise as per requirements.
What we like about Zenkit:
Simple to use
Multiple views
Mind mapping
Cons:
No Gantt chart
No Time tracking feature
Get Zenkit
9. Mavenlink
Mavenlink is a software that combines many project management features. It consists of powerful business intelligence and advanced analytics, which make it a perfect Microsoft Project alternative.
Mavenlink's financial capabilities set them apart from their competitors. The tool can charge for certain services provided to vendors or contacts inside the tool. It is especially suitable for marketing, advertising, public relations, and engineering.
The reporting functionality Mavenlink offers is extensive and has enabled us to get much better visibility to our project plans, program, portfolio, and resourcing data. It offers four pricing plans based on per user per month basis: Teams for $19, Professional for $39, Enterprise and Premier. The pricing for the latter two can be decided upon discussion with the company.
What we like about Mavenlink:
Multiple integrations and APIs
Master Planning tool
Gantt charts
Cons:
Status options for different tasks cannot be optimized
Get Mavenlink
10. ActiveCollab
ActiveCollab is one of the best Microsoft Project alternatives in modern times. It is an effective project management software that fosters teamwork and collaboration.
ActiveCollab brings work management, time tracking, and invoicing together with the help of cloud technology. What makes this tool stand out in comparison to Microsoft Project is that it can be installed on a user's server.
ActiveCollab offers monthly billing for $7 and annual billing for $6.25. Additional tools are available for $4 per user per month.
What we like about ActiveCollab:
Seamless real-time collaboration
Simplicity of use
Reasonable pricing
Cons:
Mobile app functionality needs improvement
Get ActiveCollab
11. JIRA
Jira is, as the reviews suggest, a great alternative to Microsoft Project only if you're running a software development, product management, or QA team. It is known as a leader in DevOps, and supports Scrum, Lean, or Kanban.
JIRA offers issue tracking, bug tracking, and many other integrations, but its technical nature limits it to a specific audience. It helps a project manager to assign tasks, review plans, and execute project plans with ease.
Additionally, this Microsoft Project alternative offers many customization options to the users. Users can also integrate JIRA with multiple applications, thus ensuring a seamless execution process. JIRA offers a free pricing plan for up to 10 users forever. The Standard plan for 5000 users starts at $7 per user per month. The Premium plan for 5000 users starts at $14 per month.
What we like about JIRA:
Issue alerts
Customization available
Multiple integrations available
Cons:
Complex and cluttered user interface
Limited to a specific audience
Get JIRA
12. Teamwork
The name itself gives away the fact that Teamwork is designed to provide excellent collaboration to teams who use it. One of the best MS Project alternatives in the business, it allows people to define projects, assign related tasks to the members of a team, and analyze the progress of the same.
Teamwork's main features are task lists, time and project tracking, file uploads, and messages. This Microsoft Project alternative also offers high-level security along with universal compatibility. It is also one of the best project management software in the market. Teamwork offers four pricing plans – Free, Pro for $9 per month, $15 per month, and the Enterprise plan as per requirements. All the plans are based on a per user per month basis.
What we like about Teamwork:
Set privacy permissions
Time tracking
Receive real-time team member status updates
Cons:
Reporting feature needs improvement in customization
Get Teamwork
13. LiquidPlanner
If you are always busy with time-constrained projects, LiquidPlanner is the software for you. Unlike any of its other competitors, this Microsoft Project alternative works on predictive scheduling and ranged estimates.
The fact that big players like Cisco and Daimler use this project management software tells you that LiquidPlanner is a trustworthy software and one that can be used in big companies to handle multiple teams.
The reason why LiquidPlanner is better than Microsoft Project is that in this software projects are planned according to priorities so that your team can focus on the right task at the right time. The smart project schedule feature predicts reliable finish dates for projects.
LiquidPlanner offers a free trial for 14 days. Beyond that, there are two pricing plans to avail – Professional for $45 per user per month, and Enterprise as per requirements.
Why we like LiquidPlanner:
Project planning can be done on priorities
Easy to use
Task estimation
Cons:
Not many integrations available for billing programs
The primary interface of the projects tab is too complex
Get LiquidPanner
14. Project Insight
Project Insight has a simple and user-friendly interface, and it provides a user with different views of project progress and statuses. It also offers real-time reporting and a secure way to share data.
Also, Project Insight can be used to handle the size of any project in any company. This tool offers three pricing plans – Team for free, Enterprise for $35 per user per month, and Platform based on requirements. Hands down, this is one of the best MS Project alternatives to try out.
What we like about Project Insight:
It can be used in any project of any size
Simple to use and user-friendly
Cons:
Export functionality can be restrictive at times
Get Project Insight
15. ProofHub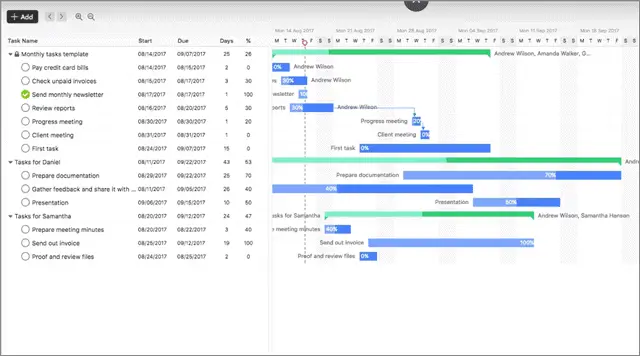 ProofHub comes with a gamut of powerful features when it comes to project management. It brings everyone from clients to your team members at a centralized place.
You can create tasks, assign them to multiple team members, and then track the progress of each project. This MS Project alternative is also available for Android and iOS users on the phone.
ProofHub offers multiple features like Gantt charts, online discussions, notes, and reports, etc. These features play a crucial role in making it one of the best Microsoft Project alternatives in the market. ProofHub offers two pricing plans; Ultimate Control for $89 billed per month annually and $45 billed per month annually.
What we like about ProofHub:
It has multiple features that help in seamless project management
Available on phone
Excellent markup tools that help in sharing feedback quickly
Cons:
No workflow management
Comparatively expensive
Get ProofHub
16. Team Gantt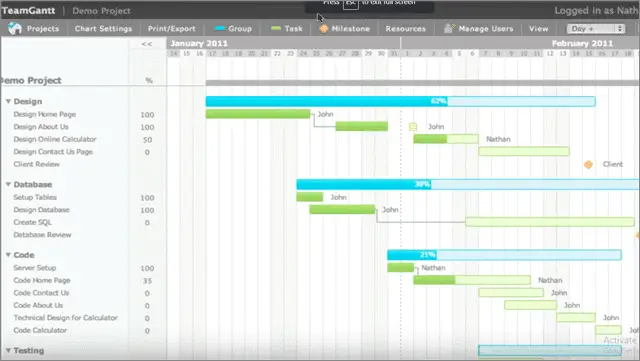 Team Gantt is the best MS Project alternative when it comes to providing Team Gantt. This software offers drag-and-drop functionality to its users.
Team Gantt allows a user to overlap projects and decode the inconsistencies. The software's interface is based on breaking your team down into members who are assigned specific tasks on a certain timeline.
Also, Team Gantt is not a project management software you need to have separately, given that many MS Project alternatives do offer that feature. There are three pricing plans to avail; The Standard Team plan costs $24.95 per user per month and Advanced Team plan for $29.95 per user per month.
What we like about TeamGantt:
Simple and easy to use
Provides multiple Gantt chart functions
Cons:
More integration with third-party apps required
Get TeamGantt
17. Planio
Planio is yet another Microsoft Project alternative that can be used by professionals who have a technical background. This tool is mostly used by software developers for issue and bug tracking, agile workflows, wikis, and help desk.
Planio also offers tight integration with GIT/SVN, meaning users can link their repositories to issues. It also allows a user to create custom workflows that can be personalized according to your need and situation. Planio starts at $25 per user per month. If you are just starting your business, Planio is one of the best Microsoft Project alternatives to use for work management.
What do we like about Planio:
Fast, responsive, and efficient
Excellent customer service
Excellent bug tracking management system
Cons:
Comparatively expensive for small businesses
Get Planio
18. Celoxis
Celoxis is an all-in-one project management tool and collaboration solution. With this MS Project alternative, a user can keep track of project files, work on task management, timesheets, resources, expenses, issues, risks, and much more.
Celoxis is mostly known for its in-built workflow engine, which enables seamless automation. This tool resembles the MS Project, and hence, is a great Microsoft Project alternative. They also offer local, on-premise solutions or a cloud-based project management solution.
Celoxis offers a basic plan for $25 per user per month on Cloud and an On-Premise plan of $450 for installing it one-time on a server.
What we like about Celoxis:
Auto-scheduling
Customization
Excellent resource management tools available
Cons:
UI needs improvement
Get Celoxis
19. Paymo
Paymo is an intuitive project management tool that offers a bundle of services. It has proven to be the best Microsoft Project for small and medium-based project businesses.
Paymo offers advanced task management, planning, scheduling, collaboration, and invoicing to its users. It has robust dashboard features that help users gauge processes quickly, which makes it a reliable project management software.
Paymo also supports budget management, resource management, milestone tracking, and collaboration. Regarded as one of the best Microsoft Project alternatives, this tool offers two plans; The Small Office plan charges $8.95 per user per month, while the Business Plan charges $14.25 per user per month.
What we like about Paymo:
Mobile app with tracking
Gantt charts
Customizable timesheets
Cons:
Steep learning curve
Get Paymo
20. LeanKit
LeanKit is a cloud-based project management tool that helps businesses of all sizes do project planning and manage workflow processes, tasks, progress, discussions, planning & more via analytics, metrics, audit trails & Kanban boards.
This MS Project alternative is one of the leading lean project management tools that focus on optimization and removal of waste. It is also famous for its visualization board and the ease with which it enables scaling of the system.
LeanKit is fast, flexible, and offers team independence. It also offers easy configuration features to its users. It has also garnered positive reviews for its customer support. It offers three pricing plans; The Basic plan is free and allows a maximum of three users. The Team plan comes for $15 per user per month billed annually, while the Portfolio plan comes for $19 per user per month billed annually.
What we like about LeanKit:
Excellent visualization boards
Fast and flexible
Useful for businesses of all sizes
Cons:
No time tracking
Get LeanKit
21. Slenke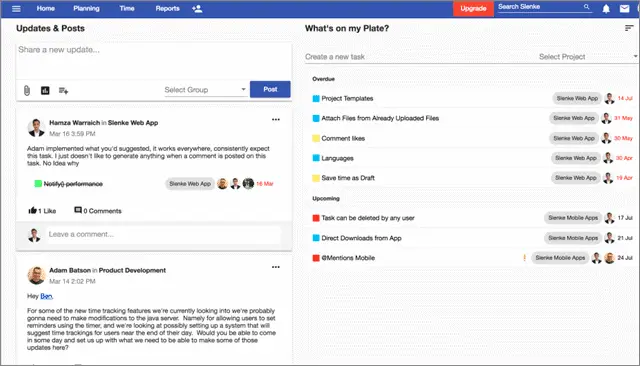 If you are looking for a tool with a better visual appeal than Microsoft Project, Slenke could be one of the best Microsoft Project alternatives for you. This tool also offers great resource management, Gantt chart, and other useful features.
Slenke's easy to use interface allows a user to manage tasks, multiple projects, and team communication all in one place.
Since it's a new tool, there may be an adoption curve. Slenke also has its own communication system where team members can chat through messages. This feature can let you get rid of Slack, thus reducing the need to switch applications for different purposes. Slenke offers a Starter plan that is free for use and a Premium plan for $15 per user per month.
What we like about Slenke:
Internal communication available
Clean and simple interface
Cons:
Enterprise plan not available
Get Slenke
22. nTask
If you are looking for the simplest MS Project alternative, nTask is capable enough to fulfill your needs. In a way, it is a direct replacement to Asana.
nTask has solid reporting features around time tracking, meetings, and noting minutes. Its main focus is to help teams avoid switching between various apps to get different jobs done. It also consists of built-in Gantt charts that help a user in viewing multiple projects.
nTask is also known for its easy navigation and also offers integrations with Google Calendar and Microsoft Outlook. It offers four pricing plans: The Basic plan for free, Premium plan for $2.99 per user per month billed annually, Business plan for $7.99 per user per month billed annually, and an Enterprise plan as per requirements.
What we like about nTask:
Affordable pricing
Bug tracking
Task dependencies
Cons:
Lack of integration
The mobile app offers limited functionality
Get nTask
23. HiTask
HiTask is one of the best cheap MS Project alternatives you should give a try to. It is designed to handle small teams and goes well with Marketing and Advertising agencies, design studios, e-tailers, and software companies.
HiTask helps in team collaboration, getting tasks done, and managing an entire project. It's affordable pricing also makes it a blessing for small-sized businesses. Also, it has integration with Google Calendar Sync and offers time tracking.
What we like about HiTask:
Easy to use
Has a clean interface
Has an integration with Google Calendar Sync
Affordable pricing.
Cons:
No Gantt charts and private notes available
Get HiTask
24. Workzone
If you have a creative outlook towards project management, you should definitely try out Workzone. To start with, users can view all their running projects in a portfolio on the software's dashboard. They can also associate, share, and document each project.
Interactive Gantt charts are available for visual project tracking. You can also set permission levels, so each person can only see what is appropriate and meant to be seen by him or her. In this MS Project alternative, you can also make to-do lists and keep track of what your team members are doing at a particular time.
Workzone can directly import your project files from MS Project if you are using the latter. It has three pricing plans – Team plan for $24 per month per user, Professional for $34 per month per user, and Enterprise for $44 per month per user.
What we like about Workzone:
Customization of project intake forms
Seamless importing of files from MS Project
Interactive Gantt charts for visual tracking
Cons:
The search function can be improved
Get Workzone
Conclusion
While project management software comes with various features and purposes of use, it is necessary to know whether the benefits that a tool offers are actually useful for your business or not. If you are searching for a good Microsoft Project alternative, it is crucial to choose software that eliminates the complexity and makes life easier.
If you are just starting out as an entrepreneur on a small scale, you can go with Teamwork or Wrike for project management. If you are looking for advanced management software, Scoro, Basecamp, or ProofHub are good Microsoft Project alternatives to go with. Regardless of the suggestions mentioned above, users can go with any Microsoft Project alternative that suits their needs and requirements.
Related: Best Microsoft Visio Alternatives That Come With Awesome New Features