If you have worked with the File Explorer settings of Windows 10 and checked the hidden files, you will be surprised to see the desktop.ini files on your Windows system. These files are located on your desktop, as well as in every folder on your PC. So, what is desktop.ini? What's the purpose of its existence on your PC?
Is it some kind of a virus that can harm your Windows system or something to keep your system safe?  These are the most common questions that arise in the minds of those who have been recently introduced to the desktop.ini file.
Learn What Is Desktop.ini File And Keep It Safe!
A desktop.ini file is one of those very few documents that should not be touched unnecessarily. Deleting this file might cause problems, which is why it is necessary to take precautions while handling this file.
What is desktop.ini file?
Whenever you customize the settings of a folder, the changed settings are saved in a hidden file known as the desktop.ini file. This file stores information about the changes made in the arrangement and organization of a folder automatically.
Windows creates a desktop.ini file automatically when you change the settings or the layout of a file. Suppose if you change the icon of a specific folder, Windows will create and save the latest settings in this file.
How to find the desktop.ini file?
Finding a desktop.ini file is a simple and easy process.
Go to the search bar beside the Start option in the taskbar and type Folder Options. The menu automatically shows the option. Then, click on Open.
After the Folder Options box opens up, click on the View tab above. Then, in the Advanced Settings box, click on Show Hidden files, folders, and drives option.
Next, uncheck Hide protected operating system files (Recommended) and click Apply.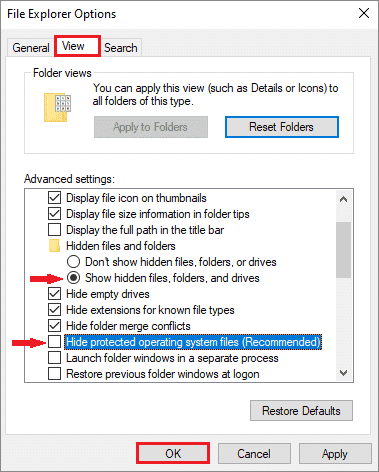 Now, click on Yes in the warning window that pops up.
Click on OK and close the dialog box.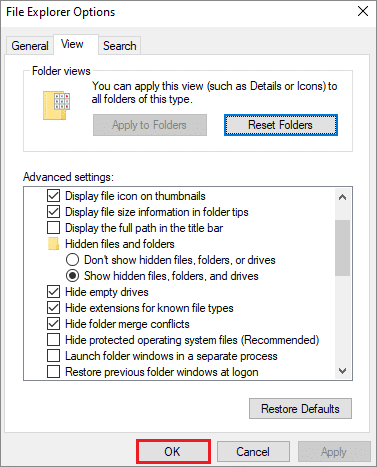 The hidden system files will be displayed after executing these steps. You can access the file as per your needs and requirements.
Why Do You See Two desktop.ini Files And Only One In Every Other Folder?
When you view the hidden desktop.ini files, you will come to know that your desktop has two desktop.ini files while other folders have only one. Why is that so?
Before getting an answer, you need to know this. Every desktop has a Desktop and a Public desktop folder.
The Desktop folder is a unique folder associated with the user account. It can be accessed only by the user or the administrator. The path for this folder is-
C:UsersYour UsernameDesktop
The Public Desktop folder can be accessed by anyone using your Windows system. The path for this folder is-
C:UsersPublic
The desktop that opens up after you switch on your Windows system is a combination of these two desktops. There are two desktop.ini files for both these desktop folders, which is why you see two desktop.ini files on your desktop.
Can the file be removed?
Yes, you can remove a desktop.ini file because that would revert the saved changes that you made to a folder. For example, if you change the icon of a folder and then delete the desktop.ini file, the folder icon will revert to what it was before. Once you know more about what is desktop.ini, you will understand why it is advised not to do so.
A better option comparatively is to hide the file. Doing so will reduce the possibility of the file getting deleted accidentally.
Can You Stop The File From Being Generated?
The simple answer is no. The desktop.ini is a part of the operating system programming that cannot be altered by the user. You can either choose to delete or hide it, but cannot stop it from being generated.
Even if you delete it, the file is generated automatically after the folder settings have been changed to default.
Is desktop.ini file Virus?
No, this system file is not a virus. Once you know more about what is desktop.ini, you will understand that it is not one. The viruses can sometimes affect the file. If a desktop.ini file is visible even after you have hidden it, then it could be malware. If you wish to cure it, just run a scan through it with the help of your antivirus software program.
Final Thoughts
There are many protected operating system files and folders in a PC that shouldn't be touched or played around with unnecessarily. Many users are unaware of the existence of such a file, and hence the 'What is desktop.ini?' comes into place.
It is a hidden file used to store information about the changes in the arrangement and organization of the folders. If it is deleted, the new changes made and saved to the folder are lost. There are many misconceptions about what is desktop.ini and that it is a virus, but that's not the case. This file is not a virus but can get infected by one. In such circumstances, users can scan the file for the eradication of any possible virus infection.
As we have established above, deleting the desktop.ini file is never a good option to go for, unless you want to change your folder settings to default. A better option is to hide the file in a safe location so that you don't have to come across it frequently.
Related: How to Pin Universal Apps to the Desktop in Windows 10