Emails are used for both personal and professional communication and are one of the best ways to connect. Most of us have our emails synced on our smartphones and at times look for add on features to make it better. There are various email service providers on Android that provide great service and features too. Thus, the search for the best email app for Android begins.
Most of the free email service providers have their apps that are easy to use on any device. They deliver an uber experience when it comes to sending push notifications for new incoming mails and also allow users to sort and separate important emails from the common ones. Plus, there are dozens of email app for Android in the market claiming to be the best in the business. Picking up the best one is tricky, but we are sure that we can help!
Best Email App For Android Users: Time to Check the Inbox
What are the features you look for in the best email app for Android? What makes one email app better than the other? Well, the features, interface, convenience, and comfort that a user gets and space, along with the common email features. Most email apps make sure you don't miss out on important messages.
In no particular order, we bring you the best email app for Android users.
1. Blue Mail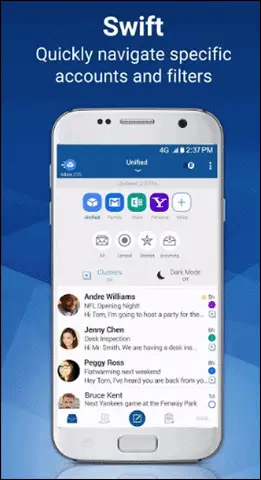 BlueMail is an all-in-one universal email app that can manage an unlimited number of email accounts. If you are looking for the best email app for Android, BlueMail fits the bill well. It supports Gmail, Yahoo Mail, Outlook, iCloud, Alto, and Office 365, to name a few.  You also have the option of protecting private emails by time-locking the screen.
Features:
You can customize the mobile notifications for specific email accounts by setting up the sound, vibration, LED light, and snooze alerts.
The group mailing feature allows you to create groups to send and receive emails so that in one go, you can send messages to several people without individually typing their names.
The user interface comes with a beautiful dark theme that supports day and night modes.
Users can set reminders to handle emails later.
2. Microsoft Outlook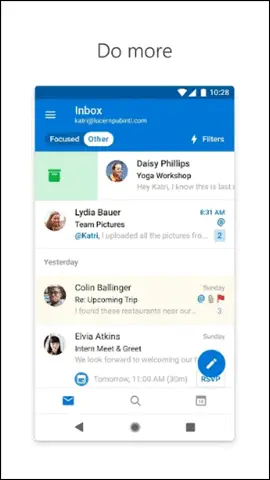 Microsoft Outlook is one of the best email apps for Android users. It is the oldest and most popular email client that users are comfortable with. The Outlook app for Android supports Microsoft Exchange, Office 365, Outlook.com, Gmail, and Yahoo Mail. If you are looking for a good email client that integrates well with the Office suite, Outlook is the best Android email app in the market.
Features:
The Focused Inbox keeps all the important messages at the top, so you don't miss a single message.
 Allows users to schedule meetings by switching between emails and calendar easily.
Microsoft Outlook app for Android has the ability to manage all your business emails and meetings.
You can seamlessly fetch a document from your Files list and attach it to an email.
It works on the go with Word, Excel, and PowerPoint integrations.
Its Android version has the same impressive interface that helps millions of users organize their email accounts.
3. Aqua Mail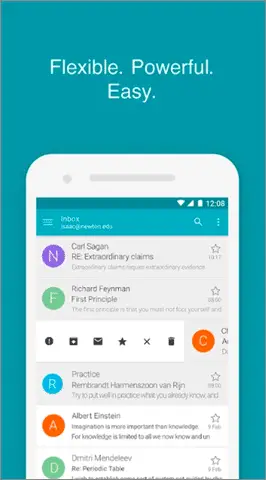 Aqua Mail is not a new entrant in the list of best email apps for Android. It is a popular email app that fulfills all your email requirements. Apart from having a powerful interface with advanced features, it supports all popular email services, including Gmail, Yahoo, Hotmail, FastMail, Apple, GMX, and AOL.
Features:
It has a simple setup.
The backup and restore are done with popular cloud services, including Dropbox, OneDrive, and Google Drive.
Aqua Mail is integrated with popular third-party apps for maximum control, synergy.
It comes with push mail for most email services, excluding Yahoo.
Some of the advanced features include home screen widgets with message counters and message list, a smart folder to manage emails, a calendar for Exchange, and Office 365.
4. Gmail
Gmail is the best email app for Android users. Most smartphones come with the Gmail app, and if you don't have one, you can download it from Play Store. Most of the people generally are confused about Gmail vs Outlook, but with less spam and 15GB of free storage, Gmail comes with the best features that one can ask for.
Features:
Gmail offers push notifications for notifying about new emails.
The app comes with a simple but organized inbox where the social and promotional messages are grouped separately.
The inbox can be personalized with Gmail background and themes.
Both Gmail and non-Gmail emails are supported, including Outlook.com, Yahoo Mail, etc.
The confidential mode allows users to create self-destructing messages – messages that get deleted after a specified period – to each other.
The two-factor authentication makes it harder for hackers to enter your email.
5. Yahoo Mail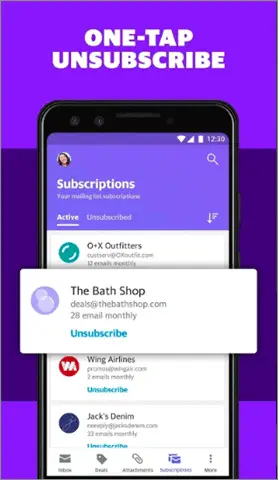 The next app is a very popular email app with millions of users around the globe – Yahoo Mail. It organizes the mailboxes of Gmail, Outlook, AOL, and Yahoo effortlessly. You can sign up with any email address, and having a Yahoo account to use this app is not at all mandatory. Yahoo Mail does not disappoint if you are looking for some best email apps for Android.
Features:
Animated GIFs help in making emails look creative.
A huge backup of free 1000GB cloud storage.
The Travel Ready feature makes it simple to see flight details with all the information, including the gate changes, delays, and cancellation.
Integrates email, instant messaging, social networks, and SMS text messaging
6. ProtonMail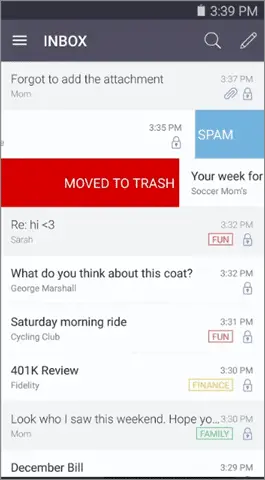 ProtonMail is one of the best Android email apps if you want encrypted emails – the types of which can only be accessed and read by the sender and receiver. Needless to say, this email app for Android will secure your private as well as professional emails robustly and keep you away from getting worried about security and privacy.
Features:
ProtonMail is that it has zero access, meaning not even the email client can read the emails stored by you.
The investigation from security experts is allowed from all over the world.
Users can set self-destruct timers for sent emails if they don't want emails to get accumulated.
Push notifications are also available apart from the customizable organization of emails.
7. Zoho Mail
How about having a calendar, all your contacts, and emails packed into one app? When it comes to the best all-round Android email apps, Zoho Mail hardly has any sturdy competition except for Gmail.
Features:
This email app for Android offers multiple account support
There's also a conversation window that allows users to keep track of all the conversation threads.
Zoho Mail swipe actions allow users to archive and delete emails
Users can compose emails and send them when you are offline. They will be sent as and when your smartphone has internet connectivity.
Zoho Mail is the best Android email app when it comes to multiple functionalities.
8. K-9 Mail
Another lightweight, popular, and well-known email app is K-9 Mail. The app is open-source, free, and the community developed a project where you can contribute or build it yourself via Github. Developers, designers, documenters, and other people interested in developing and contributing to this app are welcome by the community.
Features:
It supports multiple accounts, search, IMAP push email, multi-folder sync, flagging, filing, and much more.
K-9 Mail boasts a simple user interface and supports IMAP, POP3, and Exchange 2003/2007 (with WebDAV).
Users receive push notifications for all the emails, which reduces the possibility of missing out on important emails.
In terms of supporting IMAP and POP3, K-9 Mail is the best Android email app in the market.
9. myMail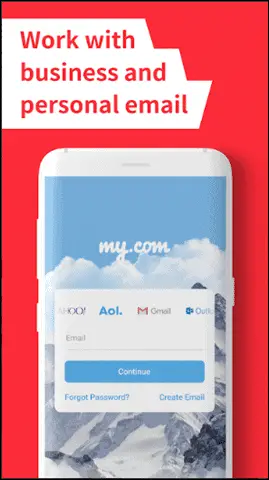 myMail is a good email app where you can manage all your email accounts at once. It supports Gmail, Hotmail, Yahoo, Outlook, AOL, iCloud, Live, Exchange, or Gmax. Users can sign-up at MY.COM for a short new email-address for free.
Features:
myMail is a lightweight, organized, and mobile-friendly app.
It supports all major email providers and IMAP or POP3-enabled mailboxes.
The real-time push notification can be customized to fit your work schedule.
You can browse files directly from the app and include them as attachments.
myMail offers email signatures, flagging, filtering, and ActiveSync.
10. Email by Edison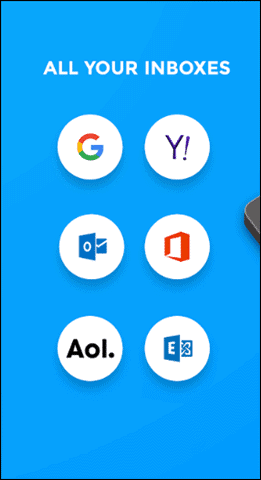 Email By Edison is an email app that is easy to use. It comes with support for Gmail, Yahoo Mail, Exchange, Outlook, Office 365, Hotmail, AOL, iCloud, and IMAP mail accounts. You can switch between the accounts easily as and when you wish.
Features:
The app has a built-in assistant with which you can view key information.
It includes items like attachments, bills & receipts, and entertainment across your inboxes at-a-glance by category, without opening or searching email.
Email by Edison automatically blocks read receipt tracking pixels without degrading the email experience.
The app allows users to personalize the sounds of notifications for specific emails.
Email By Edison's real-time travel notification makes it more effective to get the latest updates of a flight delay or gate change.
11. GMX Mail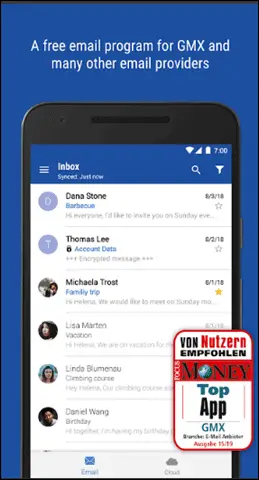 GMX Mail is your one-stop that meets your expectations of a good email app for Android. Everyone comes from a different background and has an individual lifestyle and taste of things. GMX is highly customizable in terms of the notifications and the overall look of the emails.
Features:
The UI of this application is intuitive and powerful.
GMX Mail gives you secure access to your emails with a PIN protection mode and handles multiple accounts.
The swipe-gesture-controls make the navigation and management of emails effortless.
Some of the newly added features allow you to see all the photos and videos of your account.
The push notifications make sure you don't miss out on important emails.
12. TypeApp Mail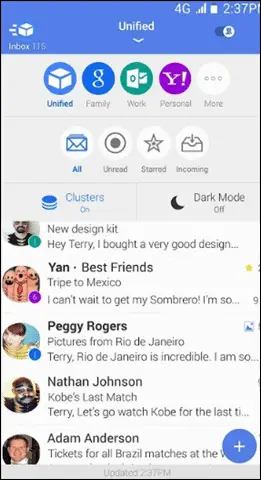 TypeApp is one of the best Android email apps on the Play Store. It is beautifully designed and lets you manage multiple email accounts with complete customization as per your wishes. TypeApp supports IMAP and POP3 as well as Exchange protocols, including Exchange Web Services (EWS) and ActiveSync (EAS).
Features:
TypeApp has easy UI.
It syncs all your email accounts in one unified inbox. The Group Mail feature allows users to create a shared group with all your contacts. This way, each member can view, receive, and send emails.
It features instant push notifications with quiet hours, vibrate, LED light, custom sounds, etc.
Users can create email Clusters and store similar emails in them.
Clusters can also be assigned separate push notification sounds.
13. Boxer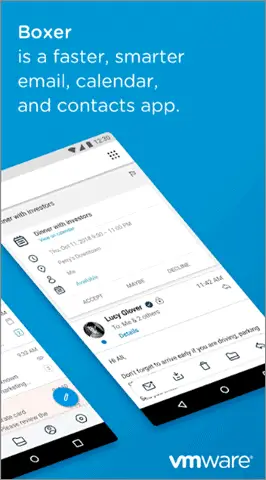 Boxer is one of the best Android email apps and has the most innovative interface. It helps in increasing your productivity with features like bulk edit and quick replies.
Features:
The app features a built-in calendar and contacts.
Boxer offers a full-featured calendar that helps users remain up to date with their schedule.
Users can also make one-tap phone conference calls using this application.
It provides security in the form of a touch ID and PIN number.
Users can customize your inbox with your favorite colors, and turn features on/off.
Boxer has Evernote integration, and you can send emails to Evernote with a single tap.
14. Nine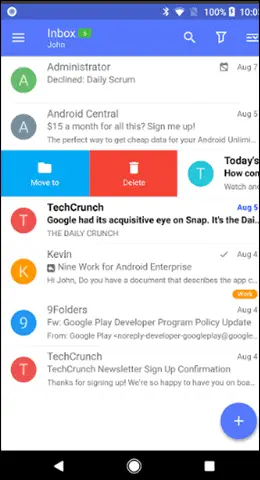 Nine is a popular email app for business use, but it doesn't come for free. You can try the two-week free trial before you decide to buy it.  If you are a business user looking for a feature-rich emailing app, Nine definitely will fit the bill as the best Android email app for your cause.
Features:
Nine provides direct push synchronization with Exchange ActiveSync.
It connects directly to the user server.
It supports various servers like Hotmail, Outlook, Office 365, Gmail, iCloud, Yahoo, and GMX.
The app has multiple features like rich-text editor, hybrid email search, Android Wear support.
15. MailDroid Pro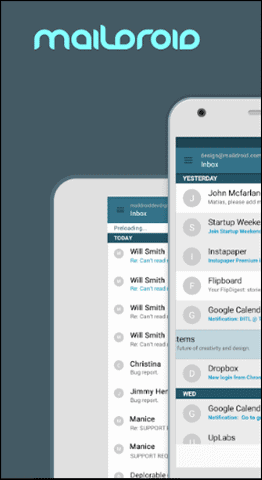 MailDroid Pro is an Exchange/POP3/IMAP Idle Push mail client that is written from the ground up and not based on a stock mail client. If you like customizing your email app, then this is the best email app for Android that will definitely impress you. Before buying the paid version, we recommend you try the free version first.
Features:
There is an Up/Down arrow to move to the next or previous emails. The free version has in-app ads and fewer features than the pro version.
The Pro version comes without ads and consumes less memory, CPU, and bandwidth.
The application offers two widgets, and users can also switch between three icons while making the counter widget.
The Volume Hardware buttons help users to move from one email to the next in the blink of an eye.
16. Spark
Spark is a new addition to the list of best email apps for Android. It introduces some cool and intuitive features that very few apps support. If you have an email id on Gmail, AOL, MSN, Yahoo, Exchange, Outlook, etc., you can connect all of them to Spark. Spark is new, yet worth trying a revolutionary email app.
Features:
The Intelligent Email Prioritization filters important messages that are from real people and archive the rest.
Spark reduces noise by only notifying you when the email is from an important person so that you are not disturbed every single moment by the pop-ups and notifications.
Users can invite your colleagues and discuss important tasks and keep everything in the loop for the record.
Other features are advanced customization, undo send mail, smart search, pin emails, reminders, and follow-ups.
17. Yandex Mail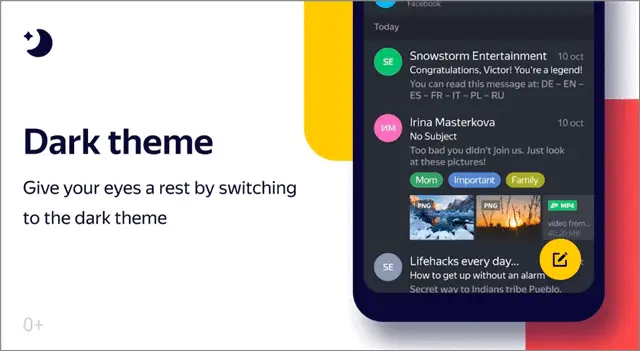 Yandex Mail is a Russian email service application that comes with a bunch of pros and hardly any cons. Regarded as one of the best email apps for Android, this app provides noteworthy security and privacy features. If you are bored of using Gmail and want a change, this email app for Android is the best choice to go with.
Features:
Yandex Mail can handle multiple email accounts and send out as many emails as per the user's requirements.
It sends out push notifications to users on new mail arrivals so that they don't miss out on important emails.
It filters emails by labels, unread mails, and flagged mails.
There are options for group messages and managing the domain mailbox as well.
Yandex Mail is a lightweight app and doesn't consume large space on the phone.
18. WEB.DE Mail
WEB.DE Mal is probably one of the easiest email clients you will ever come across. This best email app for Android is pretty similar to Gmail in terms of user interface and offers the same functionalities as many other email apps.
Features:
WEB.DE Mail offers real-time push notifications that ensure you don't miss out on important emails on the go.
It allows users to configure the times and sounds of the emails being sent and those being received, respectively.
WEB.DE Mail is a light-weight app and consumes very little space.
It offers a good security system to the users.
Users can set a PIN code to access their email inbox so that the mails stay protected.
19. Newton Mail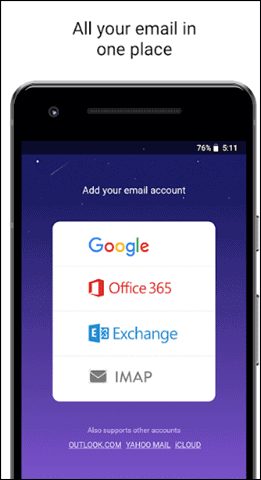 Newton is a unique email app as it is a subscription-based service and can be considered as the best Android email app. Newton Mail offers a 14-day free trial before you buy the app. Newton comes as an in-app subscription of $49.99 annually.
Features:
Newton offers read receipts, snooze, the send-later option, undo-send, sender profile, connected apps, and much more.
It supports popular email services including, Gmail, Exchange, Yahoo Mail, Hotmail/Outlook, iCloud, Google Apps, Office 365, and all IMAP accounts.
Newton Mail can be used on multiple devices with one account.
Features such as instant push notifications, send later, tidy inbox, sender profile, and snooze messages are available.
This application allows you to complete your workflow without exiting from your email.
You can add important emails to your productivity apps like Todoist, Evernote, OneNote, Pocket, Trello, Zendesk, Salesforce, and Asana.
Newton Mail deletes all your mails with the Remote Wipe feature which comes handy in case your phone is lost.
20. Mail.ru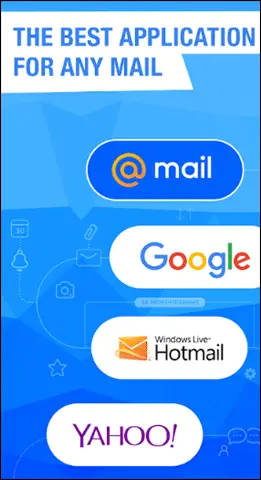 While looking for the best Android email app, we first consider how convenient it is for use. Mail.ru certainly offers all that you can possibly expect from an email client. This email app delivers common features like any other email app but in a commendable manner.
Features:
Switches between multiple accounts in one click.
Users can adjust time, folders, and services to receive customized push-notifications. Synchronizes data between multiples devices
The Email Thread feature allows you to view an entire email conversation on one screen.
21. TempMail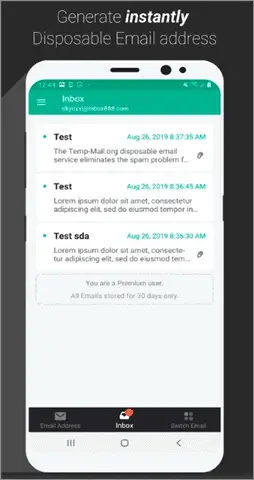 TempMail has been lauded by many for the simple user-interface it offers. You can easily compose emails, star the important ones, and send them right away without facing too much hassle. It is the best Android email app if you wish to avoid spam emails.
Features:
TempMail can create temporary email addresses that can be used for a very short period of time and disposed of after use.
It helps in avoiding spamming, advertising mails, hacking and unnecessary phishing.
This email app for Android securely deletes old emails from time to time.
TempMail can also be used in multiple languages.
22. Email App for Any Mail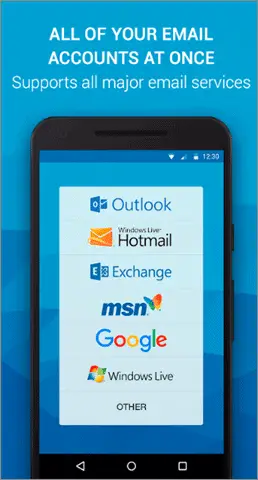 If you are using email on different platforms such as Hotmail, Yahoo, Google, and many more, Email App for Any Mail is the best email app for Android to install. You can access all types of email accounts using this application. This application is the best solution if you want to keep it all simple while using emails on different platforms.
Features:
Email App for Any Mail sends push notifications for each email account you are using on it.
It has a user-friendly interface.
Intuitive actions can enable you to sort emails with ease.
The search is convenient and you can easily search emails according to dates, sender, and specific email addresses.
Email App for Any Mail also offers security and privacy protection by letting users lock the app with a PIN code.
Download Email App for Any Mail
23. mail.com mail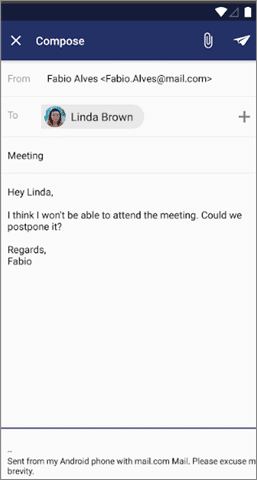 Mail.com mail is the best email app for Android in terms of design and an intuitive user interface. It offers speed, protection, power, and convenience.
Features:
This app provides powerful encryption technology that ensures the security of emails.
The push notifications allow users to refrain from missing out on important emails.
Users can customize the sound of your emails as per your requirements.
Users can send multiple attachments from the comfort of their smartphones.
24. Fastmail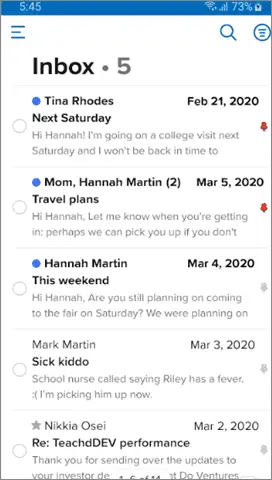 If you are searching for an all-round application where you can manage all things such as your emails, contacts, calls, and calendars at once, then Fastmail is one of the best Android email apps to use.
Features:
Fastmail allows users to configure replies and schedule them.
The swipe gestures add to the intuitive user interface.
Fastmail is specifically built to cater to the needs of business users and organizations.
It provides commendable privacy and security of data.
Users can access Calendars, call people, and maintain their contacts using Fastmail.
25. Spike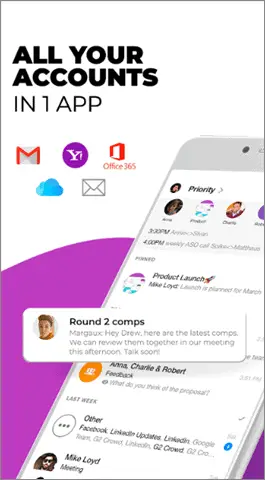 Spike positions itself as an app that offers more than just email services. You can use this app like a messenger and chat with your contacts. Also, you can add email accounts from various platforms like Gmail, Yahoo, Hotmail, etc. It is probably the best email app for Android if you wish to have conversational emails and an easy user-interface.
Features:
Users can see important emails first and secondary emails afterward due to the Priority Inbox feature.
Emails can be scheduled and secured with email encryption.
Users can undo sent emails using the 'Undo Send' feature', within 10 seconds of sending a mail.
Spike allows users to access calendars and contacts.
Final Thoughts
Email communication is universal, and everybody needs a good email client to organize and manage multiple email accounts. When it comes to the best email app for Android, there are hundreds of options on the Play Store to help you manage your email on your Android phones. 
Each email client has its specialties, albeit the features are mostly the same in all the applications. As a standard email service provider, every app offers emailing features while calendar and call management features are optional.
For those who wish to have the best Android email app for managing their emails, Gmail is the best app to go with. Further, for a user who has multiple email accounts on different platforms, apps like Aqua Mail and Spark could suffice. In the end, the choice of using an email client entirely depends upon the user's needs and requirements.