Audible is the largest audiobook services provider in the U.S. It produces and sells spoken audio entertainment on the internet. The service is owned by the eCommerce giant Amazon. If you are a book lover, then you will definitely want to look at the list of Audible alternative that provides free and cheap audiobooks.
Buying physically tangible hard copies of all the books that you want to read isn't always feasible. It's like kindle unlimited versus audible? There are many readers who have shifted to Kindle, Nook, and iBooks. But somehow don't find the time to read. Reading has become like a precious activity and with the busy schedules we have, audiobooks are ideal.
You will not have to shell out too much money, no extra storage space required, and it is as convenient as any other application on your phone.
17 Best Audible Alternative That You Should Bookmark
There are many alternatives to Audible that have come up in the recent past. These offer you something cheaper, give you more choices when consuming literature. Sometimes, you may just want to try out something else apart from plunging further into the Amazon ecosystem of kindle unlimited versus audible.
1. AudioBooks Now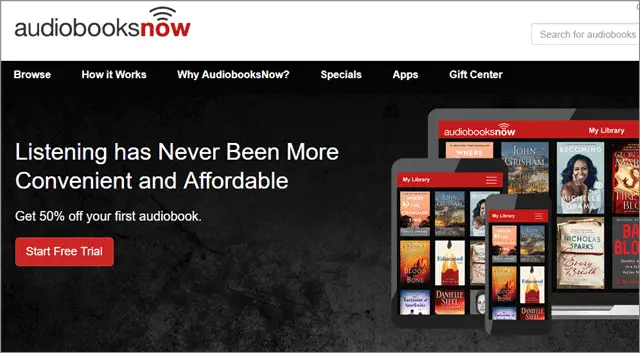 Audiobooks Now is the best Audible alternative boasting a collection of 85000 titles. The authors, in their massive library, range from Stephen King to James Patterson. In addition, you can get hold of the best sellers as well as the classics here.
They provide you with a 30-day free trial and give you your first audiobook for free. Post which you will get a discount of 50% on every purchase per month. The subscription fee is $4.99 per month after the trial ends. Furthermore, you can cancel the subscription whenever you wish to, without bearing extra costs.
Another noteworthy feature of AudioBooks Now is that all the books are not protected by DRM. Audible uses Digital Rights Management (DRM) for all its books. This simply means that they cannot be streamed or played anywhere else apart from their official app.
Check out AudioBooks: Website | Android | iOS
2. Nook Audiobooks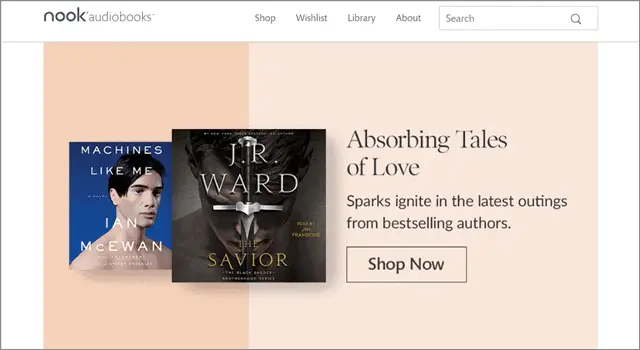 One of the best alternatives to Audible, Nook Audiobooks should be an ideal choice for you if you are not an avid reader. Why? Because they do not have any fixed monthly subscription plans, you pay as and when you read.
Choose cheap audiobooks from their gigantic library of 125,000 titles. Moreover, you can get your hands on bestsellers like The Woman in the Window, Call me by your Name, The Last Black Unicorn, and the like. The genres range from mystery, thriller, romance, biography, and fiction among others.
In addition, the Nook Audiobooks app allows you to listen to your favorite novels in your Bluetooth-enabled car as well.
Check out Nook Audiobooks: Website | Android | iOS
3. Downpour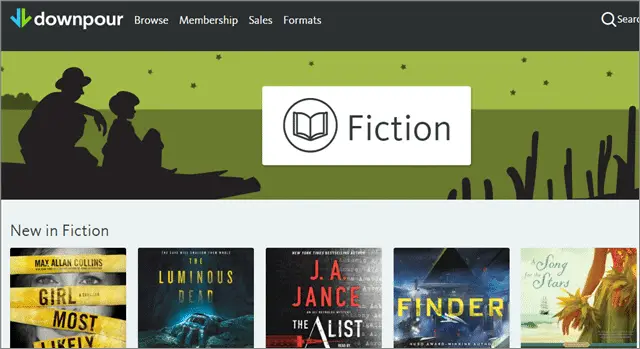 Downpour enables you to download the audiobooks without a WiFi connection. As long as you are on your basic cell phone network connection, you can start downloading your favorite book.
The best part about this Audible alternative is that you can rent a book just like you rent a movie or a car for example. So, you do not own the soft copy of the novel once you're done reading. Furthermore, you end up saving space on your phone too. You get 30-60 days to finish reading the book, and they claim that the users end up saving 70% of the retail price.
One of the best alternatives to Audible, the subscriptions start from $12.99. Downpour too offers DRM free content.
Check out Downpour: Website | Android | iOS
4. Scribd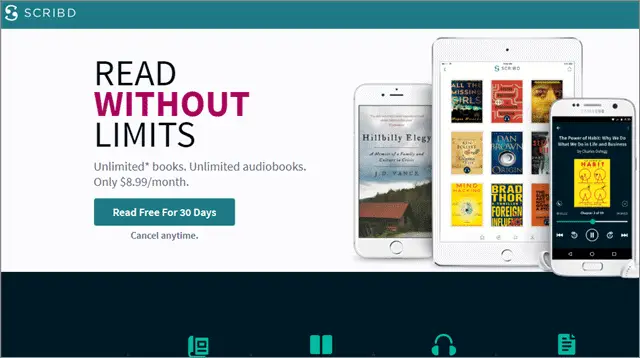 One of the best Audible alternatives, Scribd has a huge collection of 150,000 audiobooks, magazines, articles, research documents, and even newspapers. These include The Wall Street Journal and the New York Times.
The genres range from Health and Wellness, True Crime, Fiction, Travel, Cookbooks among many others. Their membership subscription starts at $8.99. Scribd has an unlimited plan which means you can consume as much as you want to in a month if you've subscribed to them.
This alternative to Audible enables you to stream or download. This feature comes handy when you are sure if you avail of the complete download of the copy immediately or not.
Scribd vs Audible? Our pick will be Scribd.
Check out Scribd: Website | Android | iOS
5. Audiobooks.com
Audiobooks.com streams the best-selling novels and top-titles in the fiction and non-fiction categories. Their giant library consists of over 100,000 audiobook services, and they have a friendly user-interface.
You will be charged $14.95 for their monthly subscription. You can avail the same or simply buy the books that you want at decent prices. When it comes to best-sellers and the new releases, Audiobooks.com is an ideal place. The only drawback is that they might not have something off-beat.
If you're looking for cheap audiobooks, this does not fit the bill as it is priced at par with Audible.
Check out Audiobooks.com: Website | Android | iOS
6. Playster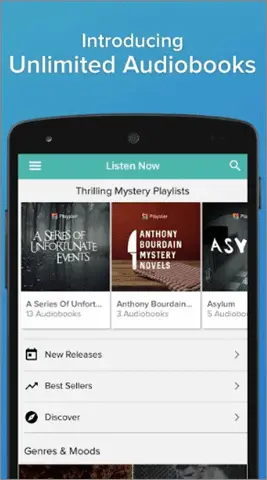 Apart from audiobooks and ebooks, Playster offers movies and music as well. One of the cheap audiobooks options, Playster has a comparatively small collection at its disposal.
The 100,000 audiobooks include authors and publishers like HarperCollins, Hachette Book Group, Penguin Random House among others.
The basic audiobooks plan will cost you $14.99. However, if you want to access the other media available, you will have to shell out $24.99. There is no restriction on the number of books you can listen to. But once you cancel your subscription, you no longer own the books.
Playster makes exciting picks available, and you can go for the most-sought after timeless classics or celebrity narrators. The app also gives you choices from the New York Times Best Sellers and educational documentaries. 
Playster vs Audible? Our pick will be Playster.
Checkout Playster: Android | iOS
7. OverDrive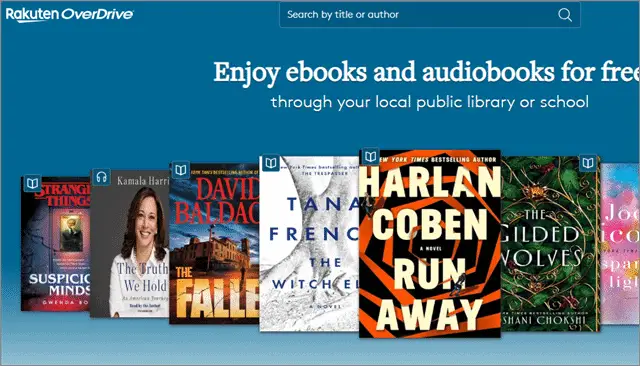 One of the best alternatives to Audible, OverDrive is free and slightly different from the others we have listed so far. How? Because instead of buying audiobooks from the website, it allows the visitor to rent audiobooks, ebooks, and music books from the local library.
Overdrive is available in around 40 countries, and you only need your library card to access the massive expanse. Once your rental expires, the media content will no longer be available to you.
Instead, borrow books from the libraries without leaving your place, but the only catch is that they have a limited collection.
Check out OverDrive: Website | Android | iOS  
8. Librivox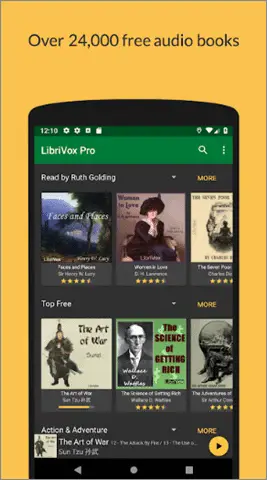 This Audible alternative enables you to access free audiobook services. Although you will not spot the latest releases or the best-sellers in their archive, they do boast of a total collection of around 24,000 titles.
Interestingly people across the globe volunteer to read audiobooks, classics, and essays that are not owned by any corporation. These are therefore available for free in the public domain.
Apart from only English, Librivox has audiobooks available in other languages as well. The content can be streamed or downloaded in MP3 format, without any cost.
Since it is run and managed by volunteers who also take care of the formatting and recording, the quality may be a matter of concern for some. Therefore, do not make this alternative to Audible your primary source of audiobooks.
Checkout Librivox: Website | Android | iOS
9. Serial Box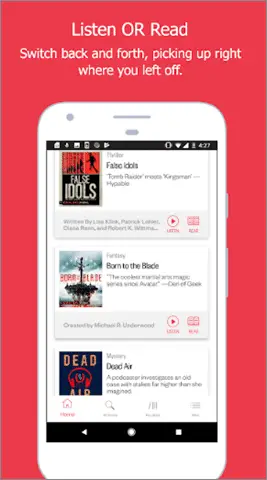 Unlike the usual alternatives to Audible, Serial Box has a team of writers who unfold the story into short fiction. It is released in the form of episodes. It sounds perfect for our busy lives and especially during our everyday commute, right?
Breaking the gist of a book into small chunks, Serial Box is like Netflix for audiobooks. The episodes are available in both formats- ebook and audio. In spite of the initial episodes being free of cost, it is an interesting start. However, you need to pay $2 each for the following ones.
If you want to avail of a discount? Get subscriptions for an entire season. So, pick your cheap audiobooks from categories like sci-fi, horror, and mysteries and decide if you want to read or listen.
Check out Serial Box: Website | Android | iOS
10. eStories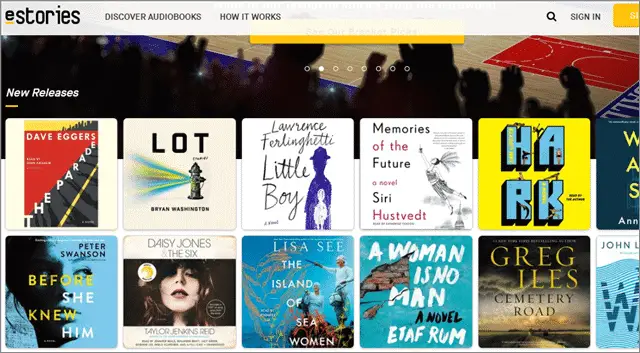 Are you a fan of the novel Game of Thrones written by George R.R Martin? Do you love books like The Whitler and other classics by John Grisham? eStories is the ideal Audible alternative for you.
With a massive library of more than 110,000 fiction and non-fiction audiobook titles and cheap audiobooks, eStories has around 10,000 free books available. Furthermore, the paid subscriptions cost at least 20% less than other Audible competitors.
Their basic plan starts from $9.99 which gets you one book a month. eStories boasts of a good collection and also offers DRM free content.
Check out eStories: Website | Android | iOS
11. Blinkist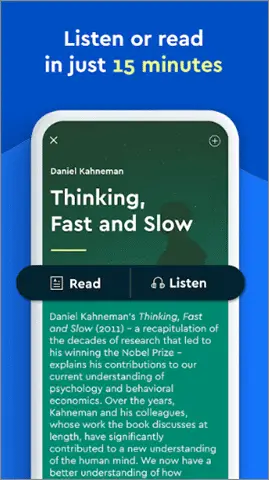 Are you a bibliophile? Love reading books but do not have the time to do so? How about an app that gives you the gist of a book in just 15 minutes?
Blinkist, a reliable alternative to Audible, has a collection of over 2,500 best-selling non-fiction titles. Furthermore, each book is converted into 15-minute reads covering the key insights. Their editorial team gives personalized recommendations to the consumers. In addition, you can read or listen to audiobooks even when offline.
Sign up for a 7-day free trial and if you like it, subscribe to their monthly and annual plans.
Checkout Blinkist: Website | Android | iOS
12. Hachette Audio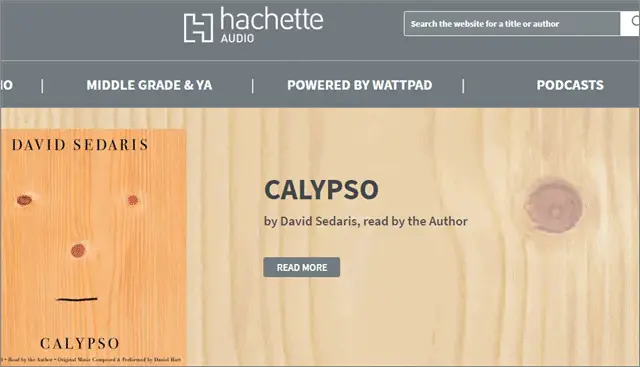 Hachette Audio has won multiple Grammy Awards for its audio productions which guarantees excellent quality of content delivered to you.
Moreover, this Audible alternative provides excerpts of some of the audiobooks. These are available on Soundcloud as samples which can be heard, before you make your buying decision.
If you're looking for content without commitment, this website is an ideal choice for cheap audiobooks. This is because of the fact that you can download the audiobooks without subscribing to them. They provide a specific section of the books in CD format as well, which comes in handy if you're running out of space in your device.
Furthermore, if you are looking for popular authors or anyone off-beat, you will get them all here. The only drawback of this alternative to Audible is that they do not have an app.
13. Kobo Audiobooks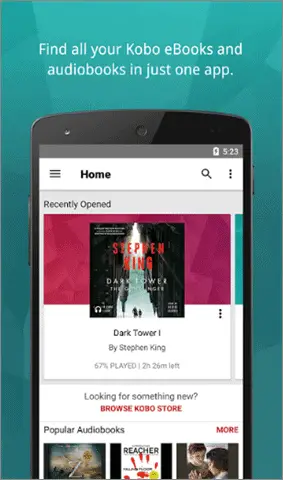 Kobo has a collection of over 5 million audiobooks and ebooks. The app enables you to rate the audiobooks, or review them. In addition, you can also scan through to check how others have rated or reviewed the same.
One of the best Audiobook services available, they provide the consumers with recommendations which they think will suit the readers' choices. You get the first audiobook for free.
There are a lot of choices available as you can get your hands on the most popular and cheap audiobooks. In addition, the least known ones or the ones that are currently trending and the ones that go shelf-less.
The basic plan costs $9.99 per month, subject to cancellation at any given point. You also get a credit of $5 off while registering which can be used when buying your next audiobook.
Check out Kobo: Website | Android | iOS
14. Libro.fm Audiobooks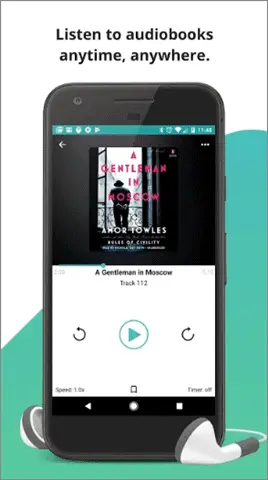 Libro.fm enables you to scan through multiple local and independent bookstores digitally. It's like an online store for your digital audiobooks.
Furthermore, you will not only be supporting your local bookstore but will also get three audiobooks at the price of one. This Audible alternative gives you a free trial for a month. Post which you can avail the subscription at $14.99 per month.
They allow you to cancel the subscription whenever you wish you and you can keep the audiobooks you've purchased. Moreover, you can also increase the speed at which you want to listen since the app comes with a variable speed narration feature.
Check out Libro.fm Audiobooks: Website | Android | iOS
15. Barnes and Noble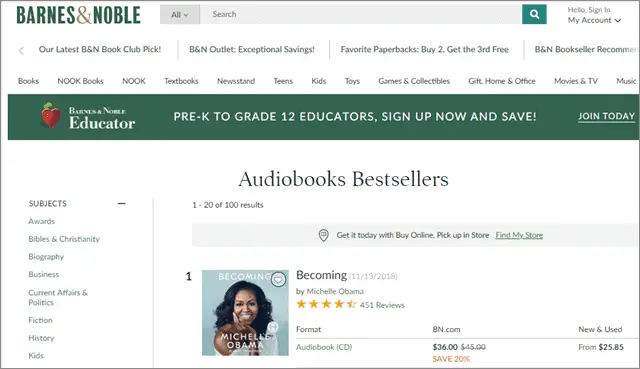 One of the most popular publishers in the U.S, Barnes and Noble stores, does not only sell books, magazines, DVDs; but their website caters to audiobook services well.
They have a collection of more than 60,000 titles, including the latest releases and bestsellers. They offer year-round discounts on cheap audiobooks and usually offer 40% off on the bestsellers, which makes it a much cheaper alternative to Audible. In addition, get hold of the copies in the form of CDs or stream/download it on your phone through Google Play.
No monthly subscription plans required, it is pay-as-you-want to listen for this audible alternative. They have a user-friendly interface, thereby making the browsing experience smooth and hassle-free.
16. Google Play Audiobooks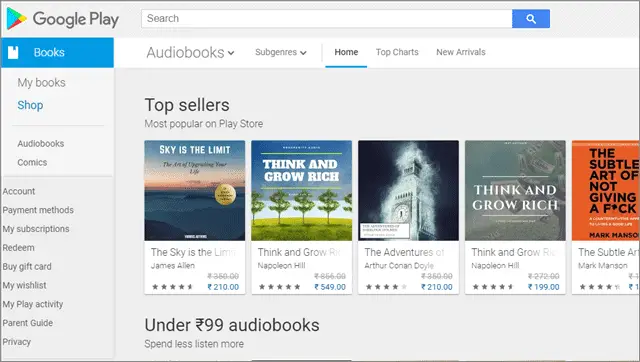 In January 2018, Google Play made audiobook services available in nine languages and forty-five countries. Each audiobook is priced differently, and you can choose from the bestsellers, popular categories, cheap audiobooks, and even new releases.
One of the best alternatives to Audible, you get a discount of 50% during your first audiobook purchase, and unlike Audible, they do not have subscription plans.
Purchase as you want to listen. You can integrate the audiobook with the Google Assistant, enabling listening to the audiobook via voice commands. This Audible alternative comes with features like listening to the text at 2x speed and sleep mode too.
Check out Google Play Audiobooks
17. Apple Audiobooks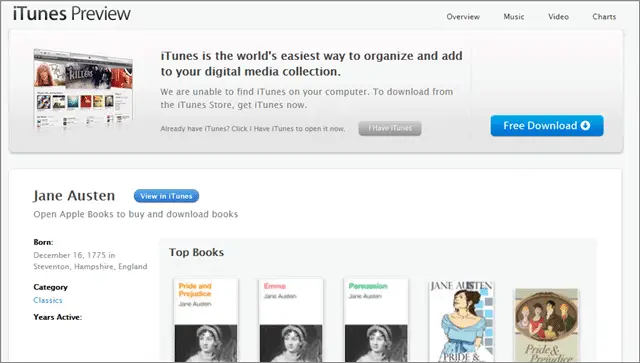 Haven't we all read Jane Austin's Pride and Prejudice while growing up? How about making our children listen to the same classic? Just like Google, Apple also provides audiobook services on iTunes to its customers. Each audiobook is differently priced, and there are no subscription plans. Pay as you listen to this audible alternative.
If you're already a part of the Apple ecosystem, give this a try first instead of scanning through other apps. You might find a certain section of audiobooks slightly overpriced, but they do come up with exciting offers from time to time and do offer cheap audiobooks.
Simply Audiobooks – A different kind of A
udible Alternative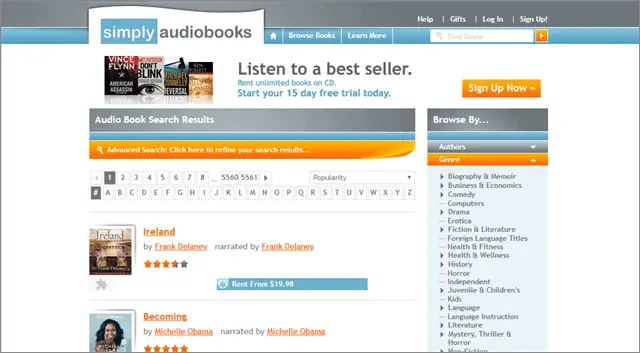 A comparatively new website, this Audible alternative provides audiobooks on rent in the form of a CD and not digitally. They have more than 50,000 titles, and no shipping charges apply. Especially so when the website ships it to you and when you ship the CD back to them.
They have unlimited rentals starting from $19.98 for a month. Want a 2-month subscription? Pay $29.99, and $39.99 for a 3-month subscription. The pricing might look exorbitant at first but is actually not since you have limitless access to the CDs at your disposal.
No late fees, no due dates, multitude categories to choose from, this old-school option is useful for cheap audiobooks. This is especially when you do not want your phone space to be clogged. Furthermore, you may be just looking for some time off from the devices we're otherwise hooked to.
Final Thoughts on Audible Alternatives
But is it kindle unlimited versus audible? Well, kindle is more about reading digital books and whereas the Audible alternative is about listening to them. The above-listed alternatives to Audible are good substitutes to start with for free audiobooks.
Audiobooks Now, Downpour and eStories are cheaper than Audible and trustworthy. Scribd is our personal favorite because apart from being an economical alternative to Audible, it not only has an array of audiobooks but other media content like magazines, articles, research documents, and newspapers.
If you're looking for cheap audiobooks without commitment and no monthly subscription plans, try Hachette Audio, Google Play Audiobooks, and Apple Audiobooks. Are you short of time and want to know just the gist of the summary of the book highlighting key details? Get your hands on Blinkist. So, even if you already are an Audible subscriber, check out the alternatives to Audible we've listed to avail DRM free content.
Related: How to Read EPUB Books in Your Browser
(Updated on 11th September 2020)