Having your favorite song as your phone ringtone is just like a tradition for mobile phone users. When we like a certain part of a song or a melody, we usually edit and cut out that particular part to use it as a ringtone. To do so, you need the best ringtone app for Android to create a ringtone that you find suitable for your phone.
Apart from ringtones, some apps also provide additional features like wallpapers, notifications, and alarm clocks.
14 Best Ringtone App for Android Phones
Ringtone apps help us carve out ringtones or else use ready-made ones that we like to listen to. It is always better to select a multipurpose ringtone app that also provides sounds for notifications, wallpapers, alarm clocks, and other such features. You must select an app as per your needs and demands. Let's have a look at the best ringtone app for Android mobile phones.
1. Zedge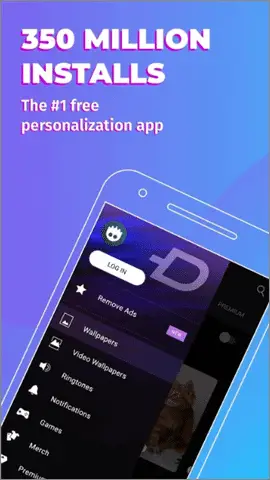 When it comes to multipurpose ringtone apps, no one can beat Zedge in terms of the features the app offers. This Android application has its own set of in-built ringtones, and if you don't like them, you can customize and create your own. Added to that, it also allows users to convert their favorite songs into ringtones.
Apart from ringtone making tools, Zedge also provides wallpapers, stickers, alarm and notification sounds, and some cool games to savor. The wallpapers boast a great image quality, and an in-built editor allows you to customize them according to your needs.
Hands down, Zedge is the best ringtone app for Android in terms of the vast features it provides, apart from its usual ringtone services. The only downside is that you will encounter several ads that might irritate you to some extent.
2. Myxer Free Ringtone App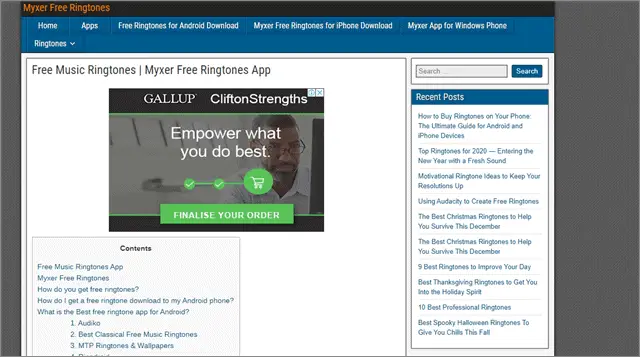 The Myxer Free Ringtone App is one of the oldest ringtone apps in the business and stands out for the fact that it can be used on iOS, Android, and Windows devices. You can customize certain tunes or turn your songs into ringtones using this application.
The ringtones can be as long as 30 seconds. The best ringtone app for Android has a user-friendly interface, meaning you won't require much time to get acquainted with the process of using it. However, users will be disappointed to know that this ringtone app isn't available on the Google Play Store.
3. MTP Ringtones & Wallpapers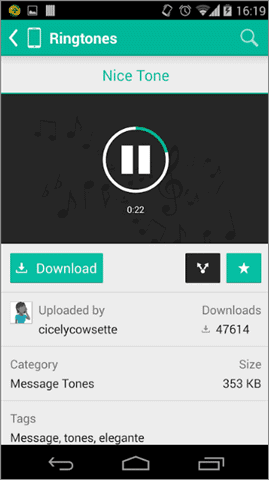 MyTinyPhone Ringtones & Wallpapers allows users to customize their Android devices by offering a plethora of wallpapers and ringtones to choose from. After Zedge, it is probably the best ringtone app for Android in terms of the additional features it offers.
You can set alarm ringtones, and also browse and download thousands of HD wallpapers using this app. Making your ringtone using the MTP Ringtones & Wallpapers also has a very easy learning curve. Additionally, this app also allows you to choose ringtones for certain contacts.
Download MTP Ringtones & Wallpapers
4. Ringdroid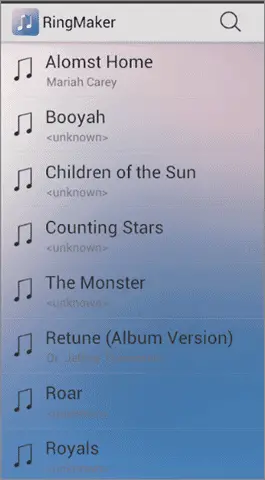 Ringdroid is one of the best ringtone apps for Android devices. It has a user-friendly ringtone editor you can use to cut specific parts out of your favorite songs and use them as ringtones.
Unlike the MTP Ringtones & Wallpapers and Zedge apps, Ringdroid is solely dedicated to providing tools for making ringtones. The application also comes with an in-built sound recorder. So, you can record live audio and then edit it accordingly to convert it into a ringtone.
5. Z Ringtones 2020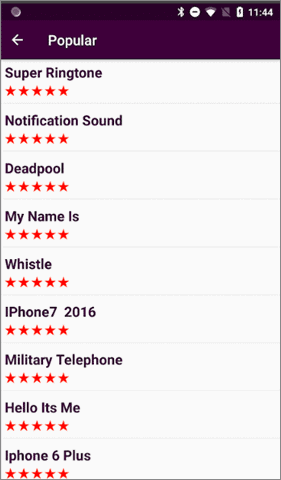 Not every mobile phone user prefers to use his or her favorite songs as a ringtone. Some are fine with using a piece of simple music as their ringtone. If you wish to select a good ringtone rather than get into the process of making a special one, Z Ringtones 2020 won't disappoint you!
This application has a plethora of tunes in its database. You can browse the most popular ringtone from a bunch of genres like Hip Hop, Jazz, Latin, Pet & Animals, Pop, R&B/Soul, Rock, Christmas, New Year, NYE, Holiday, and so much more.
The only downside of using this ringtone app is that users cannot create and customize their ringtones in this app. Also, Z Ringtones 2020 has an ad frequency that might irritate users.
6. Best New Ringtones 2020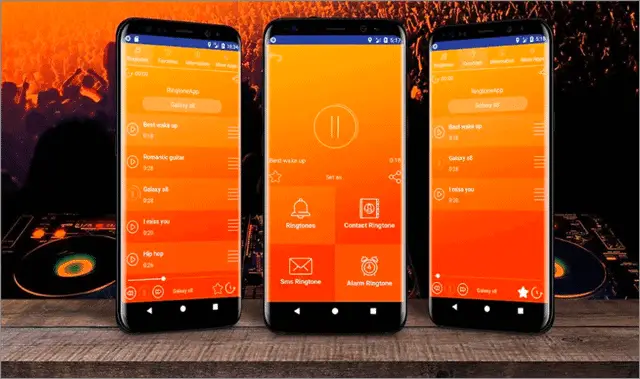 Best New Ringtones 2020 is yet another one in the list of best ringtone app for Android. To start with, it has a very easy user interface as ringtones can be changed with just 2 clicks. This application claims to have won the trust of over 5 million people worldwide. It offers a pool of about 100+ notifications and sounds.
Users can set new messages, alarms, and special contact ringtones. The downside of Best New Ringtones 2020 is that you cannot edit your ringtone; you can only select from the pool of tunes available to you.
Download Best New Ringtones 2020
7. MP3 Cutter and Ringtone Maker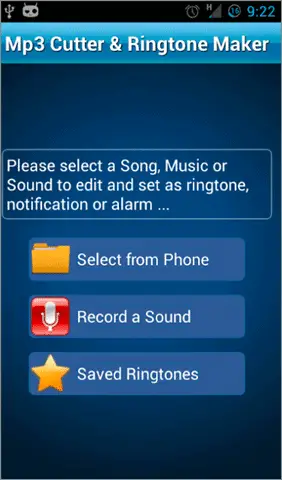 MP3 Cutter and Ringtone Maker enable its users to edit specific parts of the audio piece and use it as a ringtone. It is a very simple and easy app to learn.
The application also has an in-built sound recorder. You can also use the app to record live audio and then separate the best parts out of it to create a ringtone. MP3 Cutter and Ringtone Maker is the best ringtone app for Android for beginners, thanks to its easy learning curve.
Get the MP3 Cutter and Ringtone Maker
8. Audiko
Audiko MP3 Cutter and Ringtone Maker allows users to choose from oodles of available tunes, edit, and use them as ringtones. It is regarded as the best ringtone app for Android which is into personalization.
Audiko also provides thousands of 4K HD wallpapers apart from having a strong database of ringtones. The database of the application is updated daily, and the tunes in the app support almost all music formats.
The pro-version of Audiko gives users more number of songs to edit and use as ringtones. However, the amount of database available in the free version will hardly require you to go for the pro version.
9. Cellsea Ringtone Maker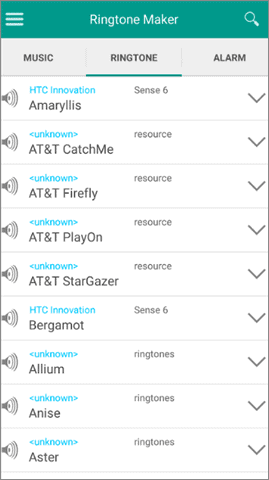 Cellsea Ringtone Maker is similar to Zedge in terms of the services it offers. With this application, you can customize, edit, and set ringtones as well as cool HD wallpapers. You can also create and set tones for notifications, messages, and alarms as well.
The available formats of audio files are MP3, WAV, AMR, 3GPP, AAC, and MP4. Beyond that, you can also create ringtones out of your favorite songs, thanks to the user-friendly interface of this application.
Cellsea Ringtone Maker is the best ringtone app for Android if you are a beginner and wish to play around with the art of making ringtones.
Download Cellsea Ringtone Maker
10. Zen Ringtones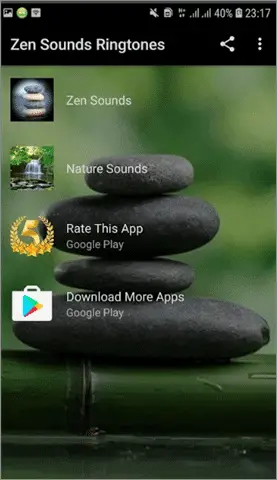 Zen Ringtones is yet another best ringtone app for Android that will do great with the beginners. It has a super easy user interface and allows users to change ringtones in just a few clicks.
Zen Ringtones has 45 Zen sound ringtones you can use to personalize your mobile phone. The music sound is very loud, clear, and soothing. The application allows you to use these sounds also for notifications, messages, and alarms.
11. Pi Music Player
How about having a ringtone cutter coupled with a music player? That's two requirements combined in one. The Pi Music Player is one of the most downloaded and trusted music players available on the Play Store.
The best ringtone app for Android provides a five-band equalizer and a ring cutter that will help make your favorite ringtones for your phone. Additionally, the Pi Power Share feature allows users to share audio files with anyone, anytime, and anywhere.
What's more, Pi Music Player also lets you browse through Youtube videos. The Floating Video Player feature allows users to use different apps while listening to the videos in the background. If you want to optimize your battery usage, you can use the Power Saver mode while watching videos.
12. Ringtones Top 100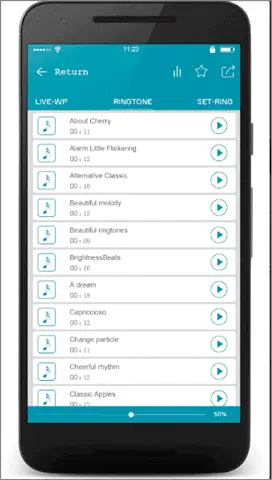 If you like having a set of ringtones rather than creating one yourself, make sure you try out Ringtones Top 100. As its name suggests, the ringtone app for Android comes with a collection of 100 ringtones and notification alerts.
Ringtones Top 100 has a good sound quality; it is lightweight, smooth, and requires very little energy to run. Users can set call ringtones, message alerts, alarm tones, and notification sounds using this application.
The only drawback is that the choice of ringtones is only limited to what is offered by the application. As a result, many ringtones might be very old, and if you are looking for fresh and latest sounds, you might probably not get that in this ringtone app.
13. Timbre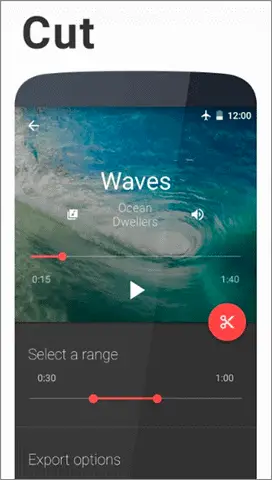 Timbre is a video editing tool, but it also contains audio editing features that can be used for creating ringtones. You can quickly cut songs and set ringtones as per your preferences. Added to that, the app also contains video and audio converters.
Timbre supports audio formats like mp3, WAV, FLAC, m4a, aac, PCM, AIFF, Ogg, WMA, and alac. The supported video formats are mp4, Avi, Flv, MOV, WebM, mkv, and MPEG. Features like Audio/Video Splitter, Audio/Video Omitter, Audio Bitrate Changer, and Audio/Video Speed Changer will make sure you can create ringtones with ease.
14. Ringtone Slicer EX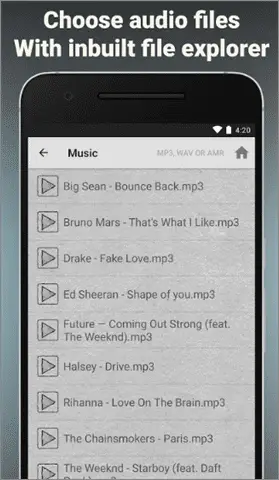 Ringtone Slicer EX provides all the standard features expected of a ringtone maker application. It allows you to create your own custom ringtones and edit favorite music to create the best, unique, and loud mp3 ringtones, alarms, and notifications sounds.
Ringtone Slicer EX has a very simple user interface and an easy learning curve. Features like Fade In/Out, Volume Adjustment, and EQ will help in making ringtones of your choice within no time. You can use these ringtones for notifications, alarms, and SMS alerts as well.
Conclusion
Having a ringtone app also allows you to change and set your favorite tunes as ringtones from time to time. If you are someone who values the personalization of smartphones, these apps can help you in your cause. You can edit parts of your favorite songs or music and use them as your ringtones by using these applications. However, it must also be noted that at times ringtone app for Android cannot fulfill all your requirements. In such cases, you can check websites that create custom ringtones.
We hope that the applications in this article will help you create your own tunes without any hurdles. The best ringtone app for Android is challenging to decide, given that the choice of the application always depends upon a user's personal needs and requirements.
Related: Best Alarm Clock Apps For Android: Time to Fight Your Morning Blues