Google Docs is a vital tool for data storage and management. It is mostly used for storing subjective reports, texts, and much more. Editing a document is comparatively more straightforward in Google Docs than in Microsoft Word as you can track changes in Google Docs that have been made by your colleagues or friends.
Google Docs is an all-in-one tool that offers many features for the proper formatting of a document. You can add footnotes, create borders, insert a signature, insert a watermark, and do much more. Using all these features along with Google Docs shortcuts guide helps users in creating a well-designed document.
Learn How To Track Changes In Google Docs
Editing in Google Docs is an easy task, and the reason is that you can track changes you have made in a document. Having prior knowledge about the tweaks helps you get a better understanding of the changes that are required and necessary. Also, the changes allow users to analyze the documents in terms of grammatical and subject-related errors.
Before we learn how to track changes in Google Docs, it is important to know how to suggest edits in a document.
How To Suggest Edits In Google Docs
This feature comes handy when a document passes through a hierarchy of users. The edits that we will track down in the future as 'changes made to the document.'
For example, when a writer passes on a document to the editor, the editor can suggest edits in the document for the writer as well as the chief editor.
To begin with, open a Google Docs document from your Google account. Navigate to the top right side of the document and click on the pencil icon. New users always have the editing permission of a document by default.
After you click the icon, select Suggesting to enter the Suggestions Mode.
Now, when you type or make changes in the Google Docs Suggestions Mode in a document, the changes will be reflected in green color, as shown in the figure below.
When you make changes, they will be visible to every user with whom you have shared the document. After you suggest edits, make sure you return to the normal mode.
How To Track Changes In Google Docs
Tracking changes means simply reviewing the suggested edits we just saw above. With a few simple clicks, you can accept or reject some or all the proposed changes in a document. Here's how you can do it.
After you have opened the document, navigate to the Tools tab, and click on Review suggested edits.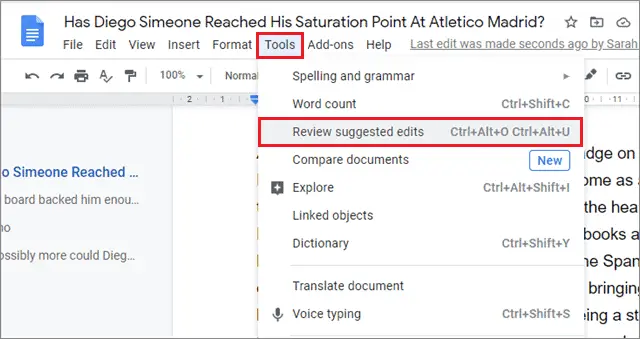 Then, you will see that Google Docs asks you to decide on all the suggested edits. Choose whatever you want to do with the edits.
In this case, we have decided to accept all the changes.
That's all about how to track changes in Google Docs by reviewing the suggested edits.
How To Add And Resolve Comments
Inserting comments is crucial practice editors need to be acquainted with while working on track changes in google docs. You can use Google Docs to ask questions about the content or suggest edits in a document.
First, select any word or sentence for which you want to add a comment and right-click on it. From the drop-down menu, select the Comment option.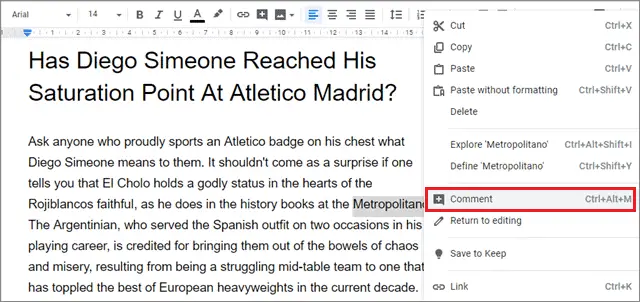 Once you do this, a small dialog box appears, asking you to type the comment. Enter your instructions, and click on the Comment button or press the Enter key.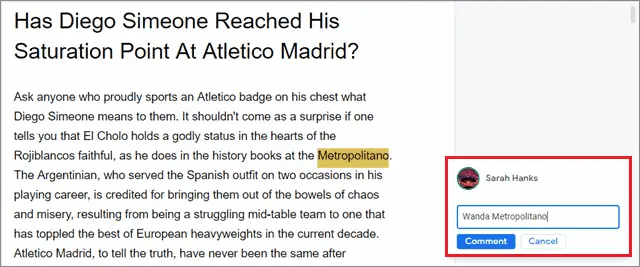 After you press Enter, the selected part will get an orange background, as shown in the figure above, indicating that a comment has been made.
You can also scroll through the entire document searching for such parts of texts that have an orange background; they will give you an idea that specific comments need to be taken care of.
When you find such a part of the text, click on it, and you can see the comment made regarding that part. You can click on the check button in the dialog box to resolve the comment.
Make sure you follow the instructions mentioned in the comment and make the necessary changes that are required. Once a comment is resolved, it cannot be resurrected.
How To Track Changes Using Version History
Another easy way to know about all the changes is to use the version history of a Google Docs document to track changes in Google docs. The file version history allows users to check all the changes that have been made in a document ever since it was first created.
Open a document from your Google account. Then, go to the File tab and click on Version History. Select See version history.
It is easy to track the changes from this window. If you have shared the document with another user and he or she has made changes in it, you will be able to see the changes marked in a different color.
On the right-hand side, you can also view the file version history of the document. There are various versions of a document you can choose to resurrect using this feature.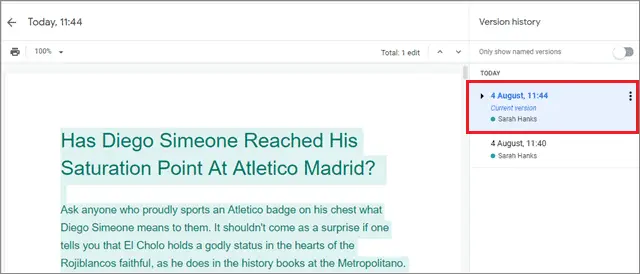 To rename a version, just click on the three vertical dots and select Rename this version. Change the name and press the Enter key to finalize that name.
Users can also restore previous versions of a file. However, before doing so, make sure you check whether the version fits the bill of your requirements.
Conclusion
Google Docs has surfaced as one of the most crucial and popular tools for data storage and management in recent years. It allows users to use various useful features for the proper formatting of a document. One of the most significant advantages of using Google Docs over Microsoft Word is that you can track the changes that have been made by you or any other user in the past.
Users need to know how to track changes in Google Docs because it helps them in getting a first-hand idea as to what more needs to be edited in a document. You can suggest edits, add comments, or check the previous versions of a document for tracking changes. There isn't a specific best way to track changes; all the methods mentioned above can be used to measure and track the changes as per the user's convenience.