As engaged shoppers, we are well aware of what an invoice is! Since digitization, sellers and small businesses rely on digital invoices to create bills for the goods they sell. So, if you want to create a digital invoice and want to avoid the complicated process, the blank invoice template in Google Docs is what you need! Furthermore, having a ready-made Google invoice template saves users the time to write all the details.
You can only fill in the name and amount of the sold goods/services. Ready-made invoice templates also play a massive role in expense tracking and reducing the usage of paper. You can also have accounting software, online invoicing software, or an invoice generator to create multiple invoices. However, using Google Docs, Microsoft Word, or a Google sheet is a frugal way to get the job done. Apart from invoices, you can also use a newsletter template in Docs to create an attractive newsletter informing your customers about the products and services you offer.
Top 6 Blank Invoice Template In Google Docs
It's always necessary to understand the details you wish to include in your invoices and then move forward to create one. Let's check out the best Google Docs Invoice templates that can fulfill your requirements.
1. Small Business
Small businesses usually have mounds of work and very little time to focus on day-to-day yet essential tasks like invoicing. Not having an invoice for records can cause severe dents to their reputation and create obstacles in building trustworthy relationships with their clients.
The blank invoice template in Google Docs will make sure a business owner does not need to create a client invoice from scratch. Instead, just download it, fill in the details, and send it to your clients. To lessen the burden, you can fill in your company information and save that document as a professional invoice template in your Google Drive account.
Whenever you need to send out detailed invoices, just open this custom invoice template from the Templates Gallery and fill up the necessary fields. You can also use it as a tax invoice while managing your business transactions.
Get Small Business Invoice Template
2. Freelance Invoice Template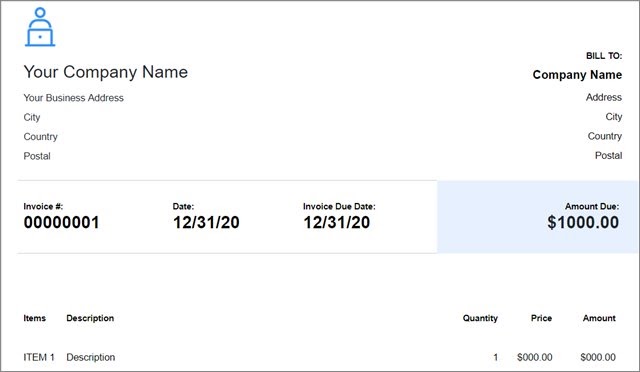 When you venture into freelancing, attracting clients is the first task you need to focus on! However, that's not where all the hard work comes to a halt. Having a Freelance (Independent Contractor) Invoice for all the services you offer is an excellent mark of professionalism that builds trust with your clients.
The free Google Docs template lets you list down all the tasks you have performed easily. You can enter your details and create a flexible invoice template of this document to cut down on your efforts when you use it in the future.
Get Freelancing Invoice Template
3. Multiple Projects
If you are working on multiple projects, it's better to let the cloud service deal with your business invoicing duties. It helps you focus on the critical tasks at hand and let the cloud service create clear and concise invoicing solutions for you. The blank invoice template in Google Docs for multiple projects allows you to include all the significant tasks you have completed for an organization or a freelance client.
The best thing is you can mention the overall cost of a project rather than diving into the details and listing down the expenditure for every activity. Users can also mention the due amount and the invoice number at the top of this blank invoicing template in a large font size to highlight it throughout the document.
Get Multiple Projects Invoice Template
4. Hourly Invoice Template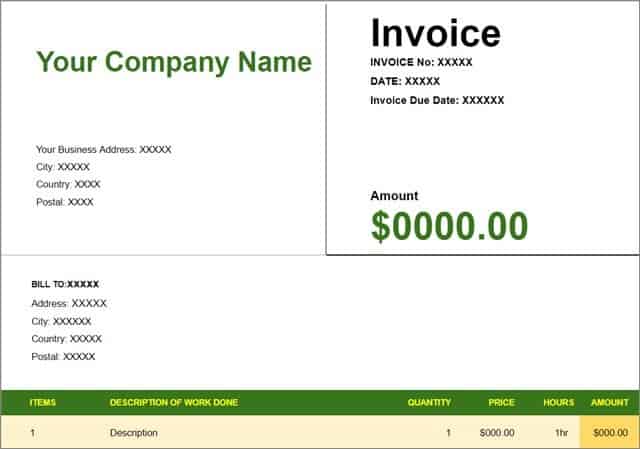 Many freelancers prefer working on an hourly basis, and hence, they need to create invoices that align correctly with the type of services they provide. However, this Google Docs Freelance Invoice will be the perfect invoice tracking template if you charge an hourly rate.
The free invoice template in Google Docs allows you to quickly enter the tasks and hourly rates. You can personalize this template as per your preferences. You can also use it as a consulting invoice template and send it as a pdf invoice to your clients.
5. Simple Commercial Invoice For Business
The style and design of an invoice go a long way in creating a feeling of trust in the minds of your consumers. However, if you aren't much interested in creating an attractive invoice document, you can take an easy road instead of that detour.
The commercial business blank invoice template in Google Docs allows you to create a simple invoice in minutes and send it to your clients. It is straightforward to understand, and thanks to its short length, you can also list down your conditions and terms of payment.
Get Simple Commercial Business Invoice
6. Subcontractor Invoice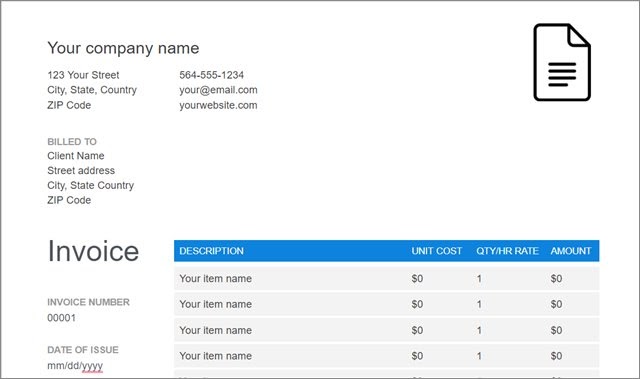 A subcontractor invoice provides a detailed breakdown of the provided services, the incurred costs, and how the client must compensate the amount. If you are a subcontractor, having an invoice can help you with accounting and business finances when it's time to file your taxes.
As a subcontractor, you will likely offer multiple services. This Google Docs Invoicing for Small Businesses invoice template can help you create a fully customized invoice as per your requirements. You can also download this as a MS Word invoice template if you prefer working with the Office 365 suite.
Get Freshbooks Subcontractor Invoice 
4 Benefits Of Having An Invoice Process
An online invoice is a legal proof that entails information regarding the services provided by one entity to another and the costs incurred for the same. Thus, there are multiple benefits of having invoices, and that's precisely why they are too crucial.
1. Invoices Save Time
A detailed invoice help consumers save time by adapting to new payment methods instantly. In contrast to the earlier approach that used to list down the requirements of a transaction over a particular period, invoices have enabled a faster transition to the advanced payment methods.
Invoices also ensure the payments are made smoothly and on time; they specify the company details, amount, and the time period for a particular transition to be made quickly.
2. Personalization In Invoices
Invoices can be yet another tool for businesses to display their professionalism. For example, organizations can brand their invoices with their logos and add the terms and conditions agreed upon by the two business partners or independent contractors.
3. Invoices Are Accessible Anywhere
The best part about having a filled or blank invoice template in Google Docs is that you can access it on any device from any location at your convenience. Thanks to the online invoice form, you can bid goodbye to the old habit of frantically rummaging your desk to grab the details of a particular transaction from a client.
4. Invoices Reduce The Chances Of Payment Refusal
In many cases, clients often refuse to adhere to the payment terms after receiving services from another business. So, companies send invoices with detailed terms and conditions to make sure their clients don't trick them. This helps in reducing the overall losses and also improves the company's image.
Conclusion
An invoice is used as a statement of charges that helps suppliers keep track of payments and the number of goods they have sold to their consumers. Using a blank invoice template in Google Docs, MS Word, or a Google spreadsheet allows users to enter essential details in the blink of an eye and ready an invoice quickly. It's also a cost-effective way of creating invoices as compared to using invoice software.
While choosing a template, make sure it has a good design that goes well with your brand and has all the necessary fields included. You can use multiple types or even create invoice templates for your business, provided it meets your bill of requirements.