As engaged shoppers, we are aware of what an invoice is! Since digitization, sellers and small businesses rely on digital invoices to create bills for the goods they sell. So, if you want to create a digital invoice and avoid the complicated process, the invoice template in Google Docs is what you need! Furthermore, having a ready-made Google invoice template saves users the time to write all the details.
You can only fill in the name and amount of the sold goods/services. Ready-made invoice templates also play a massive role in expense tracking and reducing paper usage. You can also have accounting software, online invoicing software, or an invoice generator to create multiple invoices. However, using Google Docs, Microsoft Word, or a Google sheet is a frugal way to get the job done. Apart from invoices, you can also use the brochure template in Google Docs to create an attractive newsletter informing your customers about your products and services. And if you want, you can also learn how to create a newsletter template in Google Docs.
Top Invoice Template In Google Docs
It's always necessary to understand the details you wish to include in your invoices and then move forward to create one. There are various templates listed in Technorms to help you understand them better. Let's check out the best Google Docs Invoice templates that can fulfill your requirements.
1. Small Business
Small businesses usually have mounds of work and little time to focus on essential tasks like invoicing. However, not having an invoice for records can cause severe dents to their reputation and create obstacles in building trustworthy relationships with their clients.
The invoice template in Google Docs will ensure a business owner does not need to create a client invoice from scratch. Instead, just download it, fill in the details, and send it to your clients. To lessen the burden, you can fill in your company information and save that document as a professional invoice template in your Google Drive account.
Whenever you need to send out detailed invoices, sign in your email address, open this custom invoice template from the Templates Gallery and fill in the necessary fields. You can also use it as a tax invoice while managing your business transactions.
Get Small Business Invoice Template
2. Freelance Invoice Template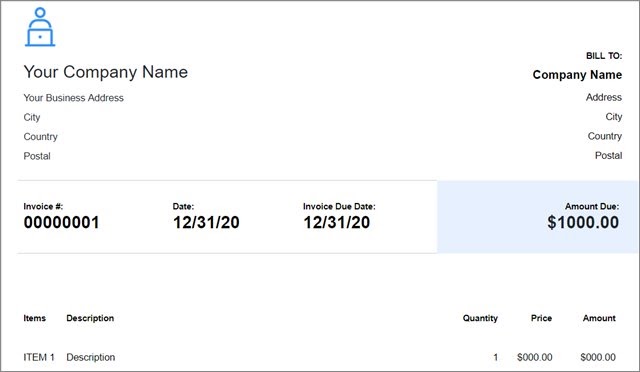 When you venture into freelancing, attracting clients is the first task you must focus on! However, that's not where all the hard work stops. Having a Freelance (Independent Contractor) Invoice for all your services is an excellent mark of professionalism that builds trust with your clients.
The free Google Docs template lets you quickly list all the tasks you have performed. In addition, you can enter your contact info and relevant details for the invoicing process. You can create a flexible invoice template for this downloadable invoice template to cut down on your efforts when you use it in the future.
Get Freelancing Invoice Template
3. Multiple Projects
If you are working on multiple projects, it's better to let the cloud service deal with your business invoicing details and duties. It helps you focus on critical tasks and allows the cloud service to create clear and concise invoice details solutions for you. The blank invoice template in Google Docs for multiple projects will enable you to include all the significant tasks you have completed for an organization or a freelance client.
The best thing is to mention the overall invoice amounts rather than listing details and expenditures for every activity. Users can also note the due amount and the invoice number at the top of this blank invoicing template in a large font to highlight it throughout the document.
Get Multiple Projects Invoice Template
4. Hourly Invoice Template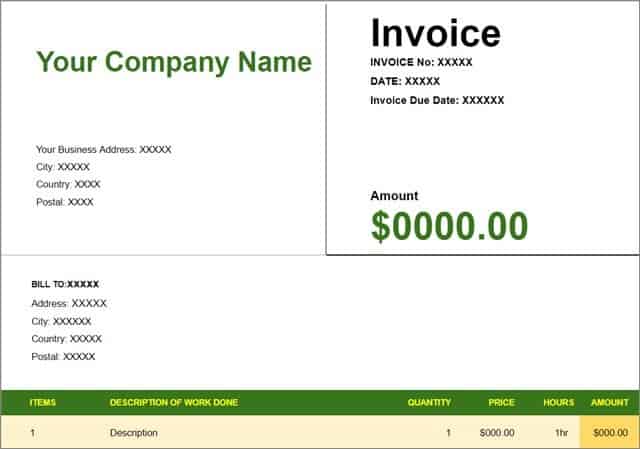 Many freelancers prefer working hourly, so they need to create invoices that align correctly with the type of services they provide. However, this Google Docs Freelance Invoice will be the perfect invoice tracking template if you charge an hourly rate.
The free invoice template in Google Docs lets you quickly enter the tasks and hourly rates. You can personalize this template as per your preferences. You can also use it as a consulting invoice template and send it as a pdf invoice to your clients.
5. Simple Commercial Invoice For Business
The style and design of an invoice go a long way in creating a feeling of trust in the minds of your consumers. However, if you aren't much interested in creating an attractive invoice document, you can take an easy road instead of that detour.
The commercial business invoice template in Google Docs allows you to create a simple invoice in minutes and send it to your clients. It is straightforward to understand, and thanks to its short length, you can also list down your conditions and terms of payment.
Get Simple Commercial Business Invoice
6. Subcontractor Invoice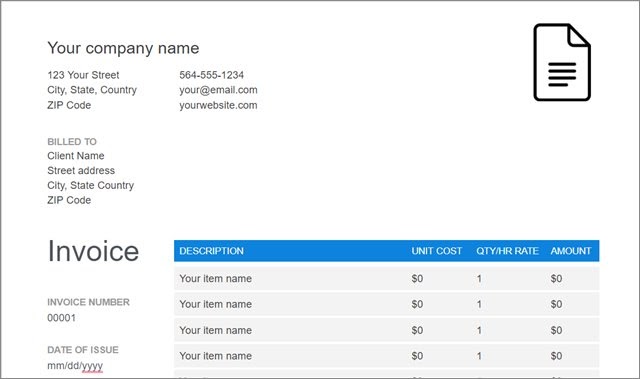 A subcontractor invoice provides a detailed breakdown of the provided services, the incurred costs, and how the client must compensate the amount. If you are a subcontractor, having an invoice can help you with accounting and business finances when it's time to file your taxes.
As a subcontractor, you will likely offer multiple services. This Google Docs Invoicing for Small Businesses invoice template can help you create a fully customized invoice as per your requirements. You can also download this as an MS Word invoice template if you prefer working with the Office 365 suite.
Get Freshbooks Subcontractor Invoice 
7. Gold Formal Consultant Invoice Template
A consultant invoice can only be created from a professional invoice template. The document shows the statement of services provided formally. The consultant invoice template has a neat structure starting with the contact info and moving on to include the invoice details like service descriptions and cost. You can also add additional information below, along with notes to the client company.
The invoice design is just right for a professional-looking invoice. We will call it a beautiful invoice template with the golden elements adding to the overall look. Downloading the appealing invoice template in Google Docs or Google Slides is your choice.
Get Gold Formal Consultant Invoice Template
8. Simple Construction Invoice Template
A boon to people working in the construction industry, the Simple Construction Invoice Template begins with your company details. The different headers let you fill in relevant details like item description, quantity/hr, and unit price. In addition, the auto-fill invoice feature eases the burden of calculating the total invoice amount.
Once you download the customizable invoice template, you can enter the essential data and create a decent invoice in a matter of minutes. In addition, the coffee theme of the template can be replaced with one unique to your company. 
Get Simple Construction Invoice Template
9. Simple White Invoice Template
Anything simple ranks high in terms of aesthetics, and the Simple White Invoice Template is the perfect invoice template for those who prefer a solemn look. The design is suited for all types of businesses, whether big or small. When you add the company details, you can also add your business logo and a color scheme representing your business. 
Adding the product description and other details is easy as column headers remind you even if you forget to mention some points. The sample invoice template is a dedicated design compatible with Google Docs.
Get Simple White Invoice Template
Benefits Of Having An Invoice Process
An online invoice is a legal proof that entails information regarding the services provided by one entity to another and the costs incurred for the same. Thus, invoices have multiple benefits, and that's precisely why they are too crucial.
1. Invoices Save Time
A detailed invoice help consumers save time by instantly adapting to new payment methods. In contrast to the earlier approach to listing the transaction requirements over a particular period, invoices have enabled a faster transition to advanced payment methods.
The invoice template in Google Docs also ensures that payments are made smoothly and on time. They specify the company details, amount, payment link, and time period for a particular transition to be made quickly. You can also send the details of the outstanding payments to a business contact along with miscellaneous charges.
2. Personalization In Invoices
An invoice template in Google Docs can be yet another tool for businesses to display their professionalism. For example, organizations can brand their invoices with their logos and add the terms and conditions agreed upon by the two business partners or independent contractors. Furthermore, the client details, billing address, bank account details, and company address is in a convenient format. In addition, the breakdown of services makes the complex invoicing easy to understand.
3. Invoices Are Accessible Anywhere
The best part about having a filled or blank invoice template in Google Docs is that you can access it on any device from any location at your convenience. Thanks to the complete invoicing software system and the online invoice form, you can bid goodbye to the old habit of frantically rummaging your desk to grab the details of a particular transaction from a client. You can also use the invoice file and relevant invoice template for future reference.
4. Invoices Reduce The Chances Of Payment Refusal
Clients often refuse to adhere to the payment terms after receiving services from another business. So, companies send invoices with detailed terms and conditions to ensure their clients don't trick them. This helps reduce the overall losses, improves the company's image, and acts like payment reminders. 
Conclusion
An invoice is a statement of charges that helps suppliers keep track of payments and the number of goods they have sold to their consumers. Using an invoice template in Google Docs, MS Word, or a Google spreadsheet allows users to enter essential details in the blink of an eye quickly and ready an invoice. It's also a cost-effective way of creating invoices compared to invoice software.
While choosing a template for invoice creation, ensure it has a good design that goes well with your brand and has all the necessary fields. You can use multiple types or even create invoice templates for your business, provided it meets your bill of requirements.
(Article Updated on 15th September 2022)