When we talk about email marketing, the term 'newsletter' often comes up. Creating a newsletter from scratch could be an uphill task for someone who isn't well-versed in the art of designing. In such cases, they can use a newsletter template in Google Docs and create one for themselves.
Newsletters can also be created if you know how to use Google Docs properly. The provisions for making an outline, creating headers, making borders, and creating a table of contents in Google Docs can help you make a fine newsletter customized as per your wishes and requirements.
Use Newsletter Template In Google Docs To Create Engaging Newsletters!
The newsletter template in Google Docs is available in various styles and formats. Users can either use them as they are, or do changes in the format as per their requirements. You can make columns in Google Docs, and also add different headers in Google Docs. On that note, let's look at how to create impressive newsletters for various purposes.
What Are Newsletters And Why Are They Used?
Newsletters contain information about a particular topic of interest of the recipients to stimulate engagement. The newsletter template in Google Docs come in various types. The purpose depends on the type of newsletter you want. From project to meetings to brochures to pamphlets, the purpose depends on what you want to convey.
Some templates are used to convey the overall performance of an organization on a weekly, monthly, or yearly basis. Such newsletters are circulated only among the employees of that organization.
On the other hand, newsletters containing essential information about certain products are sent to consumers. This is done to spark the interest of the consumer and convince him to buy a product.
If you are an email marketer targeting a particular group of people, make sure you send out newsletters to try and convince them into taking action related to your product. Newsletters are used mainly in retention marketing; they aim at informing consumers and prospects about new products and services and providing updates about any changes in a business. For personalized touch in specific emails, you can also insert a signature in Google Docs.
How To Make A Newsletter In Google Docs
We have already seen how newsletters can help organizations on both internal and external levels. Now, let's look at how to use a newsletter template in Google Docs.
To start with, open a browser and navigate to the Google Docs homepage. Click the Template gallery button at the top-right of the window.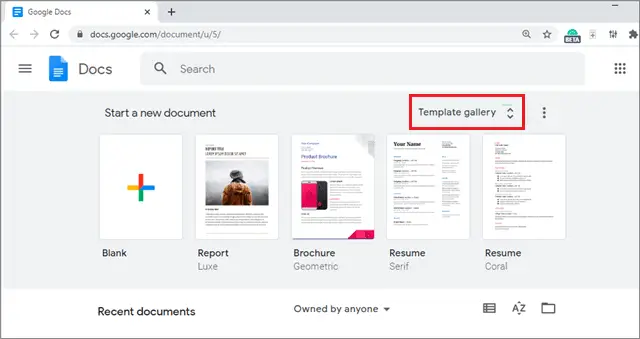 Now, scroll down to the work section. You will see a variety of newsletter templates for professional purposes. Select any one of your choices as per your needs and requirements.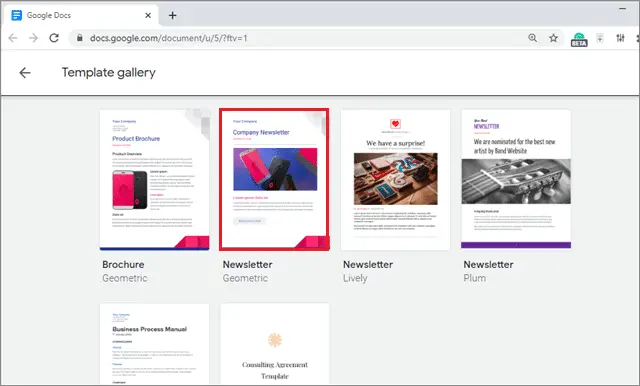 That's it. Once the Google Docs newsletter template opens, it's up to you to do the reformatting.
The first and most important step in reformatting the template is to change the image.
Click on that image and then select Format at the top of the window. Now, select Image and click on the Replace image option. Choose an image of your choice to replace the existing image.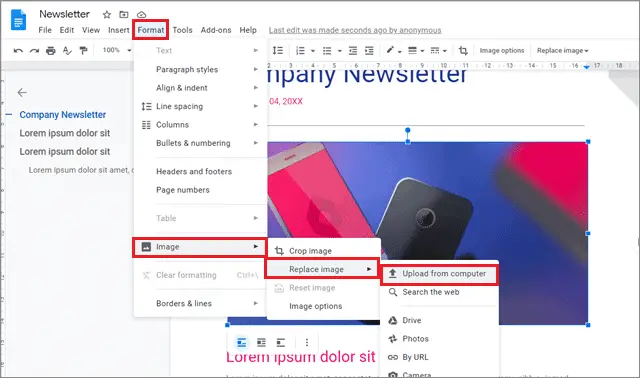 While the process of making a newsletter in Google Docs is easy, creating the content for a newsletter requires users to follow some tips.
Tips For Creating An Engaging Newsletter
We already know that the newsletter template in Google Docs can be used for various purposes. Capturing a recipient's attention through emails is no cakewalk, given the vast number of emails already lying in his or her inbox.
So, how do you make your newsletter stand out and spark that interest in the consumers regarding your newsletter?
Well, here are some tips that will help you in your cause.
1. Know Your Focus Before Creating Newsletter in Google Docs
Newsletters can be used for various purposes, but it's important to know the root cause of why they are being used. Whether it's for promoting blog posts, new products, company updates, or PR stories, every newsletter needs to have a proper content theme.
Many newsletters appear cluttered and uninteresting because they focus on all aspects of a business. It's better to use different types of newsletter templates in Google Docs for promoting different types of verticals in your business.
2. Balance Your Content
Always remember, attempts to educate your consumers goes a long way in cultivating long-lasting relationships with them. Make sure the content in your newsletters isn't all just about promotions, but also something that will give consumers the value they are looking for.
3. Write An Eye-Catching Subject Line
Regardless of how you reformat a Google Docs newsletter template as per your requirements, it would all be in vain if your subject line isn't attractive. Make sure your subject line is crisp and conveys exactly what the consumers are looking for.
4. Place A Call-To-Action
After you are clear about the focus, the content balance, and have an attractive subject line, it's important to add a Call to Action that suits the overall premises of the newsletter.
If you are promoting blogs, the CTA should be something like 'Read Now', which helps readers take action after going through the content in your newsletter. If the newsletter promotes products, always include a 'Buy Now, CTA to compel consumers to take action immediately after reading your newsletter.
The CTA needs to be in line with the overall focus of your newsletter. You should also stay up-to-date with the latest email marketing trends and keep improving your newsletter.
Conclusion
A newsletter can be used for various purposes by both individuals and organizations.  The newsletter template in Google Docs is a crucial part to consider when it comes to email marketing campaigns. Professionals with experience in designing can easily create a newsletter in designing software like Adobe Photoshop, CorelDraw, and many more. You can also check out Google docs Tutorials for creating professional documents.
However, for those who don't know a thing about designing, using a Google Docs newsletter template is the best option to avail. A newsletter template can be created with just a few simple clicks in Google Docs. Also, users must follow specific guidelines for making a newsletter that helps in converting consumers into potential buyers. The choice to use a newsletter template depends upon the prime focus and aim of the newsletter.
(Updated on 11th December 2020)