Whether you play a game online or offline, the fun factor should not be missing. Google Slides game templates offer unending entertaining activities to game lovers. The slides can be edited and re-edited to add different content, so you are not bored playing the same game. Interactive games are the talk of the town as they heighten the level of fun. Use the game templates during festive times or dull days to lighten your mood.
Google Slides are fantastic tools for game presentations because you get 20+ slides in one go with an option to add more or delete according to your needs. They are not just limited to games but find use in creating endless possibilities of templates. If you are a disciplinarian, find some Google Slides timeline templates for free.
20 Google Slides Game Templates
Educational games are platforms for students to continue their learning and growth. But don't think that recreational Google Slides game templates are any less. Many of them engage kids and adults, leading them to a world where learning is fun. Be it friends gathering or incredible events with near and dear ones, these game templates are perfect for a fun evening. The high-quality graphics, characters in video games, famous TV game show, or fun group-based game, there is something for everyone.
With the features in Google Workspace, anyone can create a top-notch game with lesser time. Let's check out brilliant editable game templates to test your brain and indulge in creative projects.
1. Jeopardy Presentation Template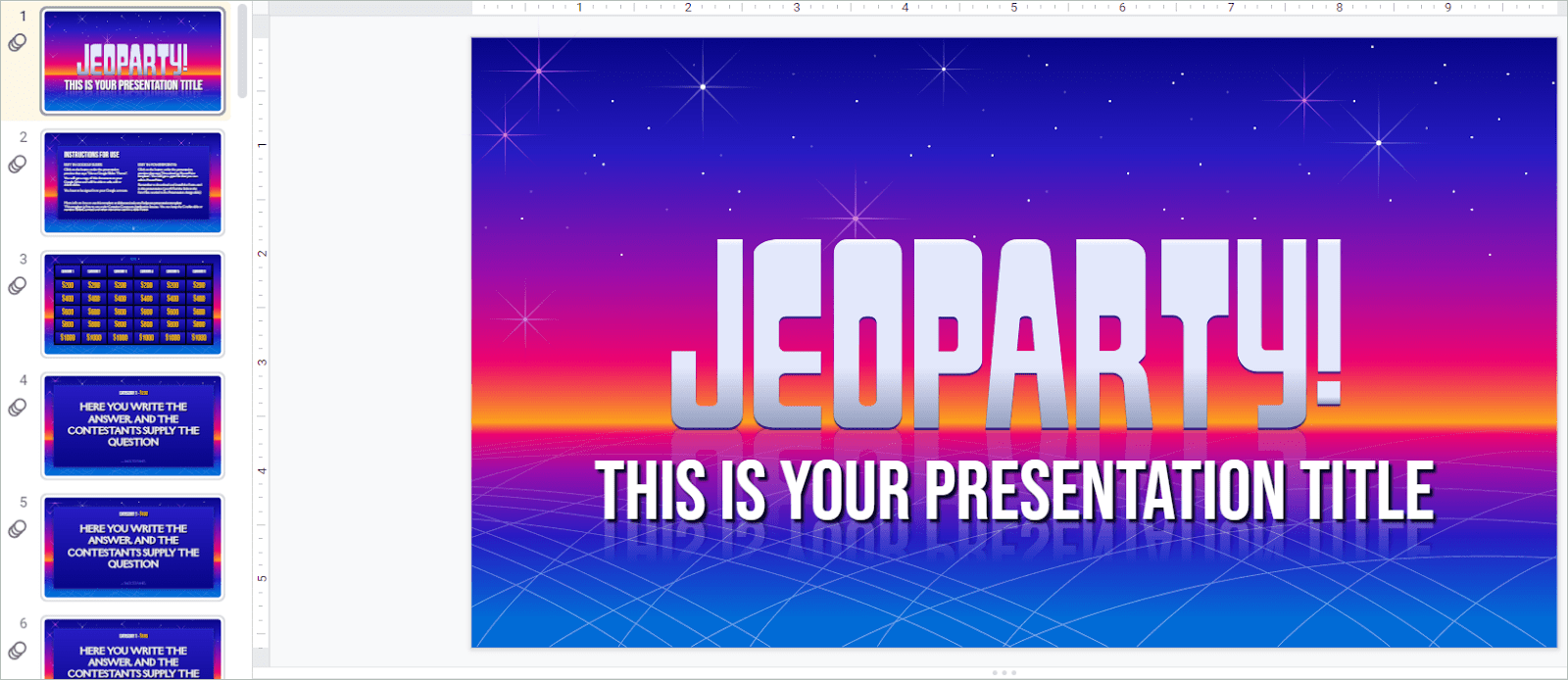 Are you excited to be part of the Jeopardy television show? Here is a chance! The jeopardy template is ideal for playing during a friendly get-together. You can jump to the clue slide by clicking a dollar amount on the interactive template.
Even though this game is not a part of the actual show, you can have loads of fun by entering your categories and clues in the game file. You are also welcome to use the jeopardy game templates as a base for any other game with the same layout.
Download Jeopardy Presentation Template
2. Self-grading Quizzes Template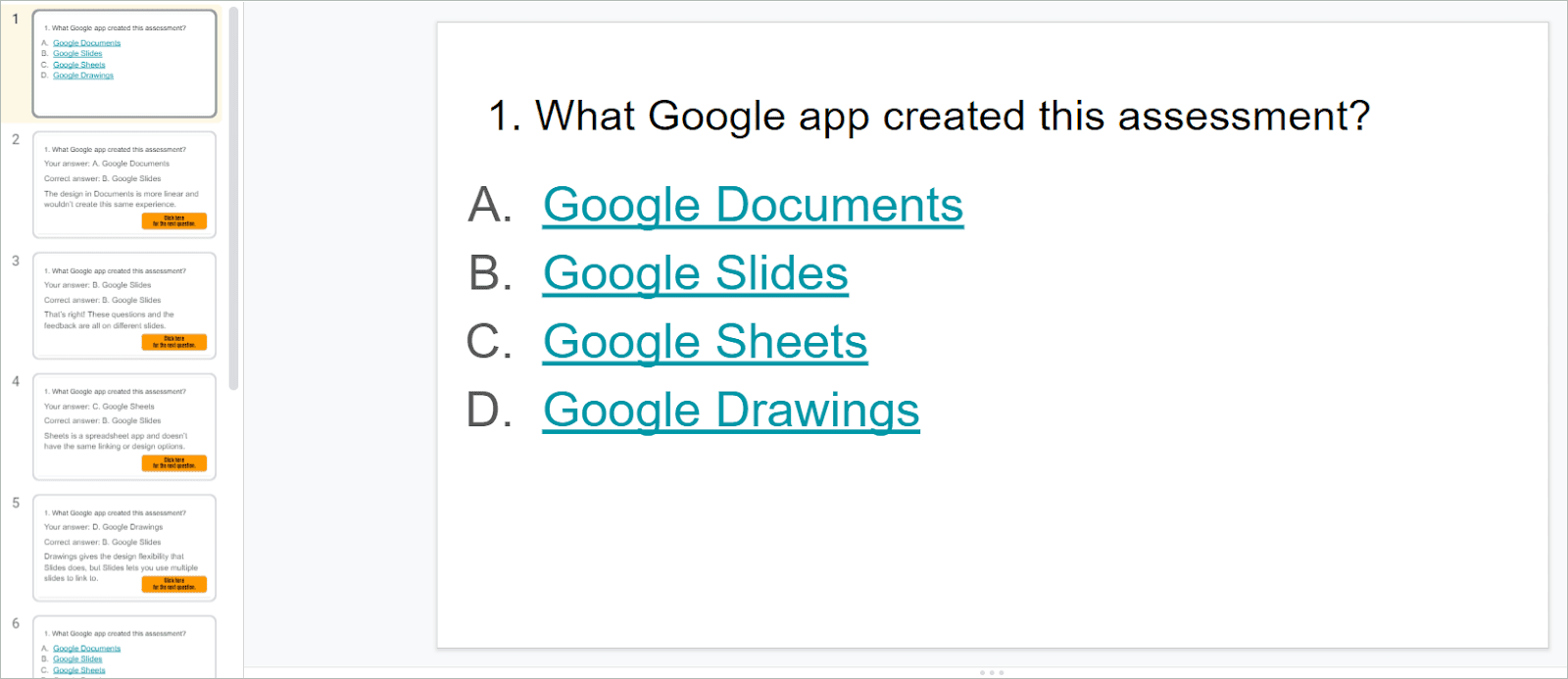 Google Slides game templates can build amazing self-grading quizzes for Google Classroom. Such templates are great learning tools for students. This particular template has a question slide with a question and four slides for answer feedback.
Students can make the questions themselves or ask their parents or friends to help with the editable review game template. Clicking an answer in the question slide leads to the right feedback slide. Remember to include a link to the next question in each feedback slide of the file.
Download Self-grading Quizzes Template
3. Digital Board Game Template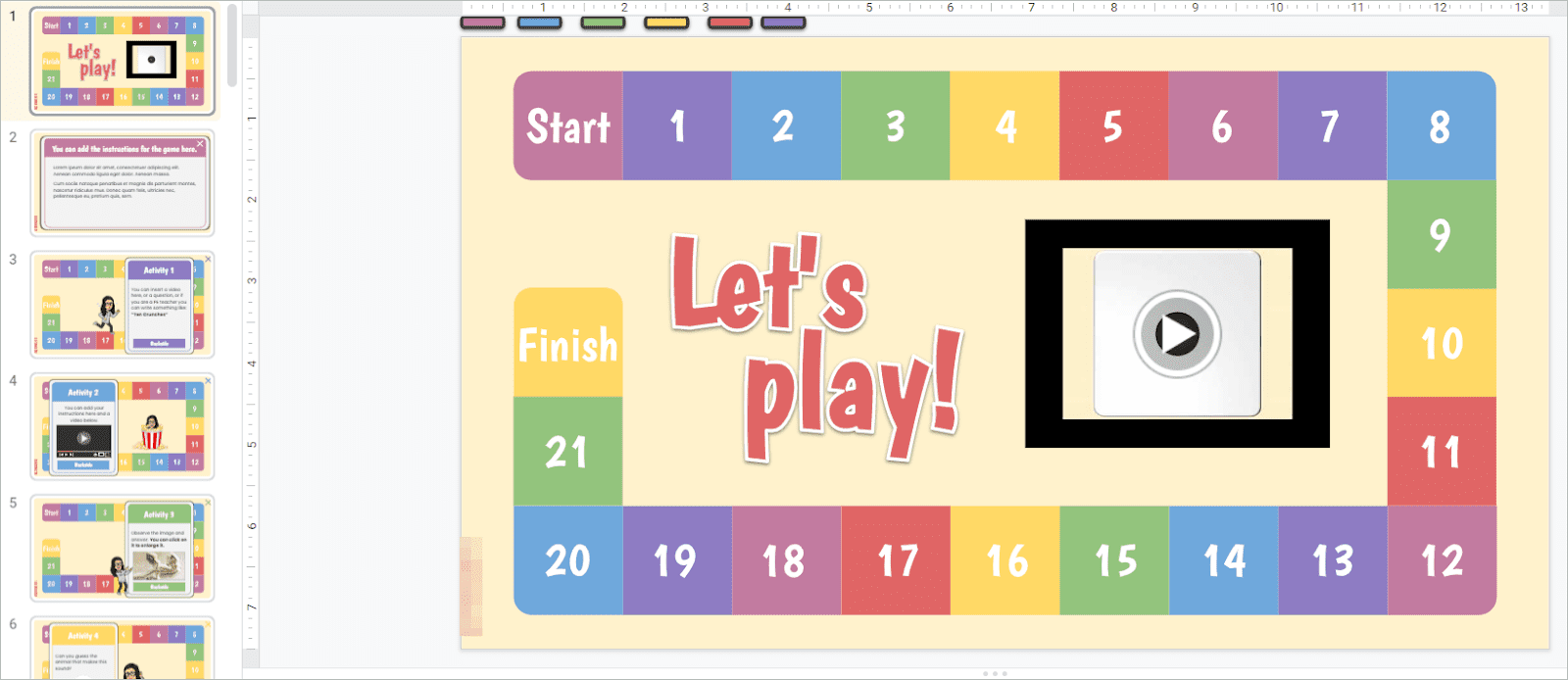 Is there any kid who wouldn't fall for a colorful editable board game template? Start with instructions on the second slide of the digital gameboard template and roll the dice starting with the third. Then, for each number on the board till 21, you can insert instructions for the entire board game.
When the player reaches a particular number, they must follow the card's instructions. Use this board game template for any fun review activity or educational purposes. Using 'free passes' and 'pawns' enhance the game's fun factor.
Download Digital Board Game Template
4. Two Truths and One Lie Template
Many Google Slides game templates can act like an ice breaker template, and this is one kind of engaging game. The game can be played in groups to make it more interesting. For example, the ten statement slides in the fun template can have one statement and three options (two truths and one lie).
When you select one option for a specific statement, it takes you to the options slide, where you can learn more about it. From the options slide, the user can either go back to the statement slide or the following statement. You can also check some aesthetic Google Slides templates if you want more such beautiful templates.
Download Two Truths and One Lie Template
5. Can you Guess Who it is Template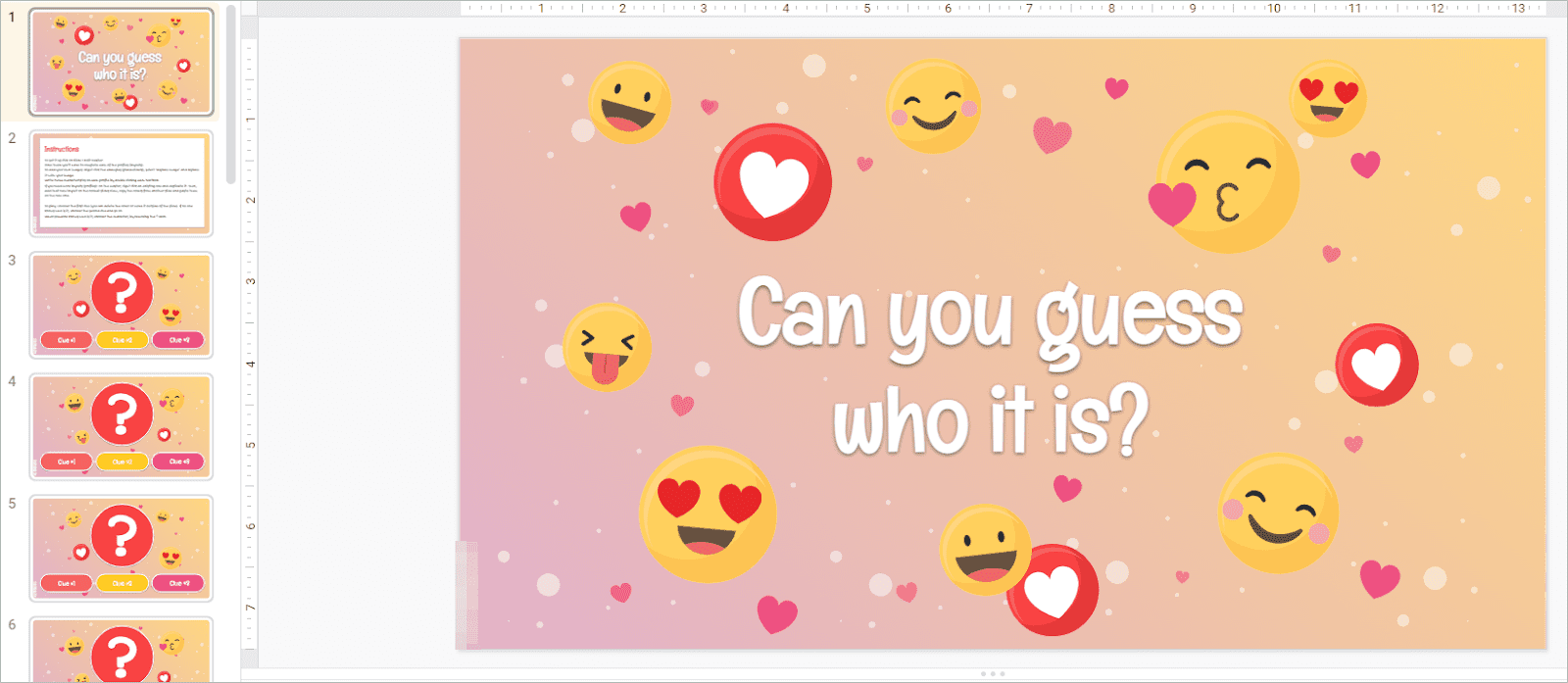 How about a cute template for the next one? This game template can be used if the content on slides is a guessing game. Image placeholders are present in each slide which can be replaced with your friends' pictures or that of famous figures.
Go to the first slide, show the first clue to the participants and continue till the third clue if nobody guesses the character. To reveal who the character is, remove the '?' card in the fun template. One of the best Google Slide Templates that you will enjoy.
Download the Can you Guess Who it is Template
6. Collaborative Meme Template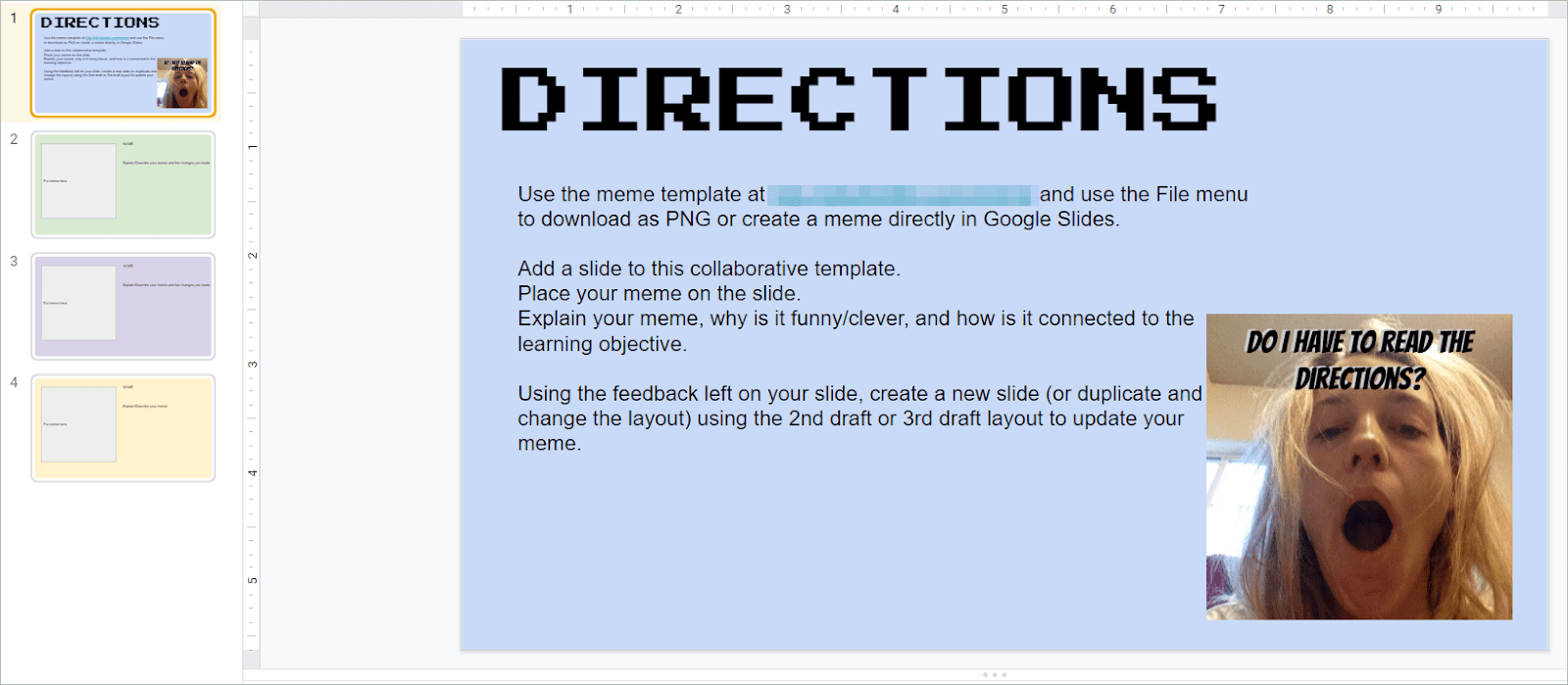 Clever templates like the collaborative meme templates are examples of the best Google Slides game templates. Such excellent options trigger critical thinking and can be used in the digital classroom or for casual parties. When used for students, you can group them so they can collaborate and develop great ideas.
When shared online, students can add memes and comment on how their classmates performed. This way, the concept becomes clear for all.
Download Collaborative Meme Template
7. Squid Game Template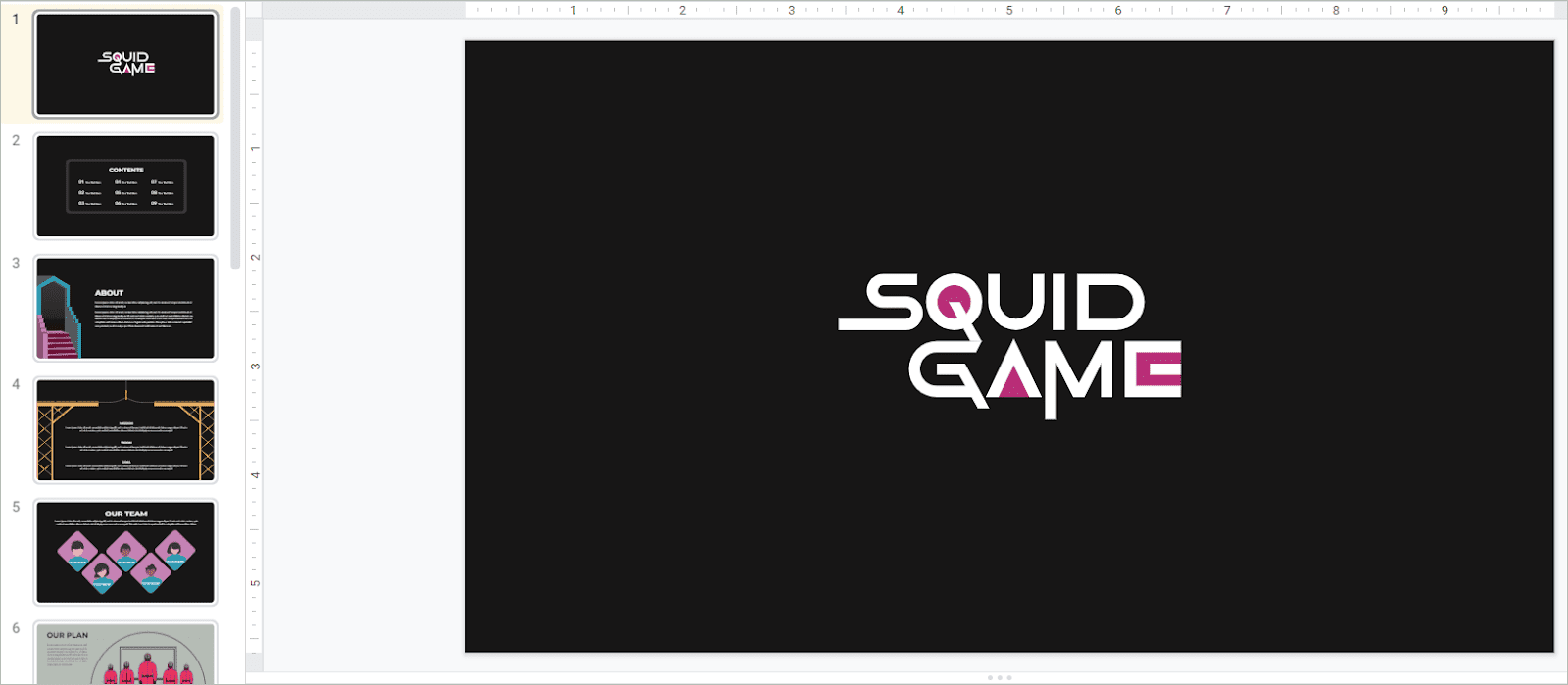 If by any chance, you are a Korean drama series follower, you might be familiar with the squid game. The 456 cash-strapped players who face a financial crisis get an opportunity to play a survival game and win millions of dollars as a reward.
The creative deck template has bright color vectors on a dark theme. Each slide has depictions from the series that is sure to capture attention. Add your game content and see the theme go viral.
8. Toy Claw Machine Template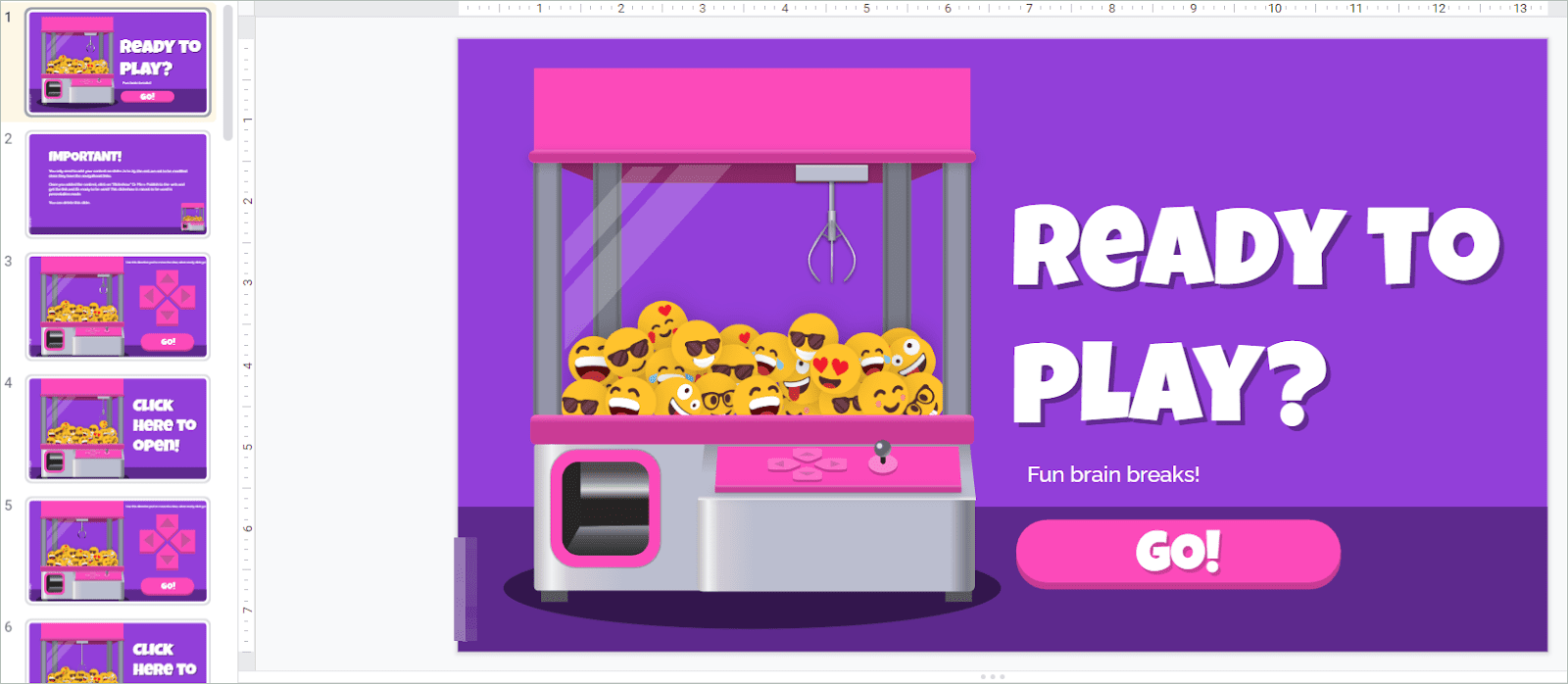 You don't have to go to a game zone to play toy claw games anymore! Instead, you can play it online with Google Slides game templates. The machines have cartloads of smileys, as you can see.
The first slide will ask you to pick one and then hit 'Go.' You will now be taken to the corresponding brain break page. Luckily, the game is almost fully loaded; all you have to do is fill the slides from 21 to 29.
Download Toy Claw Machine Template
9. Frogtastic Template
Frogtastic template is a cute template to look at that you will instantly feel like playing. You can edit question templates for each number from 1 to 20 to set the game up. So when a player reaches a number, they must answer the question or follow the instructions on the slide.
Each question slide in the game board template links to the slide for answers. There are six frogs as players, and you may have to use the fun game presentation template in the edit mode to move the frogs.
10. Cardtegories Template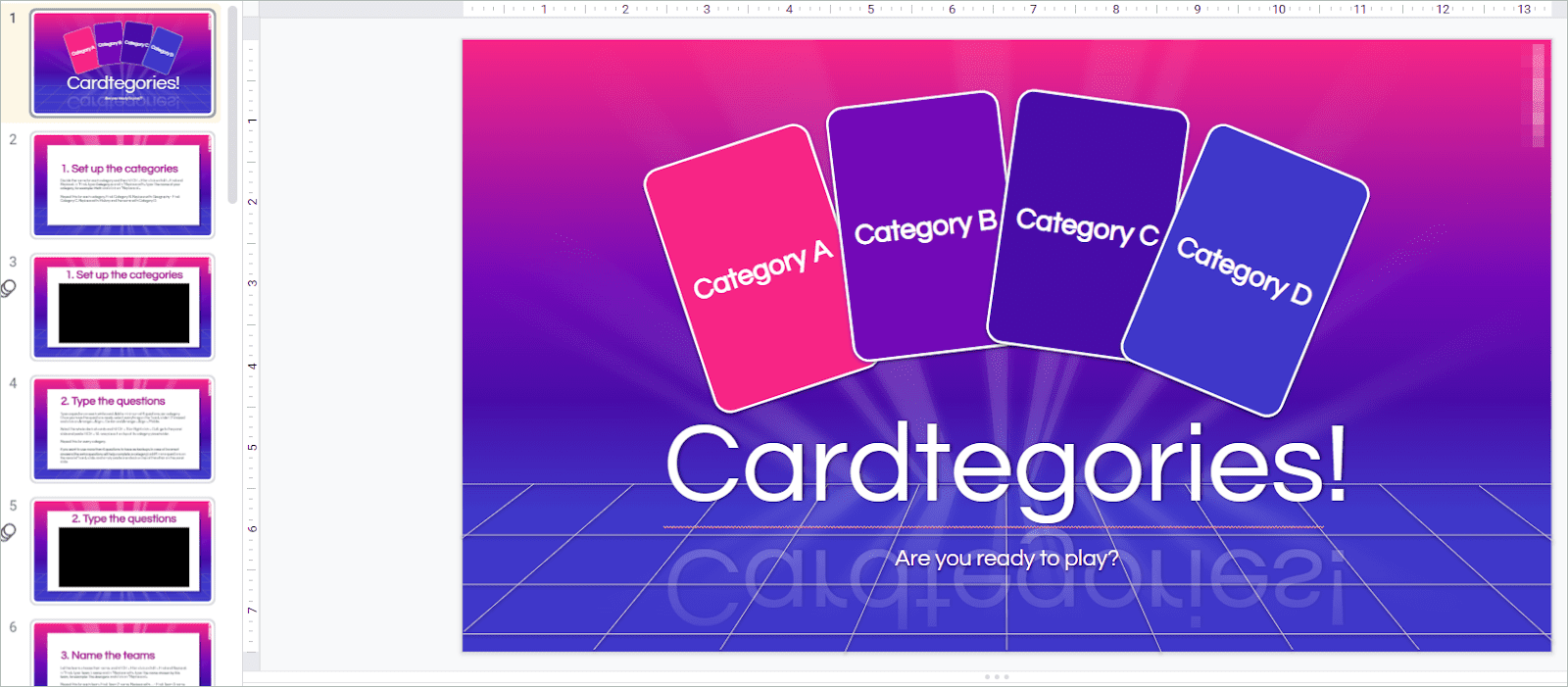 What is a collection of Google Slides game templates without a card game? This card game is similar to the jeopardy game template, where you can insert several questions under each of the four categories. First, name the categories corresponding to each color question card, add the questions on the card, name the teams and start playing.
Click on the category links to get the questions. The teams getting the answers right will get their team name tagged under the category in the panel slide. Remember to delete the already attempted questions and proceed to the next. The feature-rich theme is a big head-turner with its colorful layout.
Download Cardtegories Template
11. My Adventure Story Template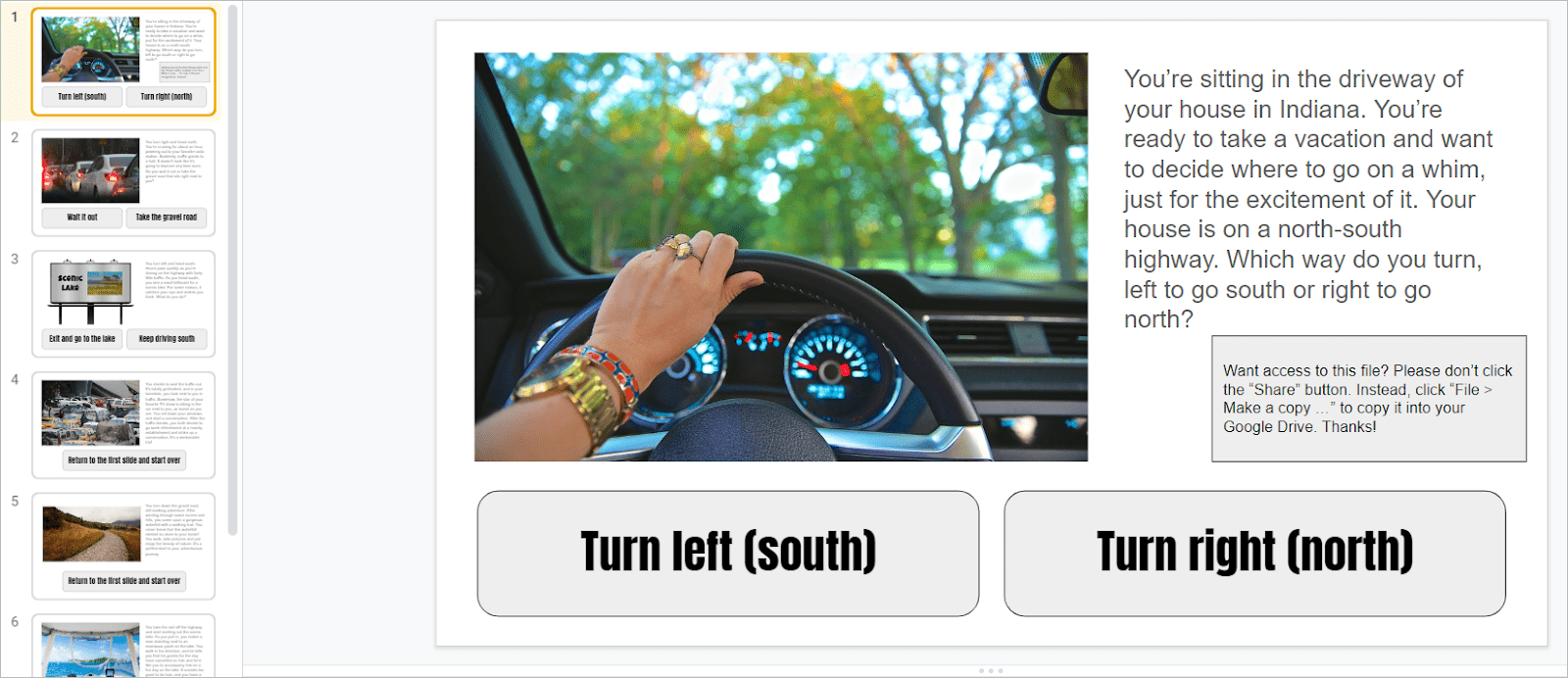 If you are thrilled about adventure stories, involve yourself in gameplay with the adventure story template where you are in total control of the game. You can use this theme for school students or kids in your neighborhood. If you are a teacher, enter class content in the slides and encourage students to build the story.
Each slide has two options for the child, and their answer decides the character's fate. For a question, link the choices to answers, and clicking on a selection will take them to the next slide. This board with links will make for an interactive classroom.
Download My Adventure Story Template
12. True or False Template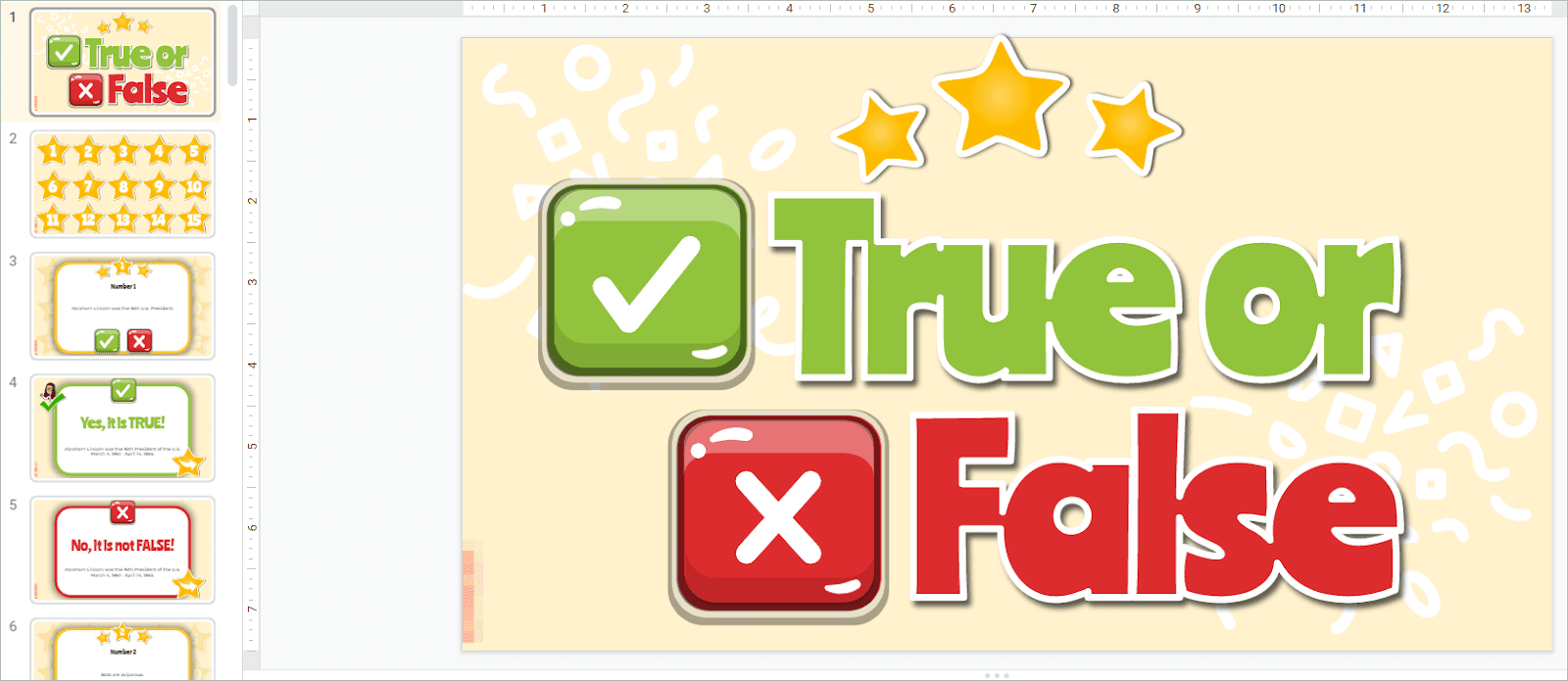 We are all acquainted with true or false activity since lower grades in school. Getting them in Google Slides game templates can be interesting. The second slide has fifteen stars, one for each question. When you click on one, you will go to the corresponding question.
For interactive user experiences, click on either true or false. You will then be taken to the slide that says whether your answer was correct or not.
Download True or False Template
13. Farm Animals Template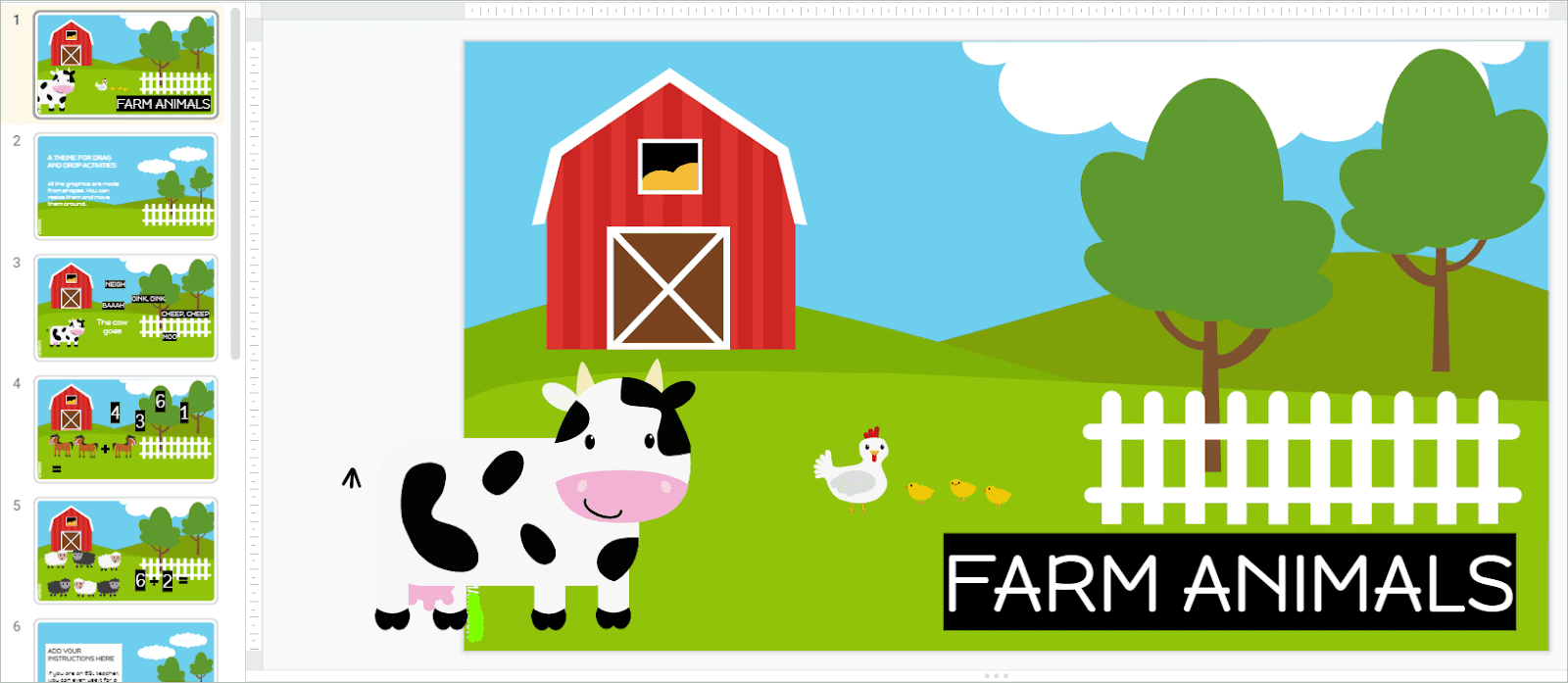 The tiny tots at your home who love animals will also love this cheery slide template. Finally, it will be a hit with students in elementary classes who are learning about farm animals. You can include addition, subtraction, multiplication, and division questions on the game template.
Copy the animals and paste them any number of times. You can also make the students identify the animals or engage them in spelling activities if they are too young. This is a graphic template where all the graphic elements are created from basic shapes.
Download Farm Animals Template
14. Digital Interactive Memory Match Game Template
Memory match Google Slides game templates are the best tools to boost your memory. The interactive gameboard template uses animals, vegetables, and fruits to develop the players' mental skills. Your job is to find out where the animals were placed on the seventh slide.
Taking prints of these templates is a cool idea as it gives more scope to play the game in various ways. Furthermore, the downloadable template is easily editable and can be made a perfect template for any grade level.
Download Digital Interactive Memory Match Game Template
15. Flash Card Template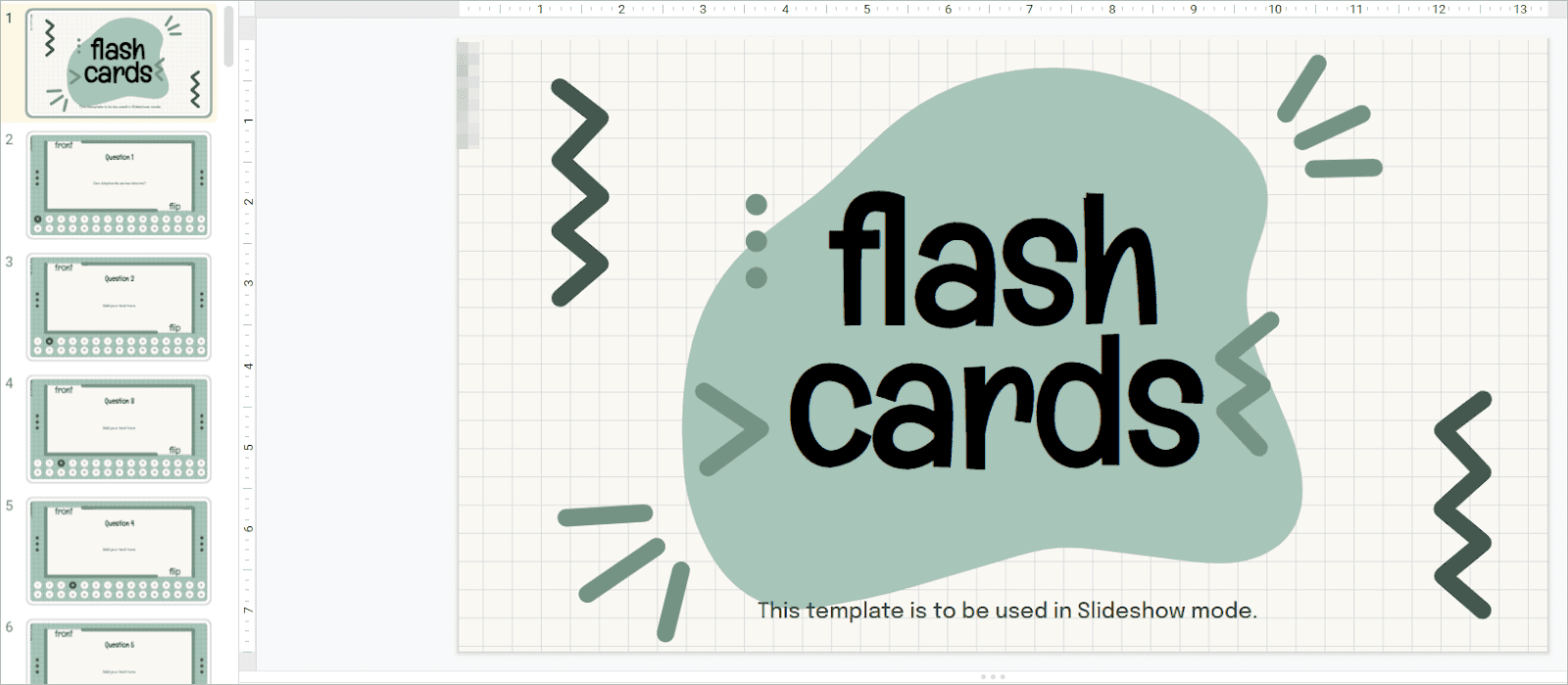 The flash card Google Slides template works precisely like a traditional flash card which tests your knowledge. The template has 30 slides with questions and another 30 for answers. For ease of use, numbers 1 to 30 are given so the user can select any question from the lot.
The word 'flip' when clicked, takes you to the slide for an answer and takes you back when clicked again. The content creation can be done in the edit mode and gameplay in the slideshow mode.
16. Who Wants to be a Millionaire Template
Remember the epic show 'Who Wants to be a Millionaire?' that tempted us to be in the hot seat at least once? The good news is that this is now possible with Google Slides game templates! So first, add your questions into the question text box and the four choices in their places. Then, choose an answer when you play and go to the next slide.
The following slide has the correct answer highlighted in red. Choosing an incorrect answer will also take you to the next slide, which shows the right answer.
Download Who Wants to be a Millionaire Template
17. Information Gap Template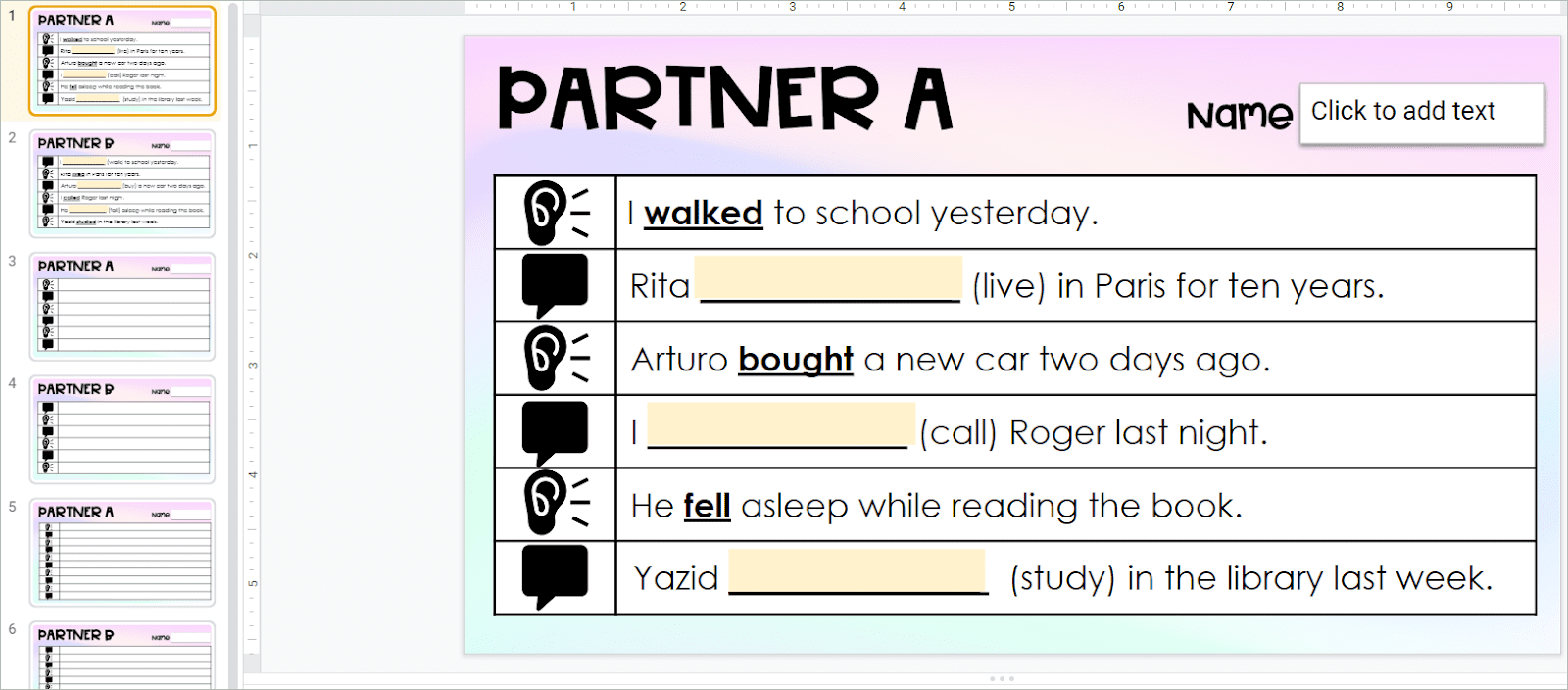 As kids, we used to practice filling the gap activity regularly. The Information Gap game template has six slides where you can type sentences with gaps. Each slide holds six sentences. Filling the template will be a great learning experience for students who are weak in language.
The template can be used repeatedly by deleting the sentences and adding new ones. In addition, customizations like adding math sums, changing colors, increasing the number of slides, etc., can be done using the in-built features. Using the design for spelling activities for lower grade levels is also a good idea.
Download Information Gap Template
18. "Which is it?" Game Template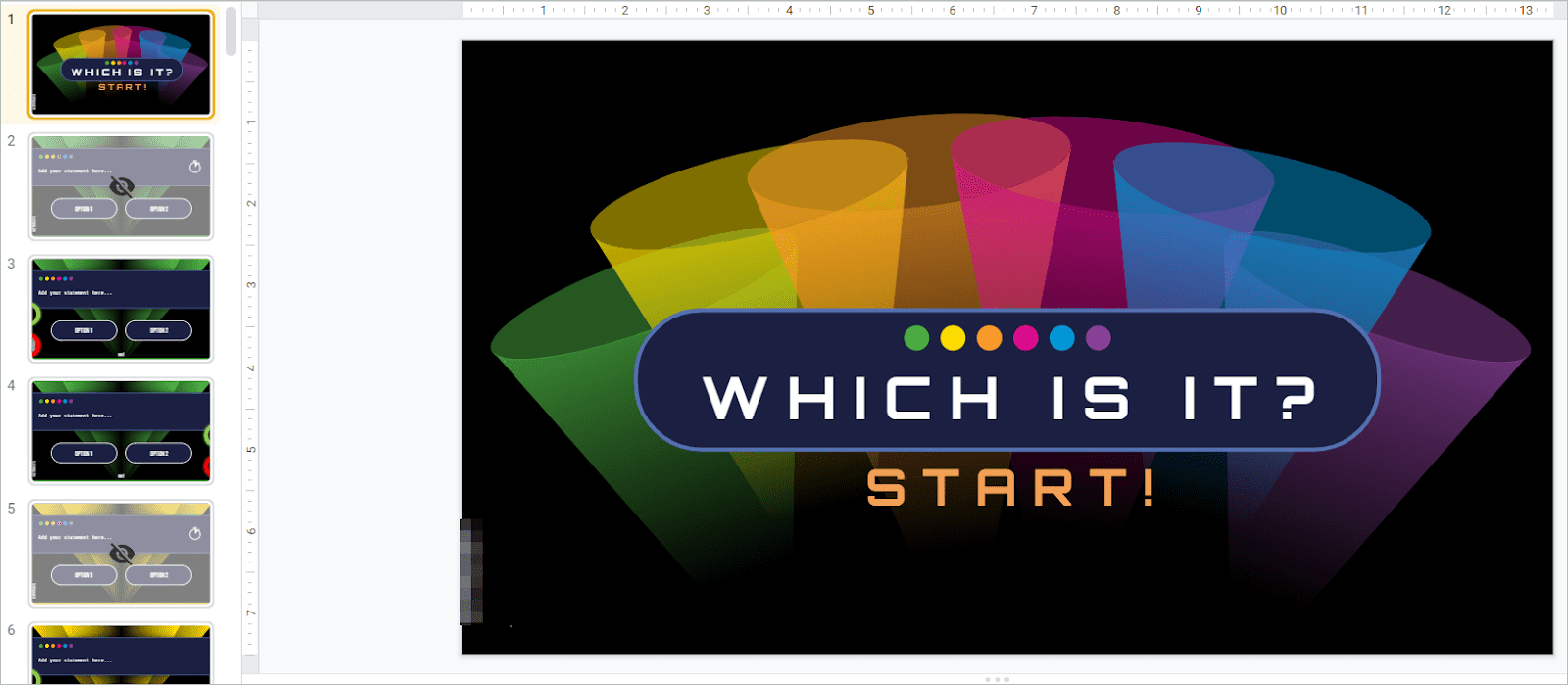 Much like the Trivial Pursuit Live game, each slide in this game template has one statement and two options. One of the options is true for the statement, and you have to guess it right. Playing such Google Slides game templates with academic content makes the lessons clearer for the students.
The editable review game template can also be filled with historical facts, fun facts, or similar topics to make it a more fun activity. Do the content creation in the edit mode and present it as a slideshow for playing.
Download Which is it Game Template
19. Deal or No Deal Game Template
Yes, you landed in the Deal or No Deal game show. The game theme shows that 18 cases are waiting to be opened. So, start the game by clicking one case. This will take you to the respective case, and you must perform the activity mentioned above.
Your aim is to click the case with the 'Free Ride' inside. The game ends when all the cases have been opened. This is a fun game to see how luck favors you.
Download Deal or No Deal Game Template
20. Bricks & Words Template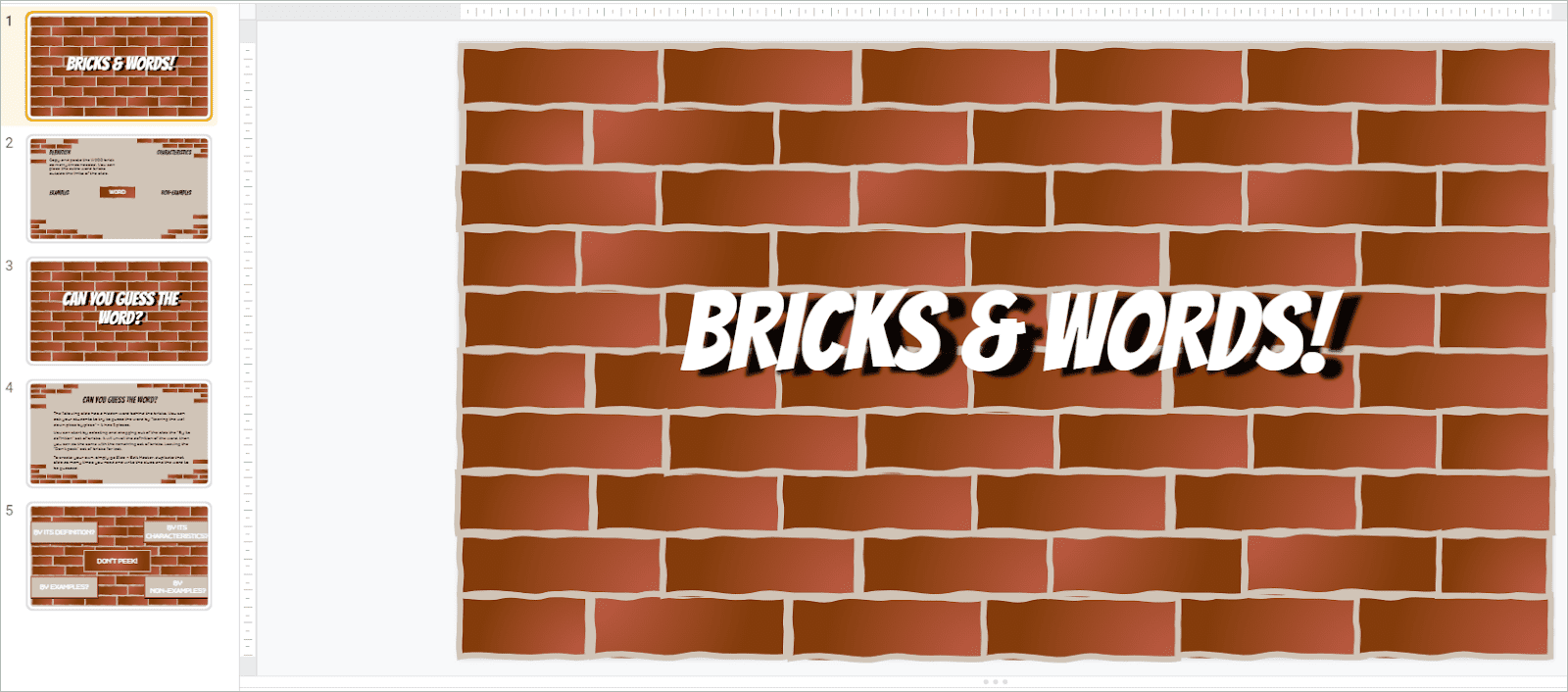 The Brick & Words template is one of the tricky Google Slides game templates. A word is hidden behind the bricks to be uncovered by the player. There are four clues, and tearing the wall, brick by brick reveals the hidden word for the user.
The creative template theme can be edited by clicking Slide > Edit Master. Write the clues and the word behind the bricks. When the game starts, the player can drag each set of bricks to view the clues one by one.
Download Bricks & Words Template
Final Thoughts
Google Slides game templates bring interactive learning to students like never before. While games were synonymous with fun until some time back, they have more meaning today. They come in all genres, from encouraging critical thinking to enhancing memory power. In addition, Google Slides provides many features that make the games easily playable individually or with friends.
The article has listed editable templates for games to be played alone or in groups. Most commercial templates have an average of 20-30 slides, reducing your design customization time. According to your content, you can increase or decrease the number, change the background image and pictures and customize them to make a new game.