Making any template in Google Drive places great importance on aesthetics, as the first impression is the best impression. Aesthetic Google Slides templates have become a part of users who want to use simple presentation templates with a touch of modern design. When aesthetics has become more of a lifestyle, people have been looking for cheery slide templates with classic colors to reach a wider audience.
Thankfully, a wide variety of templates compatible with Google Slides don't compromise the aesthetic value. There is no need to pay for these awesome templates that can be personalized for different markets. Explore a collection of premade slide templates in the Google Slides timeline template.
10 Aesthetic Google Slides Templates To Bookmark
Aesthetic Google Slides templates with bright colors, bold gradient background colors, cute templates, daily agenda templates, cheerful-looking templates – the list of templates is unlimited. Note that the bundle of slide templates here contain multipurpose templates used for Google Slides and PowerPoint presentation.
The links to the download pages are given under each template. So, take a look at the theme templates and decide on your favorite stylish design today. And don't forget to save it on cloud storage for easy access.
1. Minimalist Aesthetic Slideshow Template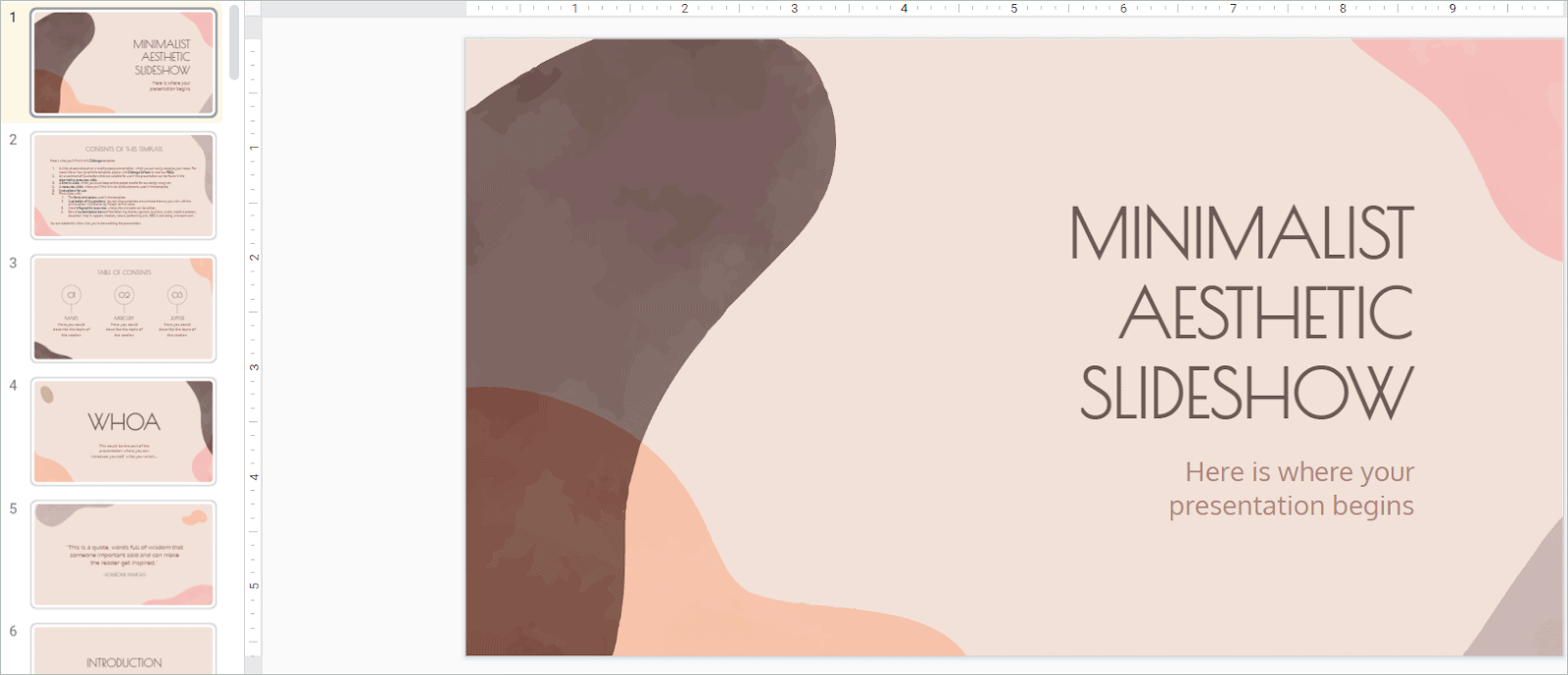 There are many aesthetic Google Slides templates that go hand-in-hand with minimalist design. The elegant typography is the first thing anyone notices on this minimalist style template. The collection of abstract shapes and the color palette of pastel colors are incorporated to bring focus on the content on slides. As the design is generic, you can add different kinds of content.
You will find a few icons of plants in the minimalistic slides that can be used if the content type goes with them. The tables, graphs, and maps present are fully editable and are best suited if you have some graphic content. The abstract design on the slides makes it a cool design for all purposes.
Download Minimalist Aesthetic Slideshow Template
2. Beautiful Pink Patterns Template
Pink is always a soothing color and ranks high in aesthetics. The accent color pink in this cute template offers a feminine aura to the slides. You can decide to change the color to make it more gender-neutral. This quality professional presentation can do the trick if you are into interior design or fashion.
There are some 80 icons and maps that can be used according to your messages. Thanks to Google Slides features, replacing text and images will not be an issue. With just a click, you can increase the number of slides to accommodate more content.
Download Beautiful Pink Patterns Template
3. Floral Watercolor Template
Florists, decorators, and creative designers prefer aesthetic Google Slides templates that feature flowers. The elegant watercolor design can be used for wedding and party invites as the slides are lavishly adorned with beautiful floral patterns. The flowers in the theme template seem hand drawn and thus portray your creativity.
There are 25 slides in total and a few additional slides for extra content. Click the image placeholders to replace the images with the ones that go with your theme. The Google Slides theme can also be used as a PowerPoint template.
Download Floral Watercolor Template
4. Cool Shadows Template
Templates having shadowy designs make for the best aesthetic slide templates. The cool shadow effect is elegant in its rights. The theme color is a shade of brown, which can be changed to suit your business presentation. The simple layout with brown background color is the right fit whether you choose it to use in your company or for personal purposes.
Corporate content goes well with the presentation template as the design style is not flashy. In addition, many features like charts and graphs are available for the users to customize depending on whether there is graphic content.
Download Cool Shadows Template
5. Minimalist Calendar 2022 Template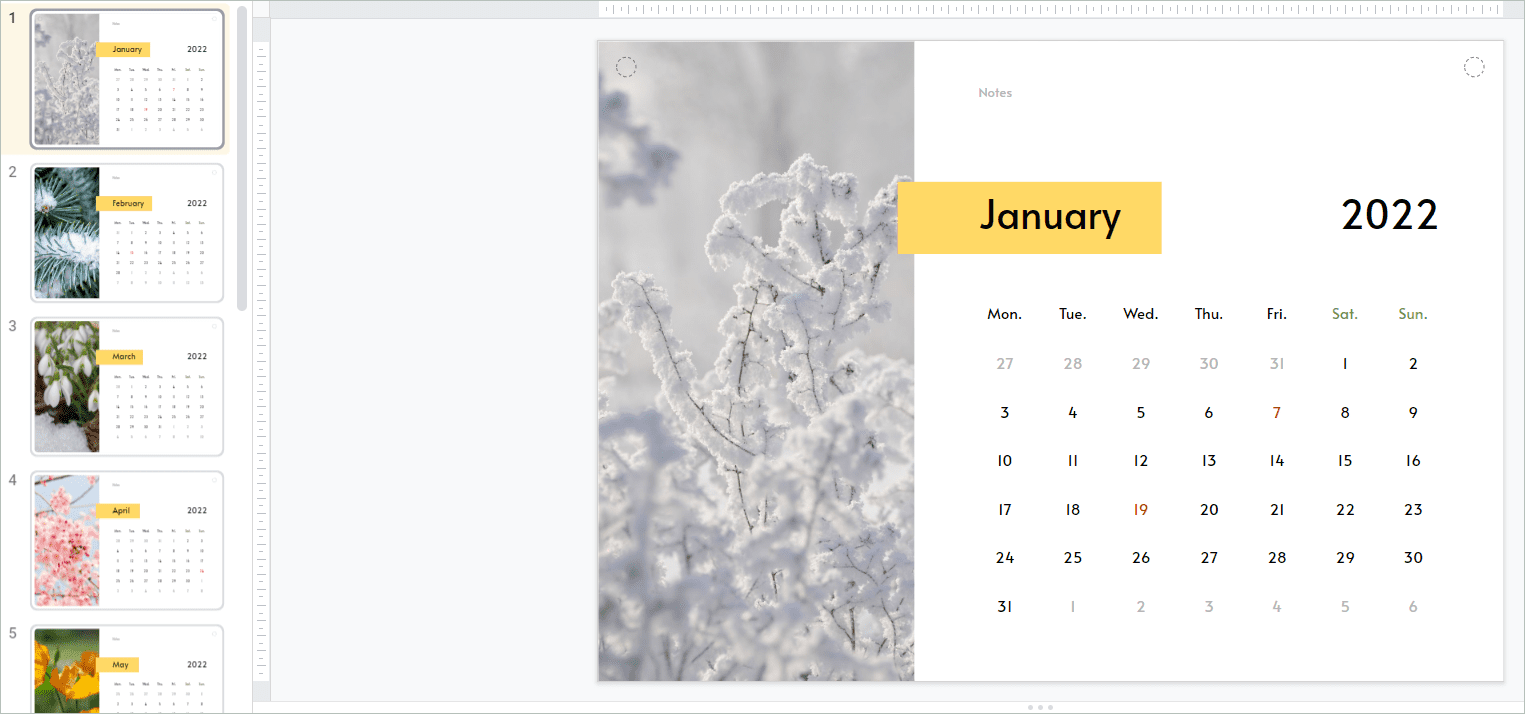 Calendars made with aesthetic Google Slides templates are in high demand as they reduce the effort required to make a basic calendar. The aesthetic design features twelve slides in all, one for each month. The gorgeous images in this stylish template and the classy font make it well-fitted for office use.
You can get the classy presentation template printed, add your daily schedules, or use it online. An expert tip – add one slide after each month and pen down your important tasks and events. This way, the trendy calendar will remind you of your daily assignments.
Download Minimalist Calendar 2022 Template
6. Fast Food Menu Template
A restaurant menu card has to be aesthetically pleasing to fill the hearts of potential customers. A black background denotes power and elegance and highlights the text placed on it. The stunning presentation has attractive images of food items that can be clicked and rearranged to suit your menu.
The first slide of the business template contains four categories, each of which can be selected to go to the slide that details the dishes included. Use it as a choice board or a nonlinear presentation to jump to the category you are interested in. The beautiful template can also take on other colors using editing features.
Download Fast Food Menu Template
7. Colorful Brushes Template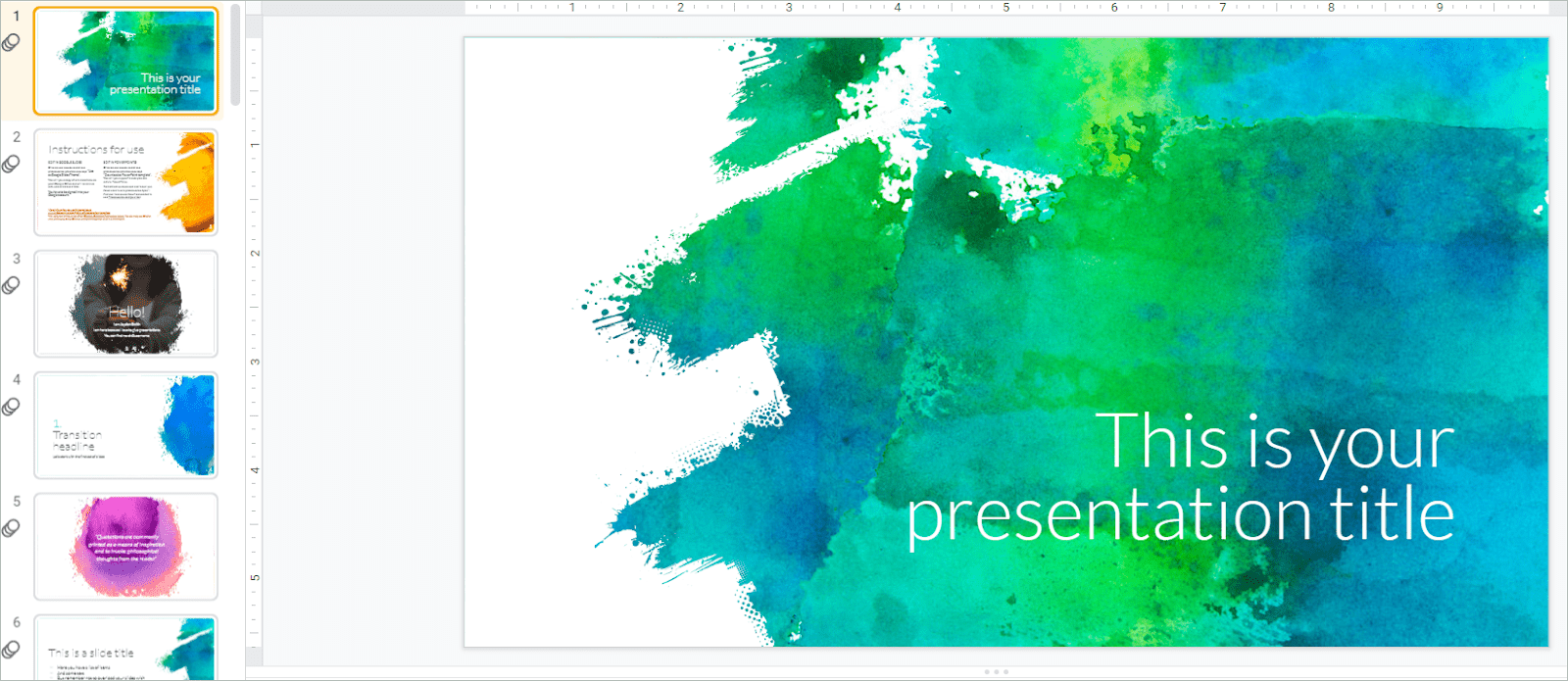 For some, aesthetic Google Slides templates must be sober by definition, but for others, they can have a showy color scheme with a mix of fresh colors. The classy template uses watercolor patterns in each slide using complimentary color palettes. In addition, you may fill in different kinds of content in the beautiful presentation template, including text and images.
The fun template contains many handy icons that can be customized and moved to different pages as per your needs. The brush strokes appear on a white background, making it a premium template. If you own a business revolving around art, crafts, and the like, you can make it a business presentation.
Download Colorful Brushes Template
8. Cupcakes and Tea Template
The Cupcake and Tea aesthetic slides template is a cute presentation template with cool images of tasty cupcakes all over. The morning meeting layout can be tweaked to add a yellow background that brings in more sunshine and warmth. A classy bachelorette party or a book club meeting plan can be easily included in the cheerful design.
The attention-grabbing template has cups and teapots in pink color with a classic design border. When you replace this pink with another color, all the cups, teapots, and frostings take the new color while the chocolate remains the same. The edit template option can be used to make these changes. The clever template can also take the form of a board game template to engage kids in educational games. Also, check out the Google Slides game templates for more fun.
Download Cupcakes and Tea Template
9. Minimal Black Template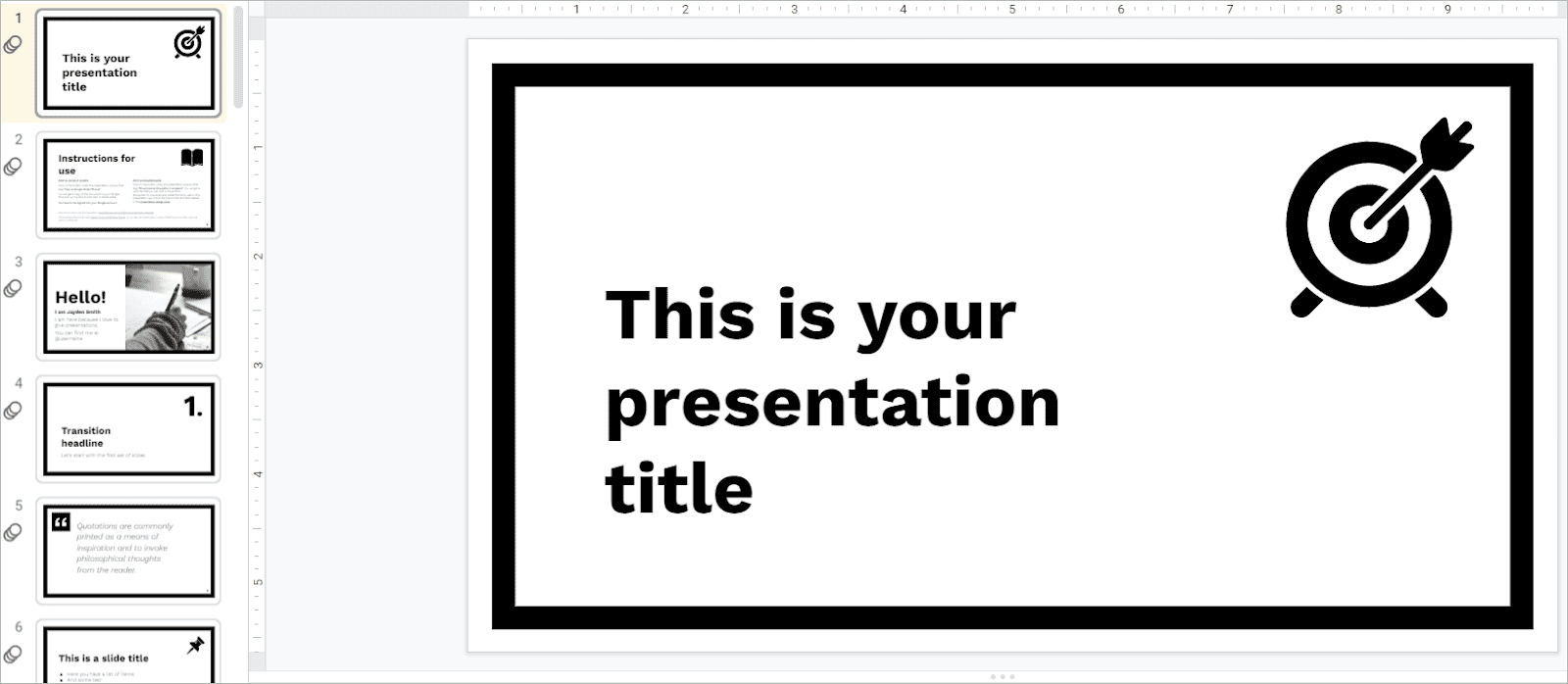 Black and white is a timeless color combination that stands for sophistication and luxury. Using aesthetic Google Slides templates with neutral colors invites laurels for your brand. It has a unique professional design that suits different types of content. In addition, the minimalist template offers several slide layouts that are equally compelling.
If your brand demands, you can replace black with a more fitting color. The relatively flat design is used to highlight the content better. Add your business logo, impressive text, and images, and your template for marketing is ready. A busy teacher can use modern design to make a presentation with no flashy colors to distract students. To get more in this category, go through Google Slides templates for teachers.
Download Minimal Black Template
10. Red Aesthetics Google Slides Template
The Red Aesthetic template is highly professional and can be your ideal companion for business meetings. Add your content plan, aesthetic designs, and images to make it a complete template to woo your target audience. In addition, you can make it an interactive template by making vital content pop with mouse clicks.
The dark background and the text in red and white make it a perfect template for quality presentation. You can change the background design elements and opt for a bright design instead of a dark one. There are many beautiful slides in this cool template that can be edited using the features in Google Drive. Save the customized, elegant design and be prepared for excellent sales leads.
Download Red Aesthetics Google Slides Template
Final Thoughts
Having ready-made aesthetic Google Slides templates can be a boon for teachers, business persons, and other professionals. When you have a topic in mind, putting it down on pieces of paper is old school. Transferring your ideas into premium templates in Google Docs or Google Slides gives it a fresh perspective.  
Most of the slide templates in the post have a concise design, where you can add conceptual photos that speak for themselves. From a baby shower to a creative template slide layout, every killer presentation needs to be organized and well-structured. Experiment with different color variations or custom brand colors and develop the most complete and eye-catching template to boost your brand.