Do you find organizing tasks cumbersome? If you have a computer and Google software tools, you can find many templates on Google Sheets that cater to different needs. An online template comes free with all the design elements and advanced formulas. With very few modifications, users can transform it into any document to be used in the home or office – restaurant menu template, matching cover letter template, template for planning, and basic calendar template, to name a few.
The free Google Sheets templates make your project management process effortless by offering a space to contain all relevant data. Whether you want access to templates for handling a large or small team, each is unique and fulfills your requirements. If you are looking for a template to track inventory, check out the best inventory templates for Google Sheets.
15 Templates On Google Sheets To Plan and Organize
Corporate documents must maintain professionalism, and Google Workspace has enough templates to make this a reality. The free templates on Google Sheets use all the capabilities of spreadsheets, including built-in customization options. The user of templates can further edit to make the updated document without using the template gallery for sheets. If you are not satisfied with the built-in Google Sheets templates, we will walk you through some ready-to-use awesome templates.
1. Yellow and Blue Balance Sheet Template
Anyone into accounting would know the importance of balance sheet templates on Google Sheets. When correctly filled, the Yellow and Blue Balance Sheet design gives insights into your company's assets and liabilities. It is a popular template and is used by most users to get an organized report.
The ready-made business template includes details about your current and fixed assets and provides a comparison with the previous year. Then, the Yellow and Blue balance sheet asks for just the relevant data to be entered.
Download Yellow and Blue Balance Sheet Template
2. Product Launch Plan Template
Are you managing a project that is ready to launch a product? The Product launch plan is a project management template that lets you record details like competitive and market analysis and project strategies and understand the target audience.
You will find these key headers only in the project management template that assists you in every way for the best product launch. For a successful business launch, the document template is the best, to begin with.
Download Product Launch Plan Template
3. Invoice Template
Especially suited for small businesses and start-ups, the invoice templates on Google Sheets have a professional design that speaks positively about your brand. It has a professional design with the company info at the top, followed by billing info and the actual description of the items.
When you enter the correct data, the invoice template features will find your total cost. Remember to include your email address for any queries. If you want to check some great options for invoicing, go through these Google Sheets invoice templates.
4. Gantt Chart Template
If you are into a complex project that needs attention to detail, the Gantt chart template can help you navigate through it all. On the other hand, if you are facing a time crunch and a lot of work to accomplish, consider putting all the crucial data into this chart template.
The chart in such Google sheets templates gives you a visual timeline of all the steps in one place. You can assign tasks to team members and job descriptions and share this business plan template via your secure email id.
5. Convenient Sell Sheet Template
The Convenient Sell Sheet includes both tabular data and charts for better analysis. The product information can be entered in the table along with costs, profits, etc.
The templates on Google Sheets with pie charts are excellent in offering a visual representation of essential data. Customize the spreadsheet template with the details of your company products and plan for future sales.
Download Convenient Sell Sheet Template
6. Project Timeline Template

Organizing your project data can be a daunting task for challenging projects. Google Sheets templates for better project management breaks the project into smaller parts.
For example, this project tracking template has four main headers that denote the four stages of the project. Delegate tasks and fill each cell of this ideal template as and when you get the data to manage the project better.
Download Project Timeline Template
7. Convenient Conference Signup Sheet Template
As a conference organizer, you don't have to browse templates anymore. However, here is proof that templates on Google Sheets can also be your assistant to make complex tasks more manageable.
Enter the conference details and your personal info in the first section and the participants' info in the next. Then, you can decide if you want to print it and add the information or do everything online.
Download Convenient Conference Signup Sheet Template
8. Convenient Quarterly Estimated Tax Sheet Template
All taxpayers are welcome to use the Convenient Quarterly Estimated Tax Sheet. All the data around tax can be found in this ready-made design. The sheet gives you quarterly data on income, expenses, net profit, and federal and sales tax. In addition, the pleasant color scheme of the Convenient Quarterly Estimated Tax Sheet makes working on it enjoyable.
Download Convenient Quarterly Estimated Tax Sheet Template
9. Action List with Ranking Template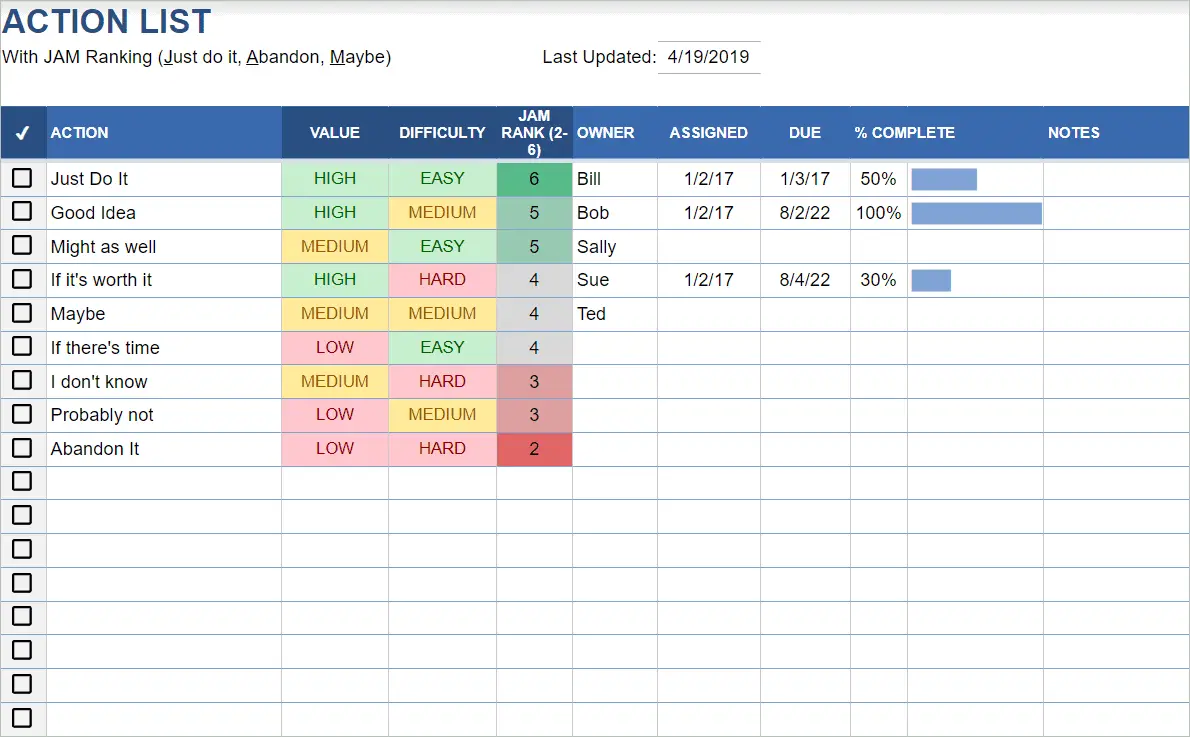 Action List templates on Google Sheets can be convenient for a project at the workplace or home. All the daily tasks can be tracked using this ideal template for to-do lists. You can arrange the action items based on their priorities and complete them accordingly.
The beautiful color scheme on this template for planning distinguishes between various difficulty levels. Share the sheet with your teammates or family and be a successful project manager.
Download Action List with Ranking Template
10. Annual Budget Tracking Template
All Google Sheets templates for budgeting enable you to prepare the finest budget plans, especially this Annual Budget template. The three tabs in the annual report contain expenses, income, and a summary.
Depending on the data you entered, the budgeting tool creates bar charts to visually represent the months and their comparisons. After you make a copy, change the headers of the list items to suit your business needs.
Download Annual Budget Tracking Template
11. Magenta Attendance Sheet Template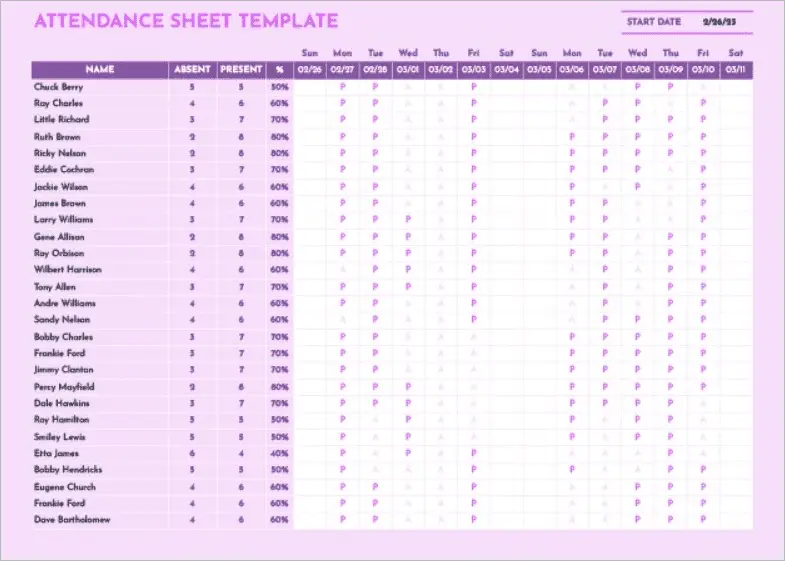 Attendance templates on Google Sheets are very popular because of their convenience. They can be used in a school or company to mark attendance making the tedious process simpler.
The beautiful color shades of Magenta give the template an attractive design. In addition, the cells in the template easily accommodate all the headers, like names and dates.
Download Magenta Attendance Sheet Template
12. Expense Report Template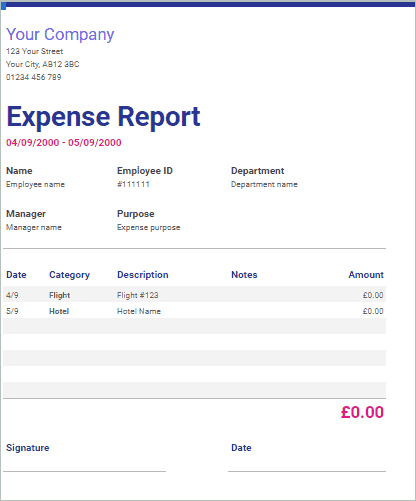 Daily expenses are something we all forget to note. A template to track expenses will help your professional and personal life. This Google Sheet template has all the necessary fields like date, category, description, notes, and amount.
So when you spend money on something, it correctly gets recorded here with proper descriptions that will help in the future. The template with the plain background can also be used to track employee expenses along with their personal info.
Download Expense Report Template
13. Household Chores Template
Who likes to do household chores? If you have access to chore chart templates on Google Sheets, you would like them. First, add the place and the household chores in the first two columns, respectively, and then check the completed agenda items.
If you are making your kid help you in the tasks, add their allowance and find the total money at the end of each week. The beautiful color schema will make the chores less boring.
Download Household Chores Template
14. Gray Issue Tracking Sheet Template
A tracker to note customer issues is vital to keep any business running. This business template can be used to record detailed descriptions of each list item, assignee name, priority type, notes, etc.
When each issue is resolved, you can explain the process in the notes column to improve your business planning process. The template can also be used with Google docs.
Download Gray Issue Tracking Sheet Template
15. Colorful English training Sheet Template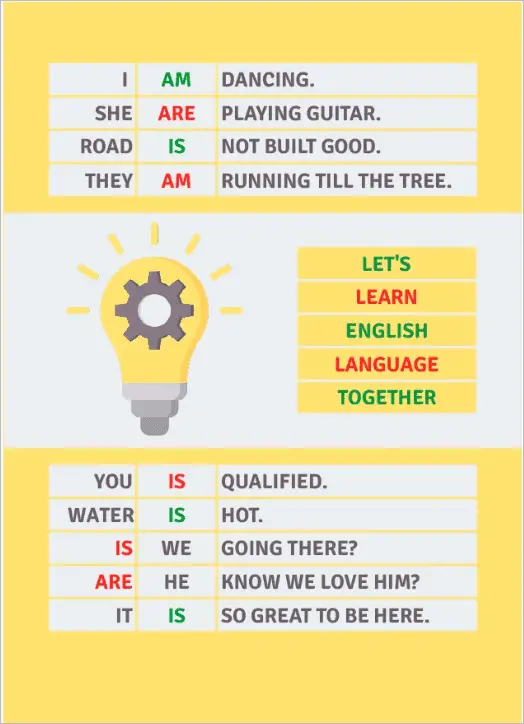 In bright colors, English training templates on Google Sheets can help your kid pick the English language. You can use the benefit of color to attract kids to this learning tool.
Start with easier sentences like the ones given in this beautiful template. Then, increase the complexity of grammar step by step and see how your child is progressing. As the template is editable, you can play with any number of sentences daily.
Download Colorful English training Sheet Template
Final Thoughts
The templates on Google Sheets act as the base for the most influential business templates. Forget the standard designs from the template gallery for Sheets and opt for these editable templates. These templates save valuable time and allow you to concentrate on essential things like business meetings and voice conferencing with clients.  
The wide variety of templates given is all suited to varying scenarios. You can download one, perform edits using built-in features, add company elements and even share it with your team for better collaboration.