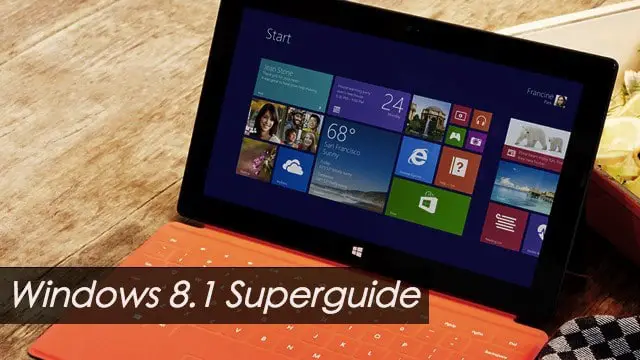 Here is TechNorms, the Windows platform has always been the preferred topic for coverage. We have written extensive guides, provided solutions to our readers' queries and created amazing themes for multiple Windows versions. So much so that our coverage got a mention on the official Windows blog along with sites like TechCrunch, WinSupersite and The Verge.
We've written extensively about Windows 7 and Windows 8, and all that concentrated effort has culminated into creating our first dedicated section – The Windows 8.1 Superguide.
Since we were so passionate about covering Windows, TechNorms has always attracted knowledgeable authors who were experts in this domain and keen for learning new things. We'd like to congratulate our senior staff writer Melissa Popp for her herculean effort in creating this fantastic knowledge base for our readers.
She has taken great pain to make sure that all aspects of Windows 8.1, right from the installation to the customization get the deserved attention. Read on to know what have we got in store for you.
How Can Your Benefit For This Guide
We'd like to give you a brief preview of what can you expect to find in this guide and how it can be helpful to you. No matter what your query, chances are we already have the answer listed. If not, we are always keen to answer your Windows 8.1 related questions.
We have classified this into several sections for your easy reference.
Installation and Upgrade
In this section we have covered the basics of upgrading your current version to Windows 8.1, may it be Windows 7 or the Windows 8 Enterprise. Not yet sure if you'd like to move to Windows 8.1? Follow our guide to install it on a Virtual System and give it a try.
News
Windows 8.1 is sparkling new, and there are always new updates being released. From its retail pricing to how certain features were altered by Microsoft, we got you covered.
Features
Now this section is pretty interesting. We have included all the new features that Microsoft has introduced in this update, the features it has removed, how well some features work and how hopeless others are. This one sure is a page turner.
Guides
Another interesting section where we have listed solutions to common to complex issues. Every new update brings with it a unique set of problems. Check out our guide that explains possible reasons for mouse lag issues and its solution.
Along with solutions, we have listed informative guides like setting up a proxy server in Windows 8.1 and Using DPI scaling in Windows 8.1 for a better view on your monitor.
Apps
Windows 8.1 comes with some really exciting new apps. The Bing Apps especially are pretty well done. The Health & Fitness, Food & Drink Apps make a great combination for monitoring health and planning your fitness regime. The Xbox music app is also a great addition to Windows 8.1 with some really exciting features.
Customization
We've always been big on Windows customization here at TechNorms. We have a couple of nice theme galleries already and a ton of tips to personalize Windows. From getting back the classic Start button to customizing the Windows lock screen, we got you covered.
Plans and Feedback
Going ahead, all Windows 8.1 articles would be a part of this page. We think that such pages would make it easier for our readers to locate good content under specific topics and categories. Since this is the first topic-focused page we have created, there will be plenty of scopes to improve it.
We would love to have your opinion about the Windows 8.1 Superguide, its structure, and content quality. Feel free to email me (vikram@technorms.com) or Melissa (melissa@technorms.com) for any comments, questions or suggestions.
Check Out the Windows 8.1 Superguide