Android is the most widely used operating system in the world and there are over 2 billion monthly active devices using Android today. Its widespread use and its fragmented nature make it vulnerable to malicious attacks of the worst kind.
Android's highly fragmented nature and the fact that it deploys an uncountable number of custom ROMs on thousands of phone models make it a security concern of nightmarish proportions. Lately, Android phones are being increasingly targeted by attacks looking to scam or make a quick buck off the unsuspecting user.
Your smartphone is an intimate device that has your most personal information. Google and other device vendors keep their platforms secure and do due diligence for keeping your device safe.
But Android developers can only do so much!
Protecting your device from viruses, malware, and other threats is primarily your responsibility, and there are several things you can do to stay safe and keep your phone out of harm's way.
Best Practices for Keeping Your Android Device Safe
Keep the phone OS updated.
Don't side-load unverified third-party APKs or hacked apps.
Don't install apps that you don't need.
Be on the lookout for virus symptoms and identify if your device is infected.
Install apps only from recognized stores – preferably Google Play Store. Stores like Amazon App Store are trustworthy, but you need to enable unknown sources to install it
Don't allow apps from Unknown Sources (unless you really have to, and be sure to disable it later)
Take a moment to understand App Permissions on Android and read them before allowing access.
Never keep the bootloader unlocked.
Don't root the phone unless you know what you are doing
Use the built-in security features of Android (Access lock, encryption, and multi-factor authorization, etc.)
Backup your Android device regularly.
Use a trusted security app. (Choose one from the list below)
The practice of using a trusted security app is easy to state but not as easy to implement. A search for Antivirus on the Play Store lists hundreds of applications. How do you choose an app that provides good security, and avoid the ones that just provide a false sense of security?
This list compiles apps that are the best security apps for Android.
How We Compiled this list of Best Android Security Apps
Two of the best independent antivirus security labs, AV-Comparatives and AV-Test,  periodically release the results of their security tests done on security software across all platforms including mobile. These tests are conducted with hundreds of samples of the latest malware affecting Android devices and the performance of the apps against these threats is noted to generate this data. It is the best way to determine which Android apps perform the best and help us get together this list of best Android security apps.
Since this data reflects the ability of an antivirus app to actually protect the user from malware threats, the apps highlighted by these reports from the baseline criteria for this list.
In addition to this, we look at the apps from a user's perspective – pricing, features, performance, and other distinguishing qualities of the app that the users would find both useful and beneficial.
8 Best Android Security Apps To Check Out
AhnLab V3 Mobile Security
Price: Free / $0.99 – $1.49 in-app purchases for additional features
AhnLab V3 Mobile Security has a proven track record of providing optimized and comprehensive protection for Android devices. Running on the powerful V3 Mobile AV engine, AhnLab V3 Mobile Security 3.1 is capable of detecting and blocking mobile malware and viruses with great accuracy and consistency.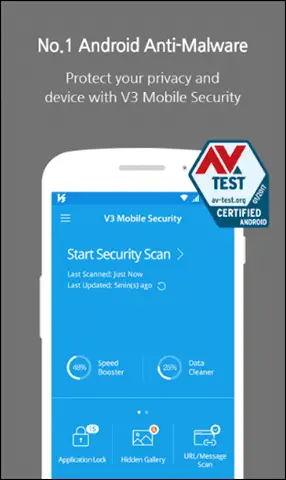 With a top-ranking by both AV-Test and AV-Comparatives, AhnLab V3 Mobile Security app is one of the fastest and best antivirus apps available today. With an overall score of 100% in the AV-Test report, this app ranked high not just on protection, but on usability too.
AhnLab V3 Mobile Security monitors your phone in real-time by scanning all downloads before and after installation. It scans all files with access permissions and identifies and removes potentially unwanted applications.
The app comes with standard security features of detecting and eliminating malware, a privacy cleaner, which deletes application cache data, a phone booster that speeds up your phone, a privacy filter, and an app lock to protect your privacy. It also has the ability to detect malware and phishing URLs, thus protecting you from malicious websites.
AhnLab V3 Mobile Security app rates high on AV-Test's rankings because of its usability; the impact of the app on the device is mostly positive. The app does not impact the battery life of your device unlike many others of its ilk, nor does the app slow down the device.
V3 Mobile Security is touted as the best free antivirus for Android and is available for download on Play Store. It offers in-app purchases for added features.
This app has the distinction of earning the AV-Test certification 24 consecutive times since 2013.
Unique Feature
One of the best features of this app is that it acts as a privacy advisor and lets you know what your installed app can do with the permissions that you grant. For instance, it lets you know whether the app is tracking sensitive information, location tracking, or accessing your contacts so you can make an informed decision when you install an app.
Download AhnLab Mobile Security
Bitdefender Mobile Security
Price: 14-day free trial / $0.99 – $49.99 in-app purchases 
Here's a brand that needs no introduction in the realm of cybersecurity – Bitdefender.
Bitdefender Mobile Security is one of the most trusted smartphone security apps for Android. It is widely acclaimed and has garnered consistent top ratings in the AV-Test and AV-Comparatives reports.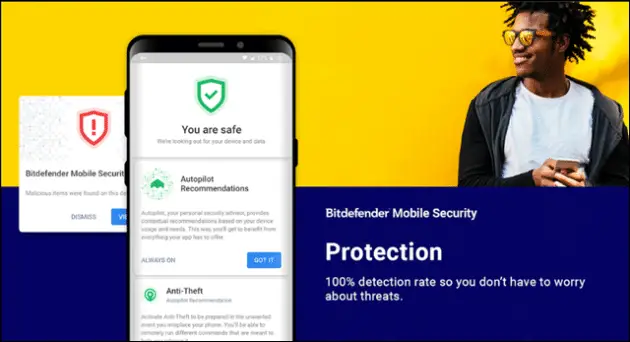 The Bitdefender Android security app achieved a 100% score in the latest AV-Test and AV-Comparatives report for its accuracy in detecting malware and its usability. Bitdefender has been endorsed by PC Mag as one of the best antivirus mobile apps for two years in a row. The app has earned AV-Test's best android security product award for two years in a row in 2015 and 2016 and is a top-performing product in the latest 2019 report as well. 
Bitdefender has several features in addition to the standard security features such as anti-theft, app-lock, and can be used on your Android watch too. Its malware scanner is one of the most accurate in the market; its 100% score is a testament to its accuracy. Bitdefender works in the background while you are surfing the internet, warning you when you click on phishing or malicious links.
The app acts as a privacy advisor by letting you know which apps collect what information and warns you if you download an app that could potentially leak your personal information. Bitdefender also tells you when your apps access the internet and download unwanted data on your device without your knowledge.
Unique Feature
Bitdefender is a great security app for Android with some amazing features. One of the additional useful features is that the app can scan your email account and let you know if it has been compromised. The app can find out whether your details have been leaked and will tell you if it is time to change your password. Bitdefender has a smart unlock feature that lets you unlock your device in trusted areas or zones.
Download Bitdefender Mobile Security
One Security
Price: Free with in-app purchases
One Security by One Dot Mobile Limited is another great security app for Android devices. It features a unique intelligent diagnosis system that scans your device and comes up with the most intelligent solution to keep your device clean, safe from malware, and optimized for good performance.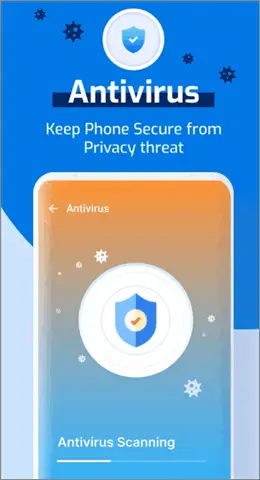 Additionally, One Security also has an App permissions advisor that sends timely alerts when spyware and malware-infected apps are downloaded on mobile phones. It is very user-friendly, offers good functionality, and protects your device from malware, spyware, and hackers.
With this app, you can protect your phone and optimize it for better performance. It has built-in Junk Cleaner and Phone Booster components that help in optimizing your device by deleting unnecessary files and moderating the battery, for longer battery life.
An interesting feature of One Security is the Effective Speed Booster and Cache Cleaner. It lets you detect app caches and junk files and delete them in the blink of an eye to make up space for new incoming files. All you need is just one tap to boost your phone.
.
Unique Feature
The intelligent diagnosis system used by One Security is a quick method of scanning the device and finding the best solution to the problem. This app is able to suggest the best fix for the problem in an effective way. Your online activities have an extra shield of protection since the app automatically scans for malware and Trojan files and detects them effectively.
This app is free to download on the Play Store but supports in-app purchases. A downside of using the free version of this app is the number of ads they run. It's worth checking out nonetheless.
G Data Internet Security
Price: $14.99 per device per year / $1.99-$27.99 in-app purchases
With G Data Internet Security on your device, you are assured of a safe and secure browsing experience without having to worry about phishing, spying, and data theft. This app, like the others on our list, scored 100% on both AV-Test and AV-Comparatives reports for its excellent performance as anti-malware software.
The malware scanner is cloud-connected so it always has an updated database of threats and can detect and immediately purge any malware on your device. This app gives you great protection against phishing and other malware. The advanced scan technology protects your device from even the latest Android viruses and spyware.
The app has the anti-theft feature with which you can wipe out the device remotely in case of loss or theft. It scans your apps when you install them and lets you know if you have inadvertently downloaded any data snooping spy apps.
Unique Feature
The G Data Internet Security app has some really useful security features. It has a configurable parental control system which makes it safe for children when they are using your device. You can configure web protection for safe surfing, lock apps that are unsuitable for children, set a timer to define how long they spend on the device, and other such functions.
Download GData Internet Security
Kaspersky Lab Internet Security
Price: Free / $24.95 per year
Kaspersky Lab is another well-known security solutions provider in the world today and among one of the best Android security apps. Its security solutions are used by millions of people for both personal and commercial use.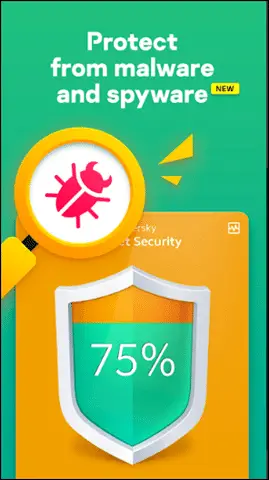 Needless to say, Kaspersky Lab Internet Security ranks very high on AV-Test's report as well as AV-Comparatives report and has been deemed to be one of the best Android security apps.
The app has a powerful antivirus engine that scans apps and files automatically and blocks suspicious websites and warns you about dangerous links in your texts and emails. You can keep your personal information hidden from prying eyes with this app and filter out unwanted communication.
It has a find my phone feature that tracks and finds your stolen or misplaced Android phone. You can turn on an alarm on the phone remotely, even if the phone is in silent mode, and wipe sensitive data from the phone.
The free version of the app is basic and provides rudimentary protection for your device. If you want comprehensive protection, it is best to download the premium version of the app. You can get a plan for three devices for one year. So you have 3 of your devices protected for a single subscription or if you want, the subscription fees can be split 3 ways.
Kaspersky Lab Internet Security app scores are high on usability as it does not impact the device's performance or battery life negatively.
Unique Feature
The premium version of the app protects your device from phishing websites and other online threats while surfing the internet. You can protect your data by hiding sensitive information on your device and control what people can see on your phone.
Download Kaspersky Lab Internet Security from Google Play Store
McAfee Mobile Security
Price: Free / $0.99-$79.99 in-app purchases
Like Kaspersky, McAfee is one of the better-known security solutions providers for Android. McAfee Mobile Security is a versatile security app that has all the standard security features and some more. It lives up to its reputation by offering accurate protection while boosting your phone's performance.
This Android security app has won many awards for its excellent performance including the AV Certified Android Product award in 2017, AV-Comparatives Approved Mobile Product award in 2016, and the Info Security USA Silver Award in 2017. As expected, the app has demonstrated excellent performance in 2019 reports as well.  
With McAfee, you have features such as anti-malware, virus removal, anti-virus, anti-spyware, Anti-theft, backup and restore data, security lock, and performance optimization. You can lock sensitive apps and hide data away from prying eyes.
McAfee app comes with a phone optimization module that fine-tunes the performance of your device. It optimizes your device's battery usage and frees up memory from unwanted background apps, thus speeding up your device and saving power.
McAfee Mobile Security comes with a call blocker and SMS filter built into the app with which you can filter out unwanted communication. For some users, this feature is as important as securing their mobile data as it saves them a ton of annoyance every day.
Unique Feature
The app scans for malicious codes from all sources including SD cards, files, SMS, apps, internet downloads, etc. The app provides real-time detection of malware, including ransomware, keeping your device safe from all threats.
The safe web browsing and Wi-Fi security features protect your phone from online threats, blocks access to risky websites, and keeps you away from unsecured Wi-Fi connections. With this app, you can extend protection to your Android Wear smartwatch.
Download McAfee Mobile Security from Google Play Store
Sophos Mobile Security
Price: Free
Sophos Mobile Security is a completely free security solutions app for your Android device that provides comprehensive, real-time protection from viruses, spyware, and other internet threats. 
Winner of AV-Test's Best Android Security 2016 and Best Protection 2015 awards, this app has achieved a perfect 100% score on AV-Test's report for 14 tests in a row starting from September 2014. For the latest 2019 results, the app performance is excellent when it comes to malware detection and usability as well.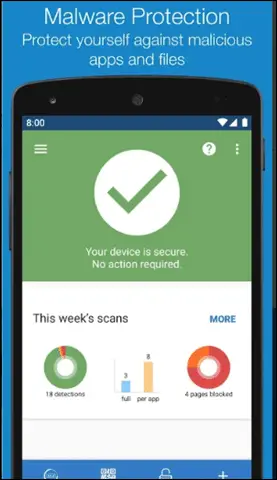 The app protects your device against malicious malware, blocks websites with risky content provides theft protection, and acts as a security and privacy advisor. The Sophos app is totally free and sans advertisements, making it a pleasure to use on your device. The app uses data from SophosLabs to detect the latest malware and viruses.
With the privacy advisor, the Sophos app lists all the apps on your device that have access to your personal data and apps that could create costs. As an informed user, the chances of installing a rogue app reduce drastically.
Unique Features
The Sophos app doubles up as an authenticator and generates time-based (TOTP, RFC 6238) and counter-based (HOTP, RFC 4226) one-time passwords for multi-factor authentication. For people who use their personal devices for work, there is a managed mode that lets your organization's IT department monitor the health of your device and ensure protection.
Download Sophos Mobile Security Google Play Store
TrendMicro Mobile Security
Price: Free trial / $2.99-$49.99 in-app purchases.
TrendMicro Mobile Security safeguards your Android device against ransomware, malware, malicious apps, fraudulent websites, and identity theft. It is a comprehensive security solutions app that optimizes the performance of your device with its app manager that has a system tuner, battery saver, and a memory booster.
This app has scored consistently well in the tests conducted by both AV-Test and AV-Comparatives with 99.9% malicious app detection rates. The app has an advanced privacy setting that protects your privacy on Facebook and safeguards your children online. It blocks dangerous links in messages and emails, including WhatsApp messages.
TrendMicro comes with some "smart" features. There is a smart power saver feature that manages your network connections to use less power and maximize your device's life. The Wi-Fi checker notifies you when you are on an unsecured Wi-Fi connection and the privacy scanner warns you of apps that have access to your personal information.
Unique Feature
TrendMicro has a unique Just-a-phone feature that automatically kills all non-essential background apps and processes when your phone is low on power. The app pre-scans apps even before you download them on your device from Play Store and warns you of malicious or risky apps.
Download TrendMicro Mobile Security from Google Play Store
Other Recommended Android Security Apps
Avast Antivirus
Price: Free / $0.99-$79.99 in-app purchases. You can get a multi-device license too.  
Avast is already a well-known name in the security software domain and is a definite contender as the best Android security app for your smartphone. Shielding your mobile data against viruses and other types of Malware, Avast antivirus for Android is a must-have tool on your phone that is not only free with a bunch of advanced features but also is trusted by millions of users globally.
With its VPN, you can have your online browsing private and safe from prying eyes. Although the free version has more than enough features to keep you protected from an unknown threat, its premium version unlocks some additional features like a Camera trap to secretly capture thieves, App lock to keep your sensitive data safe, and of course, no ads at all.
Avast antivirus app for Android has shown excellent performance in recent tests, though it does lose some points on app usability. 
Unique Features:
Power Save

to reduce your device's battery consumption.

Wi-Fi Security

to be secure on public Wi-Fi networks.

Junk Cleaner

to clean unnecessary files, cache, and gallery thumbnail.

App Insights

to know how much time you spend on a particular app
Download Avast Antivirus from Google Play Store
Norton
Price: Free Trial / $0.99-$39.99 in-app purchases
Norton antivirus is another good contender while considering the best security app for Android that guarantees you have excellent protection from frauds, malware, scams, and other threats, including loss or theft. Some of its brilliant features Wi-Fi scanning, Safe Search, and Ransomware protection. Norton security ensures that you have the best online safety and security while using your smartphone. 
Its premium features have a lot to offer when you fear of losing your online privacy. Norton Security also scans all the installed apps to check if they pose a danger. The paid version gives you an App Advisor that automatically checks apps for potential risks, Web Protection to give you comprehensive security while you are surfing online and a Sneak Peek that uses the built-in webcam to take a photo of someone using your phone once you report it lost or stolen. 
In case of any loss or theft, you can erase all data remotely. 
Unique features:
Safe Search

where an app search engine connects to Symantec's global database to flag malicious sites in our search results. 

Wi-Fi Scanning

keeps you safe on public Wi-Fi by notifying you in the connection is insecure. 

Sneak Peek

to capture the picture of the thief once you report your device to be lost or stolen. 
Download Norton Mobile Security and Antivirus from Google Play Store
Avira Antivirus
Price: Free / $6.99 per year
Avira is another brand-name security software that offers many of its significant features in the free version itself. Avira protects all of your data, photos, emails, and credit card numbers stored on your phone. 
Its Phone Locator and Tracker helps you track and fetch the phone location in case you lose it. There is also an Identity protection feature that checks if your email id or account is compromised by some security breaches at other products and services you might be using.
Unique features
Camera & Mic Protection

to prevent spying eyes and ears trying to reach you. 

AppLock

PIN-protect your sensitive data

Privacy Advisor

lets you know how each app installed on your phone is collecting your sensitive data.
Download Avira Antivirus from Google Play Store
AVG Antivirus
Price: Free /  $2.99 per month / $11.99 per year
AVG is a seasoned player when it comes to offering complete security and privacy protection to our mobile. Like many other advanced antivirus software, AVG also has a tracker that finds and secures your phone if it is lost or stolen.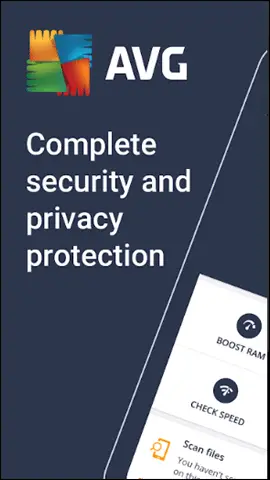 Going beyond its primary purpose of removing viruses and malware, AVG can help you hide your private photos in an encrypted vault. When running out of battery, extend it with AVG's Power Save mode. When you want to hide your identity, there is a VPN service included to keep you anonymous. 
Unique Features
Ultra-Protection

to scan games, apps, websites, and using its Wi-Fi Scanner, it's even possible to have network encryption. 

VPN

to secure your online privacy

Performance Optimization

by killing tasks and processes that can slow down your phone.

Anti-Theft

feature locates your phone in case somebody steals it. Even your phone can sound siren if it has gone to the wrong hands.

App Insights

allow to track app usage, monitor your timing that you spend on an app, discover potential risks.
Pro features are free for 30 days, and you can buy it anytime with an in-app purchase. 
Download AVG Antivirus from Google Play Store
360 Security
Price: Free / $5.49 per year
One reason to consider 360 Security as one of the top Android security apps is the ton of features it offers. While having millions of great reviews and downloads, this app comes with Speed Booster, Junk Cleaner, AntiSpyware, and Virus Remover. It does its primary job pretty well and has a consistently high record of malware detection.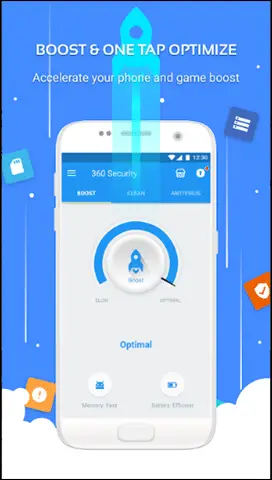 The additional features are quite useful too. The Smart-cache Cleaner cleans app caches and junk files and boosts your phone's performance. The Smart battery saver kills all redundant apps that drain your phone's battery. 
While it is hard to ignore how feature-packed this app is, it is also jam-packed with ads that get tiring enough that you would want to pay up or remove it. There are better paid or free options for you and we'd recommend you choose another one from this list. 
Unique Features
Junk File Cleaner

to keep your phone clean from all the dysfunctional and unwanted files.

A multi-function lock screen

automatically takes a quick scan of your locked phone to provide optimization suggestions. 

Call & SMS Filter

blocks unwanted/spam calls and messages

Wi-Fi Security k

eeps your phone safe from insecure public Wi-Fi.

Fingerprint Lock

to unlock the screen quickly.

Real-time protection

by scanning all the APK files while providing payment and shopping security. 
Download 360 Security from Google Play Store
ESET Mobile Security and Antivirus
Price: Free / $1.99 per month / $14.99 per year
ESET requires you to enter an email id in order to use the app for device protection. You get a month for free, and then it has options for you to go for a monthly or yearly subscription. Providing you the basics of security features like malware scan, anti-phishing, and Anti-theft protection, you truly have the best companion when you diligently need an Android virus removal app.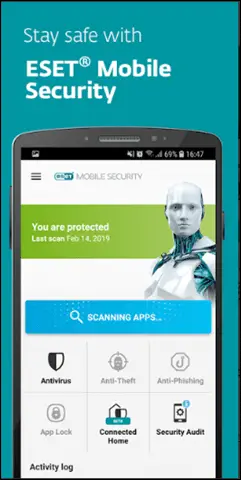 Once you pay for it, you can use it on up to 5 devices. When on the home network, use its Connected Home to scan the network and all the connected devices to identify any possible threat. 
Unique Features
Proactive Anti-Theft

that sends you the last location of your device so that tracking gets easy.

PIN and Fingerprint protection

in case you are worried about kids or other family members messing with your sensitive data. 

Security Audit

to check an app and the permissions it requires when you are unsure about it.

Security report

to see at what level you are protected with ESET Mobile Security. 
Download ESET Mobile Security and Antivirus from Google Play Store
Lookout Security & Antivirus
Price: Free / $0.99 – $99.99 in-app purchases
Lookout is a unique addition to this list as it does not appear on reports from both the independent testing platforms that we use to compile this list. Lookout has been around for quite some time, was one of the first Antivirus apps on Android, and has the trust of its users. I have used it on my previous phones and was quite happy with it.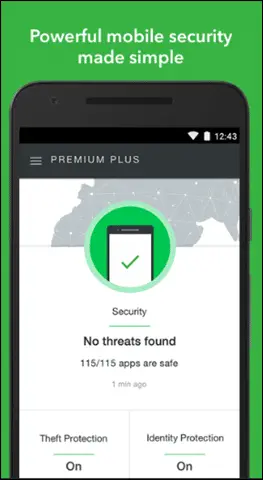 As such, Lookout Mobile Security is a must-try app if you haven't already chosen any anti-malware Android app from this list yet. Its Safe Wi-Fi guarantees you have the best security from Wi-Fi attacks. The System Advisor takes care of your operating system while making sure everything is working properly. 
To keep your phone data safe and secure anytime, anywhere, Lookout is no more than a perfect pick for you. Although most of the advanced features are limited to the premium version, it is still a good free Android security app. 
Unique Features
Cyber watch

monitors all the sensitive and financial information and alerts you in case of any exposure online. SSN Watch provides you the history of names, addresses, and other data related to your SSN. 

24/7 Restoration Assistance

in case of identity theft where certified ID Restoration Experts are all time available to assist you with the process of recovering and restoring identity. 

Lost wallet Recovery

if you lost your wallet or it's stolen, the experts will quickly come to your rescue where you can contact document issuers to cancel and reorder credit cards and other identification contents. 
Download Lookout Security & Antivirus from Google Play Store
Wrapping Up
In this list, we have compiled the best Android security apps primarily based on their performance as analyzed by AV-Test and AV-Comparatives. Some well-known security apps for Android may be missing from this list for two possible reasons – either they haven't made the cut in the latest test results or the developers haven't sent their product to AV-Test and AV-Comparatives for testing.
We hope this comprehensive guide on the best Android security apps helps you decide further. Feel free to share this list with your friends and family, and help them stay safe from the ever-increasing security threats on Android devices. 
(Updated on 15th March 2021)