Many people have the misconception that aftermarket CPU coolers are for those looking to overclock their CPU. It is a false notion since nowadays most stock coolers are NOT efficient enough to keep your CPU at the low temperature it requires for high performance.
A CPU cooler is a device to minimize the heat from your system and make it cooler and more efficient even at peak performance. There are two basic types: Air Coolers and Liquid Coolers. An air cooler works with a combination of the CPU fan and heat sinks that draw away the heat from hot components like the graphics processor (GPU) etc.
A liquid cooler consists of a pump circulating fluid that draws heat from the CPU and dissipates it in a radiator which is mounted on the top or behind your cabinet. We have put together a list of best CPU coolers which will help you improve the performance of your CPU and free you from computer performance issues.
Please Note: Before you finalize a CPU cooler, make sure to measure the size of the PC case size to avoid difficulties during installation.
Must Read: How to use CPUBoss for Checking Processor Performance and Ratings?
Best CPU Air Coolers
1. Cooler Master Hyper 212 Evo
Cooler Master Hyper 212 Evo is the best cost-effective thermal solution and costs about one-third the cost of an advanced and expensive CPU cooler.
It has four direct heat pipes with patented technology that connect the CPU's heat spreader and draws thermal energy to the aluminum fins of the cooler. It has a 120mm fan which works well with minimum noise
Along with being the best air CPU cooler, it has a PWM (pulse width modulation) fan with a wave-shaped blade design for easy airflow where you can adjust the speed of your fan if you are concerned about the noise. It is an AIO (all-in-one) cooler that supports Intel® LGA 1366 / 1155 / 1151 / 1150 and AMD FM2 / FM1 / AM3+.
The stock thermal compound included with the Hyper 212 EVO is known for its excellent performance.
Due to its relatively compact size, the Cooler Master Hyper 212 Evo is compatible with all advanced modern sockets and motherboards. If you are not planning to overclock your computer and are looking for an easy-to-maintain CPU cooler, the Cooler Master Hyper 212 Evo could be a great pick for you and the best cooler for the money.
Check on Amazon
USP: Most popular CPU cooler with excellent cooling performance and low noise.
2. Noctua NH-D15
Noctua NH-D15 is a dual radiator tower design with six heat pipes for excellent cooling performance. It is the advanced version of Noctua's NH-D14 that has 150mm fin stack. It has 64mm clearance for tall memory heatsinks in single fan mode which makes it compatible with high-end RAM modules. Noctua NH-D15 is one the best air coolers for CPUs.
When in dual-mode, NH-D15 should be used with standard height RAM that is up to 32mm. The 140mm NH-D15 premium fans come with PWM support that allows automatic speed control via mainboard.
Its maximum speed of 1500 rpm can be reduced to 1200 rpm using the low-noise adapter. NH-D15 provides massive airflow over the motherboard components and the heatsinks help them stay cool all the time.
It supports Intel LGA115x (LGA1150, LGA1151, LGA1155, LGA1156), LGA2011, LGA 2066 and AMD (AM3(+), AM2(+), FM1, FM2(+) providing maximum compatibility.
NH-D15 is one the best CPU air coolers which has pro-grade NT-H1 TIM (thermal insulation material) providing amazing thermal resistance.
Check on Amazon
USP: Its large two-tower design is great for cooling all components well, and it is exceptionally quiet.
3. Be Quiet! Dark Rock Pro 3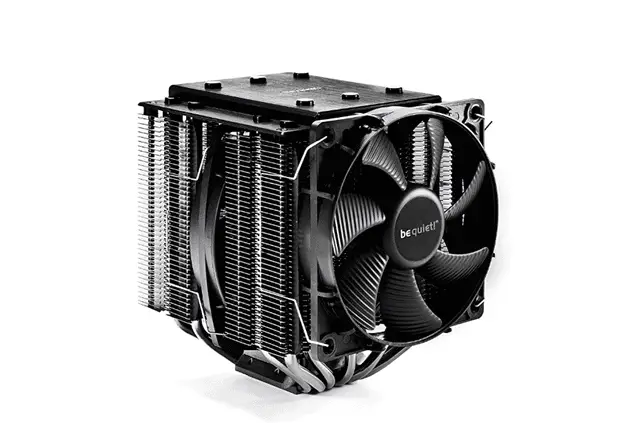 Be Quiet! Dark Rock Pro 3 is the best low profile CPU cooler which works wonderfully if your system is overclocked and demands multi-graphics platforms. It offers best performance-to-noise ratio and excellent cooling efficiency with 250W TDP (thermal design power) even at peak performance proving to be one of the quietest CPU cooler.
It does not compromise silence with a powerful performance. It is lightweight with a double-tower layout with 120mm fans for excellent cooling and is the best CPU cooler for overclocking.
It includes seven heat pipes with copper lining, and the aluminum caps transfer heat to an optimal location on the cooling fins which maximize the heat conductance.
Noise is a low 26.1dB (A) at 100% PWM function which is almost inaudible. Its overall noise level (dB(A)) @ 50/75/100% (rpm) is 13.2 / 19.5 / 26.1 respectively.
It is compatible with: LGA 775 / 115x / 1366 / 2011(-3) Square ILM / 2066 , AMD: 754 / 939 / 940 / AM2(+) / AM3(+) / FM1 / FM2(+) and Intel.
Check on Amazon
USP: You can monitor it with Corsair-link Support where you can see CPU temperature, fan speeds and is the quietest cooler for the money and an excellent CPU air cooler.
4. Arctic Freezer 7 PRO Rev.2 CPU Cooler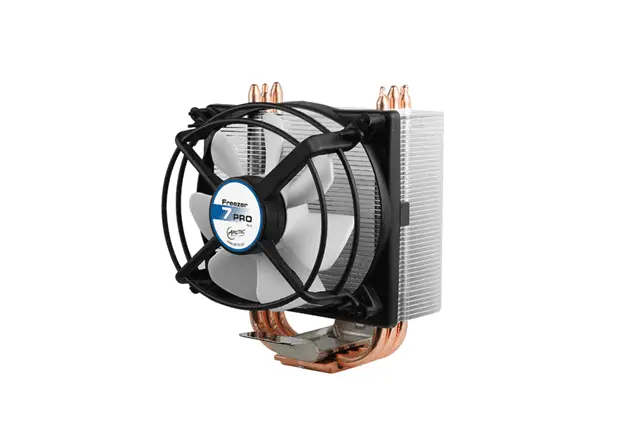 Arctic Freezer 7 PRO Rev.2 is for those looking for a cost-effective, tiny and easy-to-install CPU cooler. It consists of a 92mm PWM fan with 45 fins along with three double-sided heatpipes pre-applied with the MX-2 thermal compound which provides high cooling performance.
It has an inaudible/low sound even under full load. The PWM control adjusts the fan speed according to the CPU temperature resulting in a silent cooler.
The Freezer 7 PRO Rev.2 is compatible with AMD Sockets FM2, FM1, AM3+, AM3, AM2+, AM2, 939, 754; Intel Sockets 1366, 1150, 1151, 1156, 1155 and 775.
You don't need to worry about the installation as it has an easy mounting system which allows you to mount the cooler to the motherboard in no time.
Although it can't compete with the big and expensive CPU coolers, it manages to fulfill your requirements of cooling the system with a low price and small size.
Check on Amazon
USP: Installation process is quite simple, and it's better than most of the "stock" coolers.
5. RAIJINTEK THEMIS CPU Cooler
RAIJINTEK THEMIS is the best budget CPU cooler with a flawless performance. It has a minimalist design with a 120mm fan with a non-copper base in direct contact with the CPU.
It comes with three heat pipes accompanying a large dissipating area, and fin technology that provides the best prevention of the risk of heat-pipe damage.
It also has a fairly easy installation process which includes the motherboard mount connected by two side plates that need only two screws to attach the cooler to the base.
It is compatible with all the modern Intel and AMD sockets which include: Intel®- All Socket LGA 775/115x/1366/201x CPU (Core™ i3 / i5 / i7 CPU), AMD- All AM4/AM3+/AM3/AM2+/AM2/FM2+/FM2/FM1 CPU.
It has 24.53 dBA noise level at peak performance because of the anti-vibration rubber which minimizes sound.
Check on Amazon
USP: Cost-effective with a good performance and another best CPU cooler money can buy.
6. PH-TC12DX CPU COOLER
PH-TC12DX CPU COOLER is a great choice for design lovers as it comes in beautiful shape and color (White, Black, Blue, Red). It is a U-Type dual tower heatsink with four linearly aligned 6mm heatpipes that allows optimal airflow and cooling.
It uses Patented P.A.T.S (Physical Antioxidant Thermal Shield) and Patented C.P.S.C (Cold Plasma Spraying Coating) technologies to deliver good heat dissipation and heat transfer.
Its dual PH-F120HP PWM Premium fans are designed to allow higher performance with no noise. It has a nickel-plated copper base, heat pipes with aluminum fins and a top cover, all of which give it an elegant look. It's quite large but fits in your case and will not interfere with the other components.
It is compatible with Intel Socket: LGA 2011/115X/1366/775 and AMD: FM1/FM2/AM3+/AM3/AM2+/AM2 (Stock back-plate required).
Check on Amazon
USP: Beautiful colors and design; a decently priced cooler that does its job well.
Best CPU Liquid Coolers
1. Corsair Hydro Series™ H110 280mm Liquid CPU Cooler
Bigger is better! If your case can fit large coolers, then Hydro Series H110 will work very well for you. It is an AIO (all-in-one) liquid cooler which provides better cooling than most of the other air coolers. Hydro Series H110 is one of the best CPU liquid coolers available today.
Check your PC's case. If a 280mm radiator can fit into it and if yes, your system is going to have no more heat issues ever, thanks to Hydro Series H110. The larger diameter fans do their job by providing airflow with little to no noise.
The 140mm fans are quite large, which means that they don't need to spin very fast to provide an effective cooling resulting in excellent cooling without too much noise. A quiet CPU cooler, it has beautiful easy-bend tubing which is leak free.
It comes with the advanced cold plate and manifold design for effective heat transfer and efficient flow. It is compatible with Intel™ LGA 1150, 1155, 1156, 1366, 2011 and 2011-3, AMD™ sockets FM1, FM2, AM2, and AM3. It has a multi-platform mounting bracket that easily adapts to Intel and AMD processors.
Check on Amazon
USP: One of the best liquid coolers with tremendous cooling performance with a quiet and efficient pump. It has Corsair-link software support which allows you to monitor the cold-plates temperature, liquid temperature, fan speeds, pump speeds, etc.
2. Swiftech H220-X CPU Liquid Cooling Kit
Swiftech H220-X CPU Liquid Cooling Kit has an elegant design and has low to audible operating noise. Its excellent thermal performance makes it the best low profile CPU cooler.
Its MCP30 pump and high-pressure Helix fans are PWM compliant devices that allow H220-X to be recognized and speed-controlled by the motherboard. The system has a PWM splitter that allows connection up to 8 PWM devices which can be controlled by the motherboard.
Swiftech H220-X CPU Liquid Cooling Kit is one of the best CPU water coolers and highly customizable with easily replaceable tubing and fittings. Its powerful pump supports additional liquid cooled components such as graphics cards and additional radiators.
It includes a copper and brass dual 120mm radiator, high static pressure Helix 120mm fans, and a powerful DC pump which makes this cooler stand out in the competitive market. Since it uses the award-winning Apogee™ XL water block, this kit gives you phenomenal thermal performance.
It has Apogee XL multi-color backlighting which looks super cool and allows you to monitor the coolant level.
Check out on the Official site
USP: LED glow design cooler with a quiet performance, it comes with a user-friendly pictorial installation guide.
3. Antec Kühler h₂o 920 Liquid Cooler
The Antec Kühler h₂o 920 is an interesting CPU cooler since it requires zero maintenance. It is a self-contained unit which comes pre-filled with the coolant. It consists of dual 120mm PWM (pulse width modulation) fans with third generation copper cold plate that assures you of excellent and quiet cooling performance.
Its 49mm thick radiator is designed to handle high performing CPUs. It has an included software that helps you monitor and control the Antec Kühler h₂o 920's performance and allows you to customize the RGB LED lighting. It delivers the ultimate performance and cools your system like no other cooler can.
It is compatible with  Intel LGA 1150 /2011/ 1155 / 1156 / 1366, AMD AM2/ AM3/ AM2+/ AM3+ / FM1 / FM2. It comes with easy-bend tubes which provides excellent flexibility in radiator positioning.
USP: Flexible design, efficient performance, lightweight and almost inaudible operation.
4. NZXT Kraken X41
NZXT Kraken X41 is a 140mm-fan liquid cooler that comes with a 36mm deep radiator. The X41's cooling volume is proven to be 24% better than its earlier model Kraken X40.
It has large tower support with 16″ tubing and black sleeved cables for a great look and good airflow. It has an integrated Hue and digital fan control with CAM connectivity (CAM is a free PC monitoring software created by NZXT for PC enthusiasts and gamers). NZXT Kraken X41 is best CPU cooler for gaming computers.
It is the world's first integrated variable speed pump for the best cooling experience. Its fan noise level is at 20-37 dBA which is good in terms of silent cooling.
It is compatible with Intel LGA 2066, 2011-3, 1366, 115X CPUs, AMD FM2, FM1, AM3+, AM3, AM2+, AM2 CPUs.
USP: An elegant design that comes with LED backlight and CAM control.
5. Silverstone TD02 Liquid Cooler
Silverstone TD02-E is SilverStone's first all-in-one liquid cooler which has a unique full alloy water-block constructed with a copper base and aluminum body for better durability compared to the plastic body coolers.
The installation process is simple with aluminum clips and a steel back-plate. Silverstone TD02-E has dual auto-adjustable 120mm PWM fans with a patented brazing fins radiator that increases cooling performance by 40%. It is maintenance-free and does not need any refill.
It is compatible with Intel Socket LGA775/115X/1366/2011/2011-v3 and AMD Socket AM2/AM3/FM1/FM2.
USP: It is maintenance free with no refill required and gives a powerful cooling performance.
6. DEEPCOOL CAPTAIN 240 All-in-One Liquid CPU Cooler
Captain series DEEPCOOL liquid cooler is an innovative and beautiful creation and is one of the best CPU coolers available today. It comes with visible liquid flow and LED lighting which looks elegant and packs a powerful cooling punch.
It is an AIO liquid cooler which comes with centralized flow design for optimized airflow. Its liquid radiator comes with original separated section design and self-governed circulation channel, which offer excellent heat dissipation.
The powerful pump with a closed impeller offers lower vibration and noise. Its 100% pure copper base provides effective thermal conductivity. Captain series DEEPCOOL comes with 120mm PWM fan and optimized fan configuration and is dustproof, waterproof, and oil-leakage proof. It has an estimated lifetime of 100,000 hours, proving to be a highly durable CPU liquid cooler.
It is compatible with Intel LGA2011-v3 / LGA2011 / LGA1366 / LGA1156 / LGA1155 / LGA1151 / LGA1150, AMD FM2+ / FM2 / FM1 / AM3+ / AM3 / AM2+ / AM2.
USP: Aesthetic design with a visible liquid level and triple proof fan.
Check on Amazon
Conclusion
In our list above, which one do you think is the best CPU cooler? Some people prefer air coolers, while others liquid coolers; it is a personal choice, also based on its application. There are coolers for everyone; small budget coolers for normal use or large dual tower coolers for overclocking and gaming purposes. Which one would you go for and why?
Further Reading: Importance of Firmware Update: Take Your Device Performance to the Next Level