The organization's crucial data must be protected from intruders and hackers. An increase in the number of cyber attacks makes network security an essential part of any organization. When it comes to network protection, a firewall device is an integral part of security.
As the name suggests, a firewall is a wall of protection between your internal network and hackers or intruders. It monitors incoming and outgoing network traffic and also blocks the data based on the set of configured rules. It keeps your internal network safe from hackers, viruses, and malicious traffic. A set of rules needs to be configured while installing a firewall device. A firewall uses this configured protocol to filter data packets.
Most of the firewall devices come with parental controls, antivirus, and internet usage reports. It also gives you alerts in case of any potential cyber threats. Firewall devices are available in software and hardware forms or the combination of both.
A software firewall is installed on the individual system to protect the system, and it is mostly for personal use. On the other hand, the hardware firewall is connected to the router and can be used for small organizations and homes. If you are looking specifically for a software-based firewall to install on your systems, then you can check it out here.
20 Best Hardware Firewall Device for Network Security
1. CUJO AI Smart Internet Security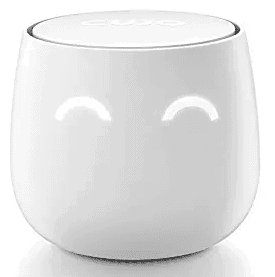 The CUJO firewall device uses Artificial Intelligence(AI) and Machine Learning(ML) to protect you from viruses, malware, and hackers. It not only protects your computer but also provides security to IoT devices, TVs, and gaming consoles.
CUJO alerts you about the site based on its behavioral pattern. It does not permit the unauthorized IPs to connect to your home or organization's network and sends the packet's metadata(not the entire pack) to analyze the device behavior.
CUJO is a fast firewall device which does not compromise with internet speed. It has two ports, along with a wireless connection facility. The device size is small, and it is mostly compatible with all standard routers and ISP routers. However, it is not compatible with the Google WiFi Mesh and Luma. Based on online reviews, CUJO is the best firewall for home network security.
Price: $330.75
Buy CUJO AI Smart Internet Security from Amazon
2. SonicWall TZ400

SonicWall is the best firewall device in the market when it comes to a network security solution. A good option for a medium-sized organization or a branch office, SonicWall TZ400 is slightly expensive but provides great services.
With easy configuration and management, it also keeps your network away from viruses and intruders. It provides traditional firewall services like Content Filtering, Application Intelligence & Control.
SonicWall TZ400 provides a firewall throughput of 1.3Gbps and is perfect for organizational use with guaranteed network security.
Price: $822
Buy SonicWall TZ400 from Amazon
3. SonicWall SOHO

As SonicWall TZ400 is for mid-scale corporate use, SonicWall SOHO is the perfect hardware firewall for home and small organizations. It offers web filtering as well, so you can filter inappropriate content for your children.
SonicWall offers protection against viruses and intrusion, giving you full security over the internet. It provides you excellent network protection at a minimal cost. The firewall throughput is 300Mbps, less than SonicWall TZ400.
Price: $345
Buy SonicWall SOHO from Amazon
4. FortiGate Next Generation Firewall

FortiGate Next Generation Firewall protects you from the malware residing in encrypted traffic with its high-performance threat protection. It provides configuration options for network segments differently, like a guest, client, and employee.
FortiGate Next Generation Firewall is the best firewall for midsize organizations. The firewall provides you with SOC (system on a chip) security processors along with advanced security services like threat protection and SSL inspection. It also has ultra-low latency for protecting internal segments and mission-critical environments.
Price: $383.67
Buy FortiGate Next Generation Firewall from Amazon
5. Bitdefender Box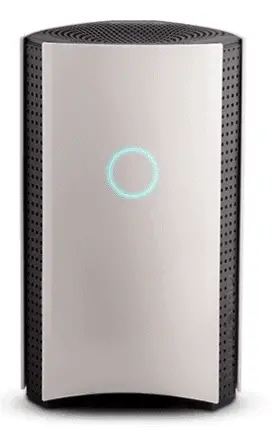 Bitdefender Box 2 is a firewall device to protect your home devices from malware, stolen passwords, and hackers. It can be used for Android, Mac, Windows, and iOS devices, which means it can even secure your mobile phones. You can protect your TVs and other IoT devices available at your home with Bitdefender Box 2.
With a pocket-friendly price and high-security measures, it also offers parental controls to protect your child from bullying and online predators. As a parent, you can control their screen time and manage what they can see. It also provides the best network security in the industry, along with fast connectivity.
Price: $199.99
You can buy an older version of Bitdefender Box 2 named as Bitdefender Box from Amazon.com.
Buy Bitdefender Box from Amazon
6. Firewalla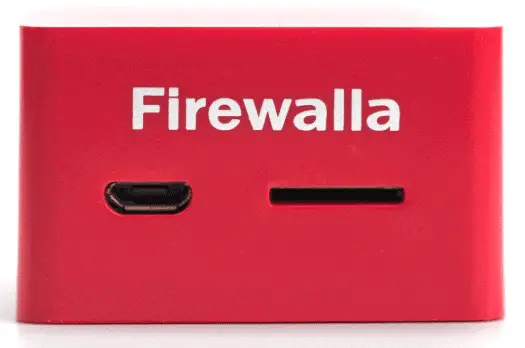 Firewalla is an affordable hardware firewall device for home as well as small organizations. Simple to install, it offers many features to protect your network from viruses and spyware. Firewalla also provides an added layer of security with parental control features to monitor the internet usage of children and receive online activity alerts.
With a VPN feature that protects your data over the public network, it can also block ads for you. The device comes in 2 variants, namely red and blue.
The red Firewalla is for the network, which has an internet speed of less than 100 Megabits and has less than 50 devices connected. The blue variant is for a system with an internet speed of more than 100 Megabits and has several devices connected to the network.
You can pick any of the variants based on your needs.
Price: Red – $109 and Blue – $179
You can buy a red variant of Firewalla from Amazon.com.
7. Keezel: The Perfect Firewall Device for any WiFi Connection
Are you worried about your privacy when using public WiFi? In that case, Keezel is the perfect solution for you. It secures you over any WiFi network you wish to connect. You just need to connect Keezel to the WiFi and use public WiFi without being worried about cyber threats.
Keezel is a hardware-based internet encryption device. With the focus on security, it provides VPN encryption, Ad blocking, and a portable firewall. It also has an 8000mAh power bank, so you will never run out of battery.
Price: $120.80
Check out How to set up a safe connection through Keezel here:
8. Zyxel Zywall VPN Firewall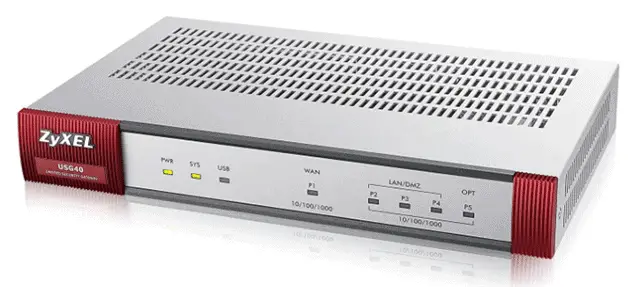 Zyxel Zywall VPN Firewall is the best firewall when it comes to industries, due to its secure VPN technology. It uses SHA-2(Secure Hash Algorithm) for the safest VPN technology, allowing the employees to connect the local network remotely via VPN securely.
Zywall VPN Firewall provides one-click maintenance and dual-WAN failover. The feature dual-WAN failover switches to backup connection automatically in case of primary link failure and also switches back to the primary link automatically once the issue is resolved.
It also provides basic features like antivirus, intrusion detection, social media authentication, and hotspot management. Along with that, it also filters the content based on the configured protocols.
Price: $182.48
Buy Zyxel Zywall VPN Firewall from Amazon
9. WatchGuard Firebox
WatchGuard Firebox is the best hardware firewall for home, small business, and midsize organizations. It provides advanced network security like cloud sandboxing, data loss prevention, threat correlation, and network discovery along with the traditional network firewall features.
WatchGuard Firebox comes in different variants like the T15, T35, and T55. You can select them as per your usage. The T15 is ideal for home and or small and midsize companies you can choose from T35 and T55, respectively.
WatchGuard Firebox offers clientless resource access via SHA and RDP.
Price: $376.03
Buy WatchGuard Firebox T15 from Amazon
10. Anonabox PRO: The Perfect Firewall Device for Privacy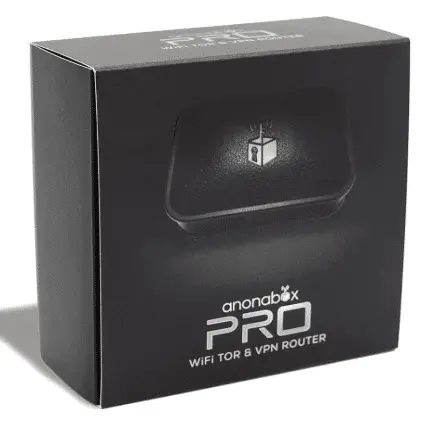 Anonabox PRO is a router firewall that takes anonymity and privacy to the next level. If you wish to maintain proper online confidentiality, then this firewall device is for you. PRO provides a USB slot for secure file sharing.
Anonabox PRO has a unique partnership with HideMyAss VPN, hence giving you a secure browsing experience with one of the best VPN providers in the industry. It can layer your TOR network with a VPN. PRO allows you to access the deep web with privacy and network security.
Price: $104.99
11. Netgear ProSAFE FVS318G

Netgear ProSAFE FVS318G is a network security firewall for a safe VPN experience.
With 1 Gigabit WAN port and 8 Gigabit LAN ports, it prevents unwanted access to your network through business-class stateful packet inspection. Netgear ProSAFE FVS318G prioritizes traffic with QoS(Quality of Service). It comes with nominal cost and lifetime warranty.
Price: $299.95
12. Luma Surround WiFi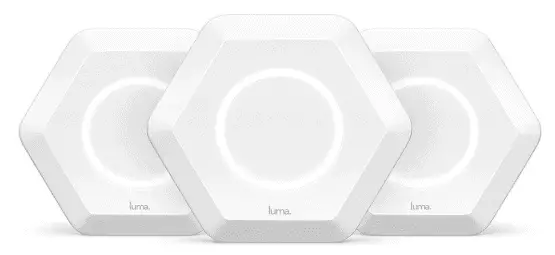 Luma Surround WiFi is an all in one package for home and provides everything related to network protection. You will not require separate repeaters to extend your WiFi signals or a separate application to block a virus on your device.
Luma Surround WiFi provides you with WiFi extender, virus blocking, and smart parental controls. It has two Gigabit Ethernet ports of WAN and LAN USB 2.0. If you are just looking for all in one package at a minimal cost, then the Luma Surround WiFi is the best option to go for.
Price: $225
13. Dojo
The dojo is a device for smart internet security services for the home. It is not an actual firewall device. However, it provides you with all security features present in a home network firewall. It automatically detects and protects your device from viruses, threats, and cyber attacks.
The dojo is very simple to install and use. You just need to connect Dojo to your router and install the application. It provides advanced cybersecurity services for all smart devices.
Price: $110.06
14. TP-Link TL-R600VPN
TP-Link is famous for routers. However, the variant TL-R600VPN of TP-Link is more than just a router. You can classify TL-R600VPN as a network firewall device. It can protect your device from the most known Internet attacks because of the SPI firewall and DoS defense.
The IP/MAC/Domain name filtering functions of TL-R600VPN protect you from viruses and hackers. It also has a secure VPN facility for remote access. Thus, the TL-R600VPN is cost-effective and the best router firewall for small businesses and homes.
Price: $55.99
15. Ubiquiti Unifi Security Gateway: Best Firewall Device for Homes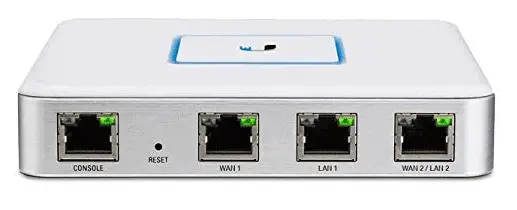 Ubiquiti Unifi Security Gateway provides all you can ask for in a hardware network firewall at the nominal cost. Its integration with the UniFi controller software is an added advantage. It has advanced firewall protection for secure network and data.
It also offers secure off-site management and monitoring via secure VPN monitoring. You can choose this hardware firewall device for your home or business.
Price: $129
Buy Ubiquiti Unifi Security Gateway
16. Cisco Meraki MX64W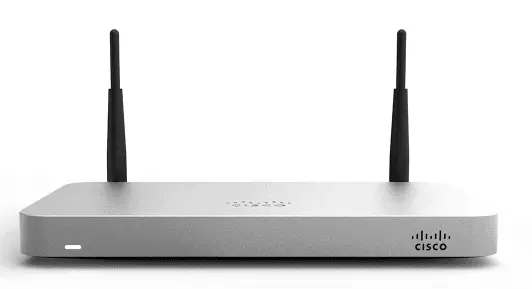 Cisco Meraki MX64W is the best firewall device for small businesses.
With traditional features like intrusion detection, content filtering, safe search for school kids, and advanced malware protection, it is a wireless hardware firewall that is managed centrally over the cloud.
Cisco Meraki MX64W has a stateful firewall along with auto VPN and Active Directory(AD) integration. Its explicit features come with the cost.
Price: $717.68
17. RATtrap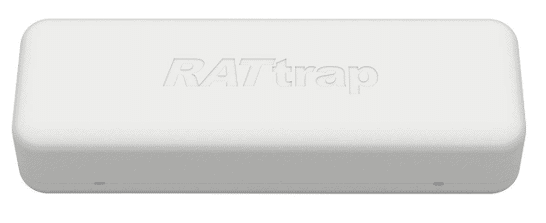 RATtrap is the best home firewall for your WiFi network. Easy to install and manage; it does not need any configuration changes. All your devices are secured after installing the RATtrap firewall device. It provides parental control to keep your children away from restricted content and monitor internet usage.
RATtrap blocks ads and also protects all the devices from ransomware, identity thefts, and phishing, giving you a safe browsing experience. With real-time updates, it provides enterprise-level security to your home at a minimal cost.
Price: $159
To know all about how RATtrap protects your digital presence, check:
18. Barracuda CloudGen Firewall
Barracuda CloudGen Firewall is one of the best firewalls at the enterprise level. It is known as the next-generation firewall device which safeguards your data with the best protection mechanism.
Barracuda CloudGen Firewall is available for all cloud services like Azure, AWS, and Google Cloud Platform. It is also available in the physical firewall form. It provides traditional firewall network security along with advanced features like TOTP(Time-based one-time passwords), Multi-factor authentication, and Single-Pass Architecture.
These features make Barracuda worth a considerable amount to protect your company from any cyber threats and give you a secure VPN connection remotely.
Price: $8499/yr for AWS
You can check out the rates mentioned on the Barracuda official site.
Purchase AWS variant of Barracuda CloudGen Firewall
19. Fortinet FortiWiFi 60E

Fortinet FortiWiFi 60E series is a good option for network security when it comes to small branch offices. It protects you against known and unknown attacks through continuous threat intelligence from AI-powered FortiGuard Labs.
Fortinet FortiWiFi 60E provides the best SD-WAN with simple to deploy solutions. It comes in an affordable range with a firewall throughput of 3Gbps.
Price: $647.99
20. Protectli FW6A – 6 Port Intel® Celeron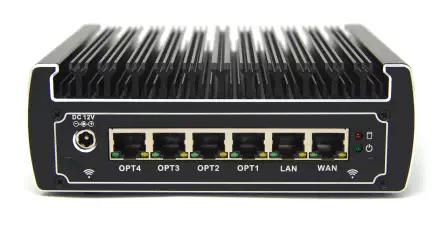 Protectli FW6A – 6 Port Intel® Celeron is not a firewall device, but a small factor PC built to be used as a firewall or router. With six ports that leverage low power, it has a versatile Intel Celeron 3865U CPU.
FW6A is a fanless vault with no other moving parts, which makes it performance durable in all conditions. Protectli offers many different variants of such vaults. You can choose the one which fits your needs and usage.
Price: $309
Buy Protectli FW6A – 6 Port Intel® Celeron from Amazon
Conclusion
We hope that your confusion about the firewall device is resolved. The above list helps provides you with details of about 20 firewall devices that can help to protect your network. Some hardware firewalls are explicitly designed for home usage, while some are the best firewalls for small businesses.
Protectli is for technical geeks who want to personalize their network firewalls. If you want a hassle-free installation, then you can opt for CUJO, DOJO, RATtrap, and Keezel from the list.
However, if you are concerned about the network security on the enterprise level, then Barracuda CloudGen Firewall is the best firewall option to select. Let us know which device did you finally zero down on?
Also, check out The Complete Guide To Using Comodo Firewall – Safeguard Your PC from Online Threats