USB ports have come a long way while exponentially raising their technological standards with each high-end device. However, still, many devices adhere to the old Micro USB standard and people lookout for the best micro USB cable.
There are gadgets, especially the old ones that need a micro USB cable. Devices from mid-range phones to Bluetooth speakers to laptops have a micro USB port that makes it easy to connect the gadgets. Although USB Type C has surpassed the micro USB cables with respect to so many things like power, design, and file transfer rates, the former still remains the most widely used cable in the current era.
Micro USB cables are less expensive and readily available in a variety of formats and protocols.
The Best Micro USB Cables For Charging Your Device
Micro USB cables are old, reliable, and durable but you still ought to make sure you purchase the right brand to avoid any vulnerability to your devices. When it comes to looking for the best micro USB cable to buy, there is an unlimited variety to choose from. Be it the tiny short USB cable to connect your laptop and phone, or a longer one to charge your phone while sitting on the couch,  micro USB cables are still a favorite.
1. Anker PowerLine Micro USB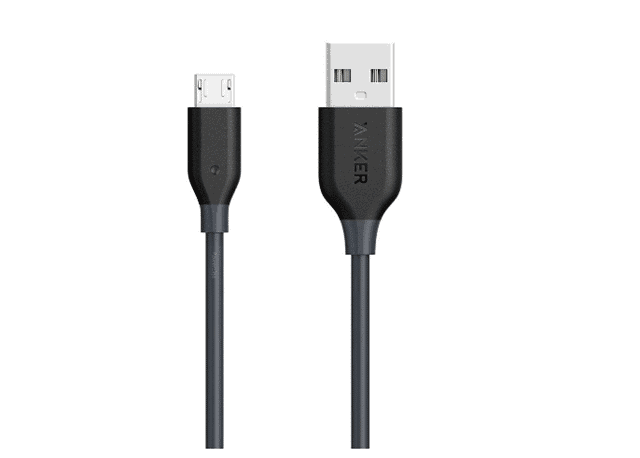 Anker PowerLine Micro USB Cables are irreplaceable and are available at a great deal on e-commerce sites like Amazon. They are undoubtedly the best micro USB cable to be used for your devices.
By utilizing engineering innovations like laser welding, aramid reinforcement dual PVC fusion, Anker cables guarantee durability. Its thicker gauge wire ensures you get faster charging than the standard cables. Jack and sheath connections point are the weakest joints of a cable, and Anker cables remove this vulnerability with its precision laser welding technique.
The Anker micro USB cables are compatible with Android smartphones and tablets, cameras, MP3 players, hard drives, portable chargers, handheld game consoles, etc.
View more details about the product below:
Also, check other Anker USB cables here, here and here
2. Native Union Night Cable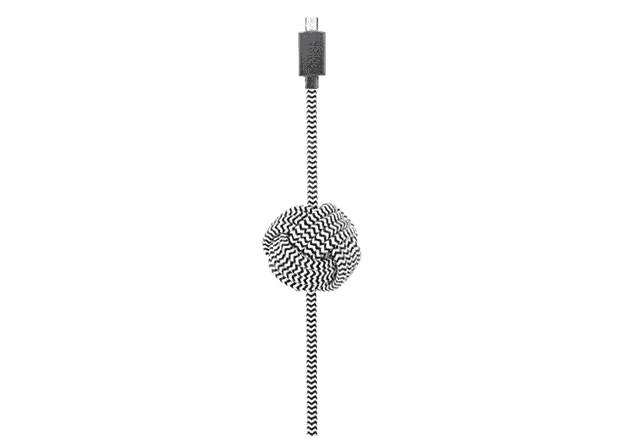 If the size of the cable has ever been a hindrance for you, Native cables are 10 feet long that reduces all the charging problems. They come with a weighted knot that prevents your phone from falling off the table while charging it.
The Native cables have layers of protection like the durable nylon braiding, TPE rubber sleeve, Protective tinned copper braid, and Nylon strengthening filter. It is six times stronger than the standard lightning cables.
It has passed through a test of 10,000 bents and stayed intact. Its lifetime warranty ensures that it will last longer, and thus, it tops our list of durable micro USB cable. It is available in multiple stylish colors that compliment your style. Made of nylon, it is tangle-free, and that is a significant relief for people who always end up untangling their cables.
3. Fuse Chicken Titan MicroUSB Cable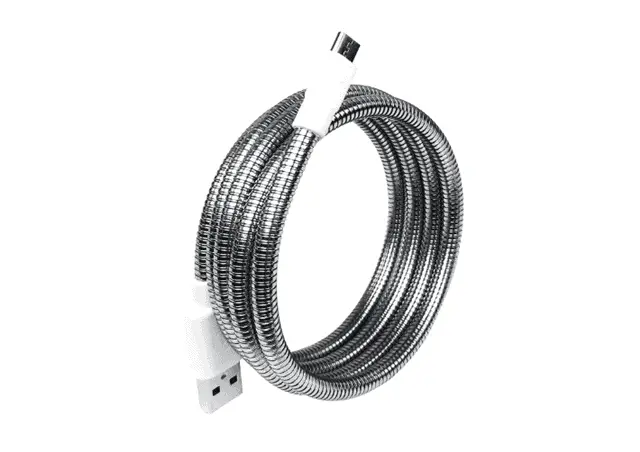 No one can beat Fuse Chicken micro cables when it comes to stiffness, and it is the perfect cables to go for. With two layers of flexible steels, Fuse Chicken cable can be twisted and bent into any shape irrespective of the number of knots you tie.
Backed by a lifetime warranty, it is the most durable micro USB cable and virtually indestructible. The chewed wires, frayed ends, high strength steel are the factors behind its toughness and durability.
When it comes to the price, Fuse Chicken is comparatively expensive, but it is worth every penny.
Also, check other Fuse Chicken options here.
4. Cable Matters Retractable USB to Micro-USB Charge & Sync Cable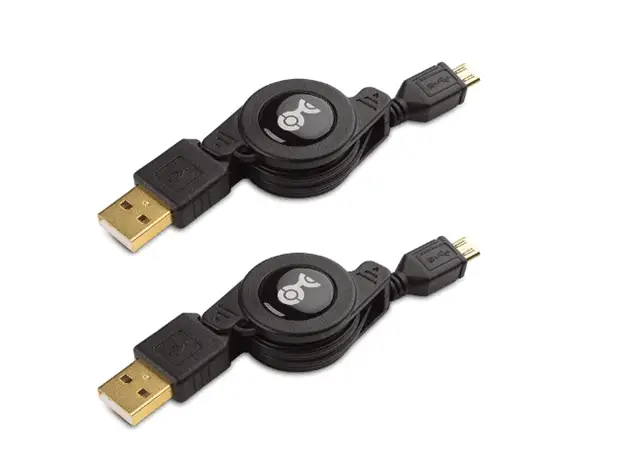 The best way to get rid of tangled USB cables is retractable cables that can be pulled and wound back when it is not required. Cable Matters Retractable Micro USB Charge and Sync Cable is the one you should check out. These cables require less space and can be stretched as per the need.
It combines gold-plated connectors with molded strain relief and a smart ratchet function for an excellent performance. From 33 cm to 2 cm, this is the best that we have come across when it comes to short USB cable. You can use it as a USB charging cable as well as a USB data cable.
It is the best charging cable for android phones, tablets, MP3 players, e-readers, and game consoles. You can buy a pack of two at a reasonable price.
The retractable cable has universal compatibility with devices like Samsung Galaxy, HTC One, LG, Lumia, Nexus, Sony Xperia, and much more. Please note that this is not compatible with Apple devices.
5. AUKEY Micro USB Cable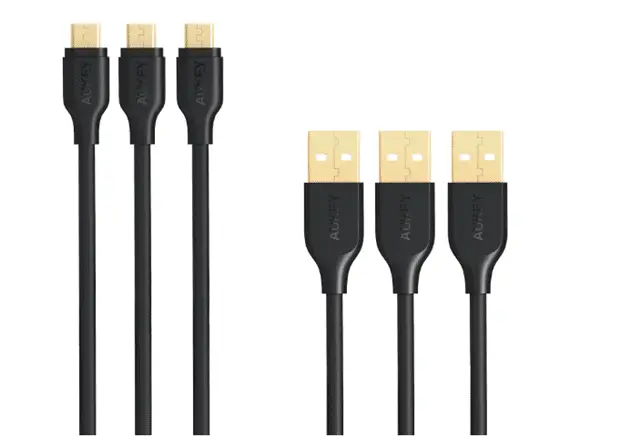 Oxidation resistant and corrosion-resistant, the AUKEY Micro USB Cable is the perfect micro USB cable to buy. This cable uses PVC material, which has excellent heat dissipation. It is lightweight and easy to carry. The pack of AUKEY three cables comes in multiple lengths, including two 3.3ft and one 6.6ft.
They are the best charging cable for android smartphones and Bluetooth speakers. You can sync devices and transfer files, pictures, and data with a speed of up to 480Mbps.
Compatible with most of the devices like Samsung, HTC, SONY, AUKEY are corrosion and oxidation resistant with its gilded plug. If you are looking for some long Micro USB cable, the AUKEY pack of 3 saves your money and also gives you different sizes.
6. Nomad Ultra Rugged USB A to Micro USB
When there are multiple devices in the house or office, you need a versatile cable that fits in all the areas. The universal Nomad cable is made with 10000 Nylon for best quality and durability. The additional PVC jacket is added for extra strength without affecting its flexibility.
The multi-tip micro USB charger options allow you to charge any USB powered device, including iPhone and Android phones.
When not in use, you can wrap the cable with the vulcanized LSR silicone cable tie. Being a universal USB cable, no matter which device you own, you have a multi-tasking cable with you wherever you go.
7. XCENTZ Cable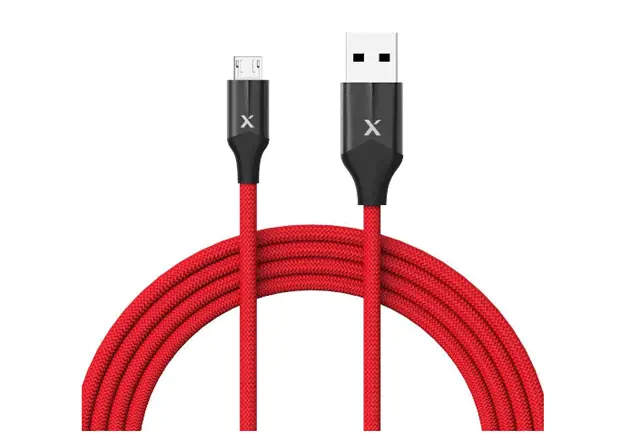 Xcent is one of the best cables you can count on if you want a quick charging. It is nylon-braided that prevents it from getting tangled and tough enough to handle random stretches.
Speedy charging and quick file transfer are its premium qualities along with having a decent length that works with most of the devices. The 6ft long cable is compatible with devices like LG, HTC, Galaxy S7/S6/S5, Sony, Nexus, etc.
8. Syncwire USB Cable
The 3 ft Syncwire Micro USB cable is built with laser-welded aluminum connectors to prevent bending, splitting, and breaking problems. Made up with 23 AWG Gauge low impedance wires supports 2.4 Amp current, and you can transfer files with speed up to 480Mbps via USB 2.0.
The triple-braided nylon exterior makes it tangle-free and extends its durability more than standard cables. The toughened military fiber wire ensures the best functionality even under heavy usage. The design is compact and fits into almost all the aftermarket cases and accessories.
9 Proxicast Premium USB Cable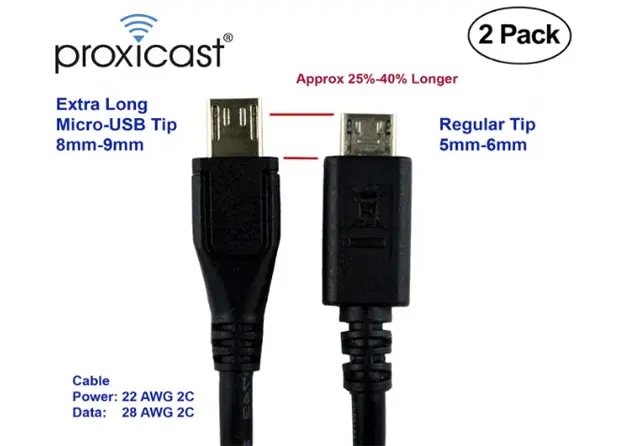 When the length of the Micro USB cable is an issue, select Proxicast as it is a long micro USB cable. It is 6 ft long and has an 8mm long Micro USB male tip. The extra-long tip fits into all Micro-USB jacks that is 40% longer than standard Micro USB tip.
You can use it to synchronize cell phones, tablets, GPS, MP3 players, or camera to your computer. It is not compatible with Martian Notifier watches. The rugged, robust molded connectors with Strain Reliefs make it stand heavy usage.
10. AmazonBasics USB Cable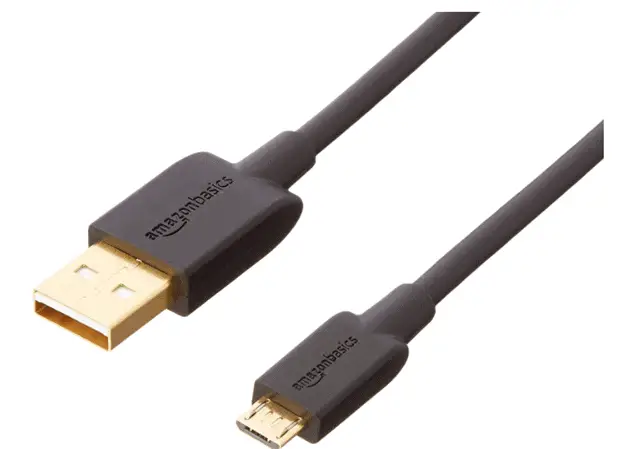 AmazonBasics cables come with three sizes – 3ft, 6ft, 10ft, so that you have options whether you want a small one or a longer one to charge your phone or tablet. The gold-plated connectors resist corrosion for signal purity. The AmazonBasics 2.0 A-Male to B Cable is ideal for charging and connecting to a PC.
With a thinner and flexible look as well as enhanced charging capabilities with advanced Gen 3 technology, the cable is backed up with a year warranty. It is compatible with devices like Amazon Kindle, Samsung Galaxy, HTC One, Motorola Droid Smartphones, to name a few.
Conclusion
Micro USB Cables are cost-effective, universal, and more accessible medium to sync devices where they are smartphones, tablets, Bluetooth speakers, or gaming consoles. Being widely used, you may get numerous options for cables, but you have to make sure you pick up the best micro USB cable and not the one that can damage your devices and make them vulnerable to severe issues.
Want to know more about tips when your phone is not charging?
Check – 13 Tips That Will Resolve Any "Phone Not Charging" Issue