Amazon Amazon's voice assistant Alexa has quickly become extremely popular. The device has become a household name within no time and can be as useful as you want it to be! You need to teach the best Alexa skills to ensure that you make good use of the smart assistant in fun and cool ways.
Skills can be considered an alternative term for all the things that the Amazon voice assistant can do for you. From changing Alexa's name to boosting it with IFTTT Alexa recipes, there are various skills that you can explore. Just like apps, most of the skills need to be downloaded. Once your device has them, you can perform tasks by asking her to carry out the commands and tricks.
What are Alexa Skills?
Alexa skills are apps that enable the voice assistant to perform certain tasks. Whether it is calling your phone or playing games, there are plenty of things that she can do. And, to top it all, the list of compatible devices is growing incessantly. Amazon Alexa skills empower the smart assistant with more abilities. It enables other devices and websites to speak with her.
51 Best Alexa Skills To Make Your Life Easy and Hassle-Free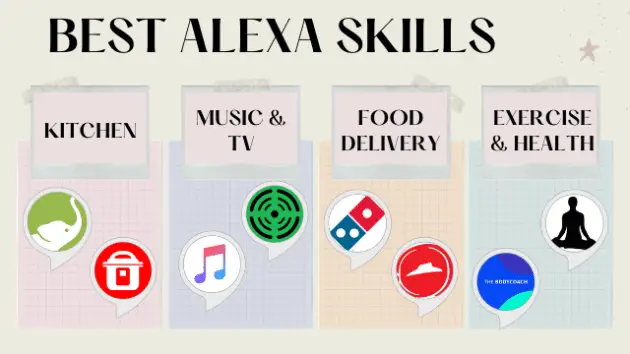 If you are a newbie trying to figure out what are the skills that you can use, you have come to the right place. Or, if you are in the lookout to refresh skills, we've got a lot for you, as well.
Since the number of skills is massive, we've made your job easy by classifying them into categories. Irrespective of what your needs are, you will find everything on the Alexa skills store. We've listed the best Alexa skills for you that will be of utmost use for you. Dimming the lights or ordering a pizza, which one will you try first?
Best Alexa Skills For Kitchen
1. My Chef –  Kitchen Assistant by Chefling
Alexa pairs with this app and enables you to send shopping lists, check out and read recipes, and track expiry dates of products. When you go out shopping, this skill also reminds you of the items that you have in your pantry.
If you tend to cook a lot of meals at home or often forget what all you need while shopping, you must get our hands on one of the top Alexa skills, My Chef. It will save you a lot of frustration.
2. Instant Pot
Do you have an Instant Pot? You can enable this skill, and the voice assistant will put out various recipes for you. What makes this Alexa skill immensely useful is that you can filter through the recipes in various ways, for example, diet preference, ingredients, or even difficulty level.
So, what are you waiting for? Find new recipes, permanently add them to your cookbook, and quickly put dinner on your table.
3. Track by Nutritioninx
Do you count your calories? If you are a health-conscious person, then this is one of the best Alexa skills and you will absolutely love it. Whether you aim to lose weight, put on some, or maintain a healthy body, keeping track of your calorie intake is very important.
The skill does exactly that. You can say something like, ''Alexa, tell food tracker to share my calorie report,'' and you will have the figures ready. So, no more keeping a tab in notebooks, which are often misplaced or forgotten about.
Check out Track by Nutritioninx
List of Alexa Skills for Music and TV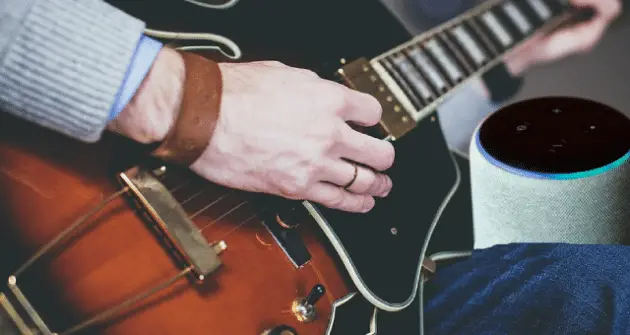 4. Spotify
Spotify is one of the most used Amazon Alexa skills when it comes to music as it enables you to control your playlist via commands.
It is available as a default service from within the app. This means that the music you ask your voice assistant to play will be selected from the Spotify app automatically.
5. Apple Music
Apple Music comes next after Spotify when it comes to the biggest music streaming services in the world. There was no provision previously to pair it up with a smart speaker.
While that has still not changed, now, you can link Apple Music to your voice assistant by enabling this skill. Enable this Apple music skill and link it to your Amazon Alexa account. Once you're done, you can get on to listening.
6. Sonos
If you're looking for the most popular Alexa skills, you cannot ignore Sonos.
Which music service do you use? Irrespective of whether it is Amazon Music, Spotify Premium, iHeartRadio, Pandora, or Deezer, you can enable this skill and ask the smart speaker to play music from any of these.
Jazz in the kitchen or some peppy numbers in the living room, this Sonos smart speaker allows you to do what you want.
7. Top Music Chart
The nifty music skill will help you in keeping up with the kids, as well. One of the best Alexa skills, where you can ask her to play the top-rated music numbers in the United States.
So, be it the songs from the bygone days or the latest releases, you get to explore the hits of the music industry.
8. Star Wars Quotes
If you are a Star Wars fan, then this is one of the best Alexa skills that you must definitely try. It throws famous quotes from the film at your will.
Made by an ardent Star Wars lover, do verify if you can deliver all of the quotes with the same panache as Luke Skywalker.
May the force be with you.
9. Radio Mystery Theater
Do you recall the days when families used to crowd around the radio? One of the best Amazon Alexa skills, Radio Mystery Theater, is sure to take you on a nostalgic ride.
This super-techie smart speaker enables you to play radio shows from the early 70s. This skill offers retro stories that will bring back the golden days of radio.
Check out Radio Mystery Theater
10. TED Talks
If you want to feed information to your brain, there can be no better way than listening to TED Talks. Even the thought of indulging in something intellectually superior for 20 minutes is immensely satisfying.
Enable this skill and allow the voice assistant to play you short lectures and inspiring discussions. What more? You can also search for talks by the name of the speaker or topic. Out of all the cool Alexa skills that we've listed, TED Talks is our personal favorite.
Alexa Skills For Food Delivery
11. Domino's and Pizza Hut
The best Alexa skill for all the food-lovers we have over here. Ordering food without the need to stop or pause doing your current task at hand has not been more accessible.
If you love pizzas, enable the Domino's and Pizza Hut skills and let her place the order for you. You only need to set up a customer profile, and you are good to go.
Imagine getting your food delivered at your doorstep by simple voice commands.
Check out Domino's and Pizza Hut
Amazon Alexa Skills For News, Sports, and Weather
12. BBC News
Third-party sources have come with many new Alexa skills, and BBC News is one of them. If you wish to keep yourself updated with world affairs and do not want to miss out on whatever is going on around you, BBC News comes in handy.
Enable this skill, ask her what's going on, and keep yourself posted with all the big stories. You get to know the latest world headlines in the form of flash briefing.
13. Reuters TV (US)
If you are always looking for a quick rundown of the latest events and news around you, get your hands on Reuters TV. There is hardly any better option for Amazon Alexa skills than this one.
Making mornings perfect, you get a quick selection of all the major stories for your flash briefing. Just ask Alexa, "What's my Flash Briefing," and you'll be updated.
14. The Daily from The New York Times
If you're looking for a good companion to accompany you while you're having your cup of morning tea, you must get your hands on one of the best Alexa skills for news.
Five days a week and for twenty minutes every day, The New York Times shares the most important stories in the form of audio briefings. It is hosted by Michael Barbaro and is put together by the best journalists in the world.
Check out The Daily from The New York Times
15. ESPN
Yet another daily news item to make it to our list of best Alexa skills, ESPN should be your go-to option when it comes to the world of sports.
It is not easy to keep track of all the slams, tournaments, series, and matches going on at the same time. ESPN provides you with your daily dose of news from the sports sector so that you no longer miss out on any content.
16. The Daily Show
Are you bored of sad and depressing news? You must check out Comedy Central's The Daily Show, one of the funny Alexa skills that bring you a hilarious spin on things.
Every morning you get a brief recap of the highlights from the previous night's show. Be it news, interviews, or the day's most relevant headlines, The Daily Show covers them all in a fun way.
17. Big Sky
One of the best Amazon Alexa skills, Big Sky, is a top-rated weather update skill used by plenty of people.
After activating big Sky, you can ask the voice assistant to brief you about what the weather would be like in the next couple of hours, for example. You can also ask her to give you a weather fact, for instance, ''When was the coldest day in 2019?''
So are you ready to turn on your meteorological geek?
18. Golf Channel
Are you having issues in keeping up with the news of the PGA tour? This handy Alexa skill enables you to keep track of the leaderboards on demand.
You get to avail of a quick run-down of the state of play and the latest golf scores at your disposal.
19. On This Day
Isn't it great to have a bit of perspective? On This Day allows you to learn about historical events that took place on a given date. If you love history and are inquisitive about it, it is one of the best Alexa skills.
Enabling this skill adds historical context to your morning briefings. It also reminds you of the events that occurred ages ago, and you end up gaining some insight and knowledge.
Best Alexa Skills for Exercise and Health
20. The Body Coach
If you are a fitness-lover, this skill is meant for you. The Body Coach makes available seven different types of workouts. Each lasts for 15 minutes. The full-body workouts range from beginner to intermediate level. All of them can be done at home without the need for any equipment.
Joe Wicks has come with some great workout recipes for keeping your body fit. Since he is an extremely popular health and fitness enthusiast, expert tips from the horse's mouth make this one of the best Amazon Echo skills in our list.
21. 1-Minute Mindfulness
The Alexa skill that makes sure your mind clears itself via meditation. It plays relaxing sounds for a minute, and sometimes those 60 seconds might be exactly what you need.
Are you take a one-minute break from the world and gain clarity of mind and peacefulness?
Check out 1-Minute Mindfulness
22. ALOP Pilates
Exercise doesn't always mean that you bring out your beast mode. It can be carried out in a little more measured manner too.
Amazon Alexa skills list consists of a wide range of options for people who wish to indulge themselves in the world of fitness. This skill guides users through a beginner's pilates class.
Apart from your voice assistant, you will only need a mat. One round takes 20-30 minutes to complete.
23. Push Up Century Club
Do you love doing push-ups? Well, this is one of the best Alexa skills that might increase your ability to do push-ups.
First, Alexa lets you set a fitness foundation based on your current level. The smart assistant then determines which set of repetitions you should start with. Next, you'll be guided through a complete workout with half-a-minute breaks in between.
Check out Push Up Country Club
24. Zyrtec Daily AllergyCast
Allergies can be very irritating, and what better than finding where they are coming from.
One of the best Alexa skills that cater to unusual needs, Zyrtec Daily AllergyCast, gives you an allergy forecast that consists of pollen counts, as well.
What more? It also tells you about the dominant allergens affecting a particular area so that you know exactly what to be careful of to ensure the issue doesn't aggravate.
Check out Zyrtec Daily AllergyCast
Amazon Alexa Skills For Food and Drinks
25. Save The Food
Did you know that every year approximately 40% of the total food in the U.S. gets wasted? Sometimes it is difficult to finish all the food before it is no longer suitable for consumption.
Save The Food makes sure that you use your hard-earned money judiciously. You only need to ask her what is the best way to store a particular type of food product, and the voice assistant will tell you how to keep it fresh for longer so that it doesn't expire. Definitely, one of the best Alexa skills!
26. The Bartender
Our favorite among all the best Alexa skills we've listed, The Bartender provides instructions for making alcoholic drinks.
It curates recipes for cocktails and is an ultimate hit at parties. The voice assistant responds with the exact ingredients required for making a drink and how exactly they should be mixed.
So, no more worrying about how to make a margarita anymore!
27. What Beer
If you like having a beer, how about taking things one step up? You do not want your choice of beverage to spoil a meal, right?
The Amazon Alexa skill tells you what type of beer goes with what type of food. Since none of them taste the same, you can ask her which brew would go with your Friday night's meal.
28. Food Network
Food Network is newly launched and one of the most interesting Echo Show skills. Are you among those who love to cook but are not very good with written instructions? This skill comes in handy then.
You can command the voice assistant to give you the recipes on TV whenever you want. The skill has video recipes hosted by popular network personalities.
Let's get in the mood for some cooking!
29. Allrecipes
The library of this skill has more than 60,000 recipes. Alexa also helps you by asking how much time you have to cook a particular dish and recommends accordingly. She also inquires about the ingredients you have and what kind of food you prefer.
One of the best Echo Show skills, our list would be incomplete without incorporating this one. On the Show, this skill provides visual step-by-step instructions. If you do not possess Show, you will get voice instructions only.
New Alexa Skills For Kids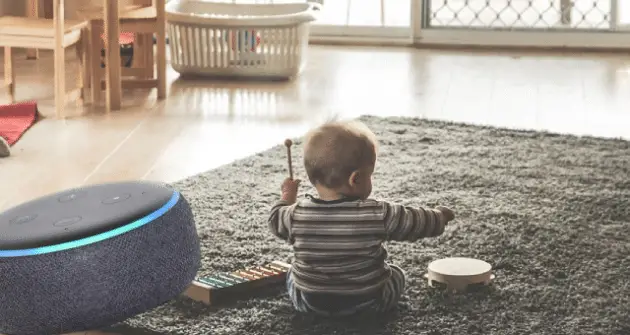 30. Science Buddy
Alexa's skills for kids have come a long way. This one is a kid-friendly quiz that deals with questions related to all science subjects, for example, physics, biology, and earth science.
You get 10 multiple-choice questions. Each of them has three options to choose from.
Let's get our brains working!
31. Spelling Bee
If you wish to test your child's spelling knowledge, get your hands on Spelling Bee, one of the most exciting and best Alexa skills for kids.
It can be played individually or with a group of friends. You can also ask for the meaning of the word, the definition, and also how that word can be used in a sentence.
32. Drawit
If you do not know what to reply each time the kids ask you what they should draw, you must enable these Amazon Alexa skills now.
Drawit gives the children ideas as to what can be drawn and also describes how they should go about it. They also have to guess what subject or category the drawing falls into as quickly as possible.
Apart from being absolutely entertaining, Drawit is ideal for creative minds.
33. Animal Sounds
One of the top Alexa skills, Animal Sounds, is fun and keeps the little ones glued to the voice assistant.
It calls out sounds of 30 different animals. They range from dogs and leopards to cats, sea lions, and bears. The kids have to guess the name of the animal whose sound she calls out.
34. Animal Rescue
This skill has multiple interactive stories to choose from. It offers engaging adventures for the five-year-olds where they have to rescue an animal.
Panda Rescue has 10 levels, Tiger Rescue has 13, Turtle Rescue 14, and Penguin Rescue is coming up soon. Playing a couple of levels at one go keeps them involved in an engaging interaction for 10 minutes.
List of Alexa Skills for Smart Home
35. Ring
Want to see who it is at the front door, but your hands are full? This is where Ring, one of the coolest Alexa show skills, comes in.
This show skill gives you a live feed of whoever is at your doorstep once you have the Ring setup in place.
36. Philips Hue
If you already have Philips Hue Lights installed, let's get more precise with the lighting being controlled by the Amazon Alexa skills.
Alexa and Philips Hue Lights work very well together. You can ask her to turn on or off the lights of the room or dim them to 40% (for example) from the comfort of your couch.
37. Logitech Harmony
Logitech Harmony is another hub system that gives omnipotent powers to Alexa to control everything at your home. One of the best Alexa skills that empower it to control your TV. You can turn up or down the volume and pause a film you're watching by giving simple commands. So now, no more worrying when you're unable to find your TV remote.
38. Burglar Deterrent
Burglar Deterrent prevents your house from unwanted visitors and makes it to our list of best Alexa skills. The skill enables Alexa to play sounds of everyday activities and chores when no one is there at your place. This gives outsiders pseud-feels that the home is occupied.
The thief or the intruder is, therefore, convinced by the illusion that people inside are performing tasks such as cleaning, cooking, or even laughing.
39. iRobot Home
One of the most popular Alexa skills, iRobot Home, makes sure that you are only a few steps away from having a cleaner home.
The point of having a Roomba is to make the process of cleaning your house hassle-free, and Alexa further helps to make life easier. You can simply give voice commands and ask Roomba to start and stop cleaning.
40. Lifx
Lifx is an affordable smart lightbulb. It does not require a hub to connect to Alexa. You can simply download the Amazon Alexa skills and ask the voice assistant to turn on and off the lights.
41. Nest Thermostat/Camera
If you own a Nest product, getting your hands on this Alexa skill is a must. The Nest Thermostat skill can be used to ask the voice assistant to turn your heating up and down. This is achieved with the help of the Nest Thermostat app, and you no longer have to fiddle with the Thermostat manually.
You can be specific with the temperature, as well – for example, setting the temperature to 25 degrees or 5 degrees lower. If you own a Nest Camera, there's a skill for that too. It enables you to view all your footage from your Echo Show.
Check out Nest Thermostat/Camera
42. August Smart Home
If you own an August Home and Connect, go to the skills menu of the app and download August Home. Just link up the accounts and who will be able to use your voice to control the locks.
You can ask her to unlock a door, ask if the front door is locked or not, or show the front door camera.
Cool Alexa Skills for Sleep/Bedtime
43. Sleep Sounds
If you're looking for cool Alexa skills, this one is sure to be of interest. Call out and ask her to play sleep sounds. You will get to hear a variety of sounds, for example, thunderstorms, rain, birds, crickets, cat, wind, shower, and many more.
The calming sounds played on loop helps to get you to sleep faster and better.
44. Ambient Audio
This skill has audio that will make you drift off to the unimaginable. These sounds help you relax, meditate, concentrate, and sleep.
From ocean breeze and crashing waves to wind chimes and fireplace sounds, the list has quite a mind-boggling range.
Most Popular Alexa Skills for Travel
45. Uber
Sync your Uber account to the Amazon Alexa app to allow access. Once done, you can use your ride-sharing apps via voice commands.
Do not forget to make sure that your location is set to the exact point so that the driver has no issues in locating you. You can also request arrival statuses, rate drivers, and cancel ride requests. Definitely one of the best Alexa skills.
46. Bay Area Transit For Caltrain
If you've ever been or stayed in the San Francisco Bay Area, you would know that Caltrain and BART are the most convenient means of public transport used by people there.
Figuring out the timings isn't easy, and this is where this skill comes in. Enable this skill, and you will know where these would stop, at what time, and how to connect.
Check out Bay Area Transit For Caltrain
Other Top Amazon Alexa Skills We Love
47. Todoist
Todoist is undoubtedly an excellent to-do listing and reminder app. The Alexa skill allows you to add to-do items to your list and even strike them off once done. Therefore, you can stay hands-free without any hassle.
If you are a Todoist-user, this skill is an essential download.
48. Wiffy
No matter where you go or who visits you, everyone enquires about the Wi-Fi password. With this skill enabled, you can ask Alexa to share the password.
You obviously should not use this skill in front of people with whom you do not wish to share your Wi-Fi password.
49. Guitar Tuner
One of the best Alexa skills, Guitar Tuner is a must for all guitar players. It helps you in tuning your strings by sounding out every note.
It is a simple and useful skill any musician would absolutely love.
50. Translated
Translated allows Alexa to translate short sentences from English to any other language. There are 36 language options available.
She will also read out the sentences slowly if you are having issues with certain words. You can ask her to repeat the sentences or selected phrases from a passage.
51. Plex
If you use Plex's media aggregator, this skill is for you. The skill allows you to access all the stored music, movies and shows with the voice assistant. This means you can ditch the remote for good.
You can either ask Alexa to play a specific title or randomly ask her to suggest something good to watch.
Most Popular Alexa Skills For Games
Now that you've focussed enough on your body, food, and home, it is time to indulge yourself in playing some games. Amazon Alexa has various fun skills up her sleeves. She offers a multitude of games in the form of skills that can be played by giving the smart assistant simple voice commands.
The categories range from adventure and story-based to word games and those based on a TV show. There are plenty of options for the little munchkins, as well. To know more about them in detail, check the list of best Alexa games you should try out.
Conclusion
Amazon Echo has become an integral part of your daily lives, but there is no denying the fact that the voice assistant is incomplete without the skills that make it work. We've listed the best Alexa skills that help you in some way or the other. Be it ordering food, keeping a tab on your health, playing games, assisting you in the kitchen, or giving you a weather or news update; we've covered them all.
All the skills that we've listed are from third-party sources and free to enable. They work just like apps. So, once you've downloaded them, Alexa will be able to perform tasks when she receives commands.