The reason why millions of users around the world use Gmail is that it offers seamless organization features that are simple to understand and execute. When we start a conversation with recipients, their contacts are automatically added to the Contacts list. Hence, knowing how to edit contacts in Gmail is necessary if we wish to change any contact details like email addresses or phone numbers.
Apart from editing a contact, users also need to know how to add Gmail contacts, find and sync contacts, import, delete, or merge duplicate contacts. Users can also learn to delete all promotions in Gmail and recover deleted emails in Gmail by a specific contact. After learning all these activities, you will be able to manage your Gmail contacts properly. Gmail initially had a Contacts section in its interface, but Google later migrated it to an individual service.
How To Edit Contacts In Gmail For Proper Organization
Editing contacts in Gmail might seem to be a trivial task. Still, keeping them organized is essential to avoid confusion, like how we need labels to organize emails. Most users add labels to keep emails from specific contacts and forums organized. If you decide to delete or edit contacts, you can also delete labels in Gmail.
Let's see how to edit contacts and perform other essential functions related to them.
How To Edit Contacts In Gmail
Editing a new contact through a Gmail inbox is easy for users of all levels. To begin with, select the contact in which you want to make the changes.

A dialog box will open up after you select the contact. Now, click on the Pencil icon in the top right corner of the dialog box.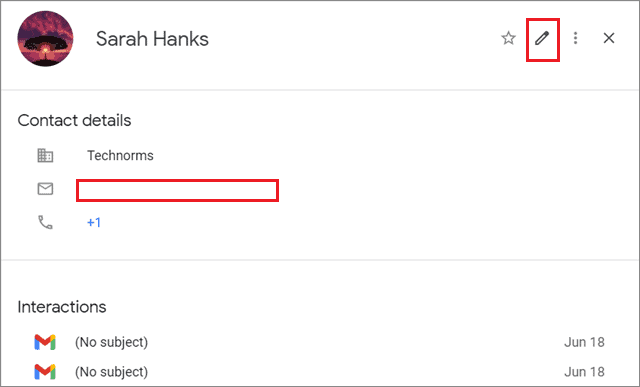 Now, you can edit the details of any contact profile as per your preferences; you can also enter a text message description in the Notes field.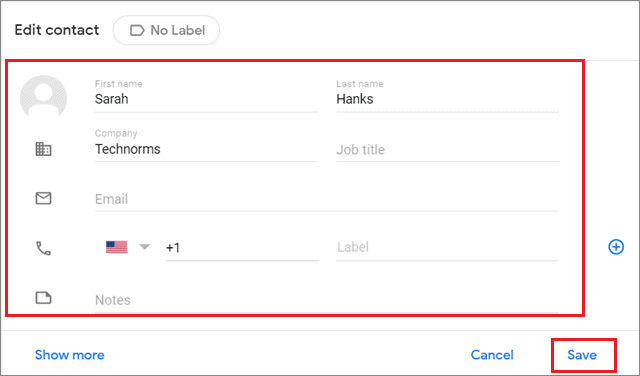 Click on the Save button when you have made the changes. Well, it's that simple to edit contacts in Gmail.
How To Add New Contacts In Gmail
Google allows a Gmail user to know how to add shared contacts to the address book of contacts. These Google contacts are also linked with your Gmail account.
First, visit the contacts page contacts.google.com to add a new contact.
Now, enter the contact information in all the given custom fields. Click on Save after entering the details.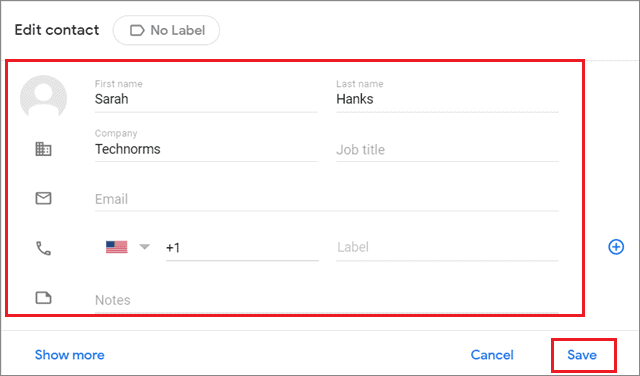 How To Import Contacts
Now that we have seen how to edit contacts in Gmail let's see how to import new and old contacts. Before proceeding forward, ensure you have exported and stored the contacts from their source and kept them in a CSV file.
Visit contacts.google.com and click on Import in the left sidebar.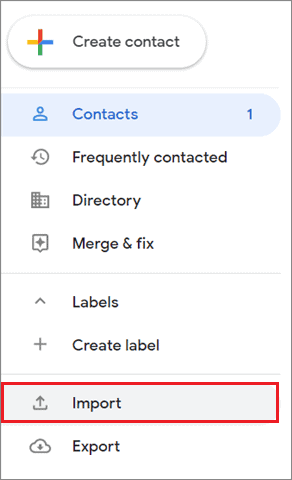 Next, click on the Select file button to upload the CSV file to your Google account.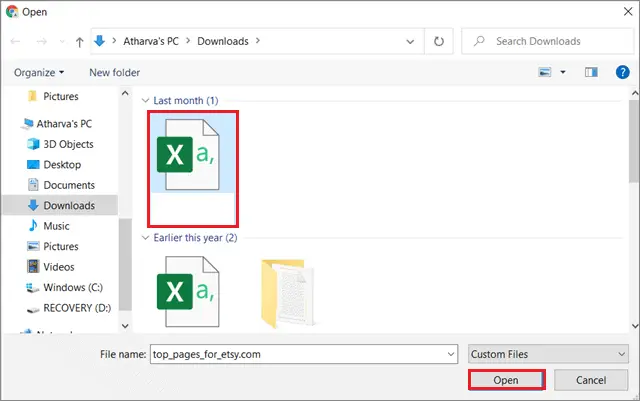 If you don't have a CSV file or vCard, you can click on the Create Multiple Contacts link in the dialog box to create a Google contact group.
Users can also add the contacts to a new Gmail label to keep them sorted and organized.
If you have pressed the Select file button, select the CSV file or vCard you want to import from your desktop. Make sure that the file is under 20 MB. Once you have done that, click on the Import button.
How To Export Contacts From Gmail
Exporting Google contacts is an easy process, just like importing them. First and foremost, open contacts.google.com in Google Chrome. Click on Export from the left sidebar.
You need to follow this process only if you want to export multiple contacts. To select multiple contacts, ensure you haven't selected any Gmail contact before clicking on the Export button.
When you do this, all the contacts will be selected for the export process.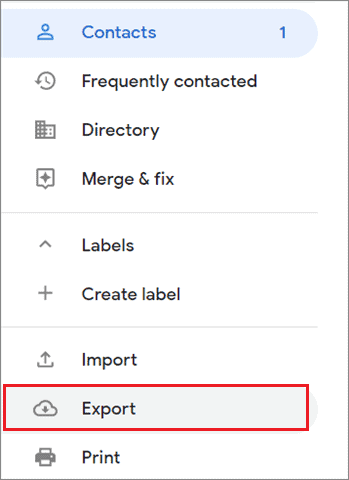 Once you click on the Export button, you can see three options to export all the contacts. These options are Google CSV, Outlook CSV, and vCards for iOS.
Once you choose the option, click on Export. You can also export a label of contacts using this process.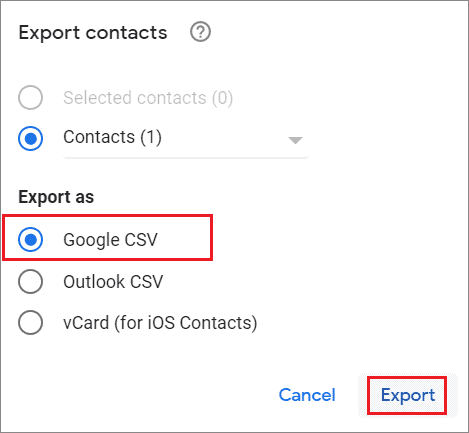 How To Export A Single Contact
First, to export a single contact, click on the contact and select the three vertical dots in the upper right corner of the dialog box that appears on the screen.
Then, click on Export from the drop-down menu.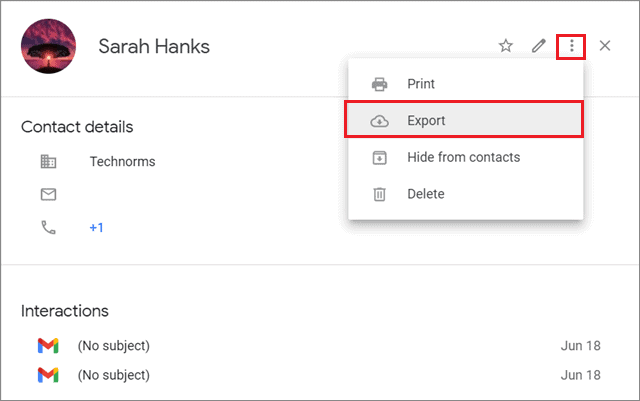 How To Delete Gmail Contacts
Users can also delete unwanted Google contacts in the blink of an eye.
To begin, select the contact you want to delete and click on the three vertical dots on the right.

Choose Delete from the drop-down menu.
These simple steps allow you to easily delete multiple Google contacts or a single contact card.
How To Edit Contact On Mobile Devices
If you want to know how to edit contacts in Gmail but don't have a PC or a laptop, you can use your mobile device for this purpose.
If you want to access the Gmail contact list for managing contacts, you need to install the Gmail Contacts app from the Google Play Store.
Then, you need to open the Contacts app you just installed on your Android device. You can also access Gmail contacts from the left sidebar menu in the Gmail app, as shown in the image given below.
Now, select the contact record that you wish to edit.
Now, click on the Pencil icon in the bottom right corner.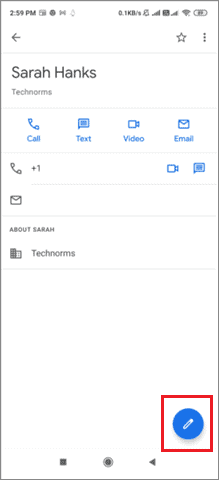 Now, edit the contact by filling in the information in the given fields. Once you do that, click on the Save button to save the changes.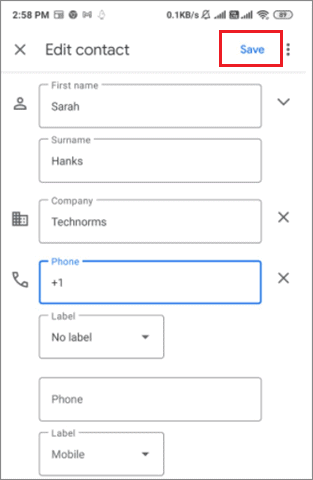 Once you click on Save, it means you have successfully edited the Google contact of your choice.  
Conclusion
We have seen two simple ways to access and edit Gmail contacts on a desktop computer. It's essential to know how to edit contacts in Gmail to rectify any incorrect information entered in the contact. When people start conversations with recipients, contacts are saved automatically in Gmail. Organized Gmail contacts help when it comes to scheduling emails because users can find them faster.
Apart from knowing how to edit contacts in Gmail, users also need to know how to create, import, and delete contacts to ensure proper organization. You can choose to open the Google Contacts using any way that fits your requirements.