Labels are attached to products we use in homes and offices. Without a label, it will be challenging to identify the multitude of items we come across every day. The best way to make and print labels is to use a label template in Google Docs that makes the affair less monotonous. But creating one from scratch can also be an ideal option if you are a DIY person.
Google Docs add-ons like Avery Google Label Merge add-on can be used to select a custom template and add text and images. For example, you can take the text from a mailing list and merge fields to create labels. Alternatively, a Spreadsheet with names and other details like Google Sheets can be used to pull information to fill in the labels. You can also consider using an invoice template in Google Docs so you can save time and invest it to promote your business.
10 Label Template In Google Docs
An easy way to design labels is to use a label template in Google Docs. Apart from the fact that they are highly customizable, you get to choose from a wider selection of label templates like shipping labels, mailing labels, inventory labels, etc. Unlike blank labels, most designs are unique in their own way, so significantly less editing is required.
We have included many downloadable options to make the best templates compatible with Google Docs. As these templates are free of cost, they are saviors for businesses, especially start-ups.  
1. Mineral Water Bottle Label Template
The Mineral Water Bottle label template in Google Docs is a natural fit to make labels used for water bottles. The labels in Google docs are a soothing sight with the picture of flowing water and a blue-white color combination as an add-on. In addition, there is a quote on the importance of water so you can read while you drink. Copy it on a blank document and save it on Google drive. You can take copies depending on how many you want. Just click the file layout, add text and formatting, and hit the print button.
This template can be used for marketing, company purposes, and for bottles used for domestic purposes too.
Download Mineral Water Bottle Label Template
2. Address Book Label Template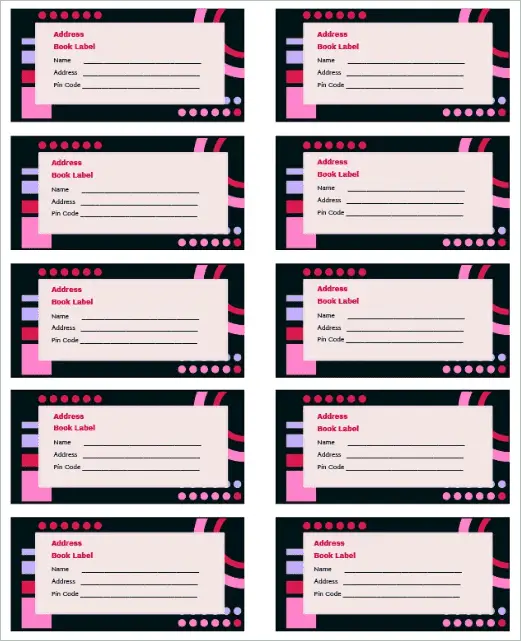 Address Book label template is a colorful design for labels that can be used as a mailing label. It is an absolutely free fancy label that can also be used as a return address label. The mailing label needs information to be pulled from names and addresses already saved in Google Sheets. But you can make return address labels from Google sheets by copying your address to fill in all the labels. This way, you don't have to write or type the same information again and again. You can also create business card templates in Google Docs to focus on potential clients.
Download Address Book Label Template
3. Donuts Classroom Book Label Template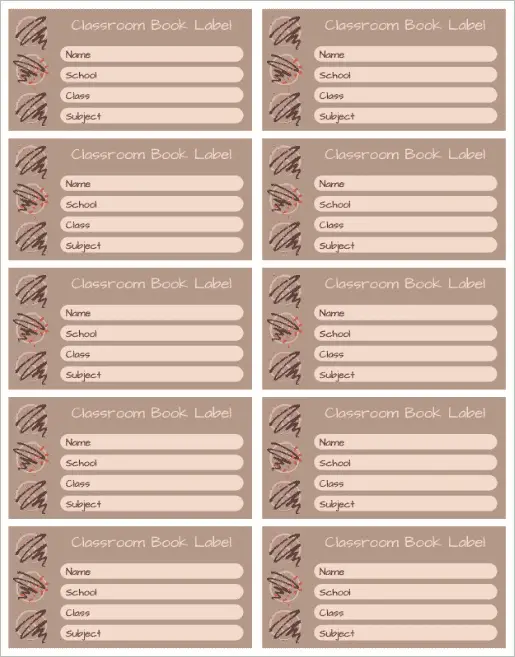 Every kid loves donuts, and this fantastic donut book label template in Google Docs can be a motivator for learning. Featured in this awesome label template are images of yummy donuts to attract the students' attention. In addition, the details of the students like name, school, class, and subject, can be neatly written on them. The document containing the name tags can be printed for their friends too.
Download Donuts Classroom Book Label Template
4. Flower Book Label Template
The flowers printed on the Flower Book label template symbolize beauty and elegance. You can add your favorite image to create labels in Google docs and make this printing address label special. With a convenient customization process, you can even transform the beautiful book label template into a business card by adding your company name, residence address, and email address. If using it as a business card, consider changing the image to a more relevant one that has some connection with your business.
Download Flower Book Label Template
5. Beauty Floral Label Template
The floral label template in Google Docs is extensively used in flower essence bottles. The in-built image is that of a beautiful tiara made of flowers offering healing energy to the users. The product can be edited to include your text. You can upload another image and preview the labels too. Users can be happy that only the name of the essence has to be included in this elegant label template. Everything else can be kept intact. Save it in Google Docs and use this printable free label as you require.
Download Beauty Floral Label Template
6. Flowers Address Label Template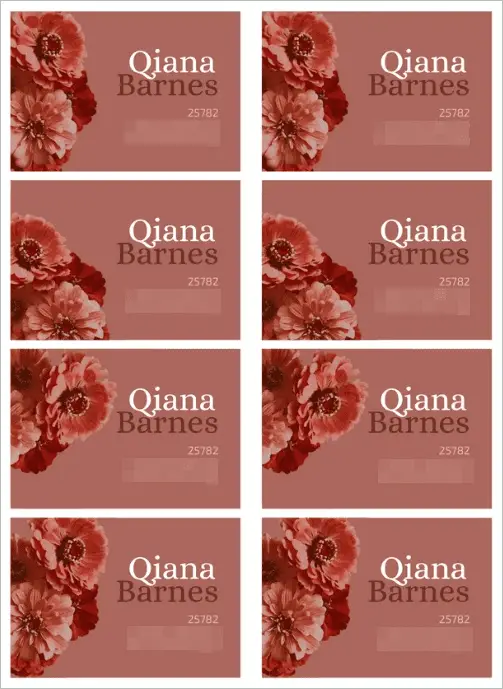 The Flower Address template is an excellent example of how creativity is blended with aesthetics. The color combination is one-of-a-kind, and the space next to the floral design can be utilized to write the product name and description. The image's high resolution is an added benefit of this return address label template. Even if you want to take print in larger sizes, the quality of the image will remain the same. The highlight of this label template is, of course, the rare colors that can be a head-turner. You need to use this for special occasions and events.
Download Flowers Address Label Template
7. Space Address Label Template
If making an office business card is in your mind, this label template in Google Docs can be a viable option. You can keep the beautiful letter style or choose a new one that suits your company's profile. The modern design with the image of a space set as the background is sure to work in your favor if you expect new clients. When you select a template for a document, you will get eight labels.  Remember to display the company's name in bold letters so it remains etched in people's minds.
Download Space Address Label Template
8. School Book Label Template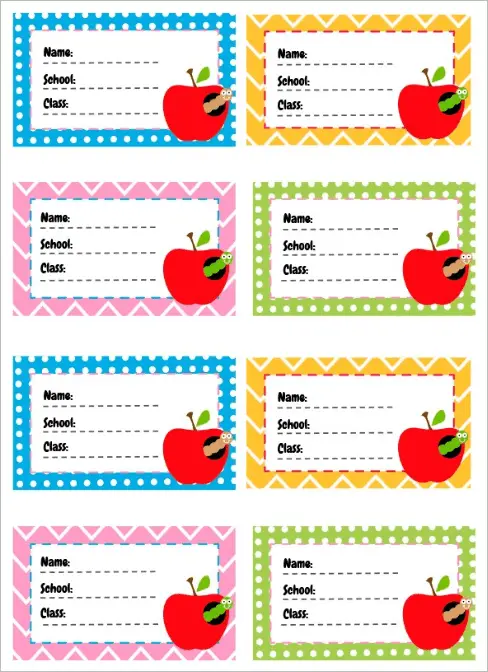 Adorable book labels within Google docs like these are wonderful options to consider for school books. The Google Docs label template has an image of an apple with a cute worm inside it. A little fun during class hours is not a bad idea after all. With the red apple making a strong presence, students can easily find their books among other books. Make them write their name, school, and class in the respective spaces, and they are school ready. Children can also learn how to create newsletter templates in Google Docs.
Download School Book Label Template
9. Bright Origami Labels Template
With a mix of colors, the origami label template in Google Docs looks bright and welcoming. This template can be used to give your product descriptions or can be converted into a first-rate business card. The design embedded in the template is like modern art, sure to impress potential clients. Once you download the template, using the tools in the menu bar to edit document becomes easy. Next, generate labels from a wide choice to your heart's content.
Download Bright Origami Labels Template
10. Company Address Label Template
There is no better label design to print your company address than this label template featuring a light-colored background. You can specify your company name, address, and logo to make it personalized. It is also recommended to use your business colors in the label by doing a little editing using the features in Google Docs. The abstract design of the template gives enough space to use any applicable images in sync with your company image.
Download Company Address Label Template
Final Thoughts
The two methods of creating a label manually and using a label template in Google Docs work well in all scenarios. The first method would require you to go through the installation process of add-ons like Avery Label Merge to choose Avery templates. However, if you have already prepared a contact list in Google Sheets, all you have to do is merge fields.
Much convenient option is to use the ready-made templates to make different kinds of labels. These templates are economical in that you only have to pay for printing labels. The choice of the method is yours!