Newsletters can be used for various purposes and are regarded as an important part of the media. Using the newsletter templates in Google Docs is the best way to create a newsletter and doesn't require any designing skills. Added to that, you can also get a professionally made Google docs newsletter template without having to shell out a single penny.
From marketing enthusiasts to students, users can use newsletter templates in Google Docs to update people about their products or business. If you are a professional or into business, having a ready-made invoice template in Google Docs saves time.
7 Types of Newsletter Templates In Google Docs.
Newsletter templates can be used in email marketing, school and college projects, and scientific research papers. Using templates also saves time; if you cannot or don't want to design such documents. You can also create a label template in Google Docs to become organized.
Users can also learn how to create newsletter templates in Google Docs. If you want to make any additions, you can also learn how to change the default font in Google Docs, as well as add borders to Google Docs. Let's check out the various Google Docs newsletter templates that will make your work systematic and easy.
Note: When you download a newsletter template that you want to use, you must click on the Copy to Google Drive button. The add-on will then save the template copy into the Google Drive root folder.
1. Geometric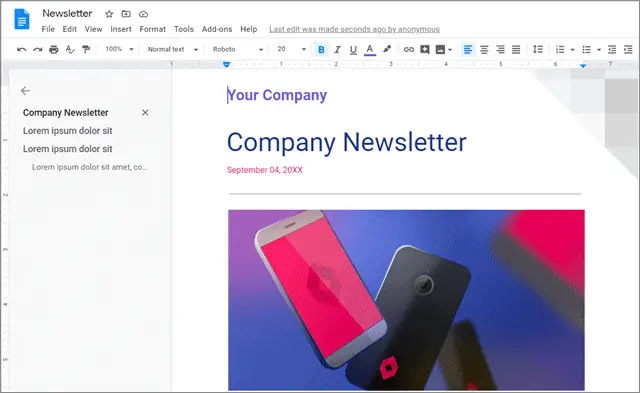 Google offers built-in newsletter templates in Google docs for users, and one of them is the Geometric newsletter template. This template is specifically designed for email marketing; users can inform their potential consumers about new and upcoming products.
The Geometric template has an easy user interface. First and foremost, you have to insert the main image in the newsletter. Then, you can edit the text and other product images as per your requirements. The Geometric Newsletter is an excellent option for product promotion, but it doesn't offer customization in the design. If you wish to brand the newsletter with your brand colors, you cannot do so with this Google Docs newsletter template.
Download the Geometric Newsletter template
2. Lively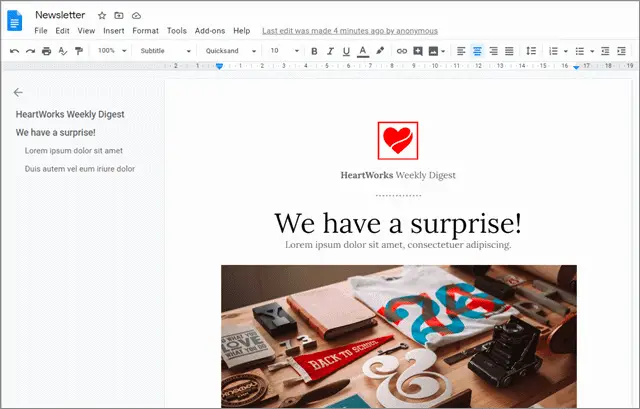 The Lively newsletter template is a built-in template provided by Google. If you are looking to promote products or even share some stories with your community, look no further than the Lively newsletter template.
Unlike what we saw in the Geometric template, users can brand this newsletter as they wish. They can add borders, color the background of the pages as per their liking, and do much more. In short, the Lively newsletter template offers enough options for users to add their customizations without needing to disturb the original formatting and design of the template. One of the best newsletter templates in Google Docs.
Download the Lively newsletter template
3. Plum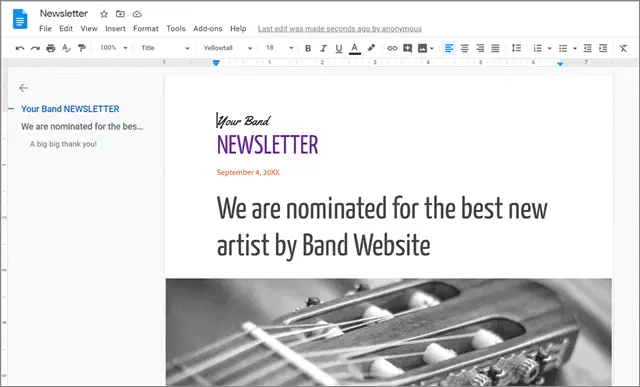 The Plum newsletter template can be used more for informative purposes, and students can use it for short school or college projects.
Also, users have enough options to customize these newsletter templates in Google Docs as per their requirements. You can add borders and outline the document to enhance the look and feel of the content. If you wish to make any kind of announcements related to a product launch or an event, the Plum newsletter template can come to your aid at such times.
Download the Plum newsletter template
4. Wooller Newsletter Template For School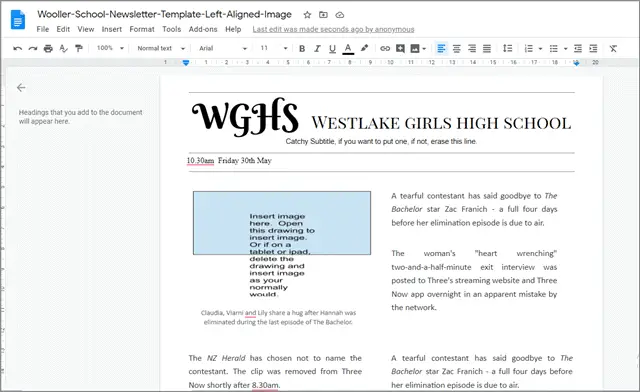 As mentioned above, newsletter templates can be used in schools to inform students about various topics. The Wooller Newsletter Google Docs has a very simple user interface. It presents content in two columns; users have to enter their content in the form of columns and add a suitable image to make a suitable newsletter. Users can also add an outline in Google Docs to make the content presentable and organized.
The Wooller Newsletter template is a one-page newsletter; it doesn't offer many options for customization. If you are a beginner taking your first steps toward making a newsletter, this is the best Google Docs newsletter template to get started with.
Download Wooller Newsletter Template
5. The Changing Times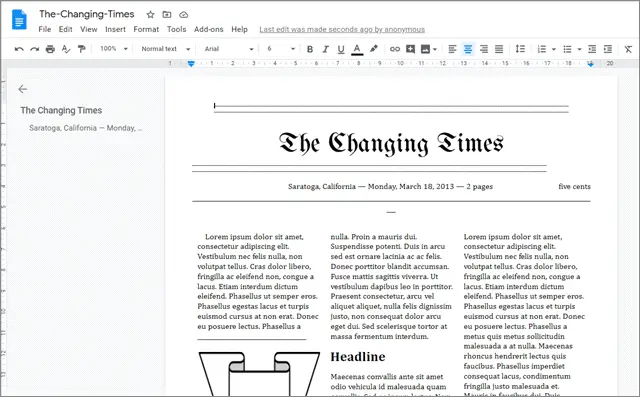 If you are looking to create a daily newspaper about news related to your company or business, you can go for Changing Times, one of the best newsletter templates in Google Docs. Having a newspaper that specifically lists all the latest happenings in your organization on a daily basis is unheard of. However, if you wish to keep your group or community updated on a daily basis, you can use these templates.
The Changing Times is a newspaper template that resembles any standard newspaper in terms of format. You can post daily updates in the form of news using this Google Docs template. This template isn't graphically as appealing, given that it is a newspaper template.
Download The Changing Times template
6. Perth Amboy Romeo And Juliet Newspaper Template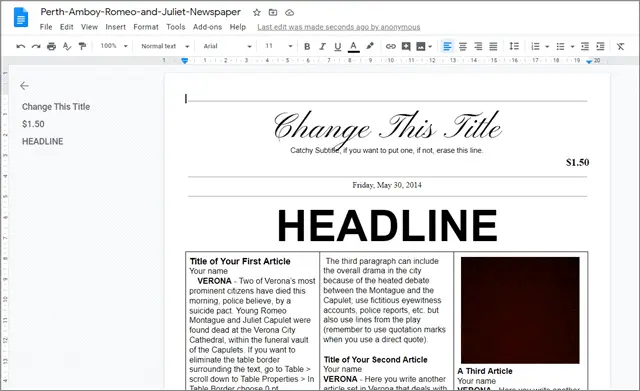 The Perth Amboy newspaper template is probably the simplest newsletter template in Google Docs you will ever come across. Divided into three columns over a page, this template lets you publish articles or any news as per your needs.
Users can also add a catchy heading and images for different articles in the template. Since it has an easy user interface, it's a cakewalk for beginners to create a newspaper while also adding customizations as they wish.
Download Perth Amboy Romeo And Juliet Newspaper Template
7. The Sunny Side Newspaper Template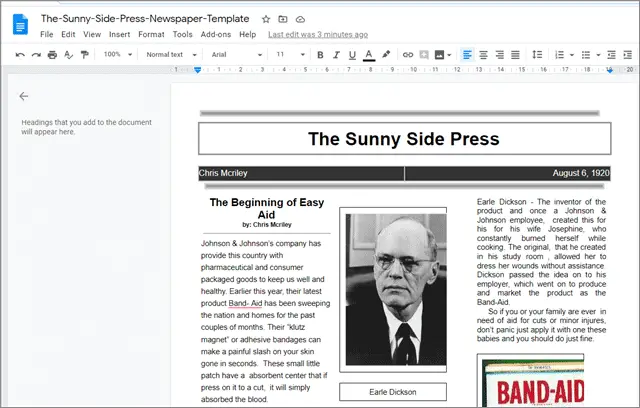 The Sunny Side Press Newspaper Template is a classic Google Docs newsletter template that will allow users to compile various stories in the form of newspaper articles. It can also be used as a Google Docs newsletter template if you wish to inform your community about a single product.
The template, unlike all others mentioned on this list, offers space for more images to make the newspaper visually appealing. It is a one-page template, and although you can increase it to as many pages as you like, you won't get the first-page format for all the added pages. Hence, the Sunny Side Press template is suitable for short introductions of products.
Download Sunny Side Press Newspaper Template
Conclusion
Newsletter templates in Google Docs are one of the most crucial ways to communicate with a mass audience. Schools, colleges, universities, businesses – anyone and everyone can create and use a newsletter for communicating with a group or a community of people. Users who have no experience with designing a newsletter can make one with the help of a Google Docs newsletter template.
There aren't many built-in options for newsletter templates, but you can always turn to other free templates mentioned in the list above. All newsletter templates are free and have a smooth learning curve. Thanks to the easy user interface, new users don't face problems in creating a newsletter in no time. You can also check out various Google Docs Tutorials to accelerate your learning.
(Updated on 8th December 2020)