Key Takeaways
Business email accounts are created for carrying out business communication keeping in mind the security aspect.
Gmail is the most popular email service provider for both personal and business email.
Creating a business account with Google Workspace takes just four simple steps.
Gmail users know how user-friendly the interface of the email client is. You would save half your time if you set up Gmail for business because you already know how the email service works. Creating a business email in Gmail starts with setting up a Google Workspace account and then linking your domain name. The process is pretty simple if you already have a domain name. Once the account is set up, you will have access to a collection of productivity tools that help your business soar.
With a business email service, you will own a professional custom email address solely dedicated to business communication. The professional email address ensures that your confidential email data is well protected and not accessible to the outside world. You can also sign into Gmail with different user accounts and keep the current account session active.
So, are you ready to have an enriching business email experience? Let us learn more about business email accounts before going into the complete step-by-step guide on creating Google business email.
What Is Business Email Account
An email account created for organizational purposes can be called a business email account. Setting up Gmail for business is one of the first steps business owners take. Choosing Gmail over other cheap email hosting providers can be a wise move, given the advanced features Gmail provides for business users. You can also learn how to archive emails and how to retrieve them in Gmail.
Unlike personal email addresses, employees of the same organization will have identical domain names attached to their usernames. Corporate users find it very professional to send and receive emails having a corporate identity. The professional business email address makes a big difference. Additionally, Google Workspace's business account makes way for secure business email that keeps crucial data within the premises of the organization.
4 Steps To Set Up Gmail For Business Account
Setting up Gmail for business has its own advantages. With Google Workspace, you get a comprehensive product suite, including Google Cloud space, Google Workspace add-ons, business apps, and organizational tools. In addition, a custom-branded email offers brand credibility, controls over emails and builds customer trust. The integration with many compatible third-party tools, spam protection, automatic backups, and conditional email forwarding are other pluses of Gmail. Also, if you lose essential emails, then you should know how to whitelist an email in Gmail.
So, here is how you can set up Google email for business.
1. Create a Google Workspace Account
Go to the Google Workspace page. Here you will see a blue button named "Start Free trial". Click on it to initiate the account creation.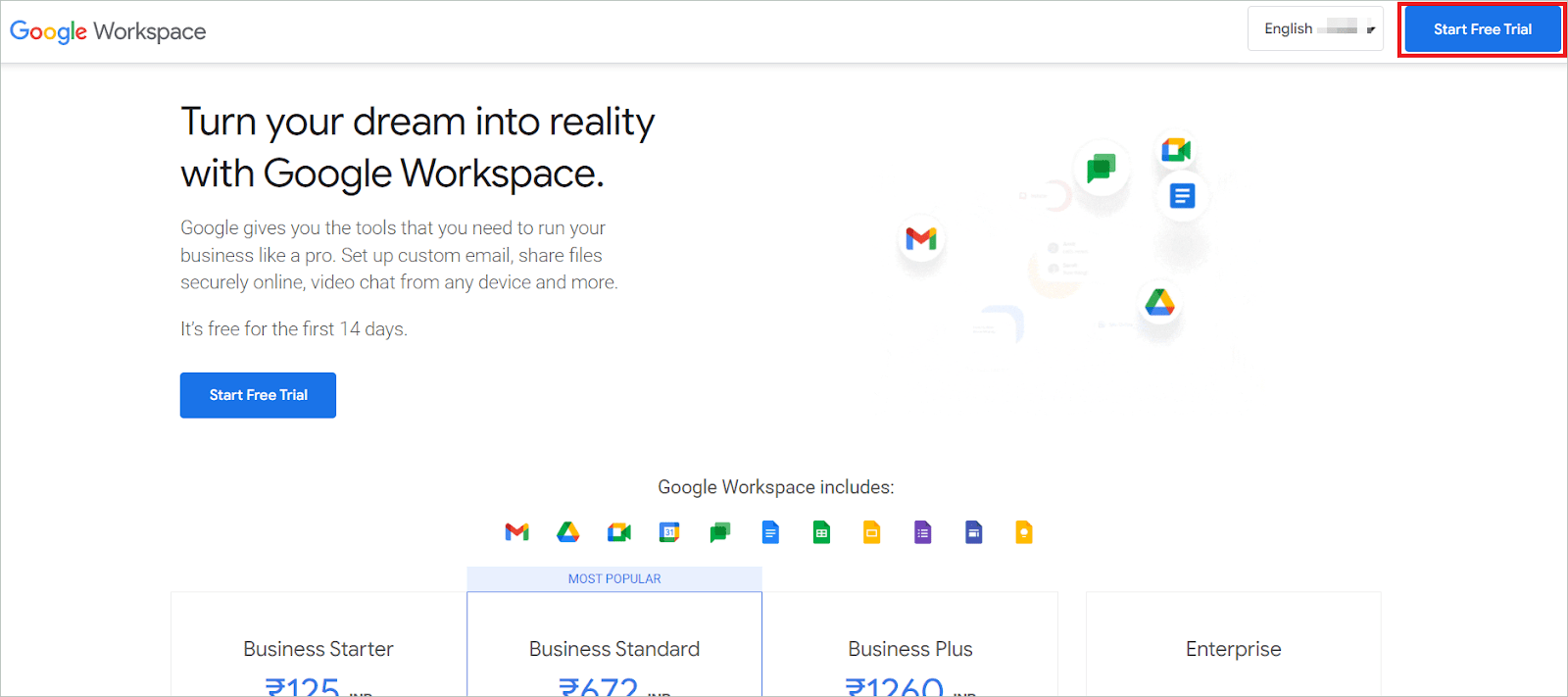 On the signup page, enter your business name, number of employees, and region. Now, click "Next".
Next is the contact info page. Add contact details like your first name, surname, and current email address. Remember to give a valid email address. Now, click "Next".
Your professional business email address is created.
2. Create Or Connect Your Domain
A domain name is the unique address users can use to connect to websites. For example, in "www.google.com," 'google.com' is the domain name. Similarly, every business can have a unique domain name that can be used to set up Gmail for business.
In this step, your task is to choose from two options: to use the email domain you already have or to create one.
Use An Already Existing Domain
Click "Yes, I have one that I can use".
The next page asks for your business domain name. So enter it in the textbox and click "Next".
It is time for verification and giving Google access to your domain name. First, navigate to your domain name registrar's admin console home page. Next, you must fill in the mail exchange records received in your DNS from Google Workspace. From here on, follow the step-by-step instructions on-screen.
Create A New Domain Name
If you want to create a custom domain name, click "No, I need one".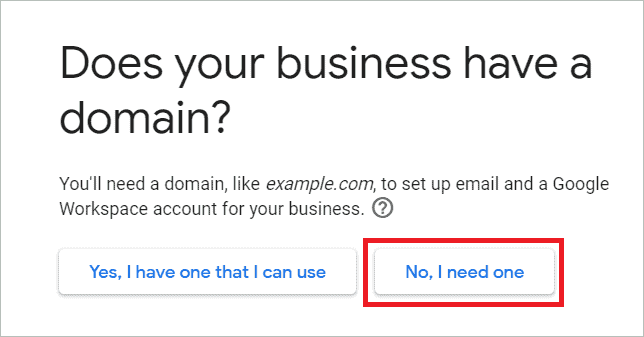 Enter your desired business email domain name and see if it is available.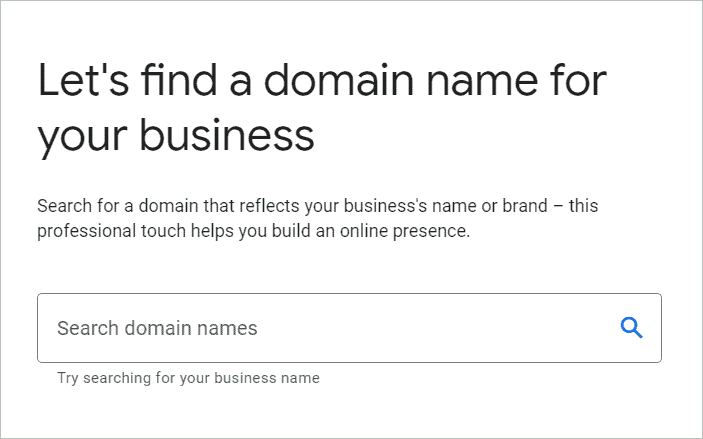 If yes, it can be used for your corporate email address. If not available, you can choose one from Google suggestions for your Gmail for business.
3. Enter Your Business Information
In this step, you can give your Gmail for business address and phone number. You can also create a username and password for your account. For example, if your custom business email address is Tim@MyBusiness.com, Tim is your username.
Then click "Agree and continue". Remember to follow a uniform pattern when you add other company email accounts. For example, you can use the first name alone, first name and last name together, or any other combination you feel is apt for company email addresses.
4. Add The Payment Information
You will get a 14-day free trial period during which the service will be free. But you have to enter the payment information during the account setup. There are three service plans that let you use Gmail for business.
A. Basic, $6 per user per month: This includes 30GB cloud storage per user, voice and video conferencing, shared calendars, security and admin controls, 24/7 customer service support, etc.
B. Business, $12 per user per month: This includes everything included in the Basic plan, unlimited storage, advanced security, and admin controls, customized app creation tools, etc.
C. Enterprise, $25 per user per month: This includes everything included in the Business plan, better-advanced security and admin features, advanced eDiscovery features, etc.
Once you have selected a plan and given payment info, click "Next" and complete the account creation process.
How to Link Your Personal Account
Gmail is the most popular email service with which most of us have an email account. When you set up Gmail for business, you can migrate all your data from the old email account to the new one. As part of this process, you can forward all your email messages from the old account to the new email inbox. Here is how you can do that.
1. Open Gmail using the account from which you want to forward emails. Remember that you can do email forwarding from a single Gmail account, not a business email alias or group.
2. Click on the gear icon on the top right corner to open Settings, allowing you to view basic settings and advanced ones.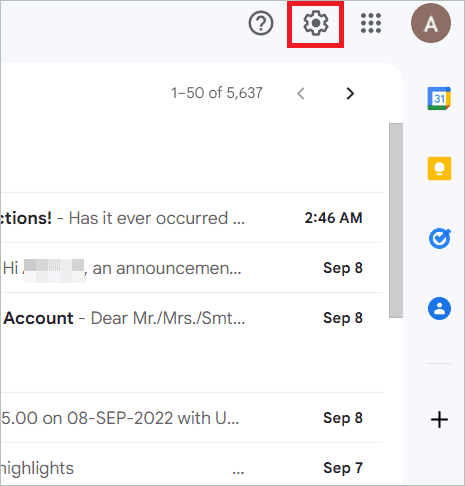 3. Select "See all settings".
Caption:
4. Select the "Forwarding and POP/IMAP" tab and click "Add a forwarding address".
5. Add the forwarding address here and click Next > Proceed > OK.

6. Now, you will receive a verification email in the new account. Click the verification link.
7. Go back to the Settings page of the old email account and refresh the browser.
8. In the Forwarding and POP/IMAP tab, look for the Forwarding section and select "Forward a copy of incoming mail to". It is recommended to keep Gmail's copy in the inbox.
Click "Save changes," and you are done.
Final Thoughts
Business email providers like Apple mail and Zoho mail are pretty popular in offering great features for boosting your business interactions. The same goes for Outlook users. But many prefer Google Workspace Sync to create Gmail for business email accounts because of its advanced tools. Access to Google Drive, Docs, and Calendars is just a tiny part of what makes it ideal as a business email solution.
The custom domain email is capable of doing much more than your personal email address thanks to the business standard set by Google Workspace. We have tried to help you set up Gmail for business in simple steps. So, don't wait, dive into the world of business with your new secure, ad-free email and administrative controls. Remember that carrying out business correspondence via the Gmail business account will add value to your daily communication with colleagues and customers.
FAQs
How is business Gmail different from personal email service?
Gmail offers a free email service for personal use while you have to pay for business Gmail. With Gmail, you can use the domain @gmail.com. But for business email, you have to use your business domain name.
Can I use my personal email for business?
It is not recommended to use personal email for business as it could result in loss of confidential company data, insecure emails and IP theft. Business email makes communication more professional and trustworthy.
How can I get a free business email without domain?
No, it is not possible to get a free business email without an email domain. When you use the Gmail domain to create a personal email address, it doesn't come up to the business standards. So you need a business domain.