As far as online email services are concerned, Gmail has surpassed all our simple expectations and given us more. The distinctive, smart, and exceptionally thoughtful features that you get from Gmail makes it the indisputable leader in its domain.
With Gmail instant communication, sharing documents and files can be done in a click. But can you send a fax from Gmail?
Yes, in the era where digital communication has taken over the league, some organizations still need to rely on a hard copy of a document.
So, if you want to send a fax from Gmail, using an email to fax service is the best option. Hence, by using reliable third party faxing services you can now send a fax from Gmail itself.
How to Send a Fax from Gmail
First and foremost, you have to pick one of the online faxing services that support Gmail. Various free online faxing services allow you to send a specific number of faxes for free.
But, do keep in mind that if you wish to use it further, you will have to pay. Unfortunately, not all the online faxing services support Gmail. And while some of them do have this feature, you might have to opt for a paid subscription.
Before you choose a faxing service, make sure it fits your requirements and supports the Gmail fax. Every faxing service will offer something different in terms of services and features. Eventually, it is up to you to choose the suitable one.
Steps to Send Fax from Gmail
Choose an online faxing service, as discussed above. In this case, we have picked up HelloFax.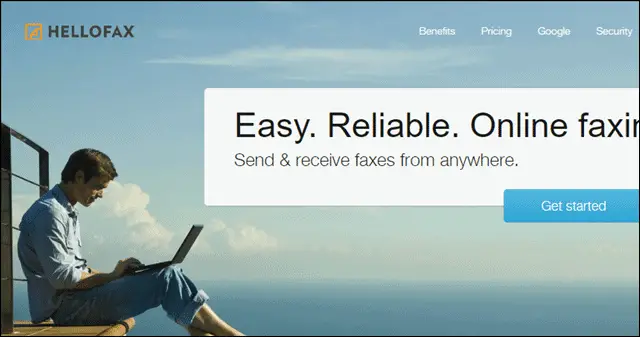 Next, log in to your Gmail.
Once logged in, click on the COMPOSE button on the left side of the Windows pane.
The blank 'Message Body' of Gmail looks like, as shown below.
Here, you have to compose your message.
Before you begin to type, please read the steps below.
Now, in the To field, enter the recipient ID.
Here you have to be very careful as there is the catch. You are not going to enter a simple email ID but a fax number with the Fax service name that you are using.
Make sure you have the fax number of the recipient.
Now, enter that fax number in the To field, followed by the @onlinefaxprovidername.
For instance, if your recipient's fax number is 8898454312, and you are using HelloFax faxing service, then you have to enter 8898454312@hellofax.com.
Once you have entered the correct fax number with a fax provider, attach the file.
You have to make sure that to send a fax from Gmail; you have to attach the "file" that is to be faxed.
To do the same, click on the pin-like icon at the bottom of the compose email interface.
Anything that you want to send via fax should be in forms like JPG, DOC, PDF, TXT, etc.
In the main body of the draft, write a piece of information as you do with a regular email, and that content will be sent as a cover letter with the fax.
Finally, hit the Send button, and your fax is successfully sent to the recipient.
To check whether your fax is sent or not, you can confirm it with your fax service provider by visiting its interface.
Final Thoughts
While aggregating the exceptional email features, Gmail misses a fax feature in it. If you are a diligent Gmail user, you would always try to make the most of it.
Even though when it comes to faxing a file to a recipient, third-party faxing services collaborate with Gmail and let you fax directly from Gmail. As we have outlined a simple way to do it, we hope that you can now send a fax from Gmail without any confusion!
Want to learn more about Gmail and its features?
Check: 10 Gmail Add ons and Services That Make Emailing More Productive