Not so long ago, when email services were introduced as the most modern way to communicate, Yahoo mail was synonymous with email. But with competitors rushing for their share in the market, Yahoo began to lose out its popularity and services. And as the service suffered, users have begun to explore how to delete Yahoo account.
Generally speaking, 2016 was the breakdown year for Yahoo. According to a report on The New York Times, Yahoo disclosed in September 2016 about a privacy breach that took place in 2014 where 500 million users' accounts were hacked.
As if that was not enough to outrage Yahoo users, another disclosure of compromising more than 1 billion accounts in 2013 was revealed and the number of users of the Yahoo email accounts dropped drastically. In fact, there are users who checked how to delete Outlook account and delete Gmail account.
Precautions To Take Before Deleting Yahoo Email Account
In the wake of such unlucrative factors, it was natural for users to stop using their Yahoo email accounts. If you are wondering how you should delete your Yahoo email account and move on, then here is how it can be done easily.
But before you delete your email id, there are certain precautions to be taken into consideration.
Note: When you delete your Yahoo account, you lose access to all your data including emails, attachments, Calendars, Yahoo Finance portfolios, etc.
1. Backup All Important Emails And Attachments
An email account is used for business as well as personal reasons be it to share, store or exchange important information. Similarly, your Yahoo account might have some important personal images or file attachments that have been sent or received which you may not want to lose as you delete Yahoo account.
That is why we highly recommended that you take a backup of all the necessary file attachments, emails, and contacts before you go begin with the steps of deleting a Yahoo account permanently.
Be warned, once you delete Yahoo account, there is no way to undo the action and get back your emails or attachments.
You can, thus, check and manage the data associated with your account.
2. Replace Yahoo Email Ids From Third-party Apps
Nowadays almost all third-party apps ask you for an email ID for verification or instant login. If you have used your Yahoo email ID to sign-in to online services or third-party apps, make sure you replace your Yahoo ID with an alternative email ID.
This will help you continue to use any third-party apps without any interruption even if you terminate your Yahoo account.
3. Delink The Child Account Before You delete Yahoo account.
Yahoo has a feature that allows parents to make an account for their underage children.
Similarly, if an underage child desires to register an account, Yahoo makes it mandatory to have a parent or guardian create a Yahoo family account. This allows the adult to have parental permission where he or she can monitor the activities of his child.
Hence, if you have linked your Yahoo ID with a child account, you must delink it before terminating the Yahoo Account. You can also check the official details for children's privacy and family accounts.
4. Unsubscribe From Paid Yahoo Products And Provide An Alternate Email id
If you currently use any of the Yahoo products whether free or paid, you will need the Yahoo ID to log in. We recommend that you go to the product page or app and replace the current Yahoo email ID with an alternate one before you delete the Yahoo account.
Step-by-Step: How to Delete Yahoo Account?
Now that you have taken the necessary precautions, you can go ahead and check how to delete a Yahoo email account in simple steps.
Terminating a Yahoo account is simpler than deleting a Gmail account. To delete a Yahoo account, head to the Yahoo termination page.
Step 1:
It will ask you to enter your credentials to move ahead. So, log in with the right details.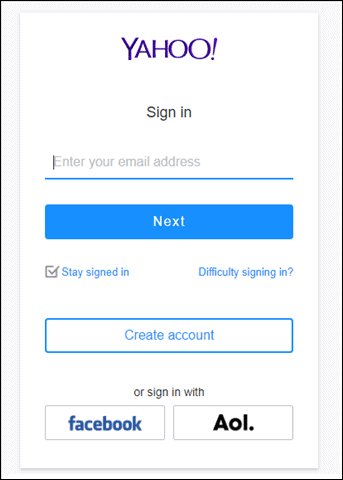 Step 2:
Once you are logged in, read the terms and conditions carefully so that you don't make any mistake while deleting your Yahoo account.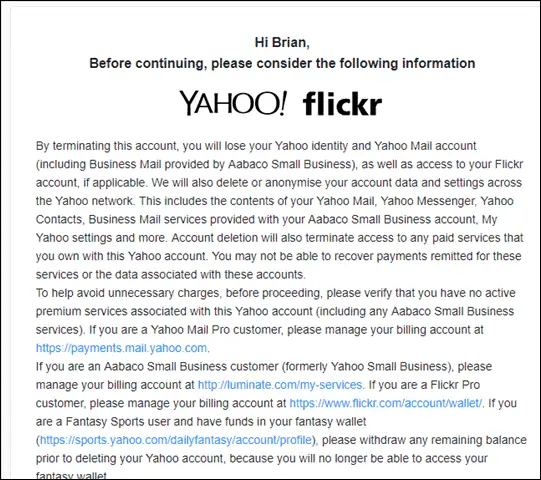 Step 3:
Now scroll down and click on Continue deleting my account.

Step 4:
Once you confirm that you are 100% sure to delete the Yahoo account, Yahoo will ask you to enter your email ID one last time.
Step 5:
After you enter the email ID, click on Yes, Terminate this account.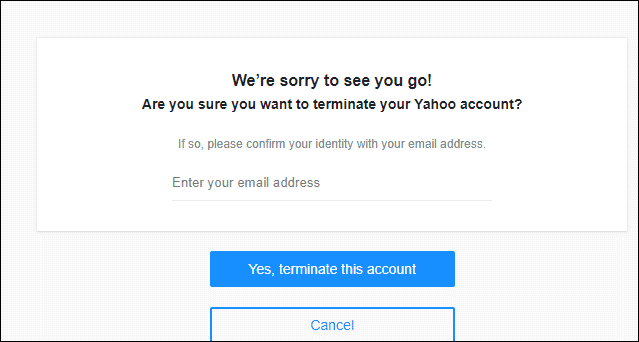 Once you click on terminate this account, it is done.
Your Yahoo account is deleted successfully and in less than ten minutes, you are officially no longer an official Yahoo user.
Things to Keep in Mind Once You Delete Yahoo Account
There are some things that you should be aware of.
Yahoo completely deletes your account only after 30 days to discourage any kind of fraudulent activity.
But, it differs from country to country. Yahoo does not remove the information for 90 days in Australia, New Zealand or India, and for 180 days in Brazil, Hongkong or Taiwan.
Also, if you happen to have a Yahoo Finance Premium account, your account details, as well as data, might be kept for three financial years.
If you want more details on how Yahoo handles your data, you can check the official page for Data Storage and Anonymization.
Also, if you wish to reopen your Yahoo account, you need to sign-in to your account within 30 days of closing it. Once you activate your account, you will be able to receive emails.
However, please note that all the changes did prior to deleting your Yahoo account cannot be retrieved.
Final Thoughts
Now, you know how to delete your Yahoo account and the precautions to be taken. It doesn't matter what the reason is when you don't feel about continuing with a particular email ID.
We hope the simple precautions and the steps discussed above are helpful to you. However, if you reconsider the decision of deleting your account, do remember that you can reactivate your Yahoo account within 30 days if you want to.
Related: