In this digital era, it is challenging to keep our children away from the Internet and digital appliances. And, we cannot neglect the security risks that come with it. So, if you happen to share a Windows device with your children, you need to know about the Windows 10 parental controls. It is a fantastic feature that allows parents to expose their kids to the world of the Internet and technology without fearing about their safety.
We need to educate our kids with all the advanced technology without compromising on the safety and security aspects. When you set up parental controls in Windows 10 system, you protect your children from cyberbullying, Internet addiction, inappropriate content, and unsuitable games.
With parental control, you can keep an eye on your child's browsing activity, which gives you more control over your child's Internet activities. Before we help you set up parental control for your kids, you can go through what Windows parental controls offer.
What Windows 10 Parental Controls offer?
There is a list of things you can do when you have parental control enabled on your children's device.
Content filtering on web browsers like Microsoft Edge and Internet Explorer
Age restrictions on apps and games from Microsoft Store
Age-based filtering on the games available on Xbox
Block sites and apps, which you feel are inappropriate for your kids.
Track the purchase and spending
Get reports of web and app activities.
Set the time restrictions for every Microsoft device like PC, laptops, and Xbox
Set time restrictions for specific apps
You can also set up exclusive control for Xbox one parental controls, and enable Microsoft two-step authentication, which will restrict your child's access to inappropriate games and sites.
Prerequisite to Setup Parental Control in Windows 10
Setting up parental controls on Windows 10 is simple and straightforward. However, there are some requirements before you start with the setup process. The prerequisites are listed below, make sure you have all of them.
Parents Microsoft account
Access to children's Microsoft account
Access to the admin account on your PC
If you don't have a Microsoft account, then you can create one by going to Microsoft's site.
Please Note: The parental control features will not be applicable if the child is using some other system, school laptops, computers, Apple, and Android devices. Windows 10 Parental Controls, as explained and discussed, is only applicable on the Windows device that the child logs in to, using their Microsoft email Account.
How to Setup Windows 10 Parental Control?
For the ones who are new to the Windows 10 parental control system, just follow the steps mentioned below. The process is simple and straightforward. After going through all the steps, you will be able to give your child a safe and secure digital environment.
Step 1: Press Windows key + I to open Settings and click on Accounts.
Step 2: From the left panel, click on Family & other users.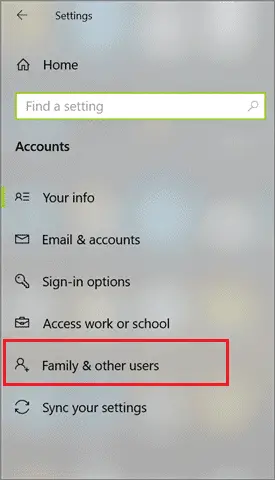 Step 3: If you have not signed-in to Microsoft account, then you need to do it. Click and Sign in with a Microsoft account.
Otherwise, you can skip this step.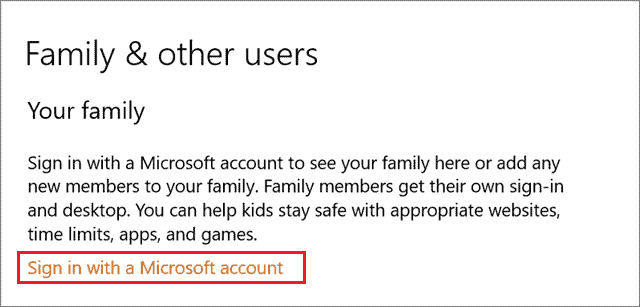 Add the required credentials and sign in to your Microsoft account.
Step 4: When you sign in with the Microsoft account, you can add a family member.
Click on 'Add a family member' under 'Your family.'
Step 5: Click on the Add a child and enter your child's Microsoft account's ID.
Click on Next.
Step 6: After you add your child's Microsoft ID, you will get the invitation to the mentioned email account.
Sign in to your mentioned email account; it is Gmail in our case, and click on 'Accept Invitation.'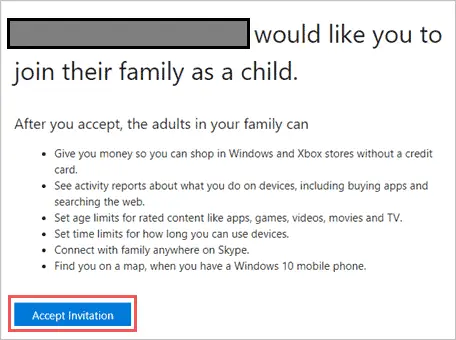 You will be redirected to the Microsoft page, sign in to your child's account.
However, if you are using the same system to accept the invite, you must log out of your own Microsoft account to avoid confusion.
Step 7: Click on Join the family.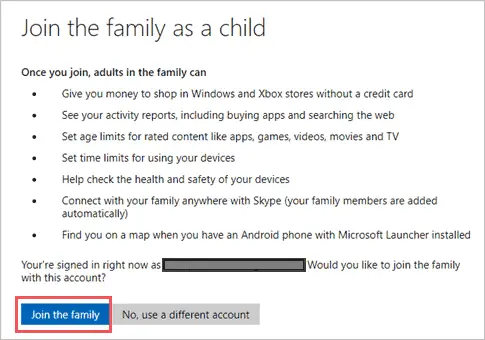 Once your child joins the family, you can manage the Windows 10 parental control settings for him/her.
Managing Parental Control Settings in Windows 10
There are two ways you can enter the Microsoft family settings. One is by going to settings, and the other is by directly logging in to your Microsoft account.
Go to Family and other users as explained above and click on Manage family settings online.
To access Windows 10 parental control, you need to login to your Microsoft account (Parents Microsoft account). If you don't want to go via settings, then you can directly login to your Microsoft account, that is, parent's Microsoft account.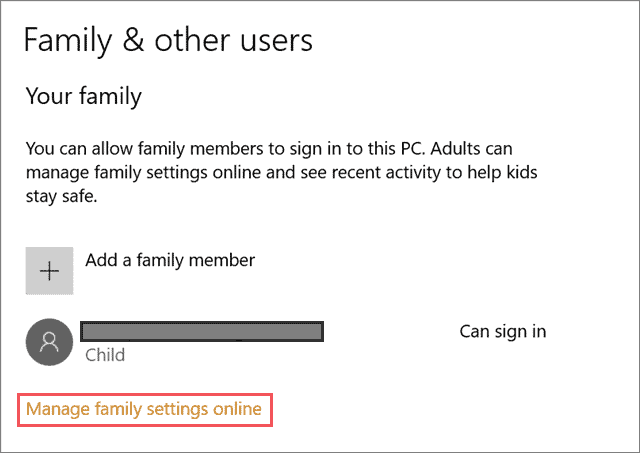 Next, click on View your family under Family.
You can now see all the options like Activity, Screen time, and App and game limits under your child's name.
You can click on the options to set up the settings for that section of parental control in Windows 10.
Go through the options mentioned below and make the changes as per your choice to provide your family safety and security while accessing the Internet and other digital appliances.
Activity
The activity reporting under Windows 10 parental control gives you weekly reports of your children's activity in your inbox. The activity reports include the time they spend in front of the screen, the things they browse on the web and apps, or the games they use.
To get all this activity report, slide the switch below the Activity Reporting to On. It will also block InPrivate browsing.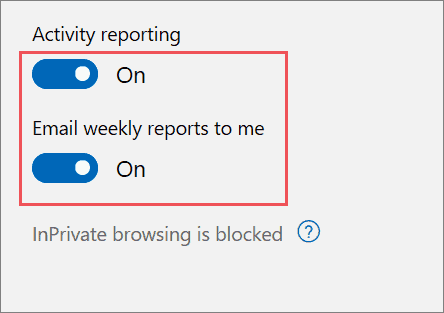 The activity is recorded across Windows 10 laptops and desktops, Xbox One, and Android phones running Microsoft Launcher version 4.10 and above.
Screen Time
Microsoft allows you to set screen time for Xbox One and Windows 10 separately or the same screen time for all devices.
If you wish to have a single screen time, switch ON to Use one schedule for all devices.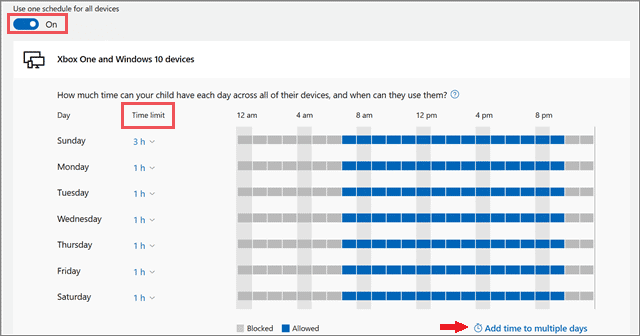 The plus side in Windows 10 parental control is that you can set time for all the days separately or have the same schedules for some days, depending on your kid's weekly plan.
To add the same schedule for multiple days of the week, click on 'Add time to multiple days' and select your time slots.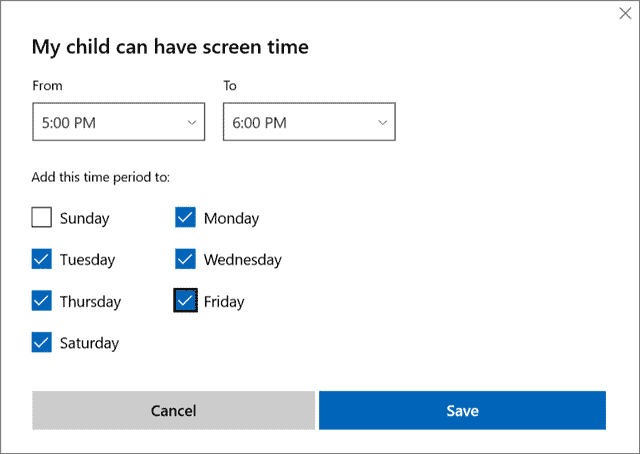 For scheduling time for specific days, click on the time slots on that day. The time limit can be selected by clicking on the drop-down menu under the 'Time limit' for each specific day.
However, you also have the provision to disable – 'Use one schedule for all devices.'
In that case, you will need to access Xbox one parental controls separately. You can schedule a time for Xbox One and Windows 10 devices separately.
Content Restrictions
With Microsoft family settings, you can block your children's access to inappropriate apps, games, and media.
To disable inappropriate apps, games, and media, switch ON – 'Block inappropriate apps, games & media.'
With Windows 10 parental controls, you can also set the age bar for contents and allow or block specific apps according to your choice. In our case, Mozilla Firefox is an approved app, and the age bar limit is 13 years.
We tried figuring out what can be added under the 'Always allowed' section, but we didn't find anything.
Windows 10 parental control settings allow you to block websites that have inappropriate content. You can enable and block the websites of your choice for your kids. Microsoft blocks all the sites which have adult content on its own.
You can add a bunch of websites and enable only these websites. In this way, you can protect your kids from getting exposed to any social media or other unethical sites. However, these settings are only applicable to Microsoft Edge and Internet Explorer.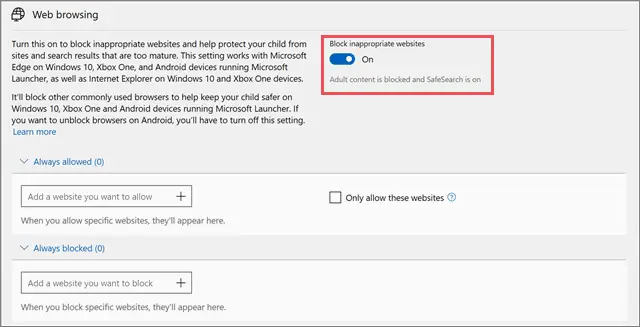 Spending
You can add a specific amount to your child's Microsoft account for their Microsoft store purchases. If you wish to approve all their purchases, you can toggle the switch below the 'Needs adult approval to buy things.'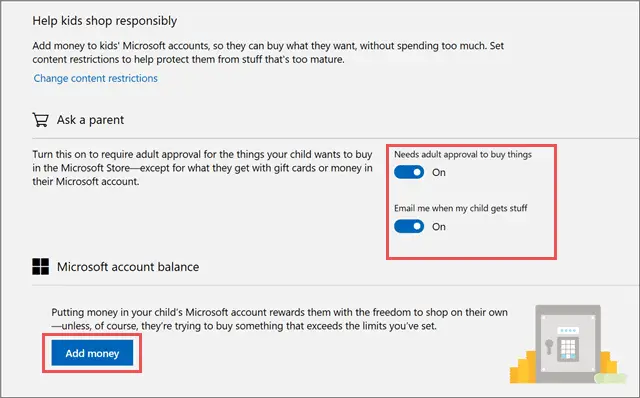 To get notified about their purchase, enable 'Email me when my child gets stuff.'
Find your Child
Find your child is one of the fantastic Microsoft family features that allows you to track your child. You can only use this feature if your child has a Windows 10 phone or an Android phone with Microsoft launcher version 4.10 and above.
This feature is useful when you are out for work and need to stay updated with your child's location. All you need to do is navigate to 'Find your child option' and enable the switch next to 'See my child's location on a map.'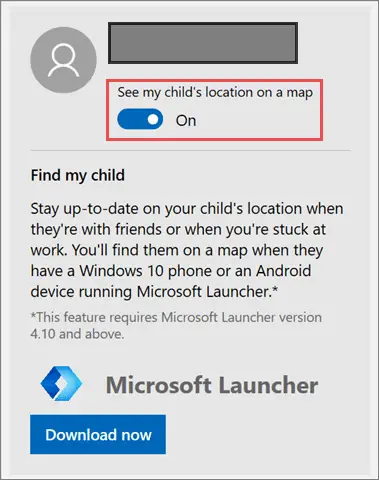 You can also use 'Find my device feature' in Windows 10 to keep track of your Windows devices.
App and Game Limits
The parental control on your Windows 10 PC allows you to set a specific time to use a particular app. If you are always worried about your child overusing a particular app or game, then you can set a time limit for that game or app under the 'App and game limits' section.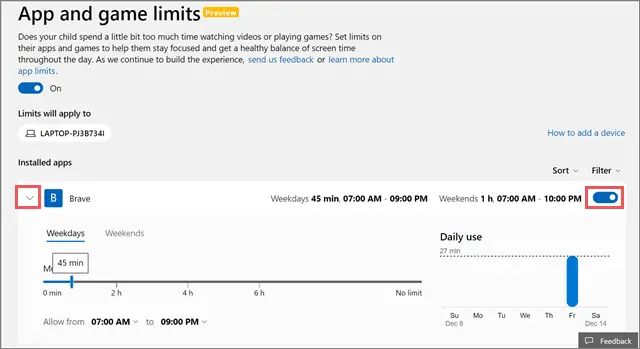 To set the timer for a particular app, click on that app and set the time by dragging the slider. You then need to toggle the switch next to the app to enable the timer. In this way, you can stop the over usage of games and apps and give your kids favorable screen time.
What do we like about Windows 10 Parental Control?
There are some features for parental controls in windows 10 that we liked. Let's check –
When your child installs any new browser/app, and you block it, the current window of the browser/app stays as it is, but you cannot perform any new searches or operations on it. You will be glad to know; these changes are immediate.
One can change the screen time at the last moment, and it will take immediate effect.
You get notified when your kid installs any app, free or paid, from Microsoft Store.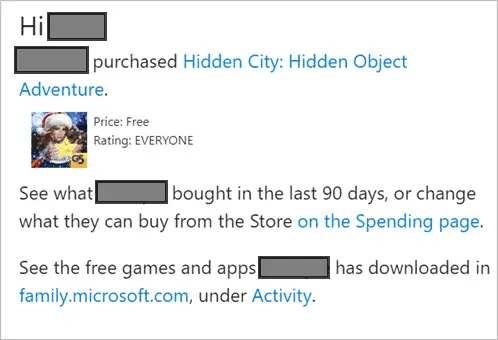 Stay updated with your children's live location.
Check children's search history via Activity tracker.
You can explicitly mention only those sites which you feel are safe for your child.
Asks for parents/admin account password when anything else, like apps or software, is installed via the browser.
Set a timer for all those apps which your child is allowed to access.
The explanation under each section makes the naive user understand its usage clearly.
Shows used apps and software under the activity section, and you can block it via the activity section.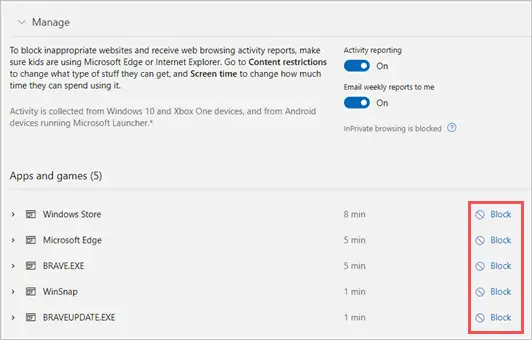 What didn't we like about Windows 10 Parental Control?
Similarly, there are some features for parental controls in Windows 10 that could have been better, like –
You can only control and monitor activities on Microsoft Edge and Internet Explorer browsers.
You can only add a specific amount to your kid's account. Microsoft doesn't allow you to add the amount you wish; you have to select from the options they provide.
One cannot figure out how to add apps, games, and media under the Always allowed section.
Final Thoughts
Microsoft offers family features to help you organize your family stuff and ensure your child's safety and security. Windows 10 brings better parental controls then Windows 7 or 8, which helps you keep a check on your kid's device usage, which is a necessity in today's world.
Kids all across the globe need to know and become aware of cyberbullying. As parents, providing measures for cyber safety is an essential thing that kids need today. Providing a safe digital environment for kids is the duty of parents, and Windows 10 parental control is the best way to do so.
Windows 10 also helps you control the Xbox One with parental control settings. Hence, if you wish to have a safe and secure environment at your house on all Microsoft devices, then you need to use it. Giving digital freedom to the kids and defining the boundaries through Microsoft family settings is the need of the hour.
Also, check: