Web browsers play an indispensable role while using the internet. Whether you are on your PC, tablet, or smartphone, you need your browser to work efficiently and fast. It is the most powerful utility tool, irrespective of what kind of device you are using. Which is the best Android browser or alternative browsers according to you?
Our laptops and phones come with pre-installed browsers. However, they may not always meet all your requirements of speed and effortless browsing. Moreover, it is crucial for us to keep your data safe, especially from all anonymous parties and prying eyes. Well, choosing the correct and the most secure Android browser is only the first step.
16 Best Android Browser Options You Must Check Out
We cannot imagine our PCs and smartphones without a web browser. These are robust tools advanced by the internet community. Several giants hold a good share in the web browser market, like Google, Safari, Mozilla, etc. plus the anonymous browsers. These internet giants make up for around 80% of the total web engines used worldwide. If you are looking for alternative browsers, you are in the right place.
1. Dolphin Browser
Dolphin is successful, popular, and can be classified as the best Android browser. It is known for its loading speed, HTML5 video player, AdBlocker, incognito browsing, tab bar, and other tons of other exciting features.
The browser's multiple tabs bar feature enables you to switch between your open tabs, only by swiping. Dolphin allows you to block pop-ups, ads, banners, and ad-videos.
You can also use your voice to search, share your stuff on social networks, bookmark websites, and much more. You can customize the appearance of the browser by choosing a wide variety of backgrounds in the wallpaper.
Price: Free
Get Dolphin Browser here
2. UC Browser
One of the alternative browsers that is quite popular among its users and has an excellent rating on the Google Play Store is the UC Browser. This best Android browser has a fantastic user experience, fast download speeds, data saving mode, Facebook mode, and night mode.
The servers of this browser speed up and stabilize the downloads. Even if there is a disconnection while downloading, this best Android web Browser continues the download from the breakpoint. It compresses data, speeds up navigation, and helps you save cellular data traffic. There is a unique Facebook mode feature that speeds up your Facebook browsing even when the internet connection is down or unstable.
Price: Free
Get UC Browser here
3. Browser 4G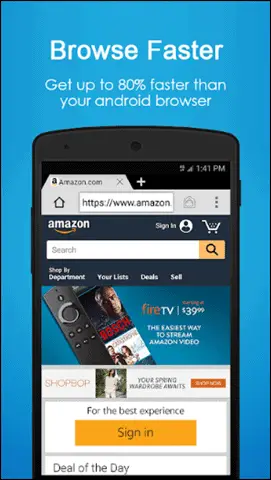 For people who are looking for some super-fast and private mode alternative browsers, Browser 4G is the ideal choice. Its 4G system renders ultra-broadband internet access that utilizes the latest technology created specifically for fourth-generation mobile technology communication standards. This feature is worthy enough to qualify Brower 4G as the best Android browser.
There is no single hurdle in speed while loading heavy websites with large files, and that makes surfing faster and easier. The app gets constant updates so that you are always up to date with both technology and user experience.
Other noteworthy features are tab function and Constant updates. Browser 4G is undoubtedly the best private browser for Android.
Price: Free
Get Browser 4G here
4. Puffin Web Browser
Do you want to know which is the best Android browser with a Flash player? The answer is Puffin Web browser.
Puffin Web Browser stands out from the crowd as an alternative browser since it supports Adobe Flash content. The browser uses remote servers to download, process, and stream Flash games and videos. It has cloud protection where all traffic from the Puffin app to the Puffin server is in the encrypted form. Thus, it provides a layer of protection from hackers.
Other features include fantastic page loading speed, virtual trackpad, gamepad, and incognito tabs.
Price: Free
Get Puffin Web Browser here
5. Flyperlink
Flyperlink is specially optimized for multitasking on mobile devices, and it includes Chrome Custom Tabs. This best Android browser has a great tab managing system.
Flyperlink allows you to open up many links at a time.  You can also easily switch between the tabs using swipe gestures or tab manager. It also supports Adblock, domain and app redirect, and text selection. It has a physical engine with smooth animation for the best user experience.
Bookmarks and history feature allows you access to pass links and saved pages. One of the best alternative browsers? There, we have said it.
Price: Free
Get  Flyperlink here
6. Ghostery Privacy Browser
Are you worried about online privacy? Ghostery Privacy Browser is the solution as the best Android browser specializes in maintaining your browsing privacy, protection, and speed.
It informs you when you share personal data with trackers on the sites you visit. The Ghostery Privacy Browser protects you while browsing by minimizing third party access to your personal data through trackers.
Along with its privacy, it also includes features like a large tracker database with 2200 trackers and 4500 scripts, management of web site whitelists, incognito mode, and much more. If you are looking for the most secure Android browser, you must get your hands on Ghostery Privacy Browser.
Note: Trackers are entities that use your digital footprint when you visit any website, to make a profile about you. This data helps them monitor your behavior on their site and to reach you at the right time.
Price: Free
Get Ghostery Privacy Browser here
7. Brave Browser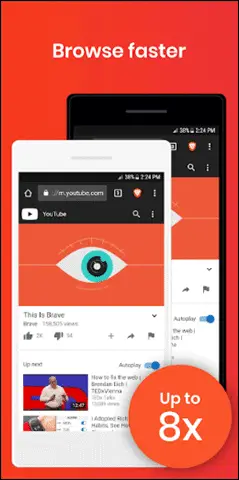 Brave Browser is a comparatively new browser and was launched in 2016. It has great features that will enhance your browsing patterns. Its Adblock feature provides an ad-free and smooth browsing experience.
As one of the best Android browser, it protects you with HTTPS, script blocking, third-party cookie blocking, and private incognito tabs. Other features include battery optimization, tracking protection, data optimization, bookmarks, and a lot more.
Price: Free
Get Brave Browser here
8. Opera Browsers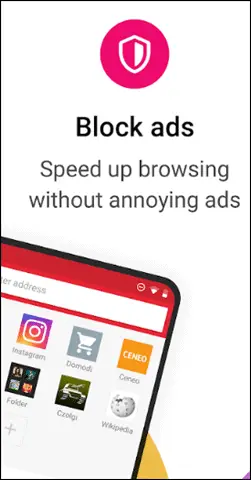 One of the alternative browsers, Opera, comes with three different versions to give you the best browsing experience. These are Opera Mini – fast web browser, Opera Mini browser beta, and Opera browser beta.
Opera Mini is a lightweight web browser for Android, which lets you do everything online without wasting your data plan. It has a feature to synchronize your devices so that you have access to all your bookmarks.
Next, Opera Mini browser beta, lets you explore and check upcoming features of Opera Mini. It has less clutter, less hassle, and gives an intuitive browsing experience.
Opera browser beta lets you try the latest features for powerful browsing. You can participate in the beta for free and explore new functionalities to test if it suits your browsing expectations.
Which one of the three do you think is the best Android browser? Well, we say that Opera Mini is lightweight and best for your Android, as the other two are beta versions.
Price: Free
9. Lynket Browser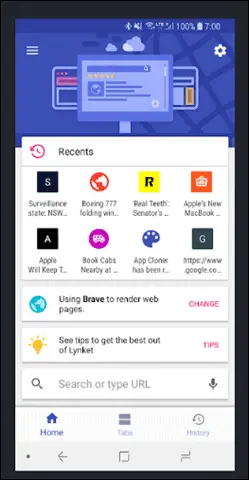 Lynket is fit to be the best Android browser as it works with browsers that implement the Custom Tab protocol. It makes browsing easier and enhances your internet experience.
Lunket slides over the website from the app that allows you to do transitions into the website seamlessly. Moreover, if you navigate several times, you can easily press X and return to the app where you left. It supports accelerated mobile pages and is able to load AMP versions of any page.
AMP pages are nothing but an optimized version of pages to make it load fast easily on mobile, ultimately saving your data. There is an Article Mode that is also called Reader Mode rids unnecessary content from the web pages (like Ads).
It simply shows up the content you want to read. Lynket is a lightweight alternative browser that is fast and aims to display the content of webpages as quickly as it can.
Price: Free
Get Lynket here
10. Google Chrome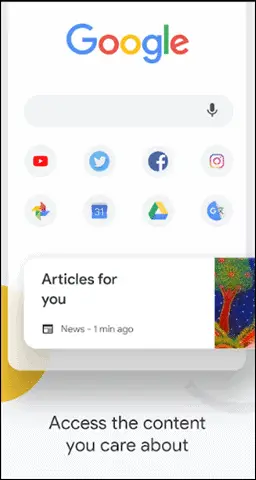 We all know the fact that we always want the most popular and reliable apps for our phones. It goes without saying that Google Chrome is numero uno and the best Android browser. It comes pre-installed in most devices and is also the fastest Android browser.
The browser features synchronization across devices, incognito browsing, and protection from unsafe websites while browsing. It also shows warnings when you scroll through a dangerous website or download malicious files.
Google Chrome is designed to bring you personalized news articles and quick links to your favorite sites. It has a downloads home right inside Chrome, where you can access the content you downloaded even when you are offline.
Price: Free
Get Google Chrome here
11. Naked Browser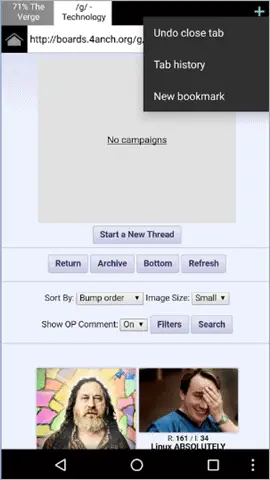 Most alternative browsers keep an eye on your online activity. Naked Browser does not spy, monitor, or show ads and is the most secure android browser. Although it does not include many features that are there in the advanced browsers, Naked Browser stands out for its simplicity and decent browsing speed.
Everything in the search results is based solely on what you searched for. There are no extra pop-ups or spying. Spying consumes resources like battery, bandwidth, and CPU leading your device to slow down. So, you are spared.
Naked Browser is trustworthy, fast, free, and full of exciting features including crash restore, undo closed tabs option, and infinite tabs. Worthy enough to qualify as the best Android browser? Well, we think so.
Price: Free
Get Naked Browser here
12. Flynx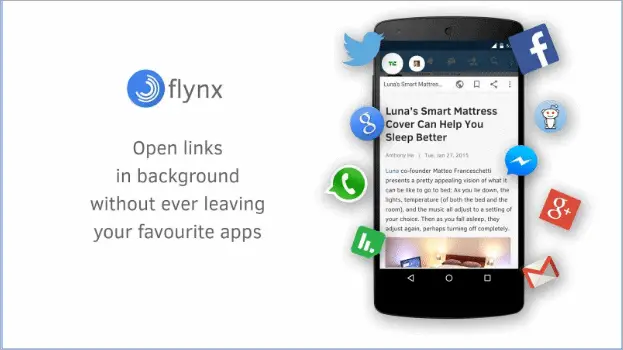 Flynx loads articles and links in the background while you are doing something productive. It has a quick read mode that gets rid of unwanted ads and loads the relevant content for you. You can save an article to read it offline.
The best Android browser has a simple and beautiful interface where you can view things in a focused way. It doesn't take any effort to multitask with Flynx because you can open multiple links and switch between them without leaving the current app.
The alternative browser supports around 15 languages, including Chinese, French, Spanish, Brazilian, and Japanese.
Price: Free
Get Flynx here
13. Lightning Browser Plus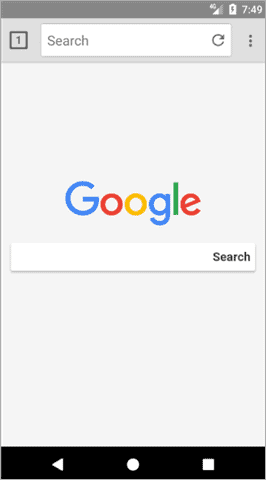 Lightning Browser Plus is simple, lightweight, and fast. It is the best Android browser since it focuses on security, efficiency, design and does not compromise on speed and security. At the same time, Lightning Browser Plus doesn't track your activity. There are several options available to help in protecting your privacy.
Since it is an open-source browser, you can contribute and transform it into the best usable software. There are a variety of exciting features like full-screen, and Adblock to avoid ads. The Incognito mode is private and convenient.
Price: $1.49
Get Lightning Browser Plus here
14. Firefox Browser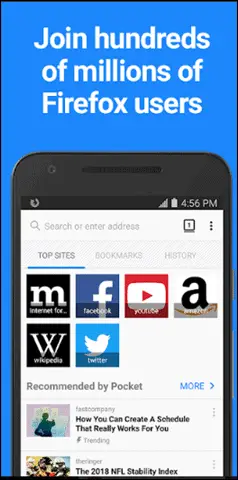 Firefox is used by millions and is one of the most popular and smartest web browsers for Android. Made by Mozilla, this one needs no introduction at all and makes it to the top of the best Android browser.
The advanced features include quick share, intuitive visual tabs, synchronization with devices, and much more. Firefox enables you to access your browsing history, bookmarks, and open tabs from your desktop, smartphone, or tablet.
More than a million downloads prove the fact that users are very happy and satisfied with its features and browsing experience.
Price: Free
Get Firefox Browser here
15. APUS Browser
APUS Browser is one of the most popular alternative browsers for Android phones and tablets. It has an accelerator that increases loading speed and saves data. Some of the features include incognito mode, no image mode, quick dial, customizable homepage, and much more. You can save your favorite websites and read offline.
You can easily switch between multiple tabs and browse either on PC or mobile. What makes it the best Android browser? Well, it enables you to keep your searches secure and browse privately with the incognito mode.
Price: Free
Get APUS Browser here
16. Ecosia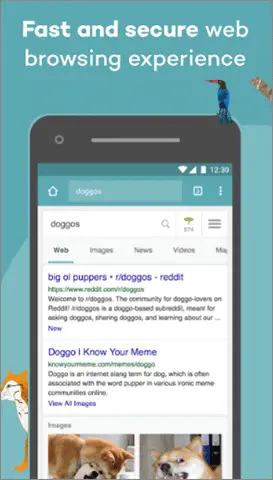 Have you ever heard of a web browser that is environment friendly? Well, Ecosia is one of them and definitely the best Android browser that we have today.
It gives you regular features like a secure and private browsing mode, the ability to download, bookmarks, and multiple tabs. Since it is based on Chromium's open-source project, it feels somewhat like Chrome. However, the biggest draw is the cause. Ecosia Browser donates around 80% of its profits to support planting trees. Great, isn't it?
This one is perfect for people who do not indulge in browsing that often, yet want something simple and light at their disposal. Of course, the trees are a bonus.
Price: Free
Download Ecosia here
Conclusion
What do you think is the most important app on your smartphone? No points for guessing as it is our web browser. There are numerous options on the Google Play Store for Android browsers. Our list gives you enough options to pick the best Android browser.
Irrespective to say that all of us are looking for an effortless browsing experience and these aim to give you so. All alternative browsers come with its own set of features; some have dedicated fast speeds, while others offer privacy. The right features go a long way in determining the overall user experience. Simply choose one of these web browsers and give your device an undisturbed and smooth experience.
Also, check: