Whenever you install any application or make some changes on your PC, Windows collects and stores temporary files at a location, which at times are untraceable. As large quantities of junk files and other provisional data get collected over months and years of use, Windows computers slow down due to resources occupied by these files.
In such cases, you don't need to format the whole system; instead, you can use software like IObit Advanced SystemCare to speed up and repair your PC with one click.
The software offers a lot more than just speeding up your PC. In this IObit Advanced SystemCare review, we explore what all this software can do for your system. It should help you decide if you need it for your PC.
What Does IObit Advanced SystemCare Do?
IObit Advanced SystemCare cleans up the junk files on your hard drive, optimizes startup time, removes cookies and other temporary files to speed up browsing, updates software, and monitors your system for ongoing maintenance.
It is multi-purpose software that can help users handle system issues without a hassle and forget their worries about Windows performance.
IObit Advanced SystemCare Review: What Can This Software Do for You?
We have checked all the possible Advanced SystemCare Pro features on an old Windows 10 PC to test how well it works.
The Advanced SystemCare Pro tool's user interface is divided into five categories – Care, Speed Up, Protect, Software Updater, and Action Center. In this review, we looked at each of these sections individually and tested how the features offered by each of them can help you take care of your Windows system.
Software version tested: Advanced SystemCare 14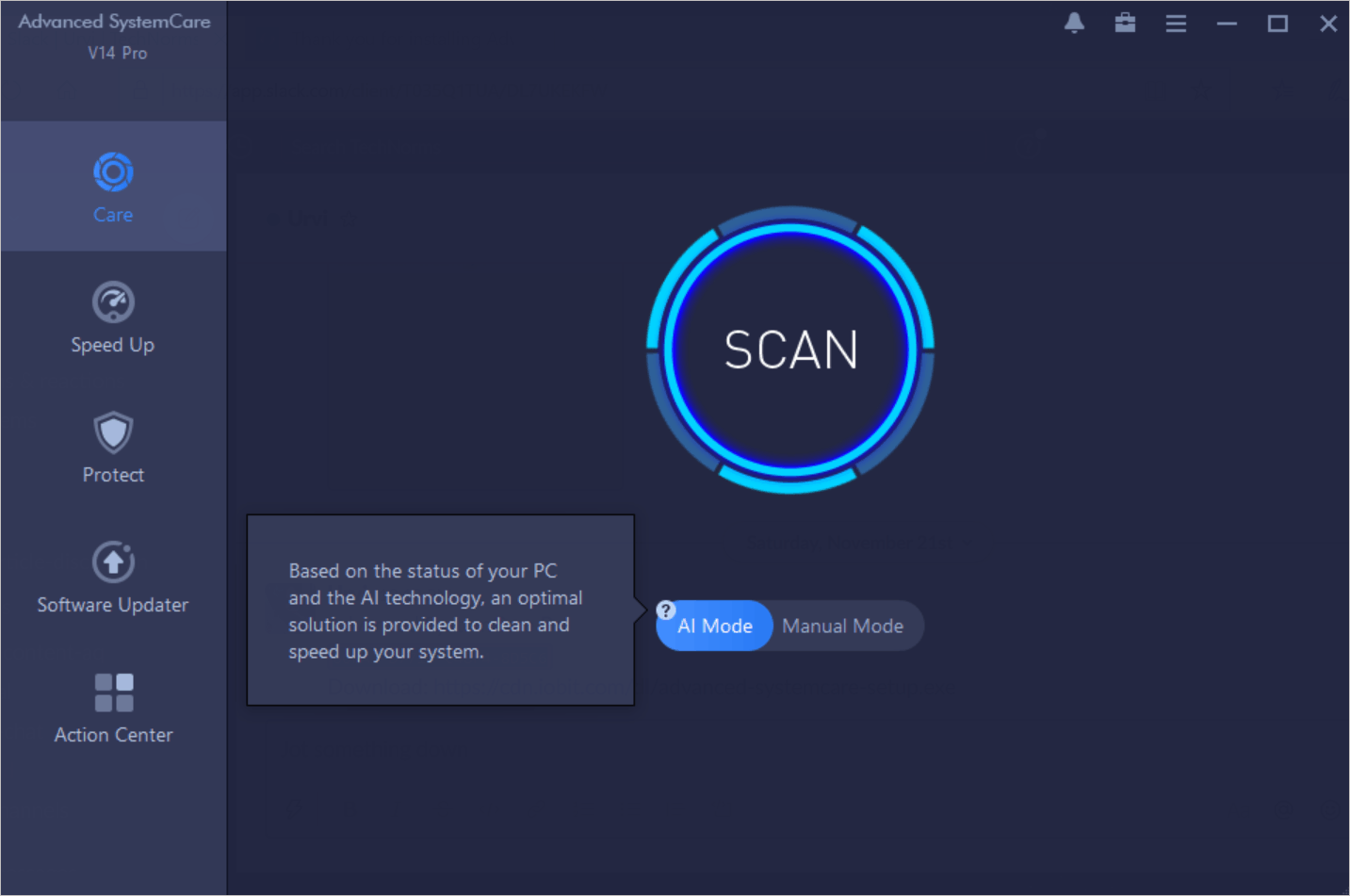 Care Section
The Care section will scan your PC to optimize the performance and also clean the junk files. There are two options for the scan, one is AI mode, and the other is Manual Mode. The AI mode leverages artificial intelligence technology to identify unnecessary data, clean it up, and speed up the system. It provides optimal solutions as per the condition of the PC.
The other mode, Manual mode, gives you different options to perform specific or full scans.
These modes give users the freedom to perform the scan as per their choice and computer health. If your PC is only having issues with registry or internet speed, you can opt for manual mode and perform those two scans. However, if you don't know what is exactly wrong with your PC, we recommend opting for AI mode and let the tool fix the problem for you.
The time taken by scans in both the modes were pretty much the same. You are asked if you wish to fix the scanned problem, and you can also go to each section and find out the issues that came up in the scan.
The transparency of the Advanced SystemCare tool's issues is what we liked most in this section. Also, there is an option to stop the scan in between if the need arises.
Was the Issue with the PC Fixed After the Scan in Care Section?
Yes. The PC, which was very slow and would take several minutes to open a single application, was now functioning normally. Applications were opening smoothly without any errors. However, the internet speed was the same as before.
Some listed issues, however, need user intervention and manual action. For example, a manual driver update is required to update the outdated drivers. Driver Booster, also from IObit, can help you automatically update drivers without having to take manual actions.
Speed Up Section
The Speed Up section contains different options to speed up your PC. It also includes an option to minimize the startup time by disabling some startup items, services, and tasks.
In this section of the tool, you may need to download and install some other applications if you want that particular feature. There is a feature to release RAM by stopping unnecessary programs. So, if you are into gaming or your system gets slower after some time, this feature can be beneficial.
If you wish to see the performance monitor on the screen constantly, you can enable it in this section. Additional functionalities like Hardware Accelerator and App/Toolbar Cleaner also need to be installed if you need them. The startup optimizer can help you fix the issues that are caused by some startup services and applications. The issues like screensaver not working or display drivers stopped responding can be easily fixed by optimizing the startup programs.
Did the Startup Time Decrease after Optimizing Startup Programs?
There was a noticeable difference between the before and after startup times, and the time required decreased substantially after disabling some applications and services. The startup time before was around 2 minutes 40 seconds, and after optimization, it was 1 minute 15 seconds.
We didn't disable all the services and applications recommended by the Advanced SystemCare Pro tool, as some of them were needed. You can selectively disable the unwanted applications to decrease the startup time of the PC.
Protect Section
All the privacy and security related functionalities are found in this section of the Advanced SystemCare Pro software.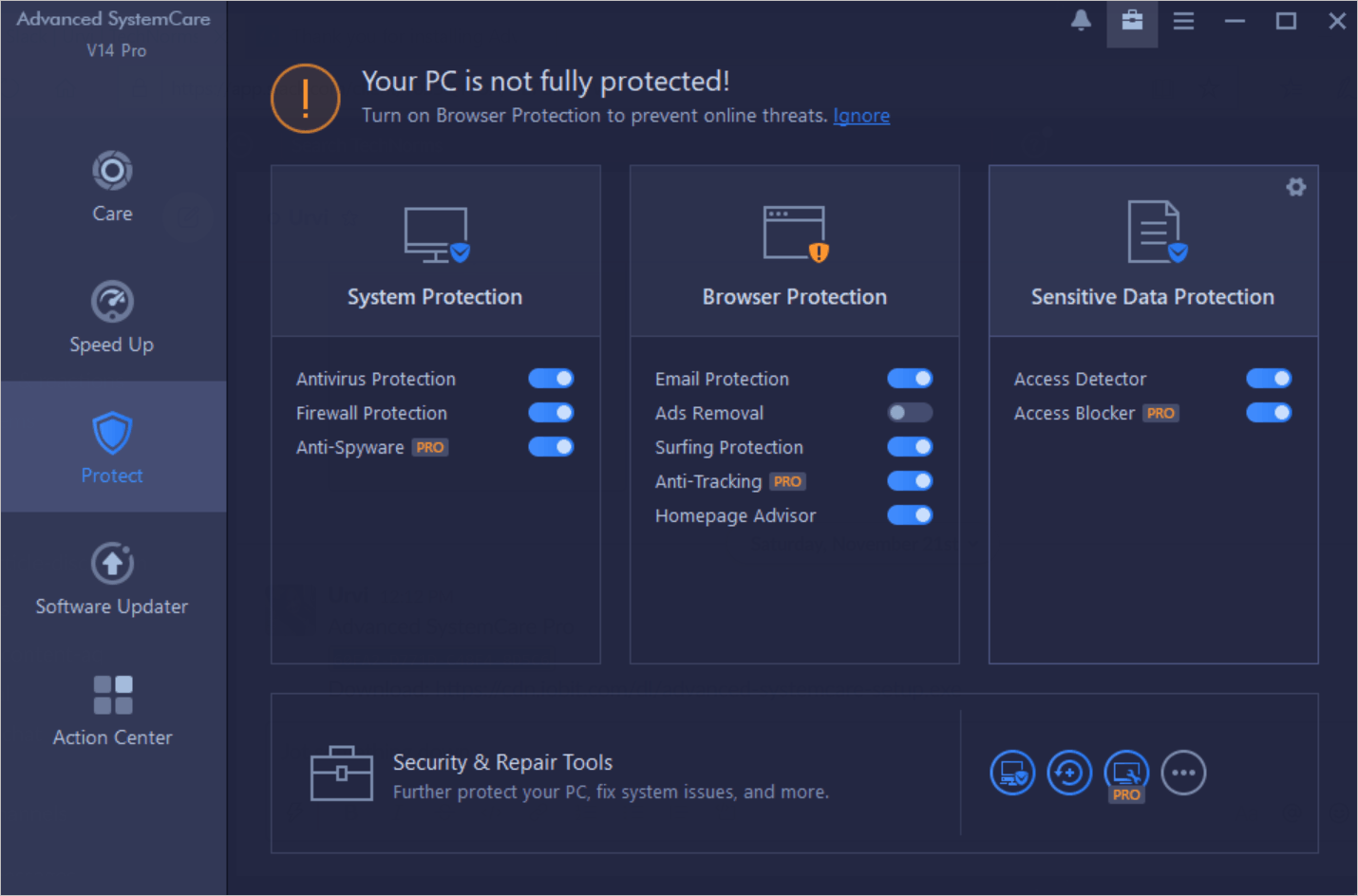 You have antivirus and firewall protection in this category, which is enabled by default, and there is no way to turn it off. The tool doesn't allow for turning off these two features. The other functionality can be turned off and on conveniently by toggling the switch next to it.
It removes your privacy traces and logs you off from the sites you are logged in to. So, you can be protected from unwanted and untrusted websites that may be tracking you unknowingly.
You need to add an extension to enable Ads Removal under the Browser Protection section. If you need to scan any vulnerabilities, you need to manually go to the Care category and do it.
Can Advanced SystemCare be used in place of Antivirus/Antimalware Software?
No. You cannot replace your antivirus software with the Advanced SystemCare, as it cannot function as a powerful antivirus. The USB drive is not scanned for malware, and an original antivirus can offer a lot more when it comes to protecting your device.
As such, we don't recommend uninstalling the existing antivirus and using Advanced SystemCare Pro only instead.
Software Updater
The Advanced SystemCare updates some of the old applications and software on your computer. So, you don't need to do it manually every time you face some issues with that application.
The Software Updater didn't update all the applications on my system. The list of programs that are supported for automatic updates is limited, and therefore, you cannot rely on this tool to update all the essential applications on your computer.
Action Center
The Action Center is not a feature of the Advanced SystemCare, but it lists down offers and applications that can help you manage your PC. You can hide or show the list of options available in this section as per your wish.
Other Functionalities of Advanced SystemCare Pro
There are some other functionalities that are not seen or covered in the above sections but are worth mentioning in the Advanced SystemCare review as they can help you with your computer.
Scheduling Scans
You can set a time during which your PC will get scanned for all the options you select from the list. There is also an option to stop the scan when your laptop is not connected to the charger.
You can set it every day or only for a specific day, as per your preferences.
System Restore
Advanced SystemCare helps you to create a system restore point and also perform one. You can, obviously, do system restore in Windows 10 yourself, but if you are not a fan of doing so via Windows settings, you can use it here as it does the same thing.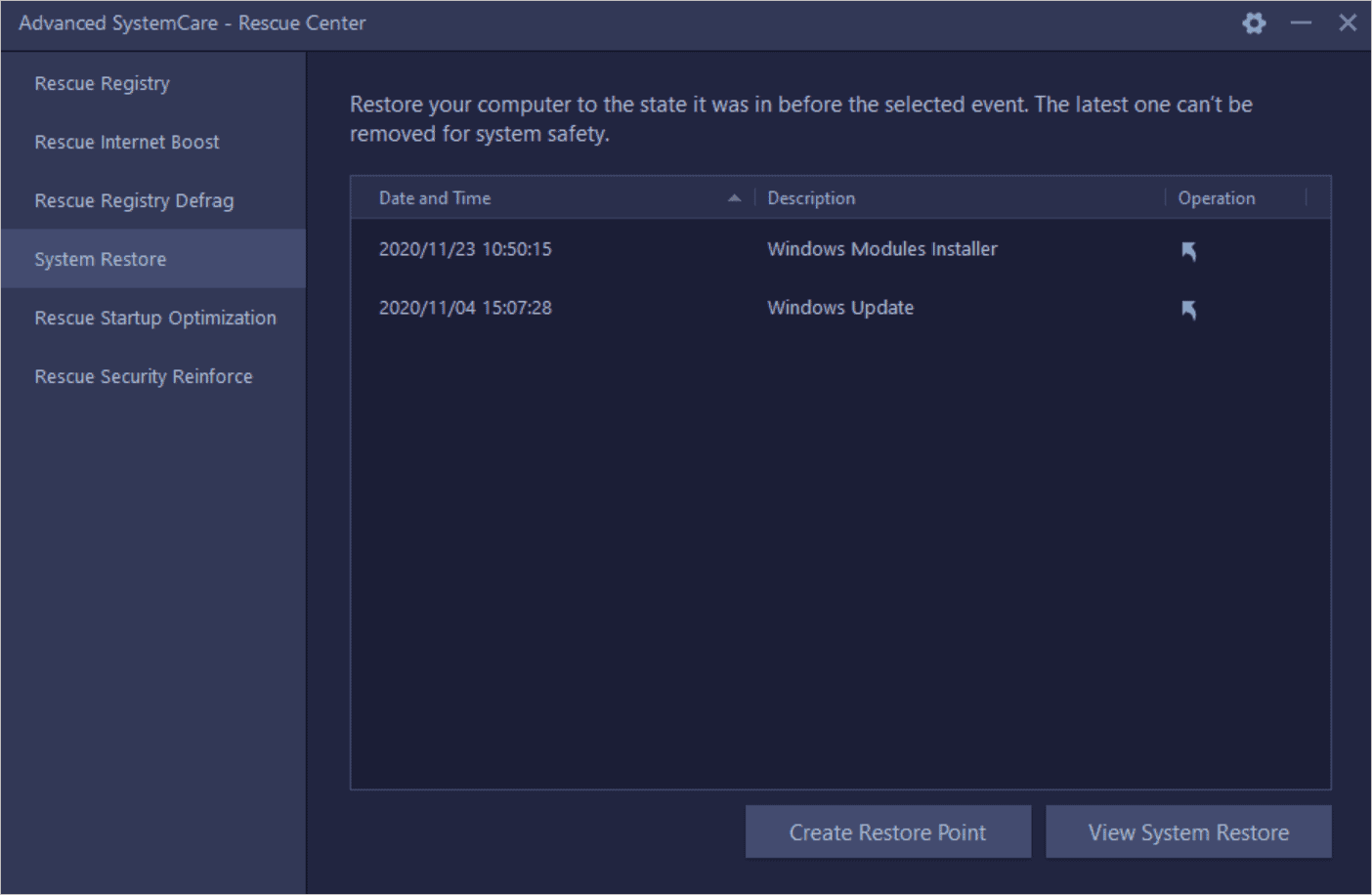 It also shows the existing restore points on your system.
Auto Update Feature
You can customize the software updater feature as per your wish. Although it supports only some software for automatic updates, you can select a method to update them.
The Advanced SystemCare offers an option to customize the features as per the user's wish and requirements.
AutoClean Settings
Your browser can get slow if the cookies and cache are not cleared for a long period of time. Advanced SystemCare provides you with an option to clear the cache, cookies, and histories whenever Windows starts. So that you don't need to do it manually.
We recommend using this function if you tend to work on browsers all time. As more websites you visit, more cookies and cache are collected, slowing down your browser.
Do note that clearing out cookies will sign you out of all the accounts that you are logged into.
Disable and Enable Functionalities and Features
Advanced SystemCare gives you complete freedom to enable and disable the set of functionalities as per your choice. This can be useful if you already have other software doing some tasks for you.
For example, if you already have software for fixing the registry, you can simply disable the registry function from here. As a best practice, you should always backup Windows registry before making any changes.
You have a choice of selecting the functionalities you want in the system care tool.
Customer Support
The tool is very easy to use, but you may need technical assistance at some point in time. You can go to the website directly by clicking on technical support from the tool. The page contains FAQs and also the online feedback section for quick assistance on some common issues.
There is a customer support number you can call for any assistance and technical help. The support on the number is available 24*7, and they also offer paid services if required for your computer. Sadly, there is no email or live chat support available.
However, their FAQs are quite impressive and cover most of the queries. Also, there are forms for Reinstall, Resend Code, Transfer and Renew Licences so that you can get assistance for specific issues quickly.
Pricing and Plans
The software comes in 2 versions, one is Advanced SystemCare Free, and another is Advanced SystemCare PRO. The free version has quite limited functionalities compared to the paid one, and therefore, users need to opt for Advanced SystemCare PRO for a complete package.  
The PRO version costs 19.99 USD for a 1-year subscription, and you can use the software on 3 PCs. You can use Free and PRO both the version on Windows XP, Vista, 7, 8, and 10. This software is targeted at Windows, and thus there is no cross-platform compatibility in any of the versions.
You can get basic PC cleaning and optimization along with some privacy features in the free version of the software.
There is no single functionality to boost up PC speed and no on-demand technical support for the Advanced SystemCare Free version. So, if you are looking for these functionalities, you will need to pay for the software.
However, with our testing and review of this product, we can say the paid version is worth the price. You can breathe life into your old, slow PC.
Pros and Cons of Advanced SystemCare 14
Every product comes with some pros and cons, and Advanced SystemCare is no exception. In this review, we came across some functions that we loved, while some we thought need improvement.
Pros of IObit Advanced SystemCare
There are many good features in this tool, as you can see in the features section. However, some of the features are exceptional, which we think make this product worth the price.
The user interface is pretty straightforward and clean, making it easy to understand the tool.
AI mode makes the scan easy for technically challenged users.
The startup speed increases, and also the Windows works much better after the first scan itself.
There is no learning curve.
Informs about outdated drivers as well.
There is the flexibility to enable or disable the functionality you want.
Provides 24*7 support on call.
It shows you the startup time you start your PC and shows system performance on your screen.
The list of pros is long, making it worth every penny you spend on this tool.
Cons of IObit Advanced SystemCare
Some of the things which we didn't like are listed below.
Offers very limited features in the free version of the tool.
There is no live chat or email support available, even for paid users.
You need to download some features additionally in order to use them.
Supports limited programs and software for automatic updates.
Some of these cons are not ideal but we don't consider them to be a deal breaker. We expect some features, like the list of software supported for auto-update, to improve over time.
Final Verdict
IObit Advanced SystemCare 14 can help you fix your PC by clearing junk files, scanning for outdated drivers, and boosting startup speed. You can schedule a scan or weekly to avoid slowing down your PC.
For this Advanced SystemCare review, we tested most of its features on an old Windows PC, and it worked miraculously on it. Now, our old laptop no longer lags or takes an hour to restart. We recommend this tool if you are struggling to work smoothly with your PC. The tool also offers to clear up RAM when you need to play games. This is a useful feature for all the gamers who dread gaming on slow PCs.
The tool does have some drawbacks, but the list of pros takes over the minor cons, and it just does what it says. The tool is designed specifically for Windows users, so if you are looking for similar software for a Mac, try MacBooster.
If you are still unsure about the tool, you should definitely use the free version and then decide. We recommend the IObit Advanced SystemCare Pro version to speed up your PC and keep it clean and protected.