The need of the hour makes us look for ways and means to connect with people – be it for personal or professional reasons. Video conferences and calls are convenient, helps us to simplify communication and the best part is that you can see each other. Well, if you are looking for a free conference call app, you have come to the right place.
You can now conduct a conference call with multiple people more easily than before. Irrespective of whether you are a small businessman, need shopping advice, work from home, or simply want to be in touch with your long-distance family and friends, there are dozens of free services available.
We are all aware of the fact that there is no dearth of apps when it comes to indulging in one-to-one video calls.
Best And Free Conference Call App That You Need To Try
However, no one wishes to experience a complicated service or end up paying a bomb in order to be a part of a group call. Therefore, the next time you want to be a part of a group video chat with multiple people, do hover through these video chat apps.
Be it audio-conferencing, group video calls, text chat, or even screen sharing, we have listed the best options for you to get going with free conference calling. The applications that we have covered can be used on the web, Android, and iOS devices.
As long as you have good internet connectivity and a suitable device, you are set to go.
1. Whereby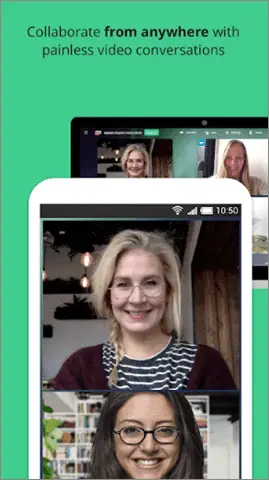 The best app for group video chat, Whereby, was initially called Appear.in. It offers uncomplicated video conferencing for meetings that are small. Although not as easy as it was earlier, it is still a useful tool for ad-hoc meetings.
Visit the official website and create an account. Next, make a chatroom with any URL you wish. You can send the link to your friends and colleagues via email or text email and all of them can join you immediately. They do not need to sign up on their own.
The best conference call service, Whereby, allows a maximum of four people in one room. You can 'lock' the room if you are the owner and the guests will have to 'knock' when they want to visit the link. This enables you to see who is trying to join the chat so that you can accept or deny accordingly. Whereby also has text chat features and screen sharing.
While other similar apps offer more functionality, Whereby is an excellent choice for quick, simple meetings with no setup. The free conference call app is ideal for chatting with people who are not very tech-savvy.
Check out Whereby here
2. Google Hangouts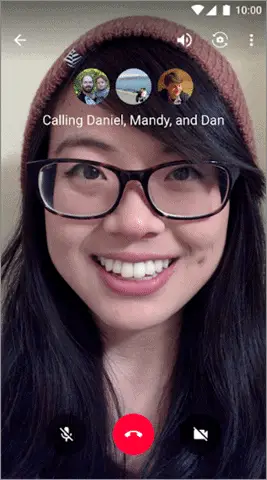 We are all familiar with Google, but did you know that the search giant provides a solution for conference calls, as well? Yes, Google conference call is possible via Google Hangouts.
Having said that, Hangouts is more than just a regular free conference call app. It allows you to chat, send text messages, and engage in audio or video conference using any device that has a camera and mic.
Wondering how to get started with Google Hangouts? It is as simple as creating and logging in to your Gmail account. Once you've set up your account, you only need to sign in to start using the free conference call app. Hangouts enable you to have a maximum of 25 people to participate in audio or video conference calls. When it comes to a text chat, you can have 150 people.
The other party with which you want a Google conference call must also have a Gmail account. However, if you only want to engage in audio-teleconferencing, you only need to get yourself registered with your phone number. If you have a mic, you can call your folks on their cell phone or landline number from the gadget you are using without any cost.
Download Google Hangouts on Android | iOS
3. Skype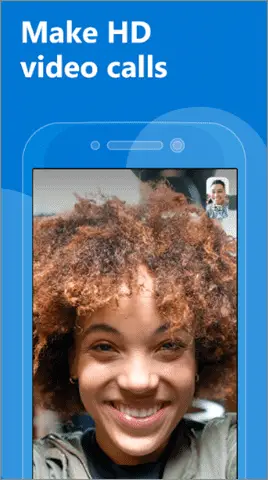 Wondering how to make a conference call? Well, Using Skype is undoubtedly the best free conference call solution. Microsoft purchased Skype back in the year 2011. Since then, Microsoft has overhauled how Skype runs on the back-end, its features, and the user interface.
It is a powerful and easy to use conference call tool for Android, iOS, and the web. Even if you have used Skype earlier, you will be amazed to see the changes made in the recent past. Apart from the earlier web-only version, you can now download the app on your Android and iOS device. You can exchange text messages and indulge in audio and video conference calling for free.
If the other party has Skype installed as well, you can conduct a conference call or engage in video chat with a group of  25 people. However, if they don't, you can either call them using Skype credit or avail the subscription. And, yes, there are some skype alternatives also which you can check.
Check out Skype here
Download Skype on Android | iOS
4. FreeConference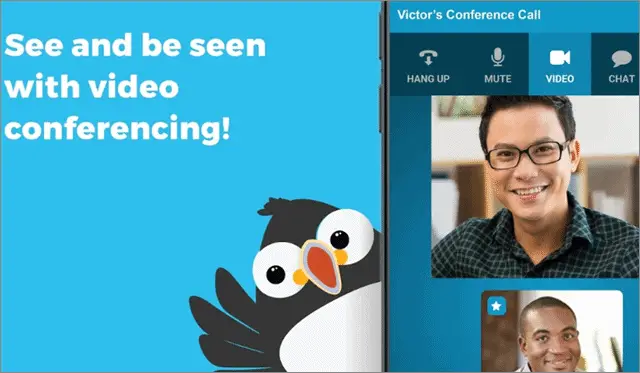 As the name suggests, FreeConference is a free video conference call app that enables you to make video calls without incurring any costs. You will find more business-oriented features on FreeConference as compared to the others, for example, dial-in numbers for audio participants. It enables you to schedule meetings and sends reminders for the same. You can, of course, host meetings instantly if no prior notice is required.
Calls support screen sharing. Calls have moderator controls as well, which can be used to mute noisy callers. You will receive a summary of the meeting once it is over and the video group chat app facilitates you to keep track of the session with the mobile calling apps.
The free plan comes with a limitation of 400 audio callers and 5 users in the online meeting. If you want to raise the numbers, you will have to buy the subscription.
Check out FreeConference here
Download FreeConference on Android | iOS
5. WhatsApp
WhatsApp, one of the most popular messengers, can also be used to do a video conference call. Yes, your favorite chatting tool doubles as an excellent free conference call app.
Although WhatsApp's video calls are possible with four people maximum, the best part about this app is that you are already familiar with lots of people who are using it. There is, of course, the value in the fact that you can make an audio or video call without the need to install something new or signing up for anything.
Wondering how to do a conference call? You simply need to start a video call with one participant first. Then, you can add more people to the call. This feature can be used on mobile apps only. Whatsapp web does not allow you to make calls.
Check out Whatsapp here
Download Whatsapp on Android | iOS
6. UberConference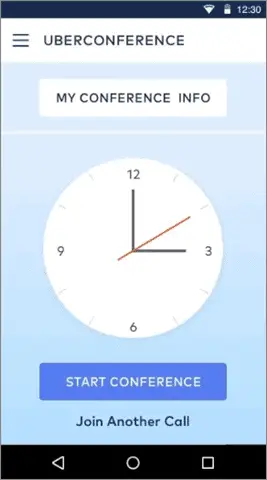 UberConference, the best free conference call app, is less formal and easy to use. It offers free phone and Voice over Internet Protocol audio for a maximum of 10 participants. UberConference enables you to do conferences, call recording, and document and screen sharing without any limit.
The app does not use conference PINs. If you try to connect to a conference call and are not asked to enter any PIN, you will know how attractive this feature is. When you sign up for an account, you are allotted a conference phone number which doesn't change.
Unfortunately, you cannot do video conferencing with this app. However, UberConference's interface is so easy to use that this makes it a great free tool for small businesses. Apart from desktop, Android, and iOS, the app is available as a Chrome extension as well.
If you pay for the business subscription, the maximum number of participants boosts up to 100 for $10 per month.
Check out UberConference here
Download UberConference on Android | iOS
7. FaceTime
Until the release of iOS 12, FaceTime was a one-to-one calling app. Now, you can use the group video chat app for calls with 32 people. The fact that it is installed by default on all iOS devices, makes FaceTime the best free video conference call service for all Apple owners.
If you and your friend or colleague own an iOS device or Mac, you are good to go. Wondering if the FaceTime app is available for Android? Well, sadly, the answer is no. So, if you do not have an Apple device, hard luck.
FaceTime group call is the simplest way to host a video call conference with multiple people at once. Moreover, the sound quality is excellent too. However, if you need to chat, you will have to use iMessage. But, switching between apps on iOS turns off your video and you won't be able to share your screen.FaceTime is hard to beat when it comes to a quick and clear video call. Nevertheless, there are facetime alternatives for Android users too.
Download FaceTime on iOS here
8. Google Duo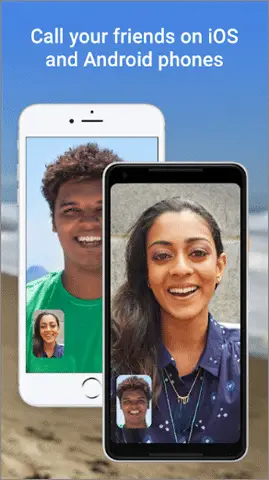 We listed Google Hangouts earlier and it works just fine as a group video chat app. However, Google Duo makes it to our list, as well, since it is newer, sleeker, and easier to use. Instead of creating a new Gmail account, it only requires you to give your phone number before you begin to use it.
Google Duo is an extremely simple app used for making group video calls. You can have a maximum of 8 people at one go while using the free conference call app. It works on Android, iOS, as well as the web. Therefore, this makes it an ideal choice for anyone wanting to host a group call with people using different kinds of devices.
However, if you are on the lookout for power meeting features, it is best to look somewhere else. But, since Duo makes video calling an easy breeze, we'd still like to call it the best video call app.
Check out Google Duo here
Download Google Duo on Android | iOS
9. FreeConferenceCall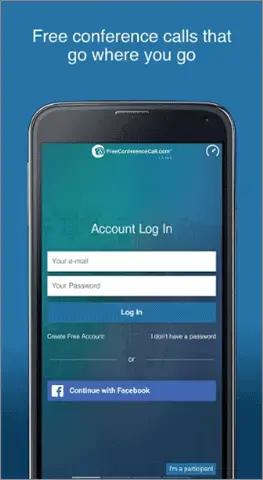 One of the best video chat apps, FreeConferenceCall, boasts of hosting the largest number of participants in a single call. You can have 1,000 people together in a video or audio call; yes, you read that right.
Screen sharing is possible while on a video conference call with zoom in and zoom out facility. The app offers several integrations and other extra features that are useful and expand your experience. You can switch the presenter mid-call and even radio stream for free. There are annotations and screen recordings, as well.
We know that you will presumably never have 1000 participants in a session, but this app is definitely worth trying if you want serious execution for your conferences and meetings.
Check out FreeConferenceCall here
Download FreeConferenceCall on Android | iOS
10. Join Me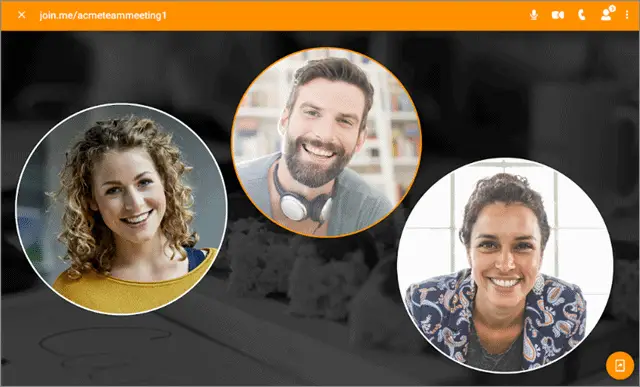 The best conference call service, Join Me, is the perfect option if you need a conference call app with great calendar integration.
You can avail of the free trial of their Pro version for 2 weeks. While your 14-day trial period is on, you can make good use of the video and audio conferencing for free. You also get to avail of screen sharing capabilities which is an extremely powerful feature. What more? Users can schedule meetings quickly and effortlessly by integrating Outlook and Google calendar.
Once your trial period is over, you will be limited to 3 users. Nevertheless, they allow you to share your screen, engage in a chat conversation, and transfer or send files during any conference call or meeting. If you wish to have more than 3 people, you will have to pay $10 a month per meeting organizer.
Check out Join Me here
Download Join Me on Android | iOS
11. GoToMeeting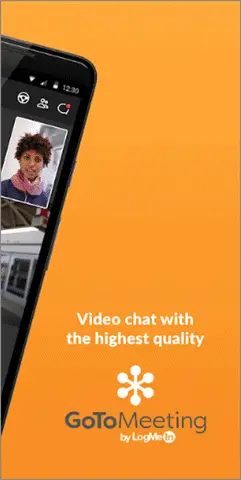 Wondering how to do a conference call on Android? Well, there are several options and GoToMeeting is one of them. It offers unlimited online meetings, free Voice over Internet Protocol calls, and screen sharing for a maximum of 3 users.
Just create an account and start conducting unlimited free conference calls online anytime. Although the number of users is restricted, GoToMeeting gives you a quick solution that meets all your video and conference calling requirements through a simple to use Google Chrome extension.
If you avail of the 14-day free trial, you can get your hands on the Pro version. This trial has added features like drawing tools, meeting recording, and mouse and key sharing. Key sharing and drawing tools can be extremely useful if you engage in interactive conference calls.
We've personally tried this free conference call app and it works great.
Check out GoToMeeting here
Download GoToMeeting on Android | iOS
12. FreeConferenceCalling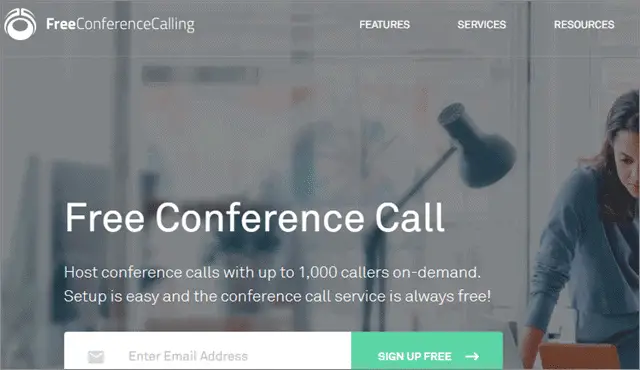 FreeConferenceCall does exactly what the name suggests and they do it well. The features this free conference call app lacks when it comes to video and text capabilities, is made up for in the form of best-quality audio teleconferencing abilities. You can host up to a maximum of 1,000 participants for free.
They offer a web portal that enables users to check attendance, manage calls and users, and even listen to the saved recordings of previous meetings and calls. Even while you are moving or commuting, you can host a conference or control the same from your smartphone using the web portal or only the phone keypad.
Check out FreeConferenceCall here
13. Gruveo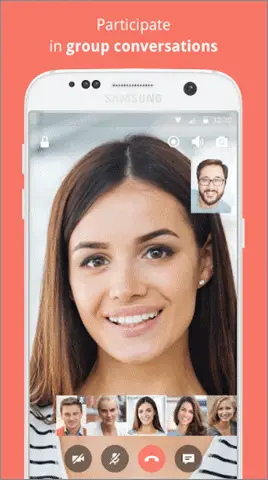 Do you want to have your own video call number that can be used by anyone to start a chat with you anytime? Gruveo offers essentially this. It is as simple as any other app you would use to have a conference call on Android, iOS, or web.
The best feature of this app, in our opinion, is direct codes. You can register in your name and share the link with your folks to let them call you. No, you do not have to put your number on the website. Just enable Gruveeo's browser call notifications and you will be able to receive video calls whenever anyone tries to connect. Alternatively, you can also do so by installing the Gruveo Chrome extension.
Check out Gruveo here
Download Gruveo on Android | iOS
14. Slack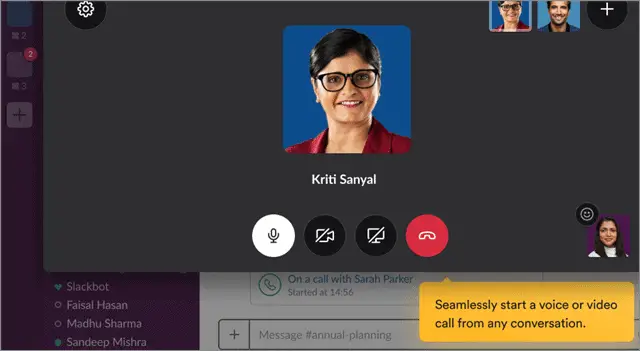 Slack started as a rather arbitrary team chat app, which made discussing business plans and deadlines fun since you could use emojis and GIFs. Today, it is undoubtedly one of the most widely used apps for indulging in team chats. It has taken conversations beyond the regular text and pictures.
Slack included one-to-one voice calls in the middle of 2016. Six months post that, they added video calls to it, as well. Wondering how to do a conference call? We'll tell you how. Just open a Direct Message or a channel and click on the phone icon. The calls feel like regular phone calls but with the video being added on.
You can click on the video icon to turn on the video or simply make a quick voice call to discuss something important, which is, of course, faster than chatting. You can have a maximum of 15 participants during a video call conference. Also, video calls are possible only through the desktop.
What the free conference call app lacks in features makes up for in inconvenience. However, there is no screen sharing provision. The basic plan that allows you to make video calls starts from $8.
Check out Slack here
Download Slack on Android | iOS
15. Zoom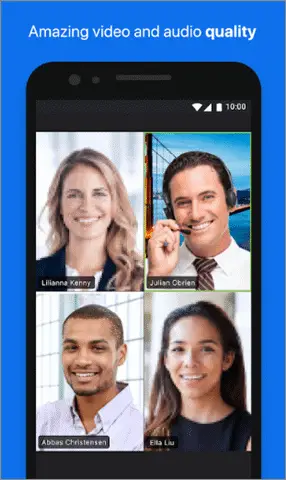 Well, even if you have tried multiple video conferencing apps, we are sure you will still be impressed by Zoom. This group call app works right in all ways.
After you install the app, you can start having your free video calls. The maximum limit is set to 50 people for 40 minutes at a stretch. Paid plans allow you to indulge in group chats with 500 heads at one go.
Zoom undoubtedly classifies as the best free conference call app because it works great. Even if your internet connection is far from perfect, the app keeps the video going, although at a reduced quality level. You can record all your calls and conversations with full-length videos.
Users can share their screen, chat whenever they want with any of their contacts, and schedule calls and meetings in prior. Zoom also enables you to automatically go full screen for all participants when someone shares their screen.
Check out Zoom here
Download Zoom on Android | iOS
16. Amazon Chime
A new entry to the video conference call services territory, Amazon Chime's apps are a polished and modern way to indulge in conversations with your team wherever and whenever needed. Chime is also well-known for its exceptionally good latency and video quality.
It can be easily used for making calls. It provides users with built-in tools for chatting and screen sharing. You can minimize the videos of participants when you are presenting to ensure there is no distraction. Amazon Chime is best when it comes to keeping your team working together in an app that focuses on both audio and video calling, just like Slack.
You can create and maintain standard text chat rooms to stay in a conversation and keep them going and also make a video call from the text chat room whenever you wish. The users can schedule calls and whenever it is time for the meeting, the app calls everyone's mobile or desktop Chime installs so that the participants can jump to the call, just like they do in case of regular calls.
There can be a maximum of 16 participants at once in this free conference call app.
Check out Amazon Chime here
Download Amazon Chime on Android | iOS
17. BlueJeans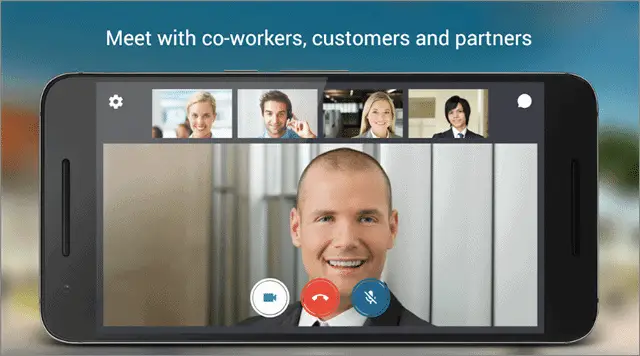 Wondering how to make a conference call? Well, BlueJeans is a video conferencing app that supports various types of gadgets, including devices that are used in conference rooms. It combines simple, easy to use apps that can be used across all platforms.
So, you can make a call from your computer, allow colleagues and friends to join in from their Linux or mobile devices, and even stream it inside your conference or meeting room so that more people can participate.
BlueJeans, as a free conference call app, is simple, consumer-focused, and primarily designed to be used on larger teams. In case you want to make a presentation for a crowd, the app makes room for webinar tools, as well.
You will have to pay $19.95 per month for 50 attendees after your trial period is over.
Check out BlueJeans here
Download BlueJeans on Android | iOS
18. Pexip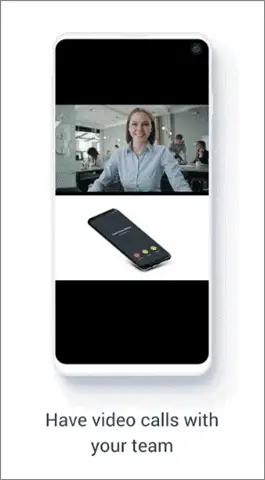 Isn't a PDF file one of the best possible ways to display a presentation? You can convert each and every slide into a full-page and flip through the pages from any browser or PC. Pexip is a free conference call app that uses this technique for making its presentations.
You can start a video call via the web or through its apps. Irrespective of where people have logged in from, you will be able to view every participant in your call. You can also make a call through your phone if your internet connection is weak. You can then upload the PDF file from the web app and display it as a presentation. Flip through every page just like you do in case of slides while still being able to view all the participants in your call.
Therefore, Pexip is a simple way to conduct group presentations, especially for people who have teams that need to make their way through multiple video conferencing systems.
Check out Pexip here
Download Pexip on Android | iOS
19. Kast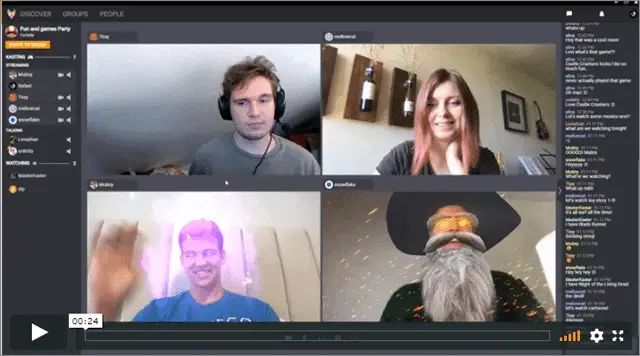 Kast is not designed solely for productivity. It is more of a medium to watch videos with friends and family from anywhere. Start a call, choose from a variety of sites available, and watch anything with your folks.
Once the call is on, you will see an embedded browser at the top of your screen and a small video icon of all the participants, including yourself, at the bottom. You can write whatever you want in the search bar to display a video or any site you want others to see. Alternatively, you can simply click on the remote icon to let others take control.
The free conference call app can be used for professional purposes too since it allows you to pull up any website you are working on simply. Use the app when you need to get reviews on a design or for seeing conference videos as a team.
The real-time video sharing tool comes with screen capture. By offering voice, text, and video chat technology, Kast makes it easy to connect with your family, friends, and colleagues wherever they are.
Check out Kast here
Download Kast on iOS
20. Cisco WebEx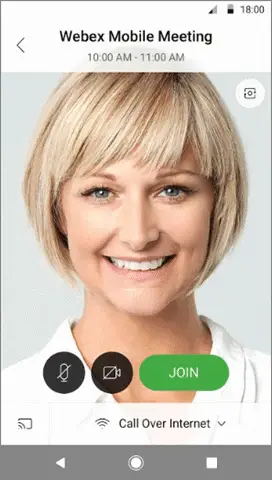 Wondering how to do a conference call on Android and iOS? Get your hands on Cisco WebEx. This app is from one of the top names in the field of video conferencing hardware. It is designed for collaboration.
When you make a call, you will see that the main display of the app consists of a virtual whiteboard displaying videos and chats on the side. Every participant can draw, add shapes, and type on the screen while on a call. This makes the app an excellent choice for brainstorming ideas.
However, if you only want to make a regular video conference, you can hide the whiteboard and take the video full-screen. Or, maybe you can share your screen first to start the discussion and then use the virtual whiteboard for brainstorming.
The free conference call app works for large meetings since you can broadcast up to 3,000 participants with the same tools. The app does not charge anything for 3 participants.
Check out Cisco WebEx here
Download Cisco WebEx on Android | iOS
Conclusion
We've listed the best free conference call apps and each one of them offers different feature sets for varying user needs. Depending on whether you want to conduct a simple family conference call or indulge in a team meeting to discuss some serious agenda, you need to pick your choice.
Whereby is easy to use, so you can indulge in group calls with family and friends using it. It is perfect for quick chats, as well. Skype is great and everyone is already using it for both personal and professional usage. FreeConference, FreeConferenceCall, and FreeConferenceCalling incorporate business-oriented features to calls for personal usage without any costs.
Slack enables you to make a call directly from the team chat. Zoom is a reliable source for making very clear group video calls. Google Hangouts is a must try and GoToMeeting is ideal for professional video conferencing and webinars.
Want to experience working on a virtual whiteboard? Try Cisco WebEx. Amazon Chime enables you to jump on a call right on schedule and BlueJeans allows you to indulge in video conferencing from any device. Which one of these video chat apps will you try first?
Also, check: