With video communication becoming the new norm in various domains, it is very vital to pick up the correct video chat apps. The number of apps available on the Playstore confuses the users at times; and they cannot make the correct decision. But with the best video call app for Android discussed below, you can connect with anyone in a click, be it personal or professional.
Best Video Call App For Android Users: Stay Connected
Many Android mobile devices come with built-in video chat apps like Google Duo, allowing users to connect to their contacts visually. Apps specially built for casual chatting cannot be used in the workplace because they don't have adequate work features. Also, the number of participants able to join a video call happens to be a massive factor in choosing a good video calling application.
We have listed some of the best video calling Android apps that serve different purposes and happen to be good alternatives for Facetime. The choice of video calling apps may vary according to the needs of a user. While every app in this list can be used for professional and personal purposes, it is advised to refrain from doing so.
1. Skype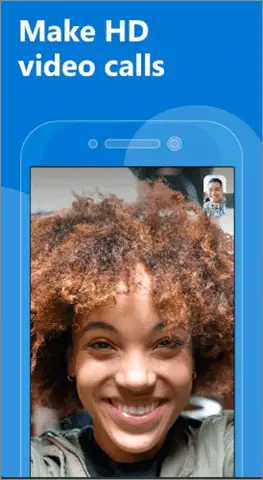 Skype can easily be regarded as the Mecca of video calling apps. It is the best video call app for Android if you are looking for a solution for professional video conferencing. Used mostly for business purposes, the live video chat app has a mobile application that works way better than its desktop counterpart.
Skype users can hold a joint meeting of two to fifty people in a call. With every call having a limit of 4 hours, there's hardly a reason to worry about not having enough free time to talk to your subordinates. You can also make international calls and send messages – all for not a single penny in return.
Skype is available across multiple platforms and offers many other important video conferencing features, such as screen sharing, file sharing, and live translation. It can also be used for chatting with friends and family, but Skype is mostly viewed as a business application.
What do we love about Skype?
50 people can enter a meeting room
International calling and messaging is available free of cost
Skype is available across multiple operating systems
Where can Skype be better?
There are too many crashes and bugs following the latest update.
Related: How to Record a Skype Call on Your PC or Mac
2. Zoom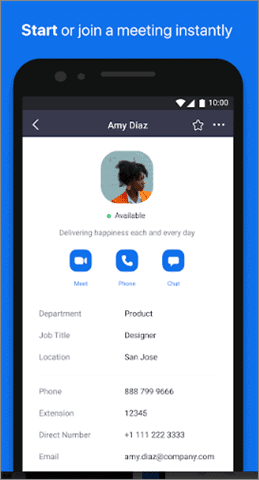 Zoom is another video conferencing application regarded as the best video call app for Android by many worldwide users. The app's easy user-interface is why it has a massive user base across the globe. In terms of use, it can be used for video calling with friends and colleagues, albeit the former is mostly the purpose than the latter.
Zoom offers a bunch of features every user would commonly look for in the best video call app. Users can make voice and video calls using this application. Screen sharing also helps you in working live on a shared document for better comprehension when you and your colleague aren't together in the same place.
Zoom does offer a free version; it works best if you are calling only one person at a time. If you wish to have group video calls of three or more people in a meeting room, your limits are compromised, and a 40-minute time limit is imposed on you for every such meeting.
What do we love about Zoom?
User-friendly and robust interface
Zoom can be used for personal as well as professional purposes
Works across multiple platforms
Where can Zoom be better?
The application has security flaws.
Related: How To Record a Zoom Meeting: A Complete Guide
3. Facebook Messenger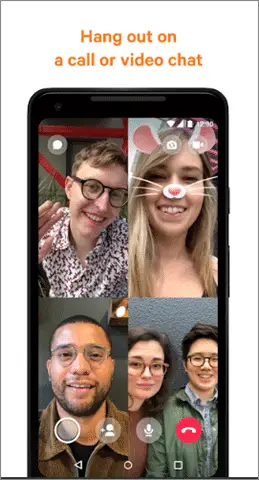 Now, you don't need to install a separate application to do a live video chat on Facebook if you have the Facebook Messenger app installed on your smartphone. It is one of the best video chat apps for calling and connecting with your friends and family.
Just like Skype, Facebook Messenger can also have fifty people in a video call at a time. The best thing is, it is free to use and doesn't require users to shell out extra cash to use the myriad of cool features available.
You can send chat stickers while having a video chat. Users searching about video calling apps for the first time must note that this is a casual video chatting app meant only for everyday use. It does not contain screen sharing and many other features you would normally expect of a business video calling application. Hands down, Facebook Messenger is the best video call app for Android for casual and informal purposes.
What do we love about Facebook Messenger?
Best video chat app for informal and casual video calling
You can send stickers and add extra fun while having quality time with your friends and family.
Fifty people can join a Facebook video call at a time.
Where can Facebook Messenger be better?
Facebook Messenger cannot be used for professional purposes.
4. Google Duo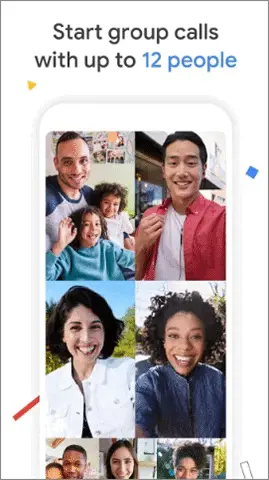 Google apps are some of the most trustworthy ones out there on the Play Store. You can easily classify Google Duo in the same vein as Facebook Messenger – a good live video chat app for group video calls with your near and dear ones.
You can also use Google Duo for office video calls, but it is primarily used for informal video conferencing. Another reason why Google Duo might not be the best option for video conferencing in the corporate world is that only 12 people can join in a call.
There are a couple of funny and exciting features that will ensure you have the best time while speaking to your friends and family. You can send and receive a text and a video message to people who are not available on a video call. It is the best video call app for Android for your smartphones if you are scouring for a good alternative to Facebook Messenger.
What do we love about Google Duo?
Free to use
You can have a good time with a large group of friends on a video call
Easy user-interface
Pre-installed on many Android phones
Where can Google Duo be better?
The application cannot be used for professional purposes due to the absence of many features required for work.
5. WhatsApp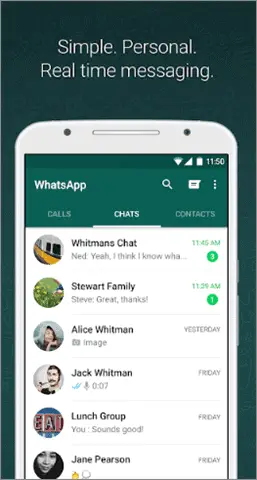 WhatsApp has become so common and widespread that you wouldn't be surprised if smartphones these days start having the app pre-installed before entering the markets. It's a norm to have this chatting app on mobile devices, isn't it?
Apart from being one of the traditional texting messenger apps, WhatsApp also offers a built-in video-calling feature. However, unlike the other video chat apps we have seen until now, this app can have only four participants in a video call that can last as long as you like.
Again, WhatsApp isn't the best video call app for Android for the corporate world, but it is an excellent solution to visually connect for informal purposes. Also, if you aren't much of a video calling enthusiast, you need not install a superior video calling Android app when you have WhatsApp for your phone.
What do we love about WhatsApp?
A straightforward user interface
Best video call app for informal purposes
Free to use
Where can WhatsApp be better?
The number of participants in a video call needs to increase.
6. Discord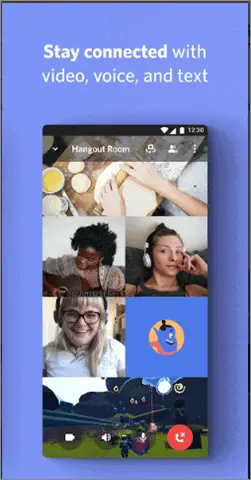 Unless you are a hardcore gamer, you probably haven't heard about Discord. Built especially for gaming enthusiasts, it is a communication app that allows gamers to connect and form communities to discuss endless topics related to their interests on mobile devices.
The best thing about Discord is that it offers live streaming services. While gamers can use this feature effectively, so can all those who use Discord for various purposes. Imagine, won't it be pretty easy to learn cooking from one of your contacts on a live stream? You don't need to be around each other for carrying out practical stuff if you are using Discord.
Next, you can also avail of the messaging feature to chat and plan your activities and stay connected with your contacts list. The screen sharing option also makes it easy for you to have a mock presentation with your colleagues on your phone. If that isn't an all-round and best video call app for Android, what is?
What do we love about Discord?
The Go-Live built-in live streaming allows users to connect with 50 people at a time.
Robust app for gaming communities
Where can Discord be better?
The addition of a few more work-friendly features could make it an all-round app.
7. Snapchat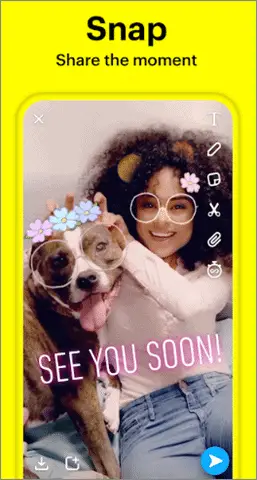 Snapchat is an all-in-one communication tool meant to make lives more straightforward and enjoyable for its users. If memories with family and friends are important to you, Snapchat is a must-have app for your Android phone.
Regarded as one of the best video chat apps built especially for teenagers, you can take instant snaps, edit them with a slew of filters and effects, and share them with your contacts. Apart from this basic function, it also allows users to have seamless video calls, with each call having an unlimited time span and note more than 16 people at a time.
Another exciting facet of Snapchat is that you can add filters and effects the live video call you are having with your contacts. It sounds like the best video call app for Android, doesn't it?
What do we love about Snapchat?
Plenty of cool features that enhance the user experience
Best video call app for friend circles
Various filters and effects can be applied during live video calls.
Where can Snapchat be better?
Video quality has scope for enhancement.
8. Instagram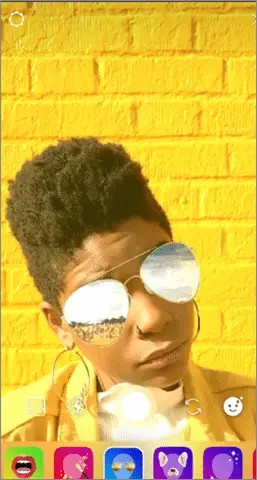 If you don't have a particular live video chat app on your mobile devices, why not use Instagram to begin a video chat? Being one of the most widely used social media networks worldwide, Instagram also offers fine video calling services for its users. Users can add six people in the call. Also, anyone who has sent you a direct message can video chat with you.
Having introduced the video calling feature in 2018, Instagram is constantly tweaking it to make it better. What's more, the recently updated Media Sharing facet allows users to share images and videos with friends while having group video calls with them.
Other features, like using donation stickers, will also be added to the system as time passes by. It wouldn't be a surprise to know that Instagram will compete against the likes of Snapchat in the years to come.
What do we love about Instagram video calling?
It is the best video call app for Android for those who don't want to have unique video calling apps on their phones.
The media sharing feature allows users to share posts during live video.
Where can Instagram video calling be better?
The video quality needs to be upgraded.
9. Google Hangouts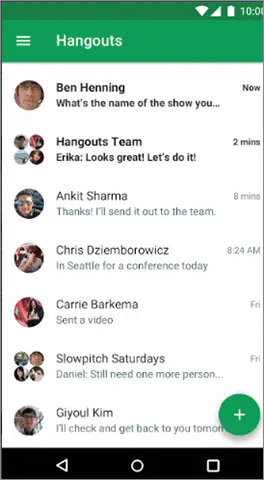 Enough of casual video calling Android apps, now let's get back to some business. Google Hangouts may not be the best video call app for Android in the corporate world, but it still remains one of the best communication apps.
Users can chat with up to 10 people in a video call with the free video calling feature. A basic video conferencing tool at its best, you can use Hangouts for having conversations with your near and dear ones, and share screen as well.
What do we love about Google Hangouts?
The simplicity of use
Users can have professional video calls using Hangouts
Where can Google Hangouts be better?
It is better equipped for desktop rather than mobile devices.
10. Google Meet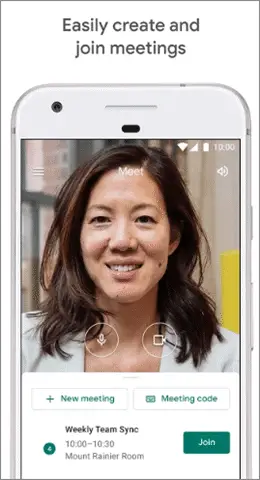 Google Meet is a better alternative to Google Hangouts. The application is built specifically for video conferencing and meetings with upto 250 people in a call. The best part about holding your meetings on Google Meet is that you can be relaxed about your data's security. Google Meet has an array of protective and safety measures to prevent any attempt to hack into your account and allow strangers to view your activity or recorded videos.
All you have to do is share a link with your subordinates and ask them to join a meeting. The video quality is decent and works well if you have stable wifi or mobile internet connection. It is recommended as the best video call app for Android by many small and large companies.
Google Meet focuses solely on providing a platform for corporate officials to hold meetings. You can also share your screen and have presentations in a session. In all, it is one of the best video chat apps for the professional cause.
What do we love about Google Meet?
The app has all features required for holding corporate meetings online.
Easy user interface
Decent video quality
Where can Google Meet be better?
Google Meet can be accessed only via the Google Chrome web browser
11. Tango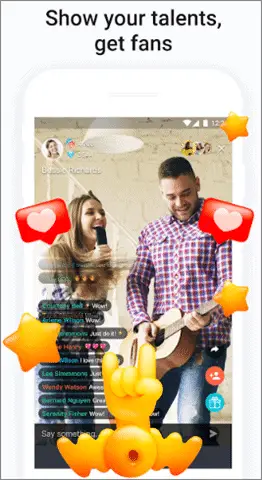 Believe it or not, but using Tango will make you feel closer to your friends and family, irrespective of how far away you are from them. Regarded as one of the best video chat apps for Android, this tool offers all the essential features, coupled with some exciting benefits.
Tango is also similar to TikTok in many ways; users can share their talents and gain recognition. So if you sing or dance or cook, make sure you use Tango to let people know about your talents.
Apart from video calling, you can be a part of fantastic communities and consume content by following your favorite broadcasters and contacts. Truly a multi-tasking app, isn't it?
What do we love about Tango?
Ability to share content with viewers worldwide
Cool filters and effects that can be used during live streaming and video calls
Where can Tango be better?
The app has too many bugs
12. Viber Messenger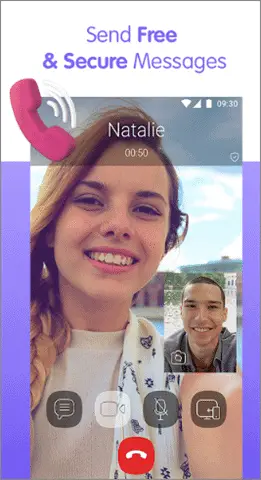 Viber Messenger isn't a top-rated app amongst today's users, but it did garner significant attention after being launched in 2013. If you are looking for a cross-platform application for making free international video calls, this app is the perfect solution. With just a mobile internet or WiFi connection, you can use this app for seamless and secure communication.
Apart from the traditional video conferencing feature, Viber also lets you start and self-destruct Secret Chats. With endless GIFs and over 30,000 stickers, your text messages are more expressive than usual.
You can also start a Viber community of like-minded individuals or your contacts and chat with them via text or video. These days, apps always need to have extra features to attract consumers, and Viber knows it far too well!
What do we love about Viber Messenger?
Best video chat app for international video calling
A good collection of emoticons, stickers, and GIFs to make chats funnier and enjoyable
Secret Chats can be self-destructed.
Where can Viber be better?
Viber has no feature for blocking calls.
The overall interface is very slow.
13. Camfrog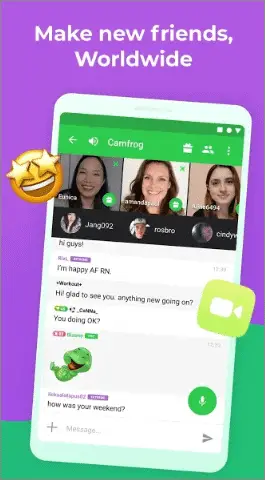 Another Tango-like application. Camfrog is the best video call app for Android in terms of connecting and communicating with strangers and friends alike all over the world. This cross-platform application lets you form a variety of communities and share your content with your pals.
Voice and video calls are free in Camfrog; all you require is just a stable internet connection. You can join group chat rooms and connect with millions of people – Camfrog could well be your synonym for socializing with people.
Sports, politics, music, and much more; there are endless topics to discuss about on video calls with strangers and friends. This live video chat app also allows you to record karaoke songs. Hard to find an app that has it all, but if you use Camfrog, that's the closest you can get to find such an app.
What do we love about Camfrog?
Users can share content with strangers or friends through video calls or text chats.
Free voice and video calling available
Great platform for socializing with strangers all over the world via mobile devices
Users can earn virtual gifts by completing daily challenges and tasks
Where can Camfrog be better?
Large advertisements are disturbing.
14. JusTalk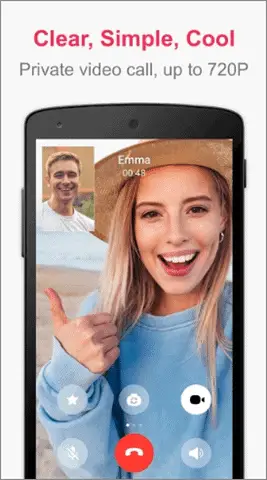 JusTalk is another decent video calling app for your mobile devices. Users can make free video calls, send text messages, share photos, send stickers, and play games with their contacts using these video calling apps.
JusTalk is one of the best video chat apps when it comes to recording live videos and creating Doodles. You can use this app to chat with 16 people simultaneously in a video call. Be it friends, family, or coworkers, JusTalk will hardly disappoint you with its video call quality or features.
You can also make international calls using JusTalk, but you will have to shell out a wee bit of cash to avail that calling feature.
What do we love about JusTalk?
16 users can participate in a video call
International video calling facility is available
A cross-platform app that offers live video chat feature as well
Where can JusTalk be better?
Hangs frequently during login
15. Kik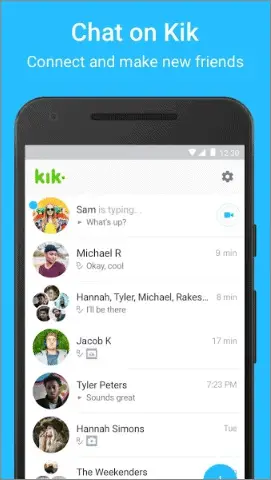 Kik is another content-sharing platform that comes with awesome video calling features. Users can chat with their friends and family using Kik; it also happens to be one of the best video call apps for Android for beginners.
Kik is also known for maintaining the anonymity of its users. You can chat with six people in a video call and share text messages, stickers, and emojis as well. It's a basic communication app in which you can also share and record your video calls.
What do we love about Kik?
Doesn't require a phone number for making an account
Free for use
Messages can be self-destructed.
Where can Kik be better?
Parental control is not available
16. Glide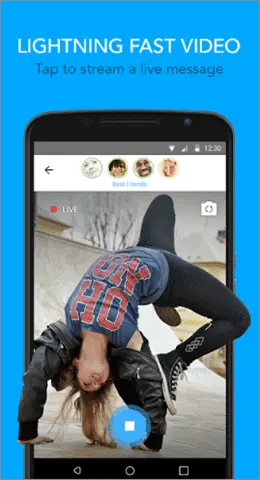 Thinking of hosting virtual house parties? With Glide, you can call upto 50 people and have a mini get-together. Users can check their videos thoroughly before sending them; live streaming is also available.
There are many effects and filters for enhancing your videos. The entire video data is saved on the cloud, so you need not worry about Glide consuming your personal storage space. This live video chat app can also be used for instant text messages.
What do we love about Glide?
A large number of participants can be part of a video call.
Live streaming is available.
Data is saved on the cloud.
Where can Glide be better?
Sound quality is sub-standard
17. IMO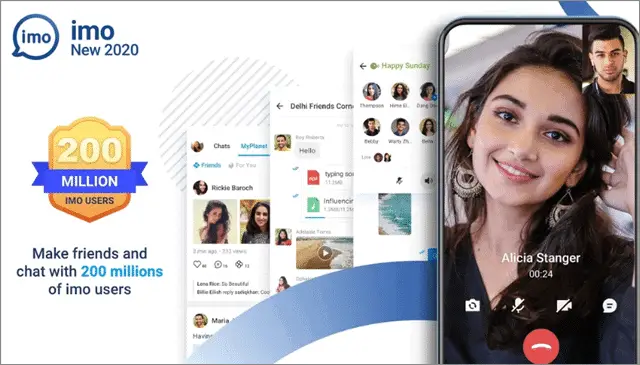 IMO is yet another video calling Android application that offers multiple features to its users, other than just making video calls. You can join chat rooms and bond with many people from all around the world. In short, it's a great app for building and being a part of communities with different interests.
Video calling isn't the only best part about using IMO. Users can send files up to 10 GB to each other. Thanks to the cloud-based storage, IMO is one of the best video chat apps available on the Play Store.
The app also has a desktop version, but the features available in it are less as compared to the mobile version. You can talk with 20 people at a time during video conferencing using IMO.
What do we love about IMO?
Great video chatting app for building communities with like-minded individuals
You can send extensive data using this app.
Users can create profile backgrounds and also use the built-in music widget
Where can IMO be better?
No privacy features available.
You cannot send location using this app
18. ICQ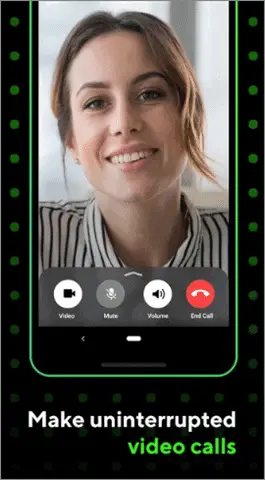 ICQ is regarded as the best video call app for Android by many users, given its clutter-free and simple user interface. If you are looking for a free alternative, this video calling Android app can instantly come to your aid.
You can make voice and group video calls with upto 30 people using ICQ. It can also convert voice messages into the text if you aren't able to listen properly. There are also plenty of stickers to make your text messaging more interesting.
If you ever feel that a video call with your friends isn't as exciting as you expected, try on a 3D face mask! Wearing any one of these 3D masks will guarantee fun and enjoyment while video calling. Users can also subscribe to various channels as per their interest and get timely updates on their topics.
What do we love about ICQ?
A large number of participants in a video call
3D face masks make video calls an enjoyable affair
Users can become a part of communities with like-minded individuals
Where can ICQ be better?
No options to back-up chat history
19. Houseparty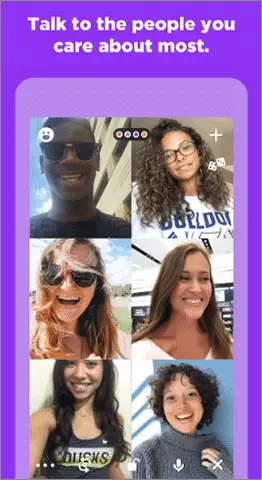 The best cross-platform program for playing games while having a video chat. Or else, let's put it this way. Houseparty is a video calling app specially built for playing games on mobile devices with friends.
If you and your friends are stuck in your homes and feel a dire urge to meet up, Houseparty will efficiently take care of that need. The best video call app for Android built especially for casual and informal video chats, Houseparty allows users to join a 'House' and participate in conversations. Users can also play several games they normally do when they meet face-to-face.
The virtual hanging out activity may have been just an idea initially, but Houseparty definitely seems to be solidifying it as days pass by.
What do we love about Houseparty?
Users can play games while group video calls.
Houseparty enables users to hang out with their friends virtually.
Eight users can chat in a room at a time using Houseparty
You can record video conversations in Houseparty
Where can Houseparty be better?
Users will not know if any of their friends are recording a live video chat.
Risky app for kids as there is no parental control available
20. ooVoo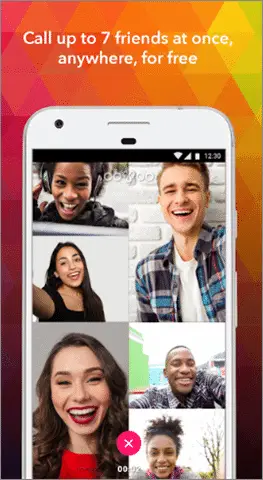 ooVoo believes in connecting users to all those who matter the most to them. Video calling, messaging, and interactive stories ensure that you are just a shout away from your friends, family, or office colleagues. To all those who are new to ooVoo, this isn't just a simple video calling Android app like most of those on this list.
ooVoo allows you to connect with people all over the world as well as your contacts via messaging or video calling. The app has recently introduced a concept of Chains, which allows users to create collections, videos, messages, and short stories.
The pictures and videos are easy to upload for viewers to see. Users can have a video call with 8 people at a time using this cross-platform application. The next time you want a robust social media app that offers good video calling features, don't hesitate to give ooVoo a try.
What do we love about ooVoo?
It is a content-sharing platform apart from a video calling app.
Cutting-edge technology enables seamless communication and user experience.
Where can ooVoo be better?
More features can be added to make it a video chat app for professional and corporate purposes.
21. Marco Polo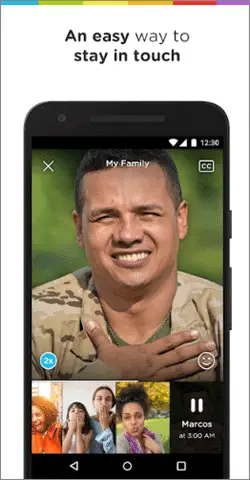 Marco Polo isn't a typical video calling app to be precise, albeit it does focus on video communication. All you have to do is record short videos as a medium of communication and send them to your contacts list. It is the best video call app for Android if you are unable to set time aside for live video calls with your family or friends.
There are many funny filters and Doodles for decorating your videos; they help add a touch of humor to your videos. Text messaging is also available in this communication app. Also, you need not worry about the videos consuming your personal storage space as Marco Polo uses cloud storage.
The app is initially free to use, but if you want to unlock extra features, the Marco Polo will cost you $9.99 monthly. It is one of the best video chat apps for communicating visually with your friends and family.
What do we love about Marco Polo?
The app is a good alternative for traditional live video chatting.
Marco Polo doesn't collect data for displaying advertisements.
Videos are stored on cloud.
Where can Marco Polo be better?
 Many free features have been included in the premium version after the recent update
Conclusion
Group video calls are always a great way to enjoy communicating with those who are far away from you. To ensure that you have the best time chatting with your friends and family on a video call, you need to select the best video call app for Android that provides good sound and video clarity.
Before choosing the best video chat app, it is essential to know that not all video calling apps serve the same purpose. Some tools like Skype, Zoom, or Google Meet can be used for casual chatting, but they are mostly used for official and corporate meetings. On the other hand, video chat apps like Google Duo, Discord, Houseparty, and many others are strictly used for personal purposes like chatting with your family and friends.
While video chat apps have their own special features and benefits, the choice of the app depends on the user's needs and requirements.
Related: Best Free Conference Call Apps For Making Group Calls